Larry Woolliams is the type of farmer that wants to yield a bumper crop every season. That's not unique, every farmer wants a bumper (an exceptionally large harvest). But Woolliams leaves little to chance when going after his goal. "I'm always looking at what I need to do to take my business to the next level and technology definitely helps me do that," he says.
Woolliams is a fifth-generation farmer. His family homesteaded in the Calgary area in 1890 and he and his wife now run Woolliams Farms Ltd., a 9,000-acre plot in Rocky View County growing wheat, yellow peas, canola and malt barley. His family has a long history of innovation, whether by adopting new farming methods, dabbling in crop experimentation or seeking out technology. In addition to being a shrewd farmer, his dad was an astute businessman, looking to harness the latest technologies to improve his chances of success. "Dad was actually one of the first people in Alberta to ever use yield mapping and variable rate technology for fertilizer," Woolliams says. "He had a big old computer that was bolted in the combine."
Farming has become a complex business, but the goal has always been the same: The more you can crop out of a piece of land (or "yield") using the least amount of "inputs" (mainly seed, fertilizer, chemicals, water and labour), the more money you make. And technologies like yield mapping, a technique that uses GPS data to show precisely how fields are performing each season, is helping balance out the equation for farmers.
It has evolved drastically since Woolliams' father first adopted it in the mid '80s. Woolliams now uses a suite of precision agriculture tools that record his yields as they are being harvested. Sensors on his combines measure the quality and amount of grain along with the exact GPS coordinates where it was harvested. These data points autonomously produce yield maps, showing Woolliams' high- and low-performing areas. "The long-term goal is better the ground for growing, or start saving inputs on the bad parts of the land," Woolliams says. "You don't want to fertilize or spray those low-lying areas or hilltops that won't produce anything."
Woolliams uses these maps the next time he plants, feeding in more historical data for the software to use regarding his inputs. Every year he uses these tools, the stronger and more precise the analysis and predictions become.
GPS technology and map data also help for more precise planting. A common money suck for farmers during seeding is overlap, when rows of seed are planted too close together, wasting a portion of a crucial input. Autosteer, as the name suggests, automatically steers the tractor along straight lines, curves or concentric circles to sub-inch accuracy, making planting, spraying and harvesting way more exact than a human driver could achieve alone. "I used to budget for 10 per cent overlap when seeding, now it's down to two per cent. That's a huge difference," Woolliams says.
In Canada, costs of inputs, particularly fertilizers, are on the rise, yet the prices farmers fetch for their products continue to fluctuate according to the market. For this reason, Woolliams says embracing technology is a necessity for farmers in Canada. "Grain farmers, we're not price makers, we're price takers," he quips.
Political influences like the federal goal of reducing fertilizer emissions by 30 per cent from 2020 levels by 2030, part of the government of Canada's overall climate change plan, add more pressure, he says. "Farming used to be just farming. It was a lot simpler. You had this many acres that produced this many bushels, you sold it for this, and here's what it cost. But now you're running a multi-million-dollar business. You can't just go off on a whim anymore," Woolliams says.
Around 150 kilometres to the north of Woolliams, second-generation dairy farmer Dave Haefliger is using automation to maximize the efficiency of his operation today, in anticipation of impending challenges. "Using robotics is a hedge against future inflation on labour," says Haefliger. "The amount of information I get is unbelievable. I could have never dreamed of knowing this much about each cow."
Haefliger's father immigrated from Switzerland 40 years ago and started the family dairy farm outside of Lacombe. After high school, Dave worked as a mechanic for nearly a decade before joining the family operation five years ago. One of the first orders of business was to upgrade the barn and install two automatic milking units from Dutch agritech company Lely, a $450,000 investment. The milking units are basically big boxes that the cows walk into to feed. The unit automatically milks the cow, cleans it and applies balm to the udders when it is finished feeding. It dumps any of the off-colour milk automatically and measures how much the cows are feeding and other vital stats, using connected sensors worn around their necks.
Dairy farmers have been using machines to milk cows for more than a century, but the process for previous generations, like that of Haefliger's father, required a fair bit of elbow grease. Whereas farmers from his father's generation wrangled the cows, hooked up the machines, monitored, disconnected and cleaned up after milking, Haefliger says almost all of his cows walk into the Lely units on their own so there's no chasing them around. Because the Lely machines automate those formerly manual steps for milking, Haefliger says the units save him at least four hours of labour each day and that his cows are yielding 10- to 15-per cent more milk, on average, using the robots.
"There are all kinds of cost savings involved. It's unbelievable," he says. "I really think a smaller farm that embraces these robots can be more efficient than a large farm."
Yet, getting farmers in Alberta to embrace the latest ag-tech can be a challenge when some practices have been around for hundreds of years. Woolliams recalls several years ago at Christmas dinner when he was trying to convince his uncle of the merits of adding autosteer to his tractor. "My uncle's comment was basically, 'What am I going to do? I don't see the value in this.' So, we sat down at the table after dinner and ran the numbers. It paid for itself, but he couldn't see it at the time. Now he wouldn't go without it," Woolliams says.
Not all farmers have someone like Woolliams who is willing to help them alleviate their tech trepidation. But several government initiatives and private innovation hubs are trying to keep Alberta agriculture on the vanguard.
In May 2022, the Alberta government announced a $3.2 million investment to support 10 projects that enhance food production through digital solutions and automation. The funded projects include a hand-held blood analysis device that can predict sheep pregnancy and litter size using AI, robotics to enhance pork and beef grading, and the use of machine learning to predict agricultural impacts on soil health.
Non-profit tech accelerator Platform Calgary also recently announced a partnership with SVG Ventures Thrive, the leading global agrifood investment and innovation platform from Silicon Valley. The strategic collaboration will launch the Agrifood Innovation Digital Hub for Canada in the heart of Calgary to support Canadian startups and technologies that offer a more secure, sustainable or efficient future for the national agriculture sector.
"The activity and the number of options in terms of technologies and tools and practices that are being thrown at producers is just tremendous," says Dr. Joy Agnew, associate vice president of Applied Research at Olds College.
Agnew was recruited to Olds College in 2018 to lead the research division and the development of the Olds College Smart Farm. The 3,600-acre plot of fields acts as a proving ground for ag-tech companies and is also a place for Agnew's team to research novel innovations in farming.
In its first five years, the Smart Farm and applied research program attracted more than $50 million in external investment and engaged 108 Alberta-based small and medium-sized enterprises. Face-recognition AI that can identify animals within herds from pictures and video, drones that can classify hail-damaged areas within fields, and a mobile app that can assess crop disease are just a few of the innovations being explored through applied research projects.
"Many people don't realize that agriculture isn't just your traditional primary production farm. The tech side of it has just exploded in the last decade," says Stacy Felkar, Co-Manager of AgSmart, an educational expo hosted by Olds College each August that focuses on data and technology in the agriculture industry.
The Smart Farm communicates all of its non-proprietary research and findings for free to thousands of Alberta farmers online; through facts sheets, newsletters and magazines; and in person through community engagement events, meetings and conferences. The litany of outreach is to help farmers narrow in on proven technologies that can be adopted on their farms.
"When you look at ag-tech adoption rates, it's slow and steady for good reason because it's so risky. Farming is a business with razor-thin margins. Nobody wants to be the guinea pig. Nobody wants to be the first to try something," says Agnew. While agritech may be a lucrative opportunity for upstarts and entrepreneurs, it's essential for Canadian farmers' survival.
"It's a very competitive industry," Woolliams says. "You have to be progressive right now or you won't be around in the future."
Smart Eating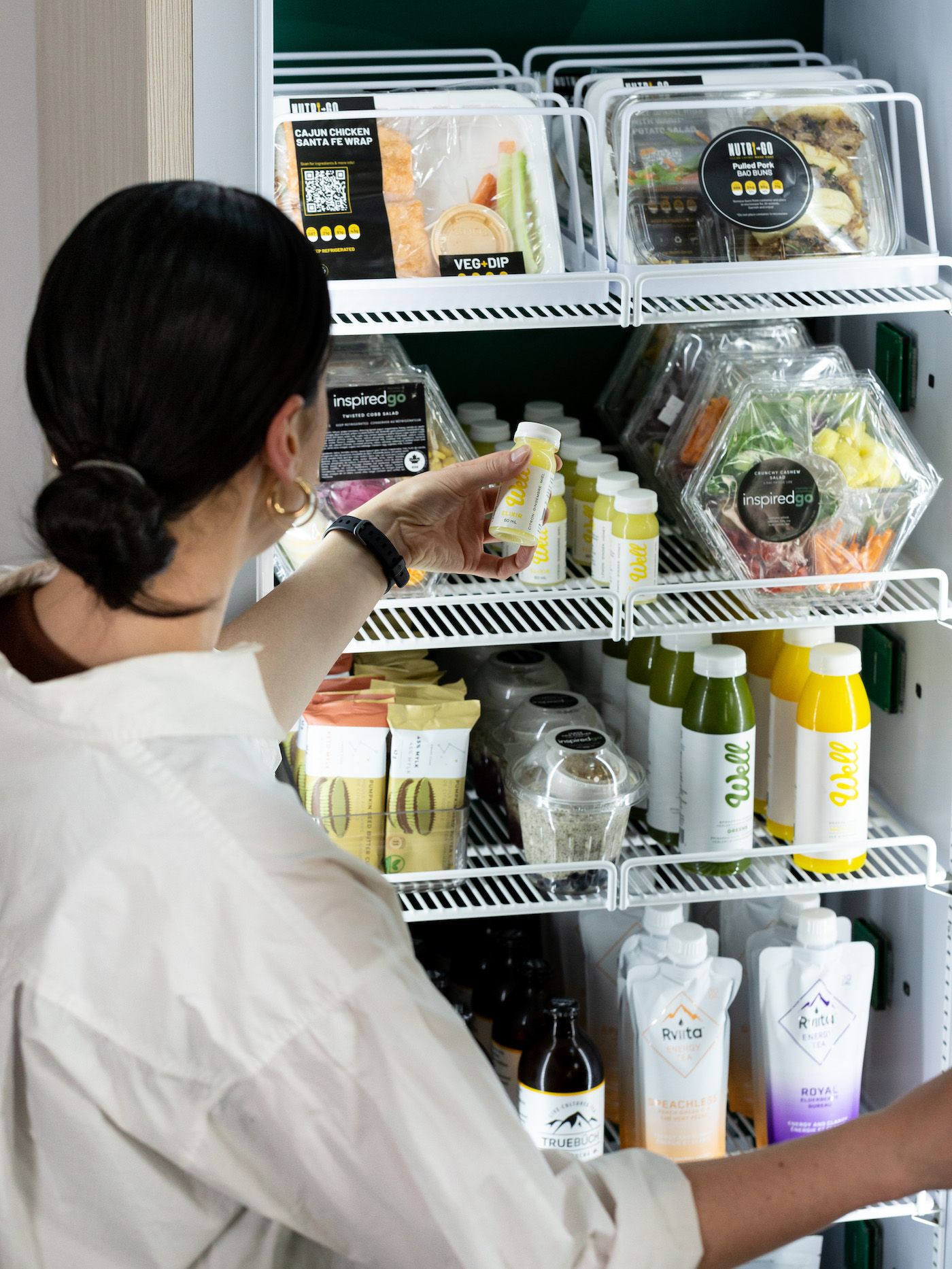 We've all been there: Lunch rolls around, and, with limited time and choices, you wind up grabbing fast food, or spending $20 on a salad or smoothie. What if, on those busy days, a healthy, reasonably priced, even locally sourced option was within reach and didn't require you to pack it yourself? Enter Naka. On a mission to make healthy food convenient and affordable, this Calgary-based company's refrigerated automatic stores are popping up in office buildings and co-working spaces around the city. Stocked with fresh, nutritious products from Alberta companies, including Inspired Go, Nutri-Go, Well Juices and Rviita Energy Tea, the smart fridges are accessible via an app. Simply browse the menu and select the item you want in the app, then scan the QR code on the fridge to open it; once you grab your salad, chia pudding or cold-pressed juice, you're charged for it through the app, too. Choosing something good for you has never been so simple. — Dominique Lamberton