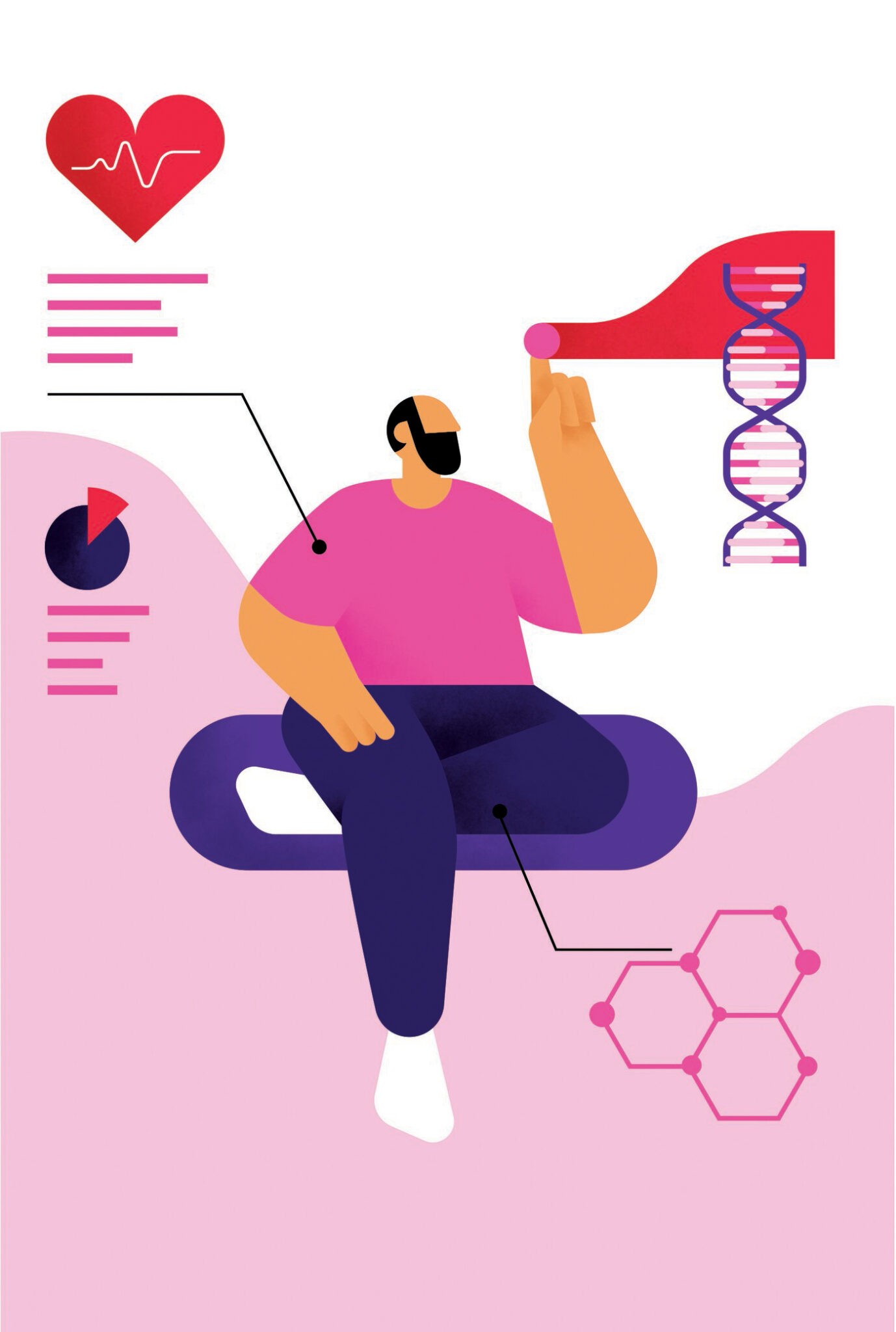 Oil and gas tends to get all the buzz, but Calgary also has resources aplenty in the health-care sector that are changing the way illnesses are diagnosed, treated and prevented. The city is home to two universities with a life sciences presence, and their researchers have access to a centralized health database for the entire province — a rarity even by Canadian standards. The local health field gets an additional boost from Calgary's burgeoning tech industry and incubators like Alberta Innovates that bridge gaps between industry and academia. Currently, the city is home to more than 120 life sciences companies that are saving lives and improving the quality of lives, be it as one-person startups or multi-million-dollar companies. Here are seven innovations that are changing the health field.
Since its founding in 2010, Orpyx has been a perennial star on Canada's health innovation scene. The startup made its name with a remote-monitoring technology, designed for shoes, that can help prevent diabetic foot ulcers. Now, Orpyx is moving into an expanded market with its new product line, Kinetyx. This product, also a shoe-based technology, measures how a body moves in the real world, similar to the way that a wrist watch can measure movement, but Kinetyx provides details on what's happening in the space between the bottom of a foot and the ground.
"There are more than 24 billion pairs of shoes produced annually," says Breanne Everett, Orpyx's CEO and co-inventor (and a member of Avenue's Top 40 under 40 Class of 2012). "If you can drive the innovation behind footwear, you can have massive impacts on the way that people move."
Virtual care is a booming industry world-wide, but PurposeMed taps into underserved areas — HIV prevention, and ADHD diagnosis and treatment. People across Canada face long waits for ADHD care and barriers to HIV prevention services. In Alberta, only two per cent of prescribers are licensed to prescribe pre-exposure prophylaxis (PrEP), the medication that's 99 per cent effective in preventing HIV transmission.With PurposeMed's Freddie service, patients can have a virtual assessment with a clinician who can prescribe PrEP, while the company's Frida service offers patients an online ADHD assessment for a $599 fee and, if diagnosed, ongoing care for $29 a month. Freddie is available in all provinces outside Atlantic Canada, while Frida is available in Alberta, B.C. and Ontario.
"We believe that using smart technology and the best clinicians will enable us to deliver a better health-care experience and ultimately better health-care outcomes," says co-founder and COO Pete MacLeod.
In 2019, newly minted Top 40 Ryan Todd, told Avenue that he hoped that his new startup could eventually impact one million people — a goal he called "arbitrary, audacious and maybe a bit foolish." Turns out, it wasn't foolish at all. Today, Headversity provides support for more than one million people in 22 countries.
Todd, a psychiatrist, launched Headversity for companies that wanted to improve the resilience and mental well being of their employees. The idea grew from his experience treating workers in Alberta who did not have access to mental health tools that could improve focus and mindfulness, and reduce depression, substance use and workplace accidents. "We were hell-bent on helping the people who needed it most," says Todd. Now, it seems, they're hell-bent on expansion: Headversity's client base grew by 250 per cent in 2021, while last year the company secured $12.5 million in Series A financing to expand into the United States, acquiring Health Improvement Solutions for an undisclosed amount.
Advancements come slowly with rare diseases, one reason being that there are too few patients in any one place for researchers to gather enough data about rare conditions. That's where Lumiio comes in. The locally founded digital health company specializes in building patient registries and collecting real-world data from around the globe. The data is then used by researchers, pharmaceutical companies and patient organizations to accelerate understanding of rare diseases.
Lumiio is the result of a project started 15 years ago by Dr. Lawrence Korngut, a neurologist at the University of Calgary. He partnered with doctors, clinicians and researchers across the country to form the Canadian Neuromuscular Disease Registry and collect patient data for more than 150 diseases. The effort was so successful that Korngut and his colleagues began getting requests for their expertise for other patient registries. They launched Lumiio to help patients suffering from all kinds of rare diseases around the world.
Today, the company has seven full-time employees and operates in 18 countries. It recently expanded into wearable integration — using data from things like smart watches — and overlaps this information with clinical and patient-reported data. CEO Blaine Penny's son was born with a rare mitochondrial disease that went undiagnosed. It contributed to a brain injury that left him unable to walk and talk. Penny says he hopes Lumiiio's work will help families like his. "We're going to be able to help prevent a lot more of what happened to my son and many others," he says.
When someone has a stroke, every second matters — two million neurons are lost every minute following a stroke — so UCalgary researchers developed a technique to shave minutes off the time needed to diagnose them.
A stroke happens when blood flow to the brain is interrupted by an obstacle in a blood vessel. The current method to find the blockage requires three main steps: a CT scan, a CT angiogram and CT perfusion. The last two require dye to be injected into the blood vessels. Dr. Philip Barber, an associate professor of neurology and radiology, Dr. Christopher d'Esterre, a former adjunct professor, and Connor McDougall, a postdoctoral associate in the Department of Radiology at the Cumming School of Medicine, created an imaging technique, known as SPIRAL, that can identify the blockage in a more streamlined way. With SPIRAL, a patient only needs one scan, and it does not need to be analyzed by a specialist. This means that clinicians in rural areas can make treatment decisions without having to send a patient to a larger centre. SPIRAL not only shaves minutes off stroke treatment decisions crucial for saving brain cells, but permits essential diagnostic technology for making these decisions to be available to all stroke patients at community hospitals in Alberta with a CT scanner.
Barber, d'Esterre and McDougall launched Andromeda Medical Imaging Systems Inc. in 2020. Now under the leadership of Barber and McDougall, the company is moving toward regulatory approval for SPIRAL.
In the early 2010s, Dr. Kenneth Fuh (Avenue's Top 40 Under 40 Class of 2022) and colleagues at UCalgary identified a molecular signature for breast cancer that could be picked up in a blood sample. They founded Syantra in 2016 with the hopes of scaling the technology to provide cancer testing to patients around the world. The company's flagship product, the trademarked Syantra DX Breast Cancer test, is a molecular assay for detecting an active breast cancer signature from a blood sample. It's currently available to women in 120 cities across Canada for $499. By this summer, Syantra DX will be available to patients in the United States, and, the company hopes, in Europe and the Middle East before year's end.
The beauty industry has a dirty secret: makeup brushes take ages to clean properly, but failing to do so can spread diseases like herpes and pink eye. Enter Rana Hyatt, a professional hair and makeup artist with a degree in sociology and chemistry from UCalgary. In 2018 Hyatt had the idea for a portable waterless brush sanitizer that cleans all powdered products and kills germs in a 60-second blitz, using UVC-LED technology. Stuck at home during the first waves of the COVID pandemic in 2020, she decided to bring her idea to life. Retailing for $499, the Airdrie-made product sold out of pre-sales at the end of 2022 and is now available for purchase again.