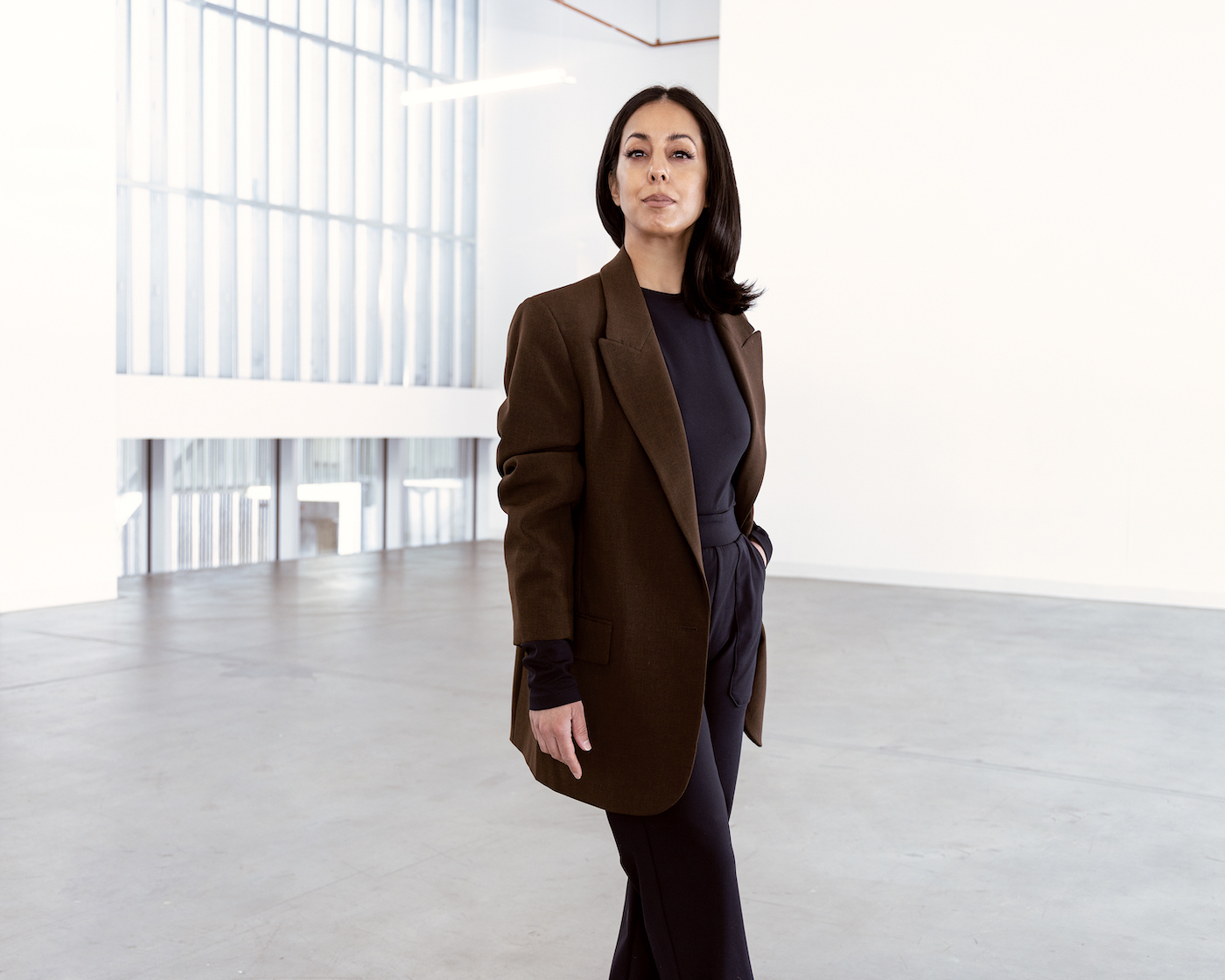 Let's get the whole Meghan Markle thing out of the way. On July 17, 2018, the Duchess of Sussex attended an event in London wearing a blush-pink sleeveless trench coat dress. Every fashion magazine from Vogue to Harper's Bazaar immediately posted photos of Markle accompanied by headlines such as, "Meghan Markle Is Pretty In Blush Pink" and "Meghan Markle is Obsessed with Trench Coat Dresses and So Are We," and, hilariously understated in Fashionista, "Meghan Markle Wore a Thing."
Meanwhile, in a Calgary suburb, Nina Kharey was pinching herself to make sure she wasn't dreaming: one of the world's most-watched women was wearing a dress she'd designed. "It was unbelievable, and she looked amazing in it," says Kharey, whose luxury womenswear line, Nonie, blew up with orders for the stretchy-soft cotton-blend dress (it can be yours, in pink or black, for $1,085). Already a success in Canada with a long list of devoted clients — including a friend of Markle's who, Kharey presumes, is how the dress made its way to the Duchess — Kharey became an international fashion star overnight. She was thrilled. Until she wasn't. The Markle moment was, in a way, the beginning of the end of Kharey's long-held passion for the high-end fashion industry.
Kharey was born and raised in northeast Calgary and went to high school in Chestermere. Her parents are from Punjab, India, where they were joined in an arranged marriage before immigrating to Canada in the 1970s. Both were soon employed in the textiles industry: Kharey's mom made men's suits, and her dad managed a factory that produced knitwear. She recalls the day her dad showed her a sketch of a sweater and, soon after, the completed sweater itself. Magic. "I was amazed at how someone's thoughts could be made to be worn by people," she says. Ironically, that moment lit Kharey's fire for fashion design — ironic because her parents were not supportive of her new interest in their work as a career choice for their daughter.
"They said, 'we didn't come here all the way from India for you to do what we do,'" says Kharey. "They were very clear that they wanted more for me." By "more," her parents meant doctor, lawyer or engineer. Kharey considered the first but ultimately pursued the latter, enrolling in the engineering program at the University of Calgary in 2001 (a decision she appreciates more now than she did at the time) and graduating in 2007.
"My husband Sandeep and I had a conversation back then about how everything is engineered, even the trees around the campus," says Kharey. "I realize now how much engineering has helped me understand life, and how a lot of this world we live in is cause and effect." Maybe, she adds, smiling, "that's all life really is and free will is just an illusion."
Belying Kharey's lighthearted existential musing is years of intense emotional distress growing up in a volatile home. From about the age of 10, Kharey was thrust into a role of peacekeeper and caretaker in her family, while her brother Jaspreet was a constant source of angst and anger for their rigidly traditional parents. "My brother was always getting into trouble," says Kharey, who remembers Jaspreet as loving and fiercely protective of her. "He was labelled as 'trouble' and that's what happens — you're labelled, and you grow up to fulfill that, and then you don't know how to get out of the situation you're in." Afraid for their son's future and ill-equipped to help navigate his thorny path, Kharey says her parents did their best in their capabilities, though their coping strategies often involved screaming and physical violence.
Now a mother herself to two young children, including a six-year-old boy who looks uncannily like Jaspreet, Kharey says it's achingly apparent to her what her brother needed to thrive. "From about Grade 6, Jaspreet really needed an arm around him telling him he was doing alright," says Kharey. "He didn't get that kind of support — our parents let him down, teachers let him down, friends let him down and, eventually, the police let him down." Kharey says that even as her brother encouraged his sister's dream of a career in fashion, he lost the plot in his own story. "Jaspreet was keen on going into law — he was very smart in school, much smarter than me, and he loved the book To Kill a Mockingbird." Instead, an adolescent Jaspreet got heavily involved with drugs and gang life. On Jan. 4, 2005, at the age of 25, he walked out of a northwest Calgary fitness club and was shot to death.
Kharey's parents have scarcely uttered their son's name since. They turned to religion to save them, while Kharey, who was mid-degree when her brother died, "went the other way — I went into self-discovery." She became acutely grateful for her life and for what she learned from her brother who, she says, "pushed me to do what I love." The circumstances of her brother's death also instilled in her a strong resolve "to always try to figure out the truth of things, because I saw how much easier it is to live with honesty rather than with lies." She routinely speaks to youth about her brother's final tragic years, and about the horrors of gang life.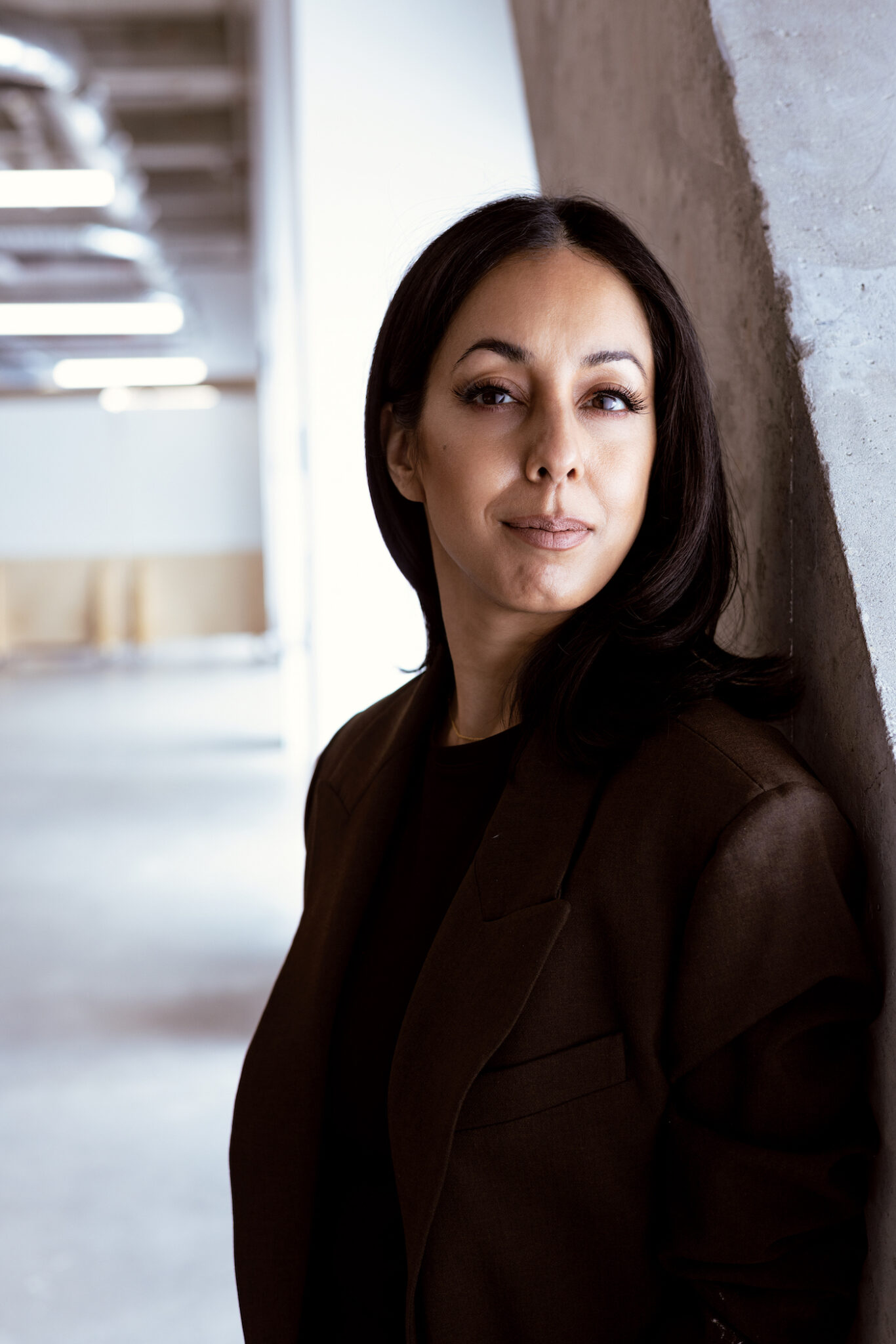 Following her Markle moment and subsequent rise in the fashion world, Kharey was invited to New York Fashion Week and other couture shows and events. Privy to a closer look at couture design, manufacturing and marketing, she became increasingly appalled at the waste, consumerism and ego she saw. At one elaborate New York show she witnessed a truckload of food that had been used merely as decor thrown into the trash. "I couldn't believe what some brands will spend on a 10-minute show," she says.
The advent of the pandemic brought yet more clarity. Suddenly, her Nonie clients weren't interested in buying expensive dresses nor, Kharey discovered, was she interested in creating them. Instead, early in lockdown when there was a shortage of personal protective equipment for health-care workers, she created a medical-grade mask that her company produced at a rate of upwards of 2,000 per week. "I loved being able to provide masks, and I wanted to help more," says Kharey. "That's when I decided to just stop what I'd been doing with Nonie and do something better for the earth and for people — I wanted to make something that was needed."
In 2021, Kharey's technical savvy, fashion pedigree and commitment to meaningful work converged in the creation of her company, Folds, which develops "disruptive" techwear for medical professionals. Modern medical attire hasn't had a shining moment since the 1970s. That's when female nurses stopped wearing white dresses and caps, and surgical greens — a.k.a. the "scrubs" worn by male nurses and surgeons — became the norm across the medical community. It was a practical, unifying step. Oddly, however, aside from the introduction of colourful patterns and some moisture-wicking fabrics, the look and feel of scrubs has remained immune to sartorial and technological advancements. When COVID put health-care professionals in the spotlight, Kharey decided she could do better for them.
While white-collar professionals can clothe themselves in designer suits, "health-care professionals, who are so dedicated to their work, have to wear uniforms that haven't been updated in decades." Nurses, doctors, and other professionals in scrubs should have their own version of a Prada suit, she says. With a Star Trek-meets-Lululemon aesthetic, Kharey's line of scrubs are as practical as they are, dare we say, sexy. The tops are tailored rather than boxy, and the pants are joggers with a drawstring and elasticized ankle cuffs. The uniforms come in juicy colours with names like Mars, Neptune and Ocean. While the company's official word on the intention of the clothing line is that "Folds is for health-care professionals … anyone who needs protective, performance-based medical techwear which is also good for our planet," Kharey says the scrubs are popular among chefs.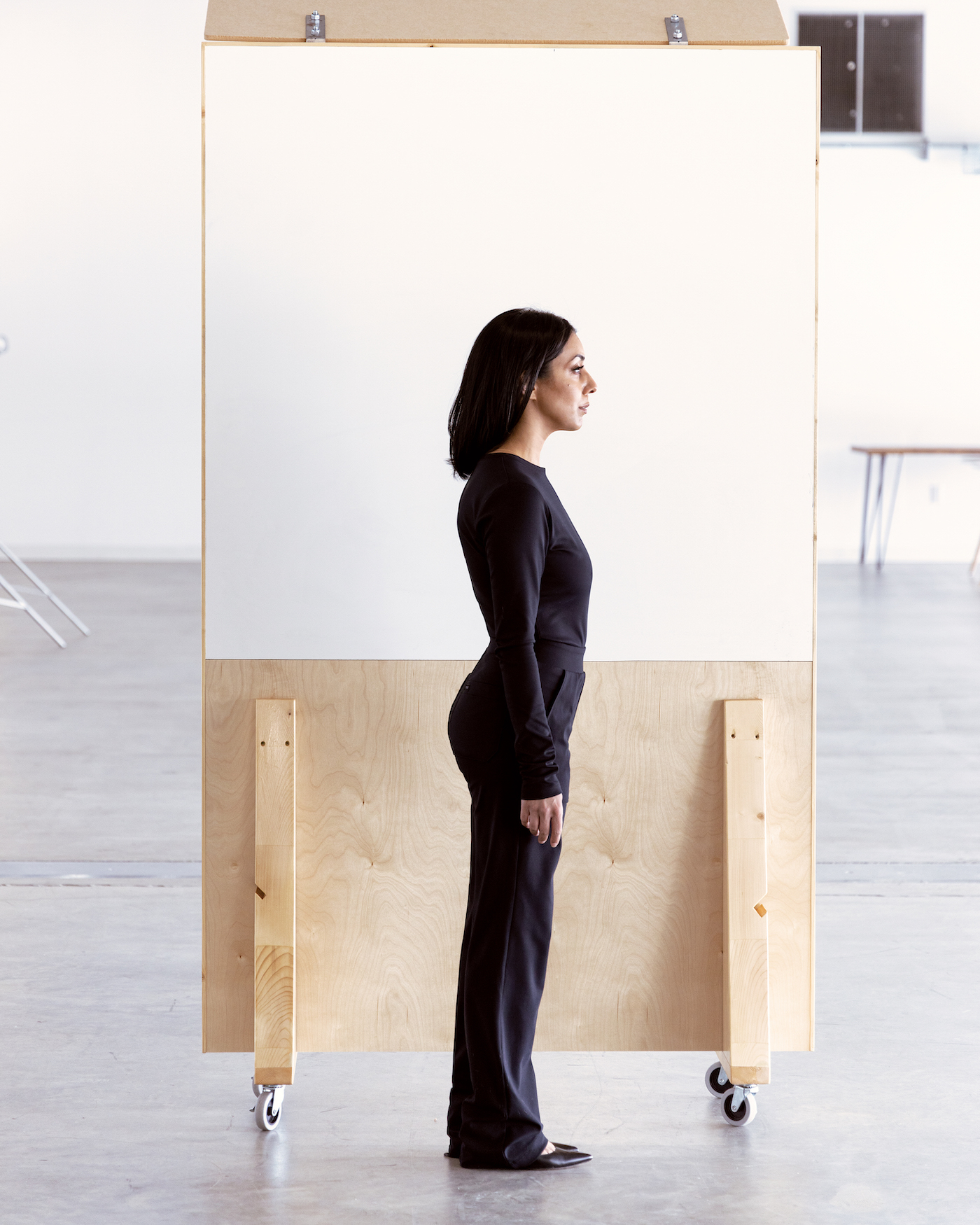 The Folds fabric has been Kharey's happiest point of pride. For a moment, she had considered using fabric made antibacterial via a DuPont product. But then: "A friend pointed me to the documentary The Devil We Know [a 2018 film that explores health hazards and coverups by the chemical company] and I was like, 'no way.'" Soft and stretchy, the fabric Kharey landed on instead is a feat of innovation that called for a deep dive into her engineering mind.
Working in partnership with a Spanish tech company and a lab that is also in Spain, Kharey developed a protective, breathable, naturally hydrating fabric, made from recycled material, that has antiviral, antimicrobial and antibacterial properties. It uses silver technology and a carbon compound to inhibit the growth of bacteria and viruses.
Basically, viruses can't live on the material and, so, as Kharey explains, the scrubs reduce risk of infection by not releasing polluted microfibers into the air. Testing by the Doherty Institute (an academic research institute in Melbourne, Australia) shows that the antiviral technology eliminates more than 99 per cent of viruses tested, including staphylococcus and SARS-CoV-2. Dr. Robin Gallardi, an oral and maxillofacial surgeon in Chicago, was an early fan of Folds. "I've tried many scrubs, and these are the most comfortable and durable — they withstand laundering and look brand new every time I put them on," she says. "Considering the current climate, I've been especially impressed with their antimicrobial technology."
Folds also reflects Kharey's move to reduce environmental harm. "The textile industry is responsible for four per cent of global solid waste — it's the third-most polluting industry," says Kharey. She and her team of five are working toward B Corp. certification, the highest level of environmental and social responsibility a company can achieve. The scrubs follow a "circular" model of production that leaves no waste; when your uniform wears out (Kharey says that should take about two years of regular wear, which is twice as long as a standard, frequently worn set of scrubs) they can be returned to the company where they will be melted, turned into pellets, and re-woven into new fabric.
The Nonie label abides as an occasional playground for Kharey when she has time and inclination to dip back into couture. But what fills her up is her ongoing disruption of the medical-uniform industry. Kharey has not only dramatically elevated the comfort, safety and sustainability of medical wear, but her contemporary, fashion-forward approach gives health-care professionals tacit permission to look and feel stylish. That's a bold shift that could only have been imagined in a rare mind under extraordinary circumstances — an engineer, global fashion star, and entrepreneur with an urgent commitment to transparent social and environmental responsibility.
Perhaps what makes Kharey most remarkable is that she innovates with people in mind. Her brother. Her children. And the ones who take care of all of us.