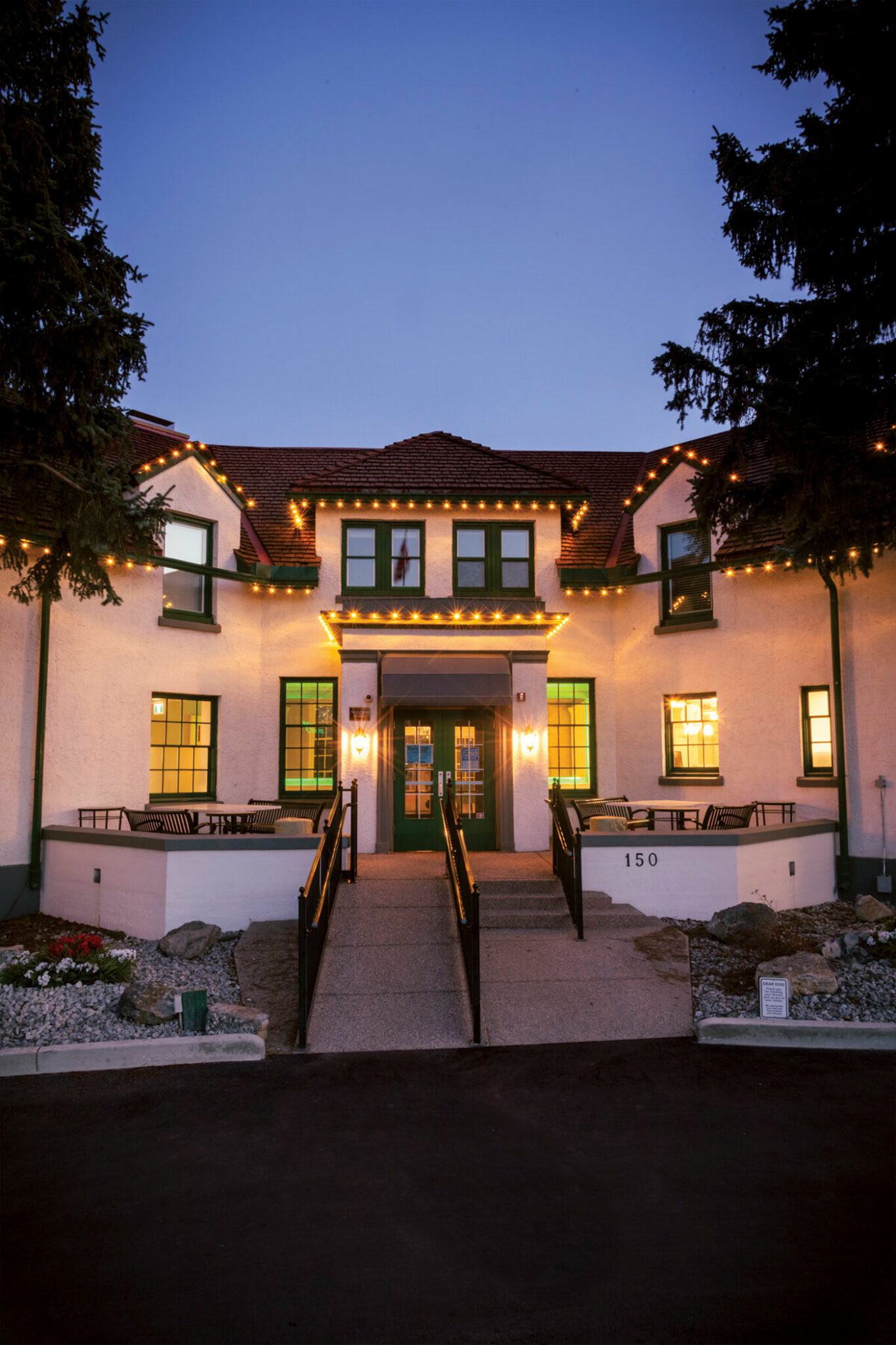 The Inn on Officers' Garden is a new boutique hotel, dining establishment and event venue in historic Currie Barracks, where the unique hospitality experience encompasses an equally unique screening program and innovative cleaning methods.
The Statesman Group of Companies, owner-operator of The Inn on Officers' Garden, acquired the property from Canada Lands Company, a Crown corporation that manages federal real estate and has overseen projects such as the redevelopment of the CN Tower. At the time, the late Mark McCullough was serving as general manager of Canada Lands. McCullough is lauded as a visionary urban planner and was responsible for the distinctive and walkable layouts of Currie Barracks and the nearby communities of Garrison Green and Garrison Woods. Statesman has paid tribute to McCullough by naming The Inn's conservatory space after him.
Robert Mah, The Inn on Officers' Garden construction manager, describes McCullough as a "great visionary for this area of Calgary," who was instrumental in keeping a lot of the original aspects of Currie Barracks intact. "We felt that it was really important to honour him and memorialize the fact that this building, and lots of others in the area, are here today because of his vision."
What is now The Inn on Officers' Garden was formerly the Officers' Mess Hall, a military building constructed circa 1936. Renovating the space to modern standards was no small feat.
"This is a fully concrete and steel building. It was like a bunker, really," says Mah. "We had to redo the entire HVAC, boiler system and electrical. Finding routes through concrete or around structural elements, we had to get creative in terms of making them either disappear through design or come up with different solutions than would be typical."
As if that wasn't challenging enough, Mah explains that each bit of construction required four levels of approval. Because of the site's various historical designations, the Province, the City, Canada Lands and top brass at Statesman all needed to sign off on every detail.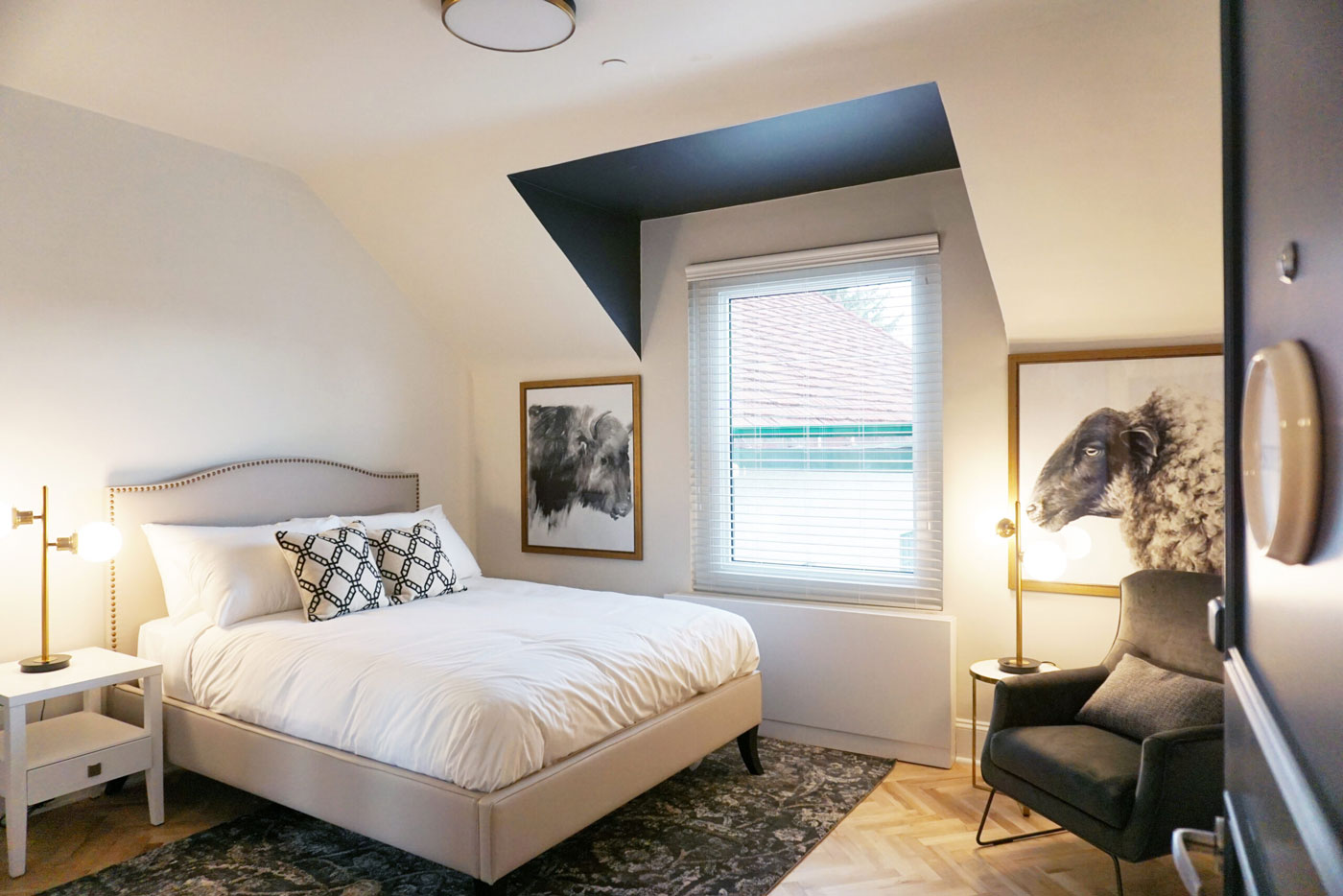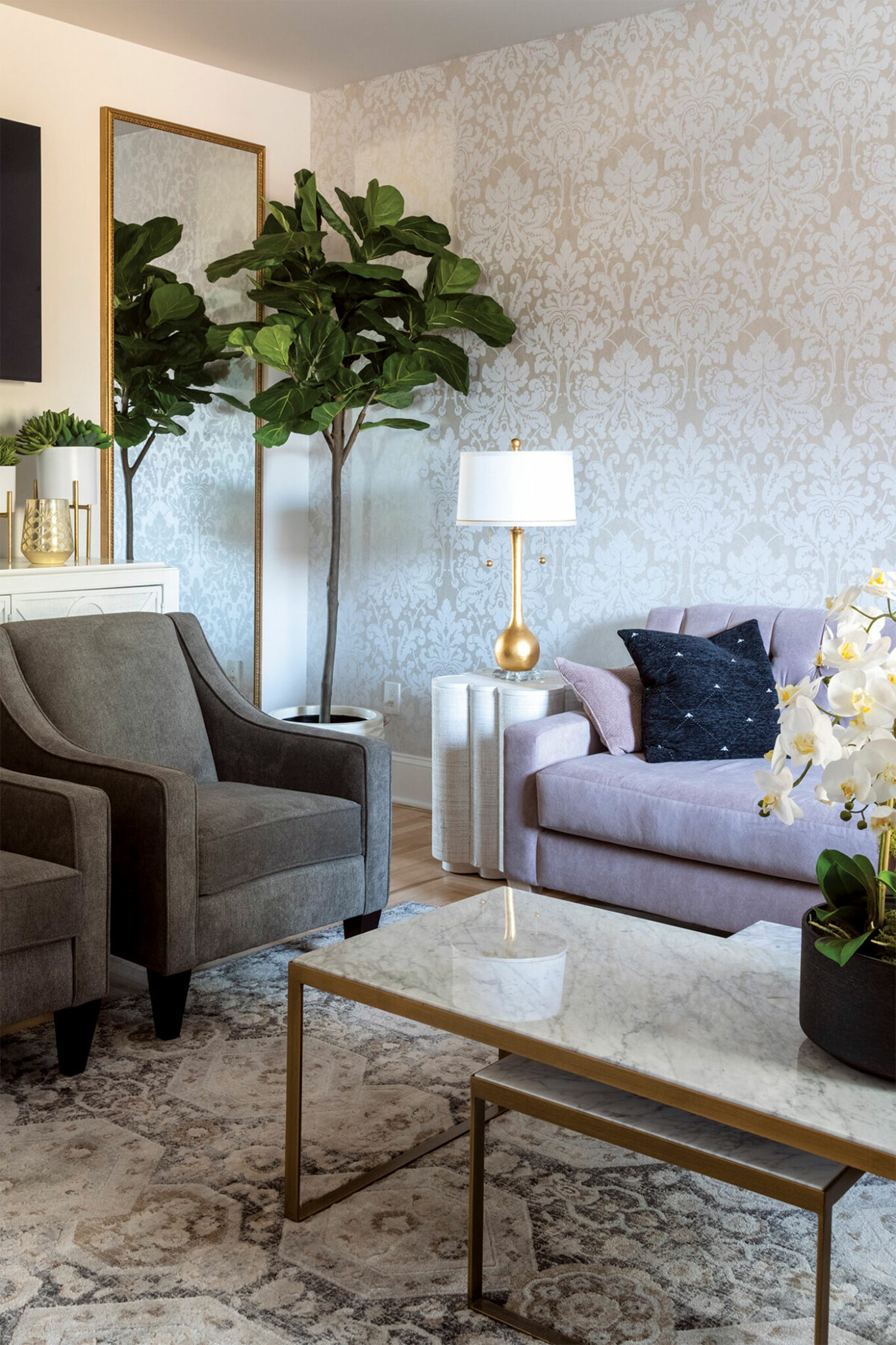 But this "labour of love," as Mah describes it, was worth it in the end. With just 13 suites (12 standard suites plus the QE II Royal Suite), the hotel portion of the property is about as boutique as it gets. It's largely targeted at wedding parties seeking a one-stop-hospitality-shop, though guests have also included visiting family members of neighbourhood residents, as well as those who need a home-away-from-home during renovations. Anyone looking for a super-special stay should know about the QE II Royal Suite, so named because then-Princess Elizabeth and the late Duke of Edinburgh spent the night there back in 1951. The room has been preserved as much as was feasible ­­­("there's quaint and then there's antiquated," quips operations manager Ron Jacobson) and it features a generous ensuite and sitting room area.
Dining spaces at The Inn include Officers Pub, the largest dining space on site; Vino Chat, a private dining room for up to 24; and adjoining lounges The Living Room and The Snake Pit, which has billiard tables. Flanders Fine Foods provides grab-and-go service and can also do buffet service — if and when this style of dining is permitted under COVID-related restrictions. There's also the aforementioned Mark McCullough Memorial Conservatory, which extends out to a patio. Each concept serves as much local product as possible, with offerings ranging from pizza and hand-held items to steak frites and lamb-shank entrees. The focus on local is about supporting the community, Jacobson says. "If we don't look after each other, nobody else will."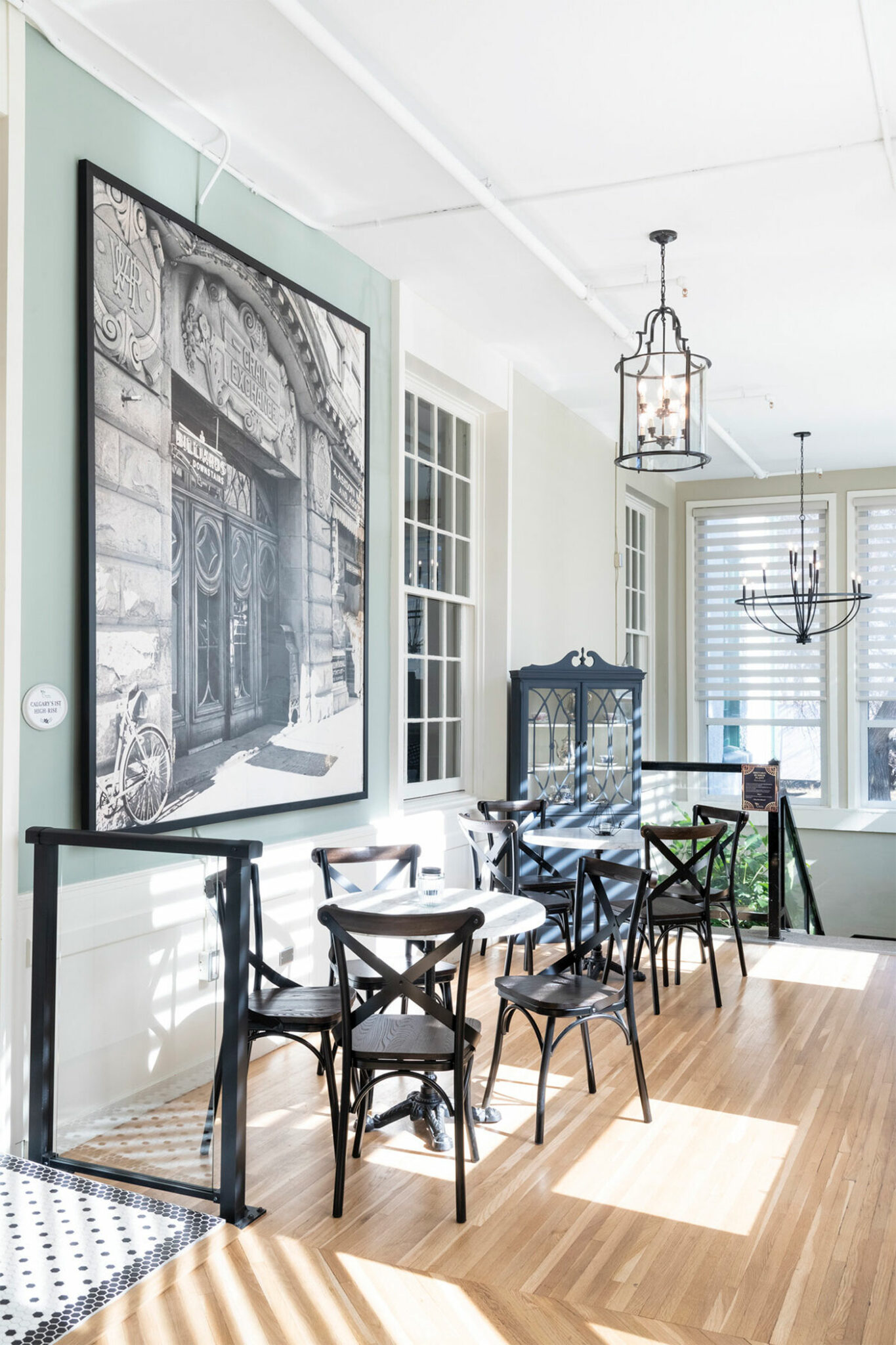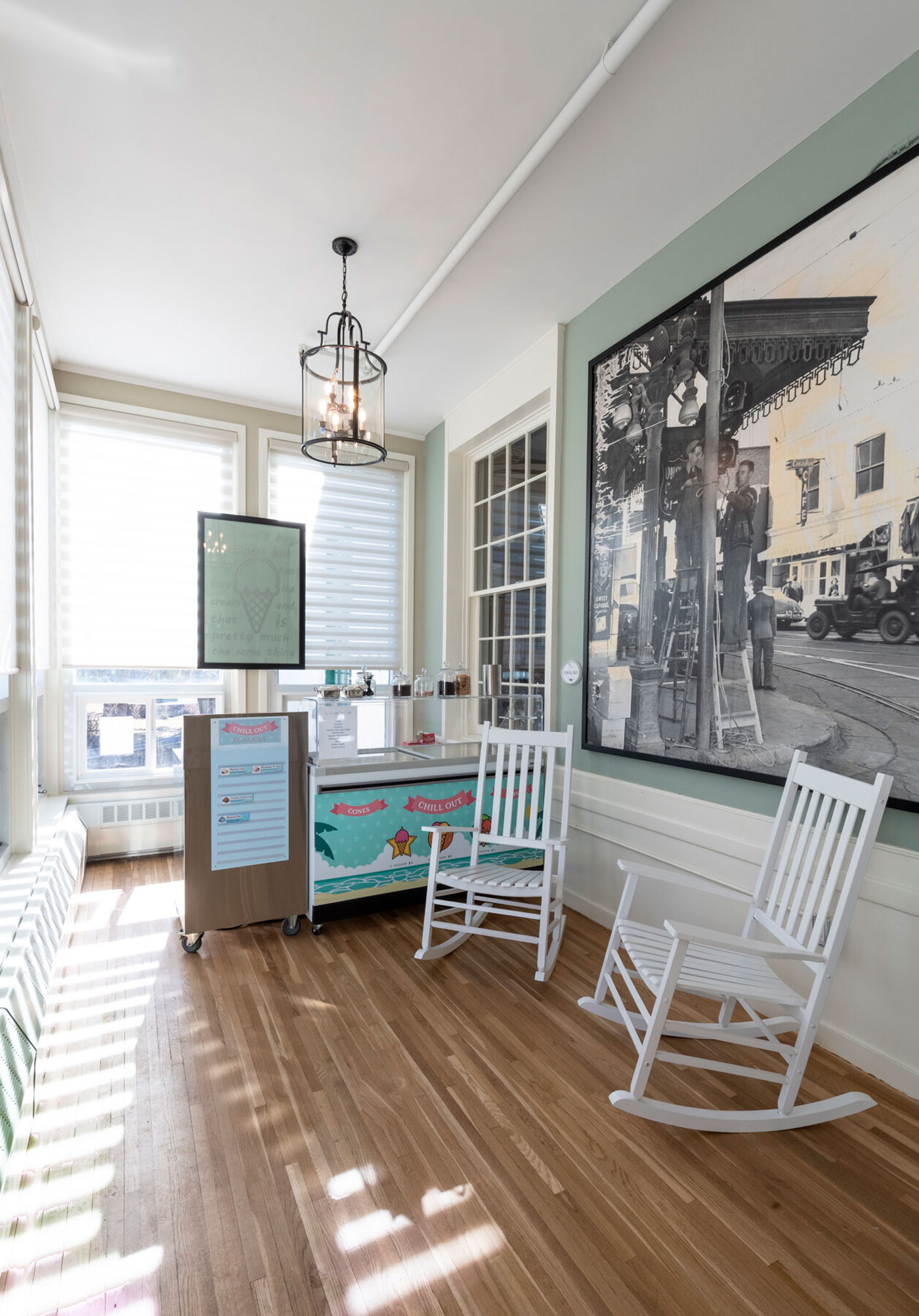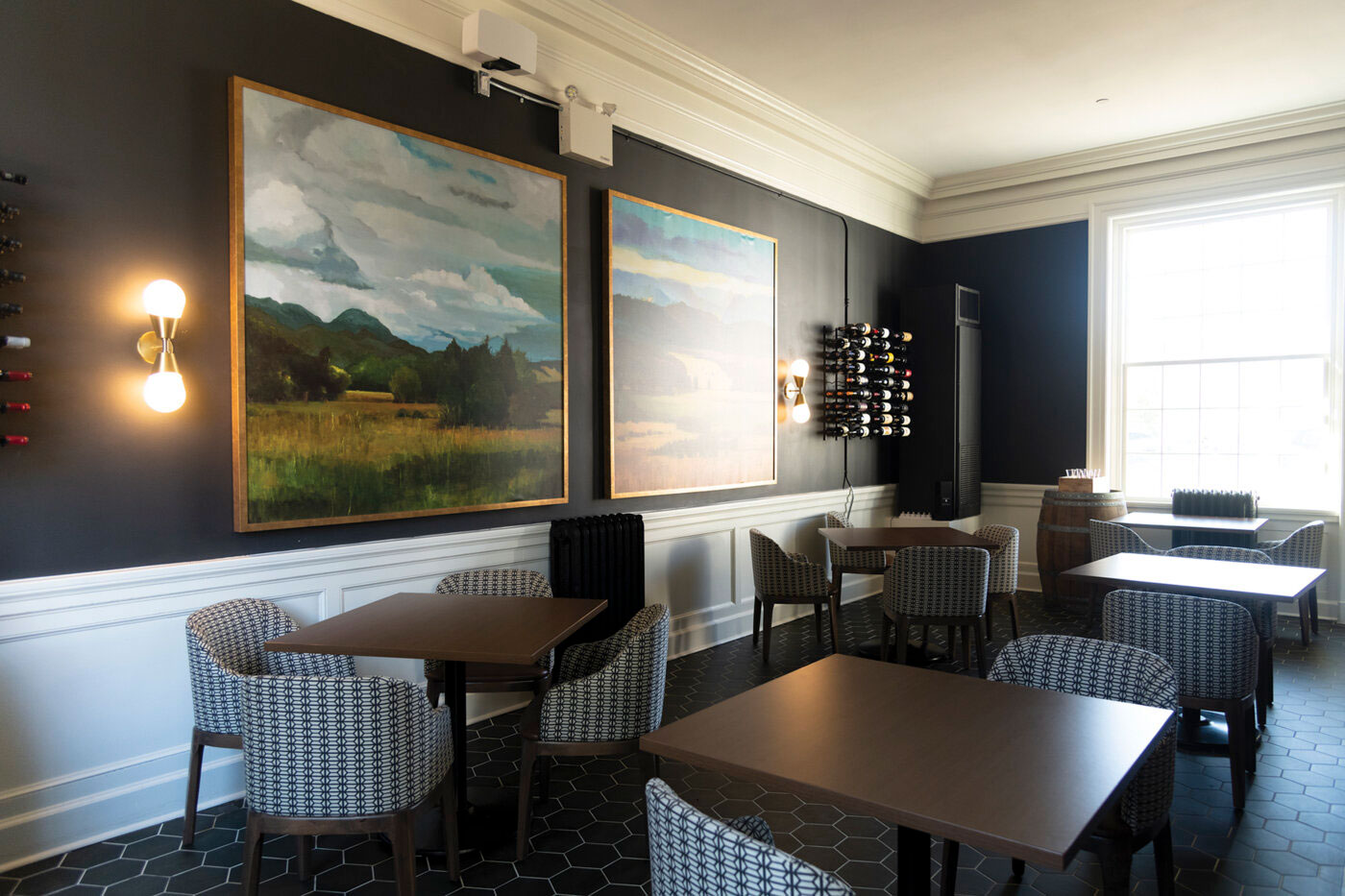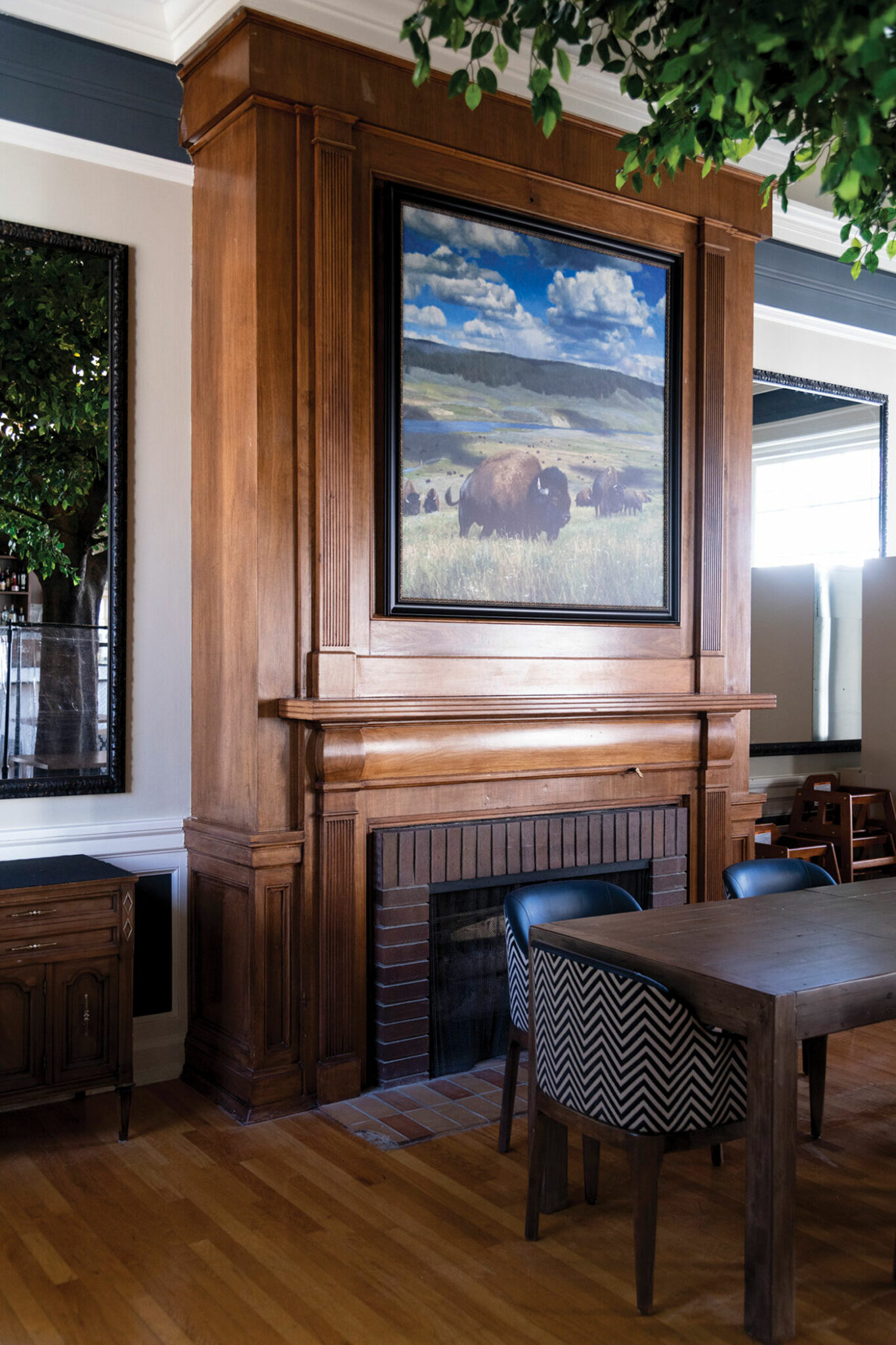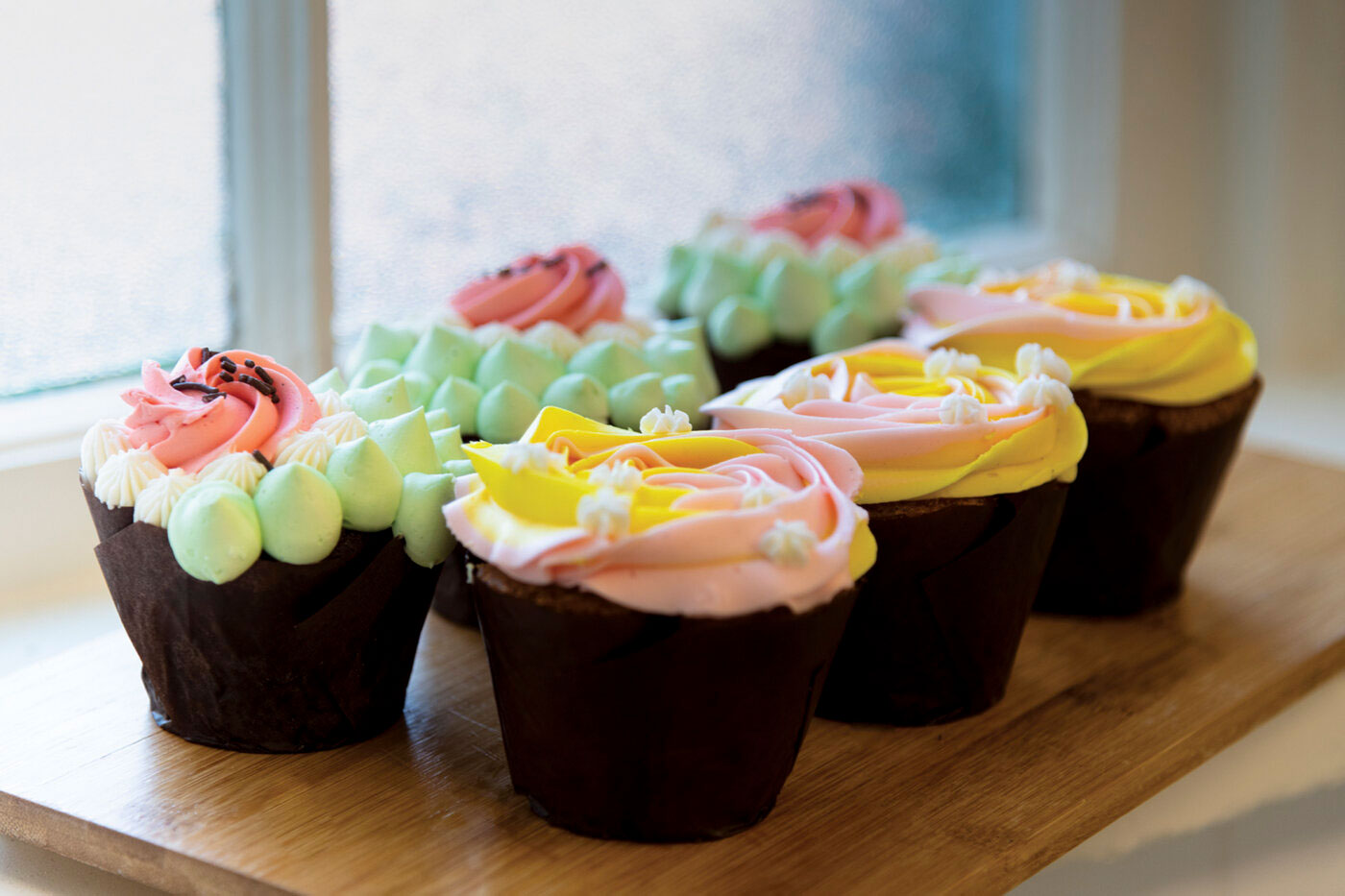 It's easy to picture celebrating a birthday in Vino Chat or hosting a bachelor(ette) party in The Living Room and The Snake Pit. But, if you can experience only one dining concept at The Inn, might we suggest brunch or high tea in the airy glass atrium of the conservatory? The unique space also features a quaint ice cream stand and opens onto the Officers' Garden, which can accommodate outdoor events.
Despite COVID-related restrictions and lockdowns, The Inn has successfully hosted a variety of events since it opened. Between September and December 2020, there was a wedding, Oktoberfest celebration, community Halloween party and an artist market. At the time this story was written, Statesman confirmed that The Inn had not been identified as the site of a single coronavirus transmission.
This success rate is likely due to its novel screening and cleaning methods. Upon entering, guests are greeted by what Statesman calls "Dr. Wellness." The electronic screening system uses a camera to determine whether you are wearing a mask, does a digital temperature check and asks a series of screening questions. If you pass inspection, Dr. Wellness emits a positive sound to notify staff that you have been cleared to enter and can proceed to sign in for contact tracing. Failure to pass inspection leads to an error sound and denial of entry. (All data collected by Dr. Wellness lives on a privately owned server and can only be accessed by Alberta Health Services should contact tracing be required.)
To develop Dr. Wellness, Statesman worked with Port Coquitlam-based Real Time Networks, a tech company focused on security. Based on Statesman's needs, which are dictated mostly by policies of Alberta Health Services and Ontario Health, Real Time custom-built the Dr. Wellness product based on an existing piece of tech in its arsenal. Currently, Dr. Wellness is installed at The Inn as well as at The Manor Village Life Centers, Statesman-owned supportive senior living homes.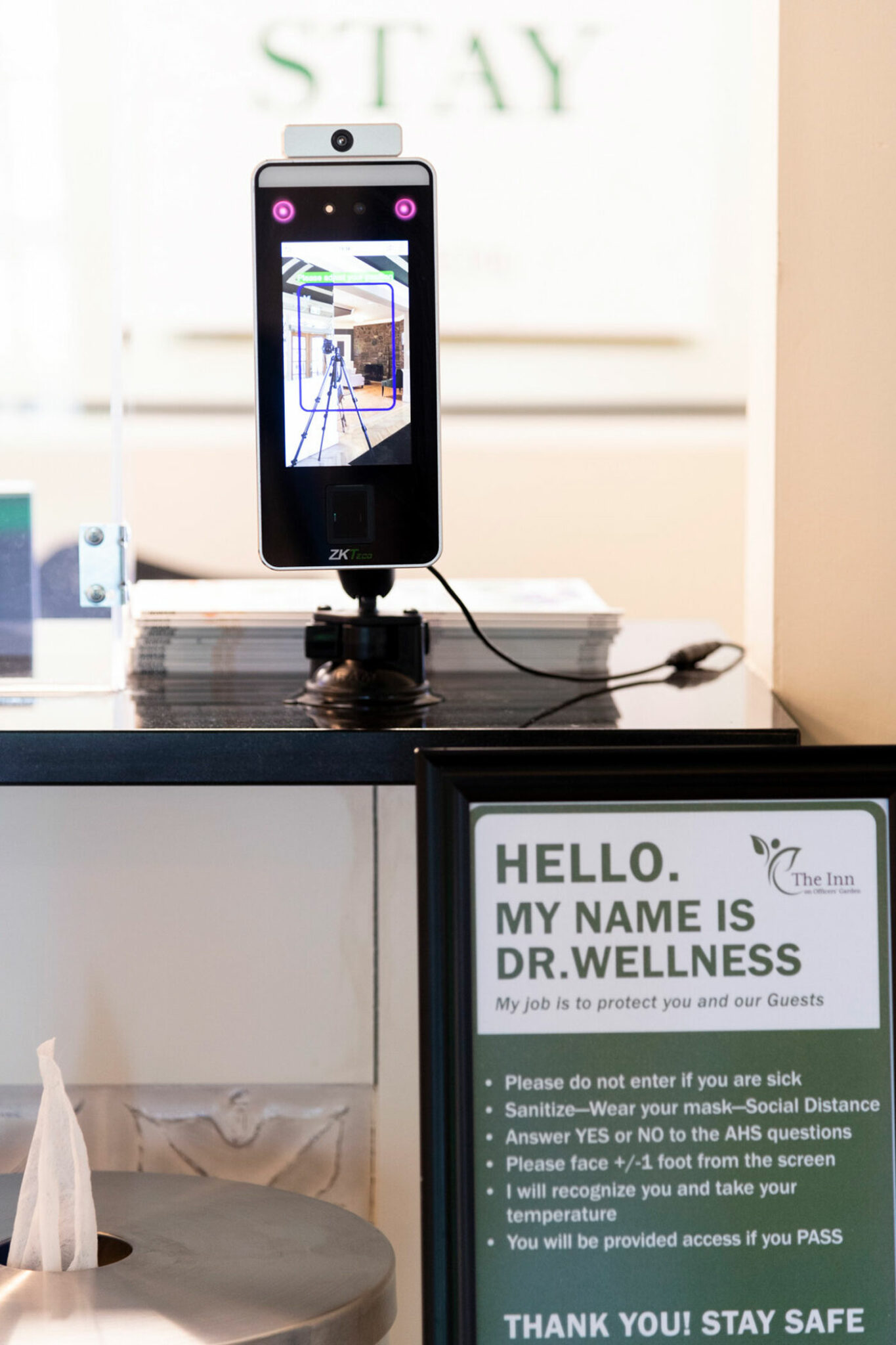 Along with its novel guest-screening program, The Inn uses novel cleaning practices such as UV-C cleaning wands and towers. These devices use a special kind of ultraviolet light that has been known to kill viruses and bacteria. While there is no definitive proof that UV-C cleaning kills COVID-19, the National Academies of Science, Engineering, and Medicine (the collective scientific national academy of the United States) has publicly stated that it is effective in this capacity. The Inn is also using hydrostatic sprayers, which disperse cleaning products in a high-velocity mist that clings to round or unusually shaped objects, such as doorknobs. In addition to these innovative cleaning processes, Inn staff do numerous standard cleans with hospital-grade disinfectant throughout each day.
While it might seem that such a rigorous cleaning regimen would create a clinical-feeling environment, The Inn maintains its sense of warmth and historic charm.
Between December 2020 and February 2021, when restaurants and bars were mandated to close, The Inn pivoted to curbside pickup and delivery. While that's something nearly every restaurant in Calgary did, The Inn skirted the prohibitive surcharges of third-party delivery apps and launched its own web store for orders. Because of this, the facility was able to keep staff on to execute deliveries, with staff members receiving a Dr. Wellness inspection upon every entry, including following deliveries.
And so it seems the team behind The Inn has gone above and beyond to ensure success through innovative practices and a community-minded focus. It's a safe bet that McCullough would be proud to see these fruits of his legacy.