Inside the Bee Kingdom Glass Studio
Recently celebrating its 10th anniversary, Bee Kingdom Glass is the Calgary-based collaborative studio that creates glassworks ranging from fine art sculpture to a functional production line.
Words and photography by Julya Hajnoczky
Ryan Marsh Fairweather and Phillip Bandura met when they were students at the Alberta College of Art + Design in 2001. Their time working together at the Pilchuk Glass School in Seattle in 2002 helped solidify them as a team.
During their 3rd year at ACAD, Tim Belliveau, (who still participates in some exhibitions with the collective, but is currently devoting his energies to pursuing a master's degree in Montreal), joined the group. Towards the end of that year, Bandura proposed the move to the house that would eventually be transformed into the Bee Kingdom's studio and gallery. That's when the three of them really got to work.
They spent their fourth and final year at ACAD working on converting the garage to a studio and acquiring the necessary tools. By the time graduation rolled around the Bees were ready to get right to work creating glassworks. They all lived and worked in the house for the first several years.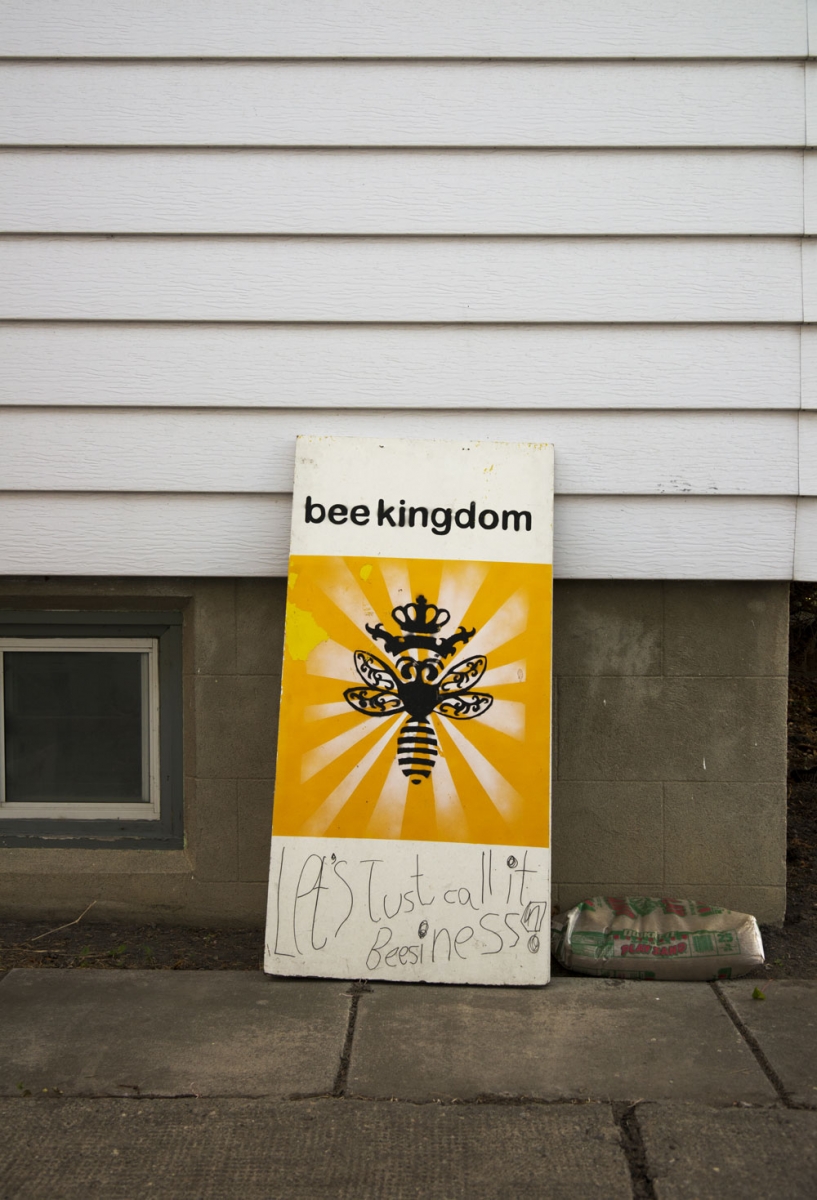 The Bee Kingdom studio is located in a converted garage in Mount Pleasant. This witty slogan contributed by a friend's daughter.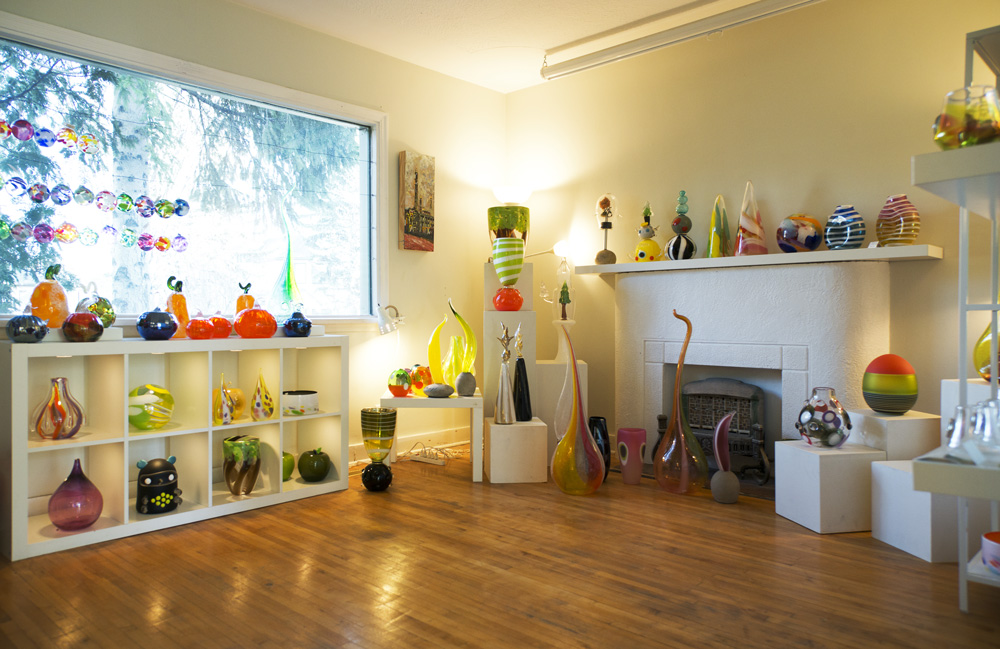 When the Bee Kingdom was founded, the artists all lived together in the home, enjoying a brief commute to work in the studio in the garage out back. Now the house serves as a gallery and office space.
What got you started in this field, doing this type of work?
Phillip Bandura: When I was growing up, we would go to Vancouver to visit relatives who lived right near a glassblowing studio, and I'd go over and watch them working and was fascinated by it. Then in high school as a birthday present I was gifted a night class in glassblowing at ACAD, and just fell in love with it. So I went to ACAD with the specific intention of going into glass.
Ryan Marsh Fairweather: For me, I didn't even really know glass was a thing, so when I went to ACAD, I went just to kind of explore. I took glass as an elective in my first year. I saw a demo of someone making a little bowl, and just the environment and the process of glassblowing got me hooked immediately, before I even knew what kind of potential there was for making glass artwork. I got really enamored by the process, and everything followed after that.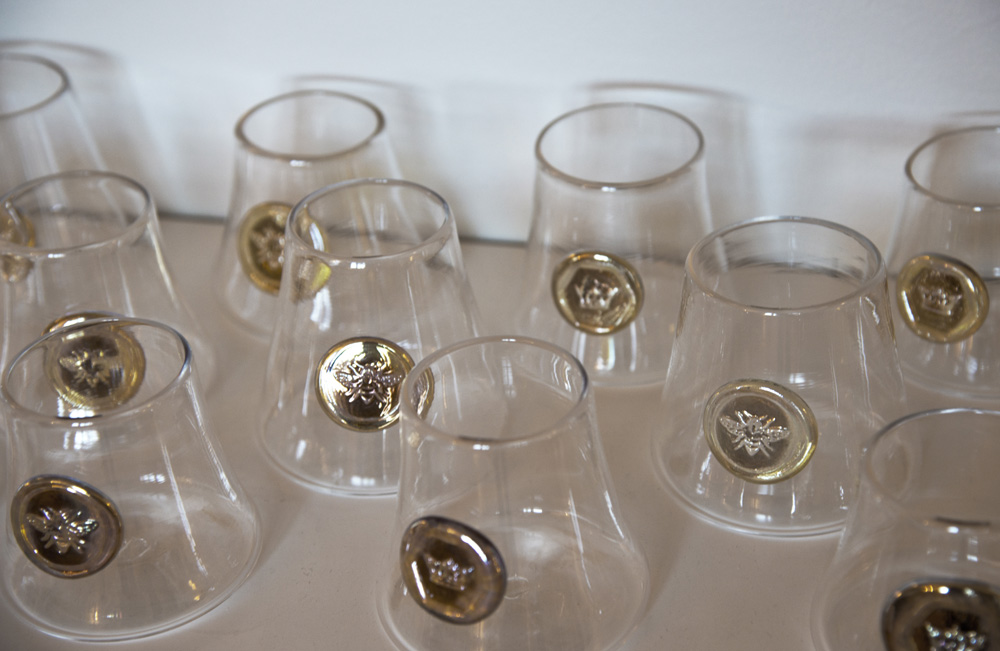 Royal Scotch glasses from the collective's production line are displayed in the gallery area. Each piece is unique and made by hand, evidenced by subtle variations in form and size.
How did you decide to form the collective?
RMF: It was pretty organic. The glass program at ACAD is relatively small, and you usually get paired up at a bench [in studio classes], so you learn to both assist and be the person who leads the piece. Phil and I clicked there. Tim was more interested in getting into sculpture, but when he didn't get into that department he came to glass and really it worked out for all of us because we all realized that we could use glass as a sculptural medium, that it wasn't just making bowls and cups.
It was pretty intuitive. We learned a lot as we went. None of us has a business background, so we've had to learn by trial and error and use common sense. We practice pretty differently from other glassblowers – we don't really use commercial galleries much anymore, so where other artists make the work and rely on the gallery to deal with the business side, we do all of our own sales and marketing. We've put a lot of emphasis on our open studio weekends, and we get more people coming to us with commissions than ever before as we become better known, so the model we've invented for the business seems to be working out.
What does it mean to work as a collective?
RMF: We work together on performing all the functions of the business, ranging from taxes and marketing to creation and design and everything in between. With the glasswork, we need each other to get things done. For our production line, for example, we both have input into the designs, and then we work together to make those pieces. But even with our personal pieces, we still need each other's help That's just the way glass works – physically, you need to work as a team.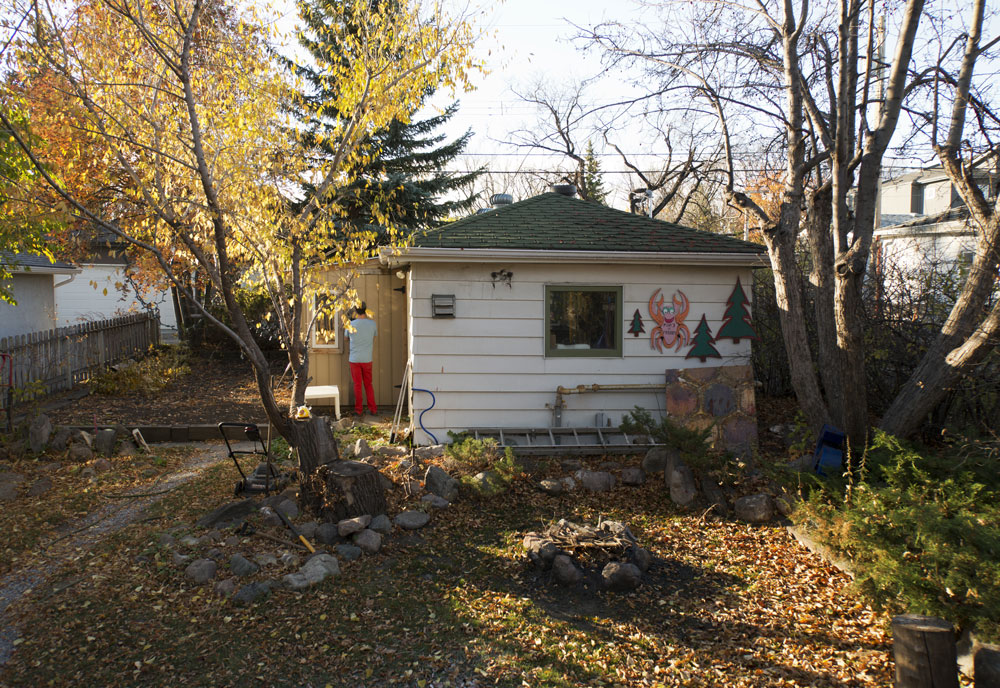 Bandura opening up the studio to begin the day's work.
Where are you most productive?
RMF: Our studio of course isn't mobile, so we have to be productive there. Early on, we would work 8 hours a day, 7 days a week. Partly because we needed to produce, but also partly because we weren't as good! Now that we've been doing this for years, we can go into the studio and make the same body of work in 3 or 4 hours that would have taken us a week early on in our career. So that gives us more time to work on creative ideas. We didn't want to burn out, so as soon as we were able to, we stopped working 7 days a week and scaled back to 6, and then 5.
Sometimes, for example when we have a big show coming up, we'll give ourselves more time outside the studio just to think and process our ideas. We can play it by ear – if someone wants to go on a trip somewhere because they feel it will inspire them, we try and make it work. Now that we have some assistants, we have a lot more flexibility.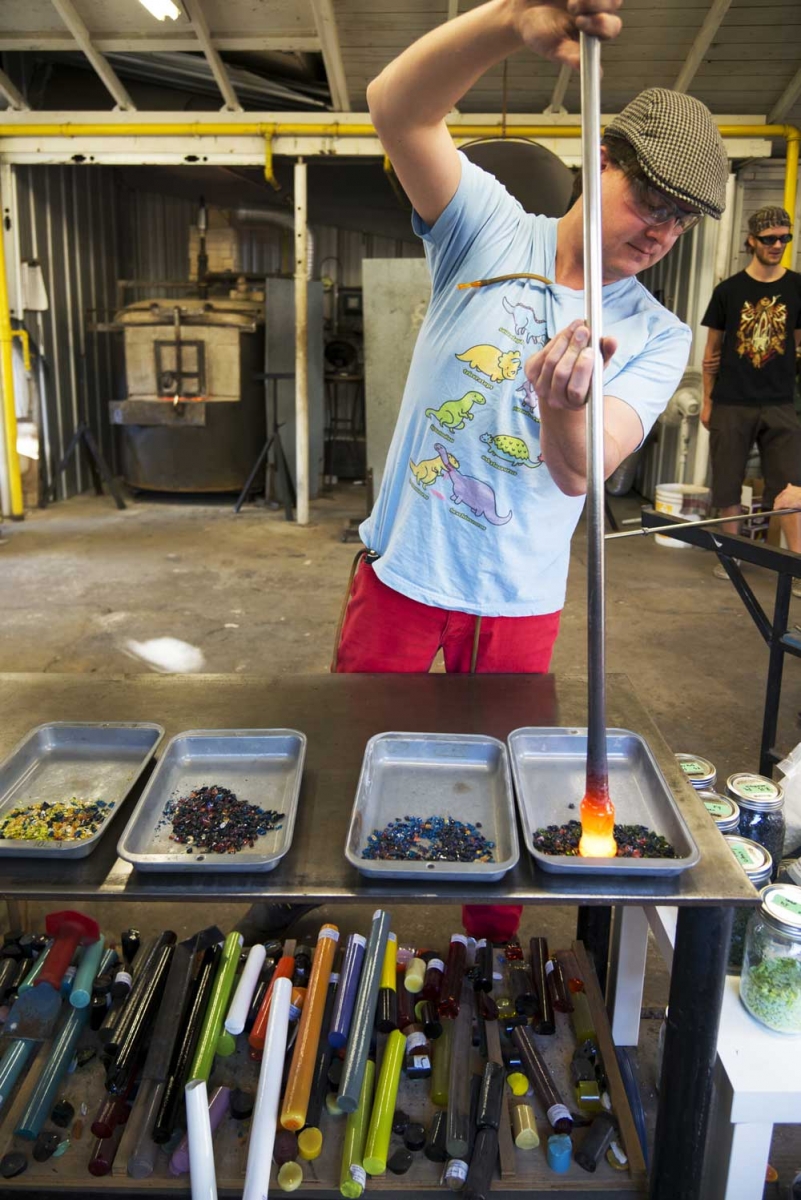 Bandura starts a wineglass by gathering molten glass from the furnace on the end of a blowpipe. He then dips this in a tray of frit (crushed coloured glass). The small particles of colour will melt and swirl with the clear glass.
What projects are you working on currently?
PB: The most recent thing we did was a sculpture with Beakerhead called The Fabulist. That is the start of a new body of work that will culminate in a show at the Ruberto Ostberg Gallery called Magical Thinking. Humans are able to come up with these collective ideas, let's say this recent election for example. We made that up, and then people all kind of go do it, even though it's not really a thing – ideas like government or religion, they're made up by people. When people invent these things like elections, or religions, and everyone sort of agrees to go along with the concept, that's magical thinking, and that is the theme we're working on right now.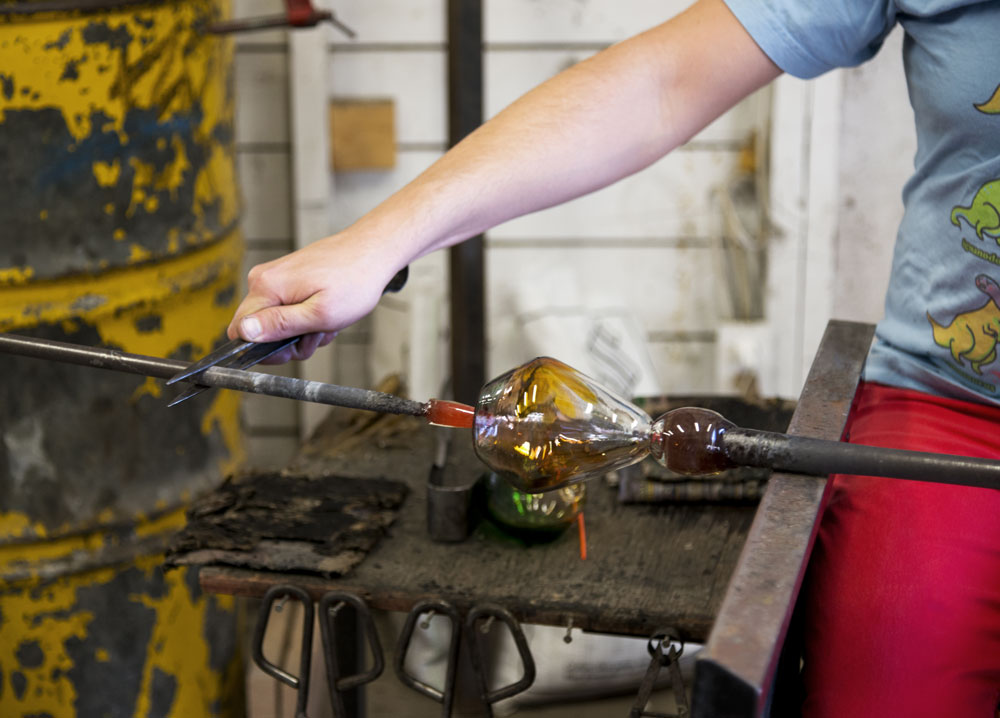 Once Bandura has inflated the glass, he transfers it to Marsh Fairweather who will continue to shape the piece.
Where do you see this project going?
RMF: Personally I'm interested in looking at objects of power. How people project their beliefs onto inanimate objects, give them special powers, making them into these special relics. Magical Thinking is a broad theme, but it gives us a little bit of focus as we work towards the exhibition so we like to use themes in our work. At ACAD, we were trained to think about what to make, not necessarily how to make it. We had to learn how to process and execute and grow ideas. The themes in our exhibitions are fairly broad but that allows the three of us to make work in the same realm, but still explore individual ideas.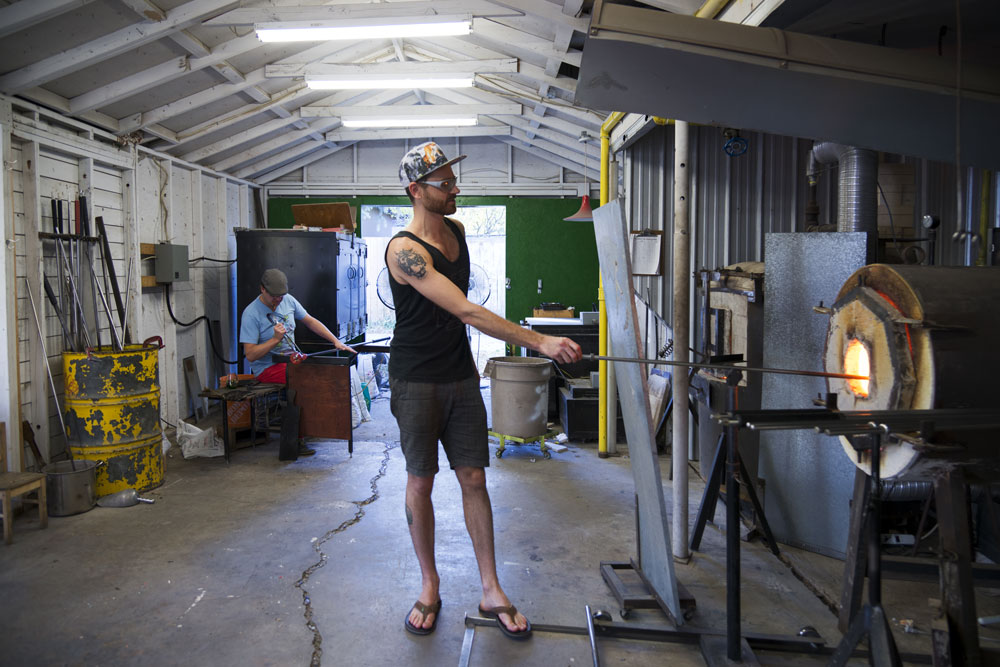 As Marsh Fairweather takes the glass to the reheat station, Bandura is back at his bench and already starting the next piece.
What are you planning next? The Fabulist at Beakerhead was not glass, are you looking to move towards other media in your work in the future?
RMF: We'll always have a focus on glass, but because it's limited in what it can do, in order to express some of our ideas we include other mediums in our work. I use digital illustration; Tim has done woodcuts, laser cuts.
PB: I like to use other materials like metal or wood. All of my pieces at the Glenbow for example had other materials in the work. For this show I'm still exploring, I don't have a set idea yet on what materials I want to incorporate for the Magical Thinking show.
RMF: Fabric is definitely something we'd like to explore. Fabric and glass are actually similar in that both the materials are inflatable. The nice thing with fabric is you can do it at any scale. We've wanted to make our work more immersive, to have it surround people. At the Glenbow or at Ruberto Ostberg Gallery, we can surround you with the work, but the glass pieces are still intimate objects, whereas with The Fabulist, at 35 feet tall, it's something that towers over you, overpowers you, which is kind of a cool shift in the presence of our work.
We'd like The Fabulist to travel in the future. We've participated in a festival in Berlin called Pictoplasma in the past. It's a character-based event with talks and gallery shows, and it would be great to bring it out there in the next couple of years.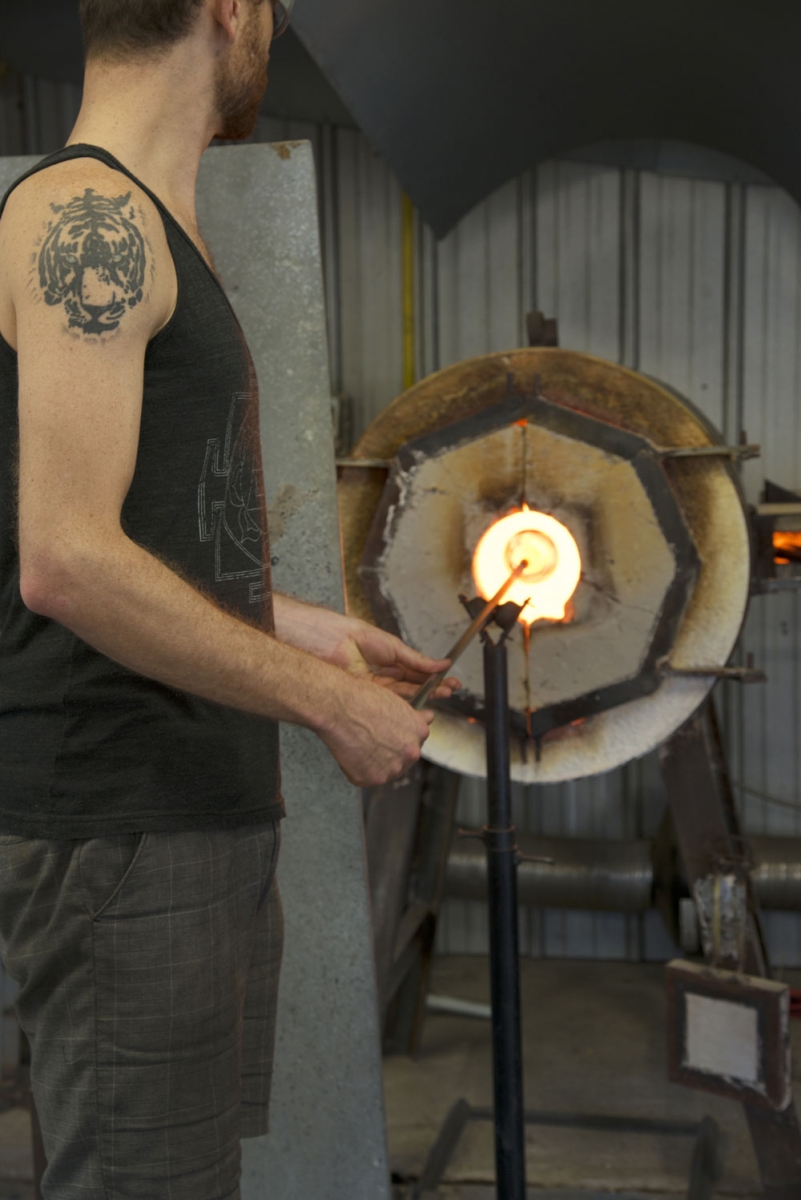 The glass must be kept at just the right temperature to hold the desired form, while staying malleable enough for further shaping to be done. Marsh Fairweather works at the reheating station before returning to his bench to shape the mouth of the glass.
Who are some of your favorite/most inspiring makers?
PB: We look at a lot of artists outside the world of glass, but one glass artist we really admire is Dale Chihuly. He's sort of the superstar of the glass world, especially his marketing. That's something we've always tried really hard to do a good job at, at getting our name out there. Being a part of Pictoplasma has been a huge inspiration to us as well, because it's a lot of character art and artists who are into character design. There aren't any other glassblowers who have shown there, it's mainly illustrators and designers.
RMF: The focus on the conceptual side at ACAD taught us to see ourselves as artists who use glass, not necessarily just glass artists or glassblowers. We start with the concept first and then use the material to execute it. That brings a lot of flexibility in associating with other artistic communities, so being a part of Pictoplasma is an unusual thing for glass to do – we're using glass in a new way, that allows us to participate in different communities rather than confining ourselves to a niche. We like to be much broader in our art-making, we get to participate in lots of interesting opportunities overseas, and we look forward to continuing that.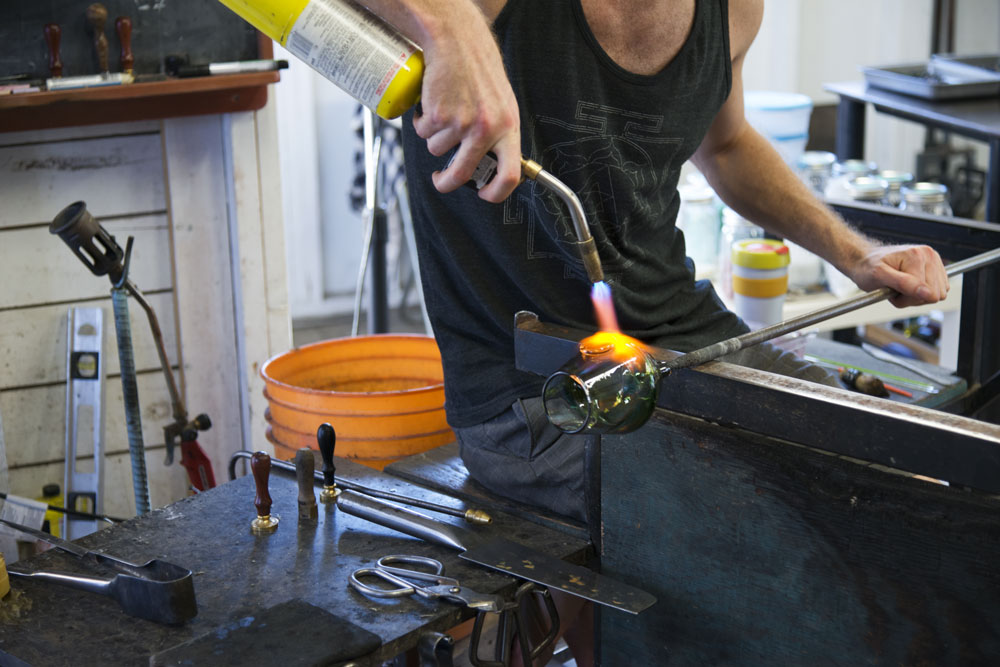 The finishing touch – the Bee Kingdom's seal – is added to the glass using a brass stamp. Marsh Fairweather uses a small handheld torch to keep the glass at the correct temperature.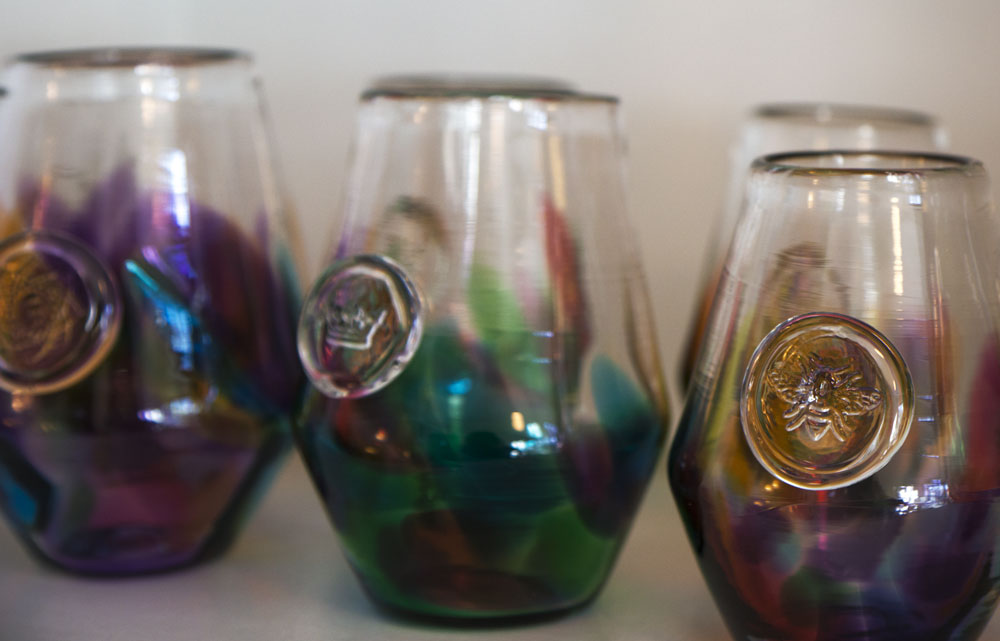 After a controlled cooling period in an annealer (the glass would cool too quickly and shatter otherwise), the completed wine glasses go on display in the gallery area.
Watch for the Bee Kingdom's upcoming exhibition Magical Thinking, showing at Ruberto Ostberg Gallery in March 2016.
Visit the Bee Kingdom Glass Studio at their upcoming open house, Nov. 28 to 29, to see glassblowing demos in the studio and shop the gallery for scotch glasses, Christmas balls, bowls, drinkware and sculpture.
427 22 Ave. N.W., beekingdom.ca