Where is it: 4034 16 St. S.W.
Office size: 15,000-square-foot building
Number of employees: 185 licensed real estate agents
Number of plants in the office: Around 300, plus a moss wall
Real estate offices aren't always known for their design – as RE/MAX House of Real Estate owner and broker Michael Cain puts it, "A typical real estate office is kind of like a dentist office. You go in and there's no pizazz."
That's not the case with RE/MAX House of Real Estate's new office though. With 33 years in business under its belt, the real estate brokerage is one of Canada's oldest RE/MAX franchisees. But until last year, it had spent its entire time in business in the same traditional, oak-filled office space. That changed in February, 2017 when the company moved into a brand new building built and designed by RNDSQR in Altadore.
The goal with the new office was to create a space that was both modern and inviting, which they did by bringing in lots of natural light, creating open work spaces featuring some of the latest technology and incorporating natural elements like a real moss wall and more than 300 plants. Since some of the company's realtors work out of custom spaces in the office building and others work from home, it was also important to have communal spaces where realtors could come in to do some work or bring in clients. Having its own door that leads directly into a neighbouring coffee shop hasn't hurt either.
Cain says having a unique office space has had a significant impact on the company's workplace culture, from local community members popping their head in to check out the space to realtors spending more time in the office.
"It's a sense of pride. People like to come in and show their space off. Their clients and the confidence that they have with RE/MAX already, this just instills it even more. They come in and say, 'Wow. This is great.' Our business is about impression. When they come in here, they look and they feel that they're part of a real solid group," Cain says.
Take a look inside RE/MAX House of Real Estate's Office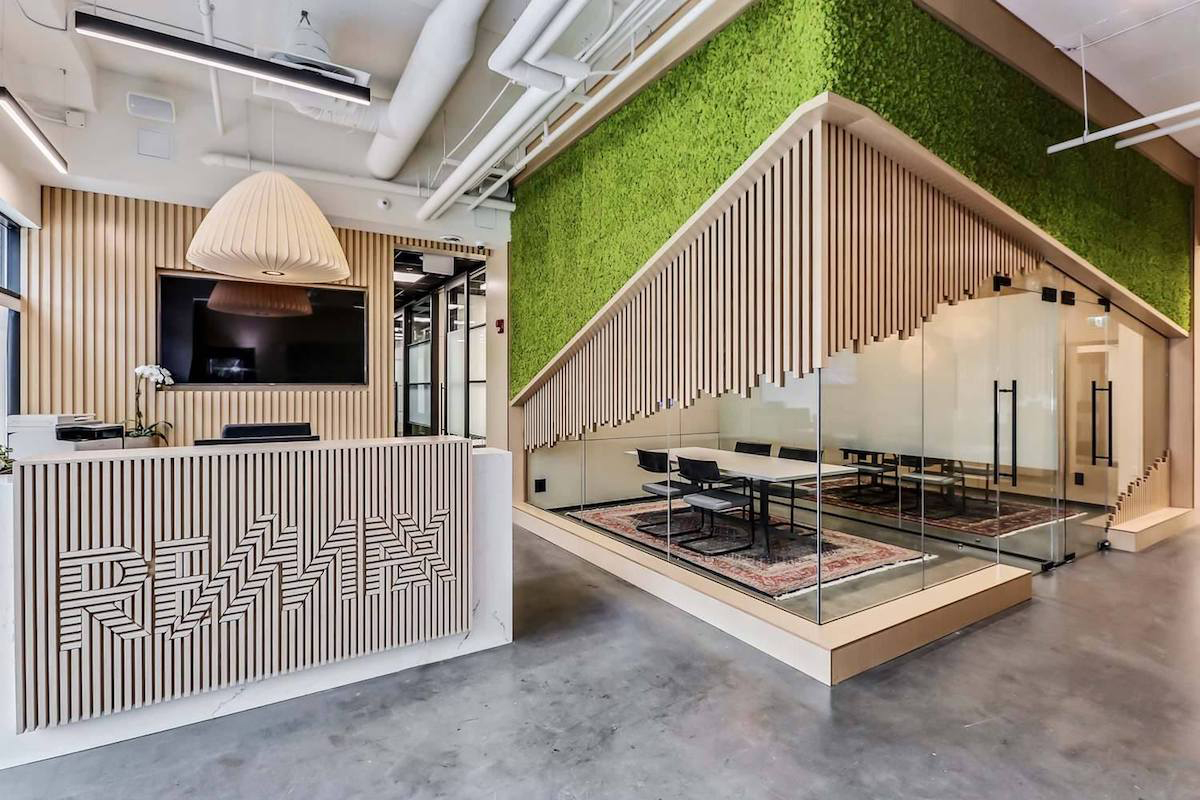 When you walk into the lobby of RE/MAX House of Real Estate, your eye is immediately drawn to the bright green moss wall. White oak slats partially cover the outside of meeting rooms and the reception area, subtly spelling out the company's name on the front desk.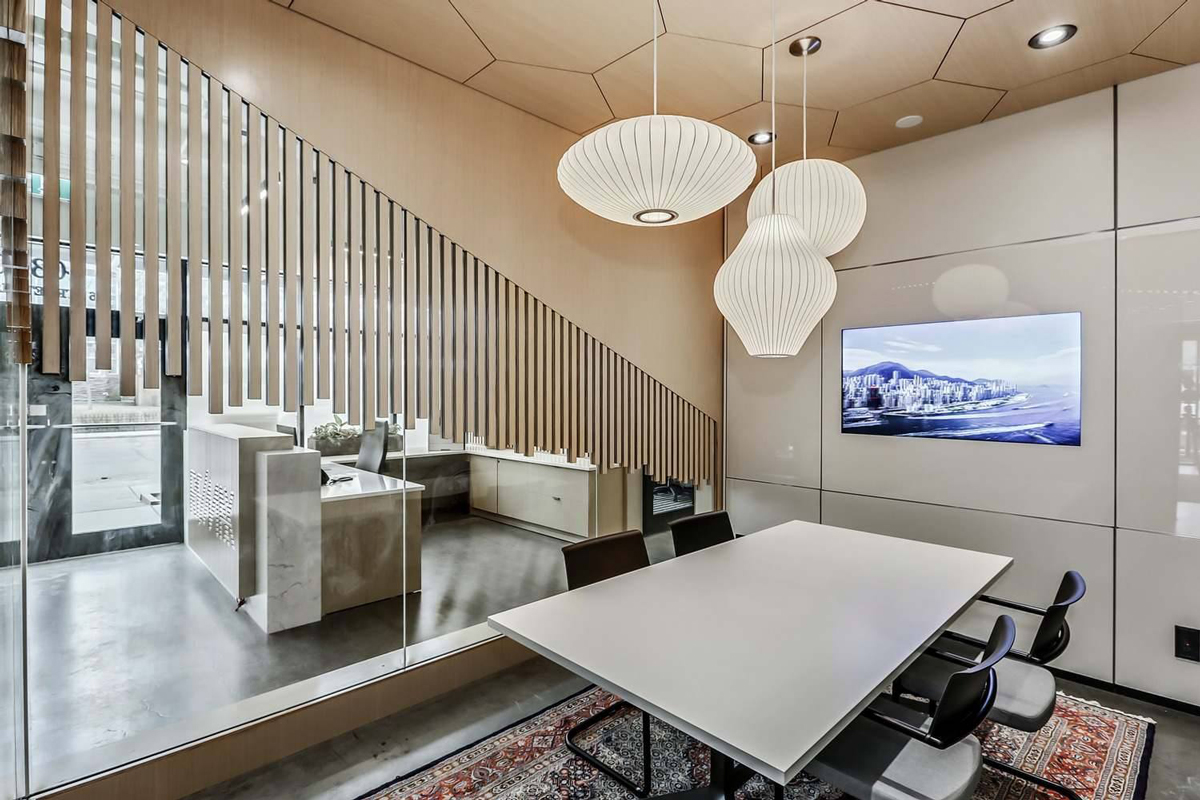 There are two general meeting rooms for realtors and their clients at the front of the office. RNDSQR designed the insulated honeycomb-shaped ceiling panels, which absorb sound, with DIRTT, and used white oak slats to provide a bit of privacy while still keeping the space open. Moroccan rugs from House of Persian Rugs (now HPR Gallery) add some warmth to the space and the walls double as a writing surface.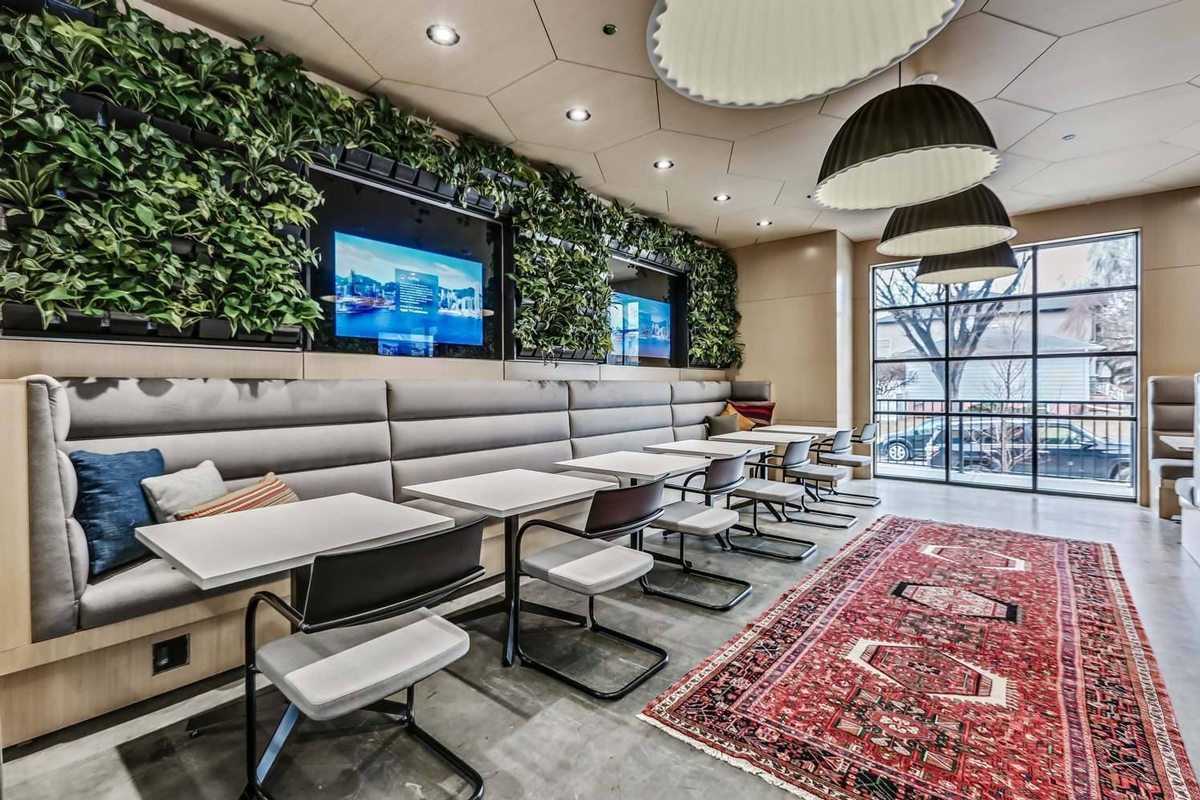 PHOTOGRAPH COURTESY OF RNDSQR
The Realtor Lounge features a small kitchen area and a mix of bench and booth seating where agents can work or bring in clients. The room is also used for meetings and company events like toy drives. "Because we have so many realtors that don't work in the office, we wanted to have them engage and coming into the office on a regular basis. This kind of brings them in. If you don't have something like a meeting place where they can come in and work on their laptop, then they're going to go somewhere else. They'll go to another coffee shop or a Tims or a Chapters. This just brings them in more, they really enjoy this. So this has been the best room, I think," Cain says.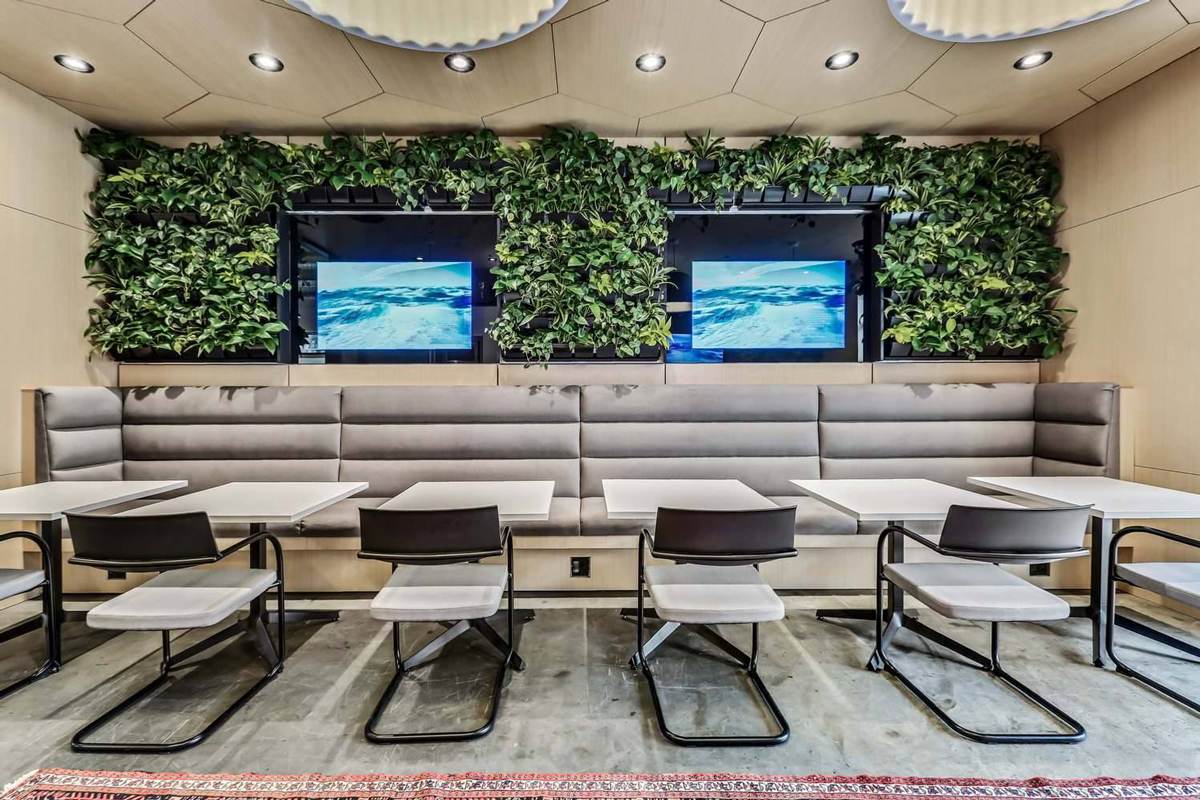 All together, there are around 300 plants attached to the walls on either side of the room. "We get someone to come in once a week and water them," says Majida Devani, creative director at RNDSQR. "Even on a cold winter day, you still feel nice and warm in here."
RE/MAX House of Real Estate holds regular meetings regarding company and industry updates in its classroom. Generally, around 50 real estate agents come to the meetings in person while the rest tune in via Skype. The room is also used for new realtors taking part in 12-week training programs that are offered a few times every year.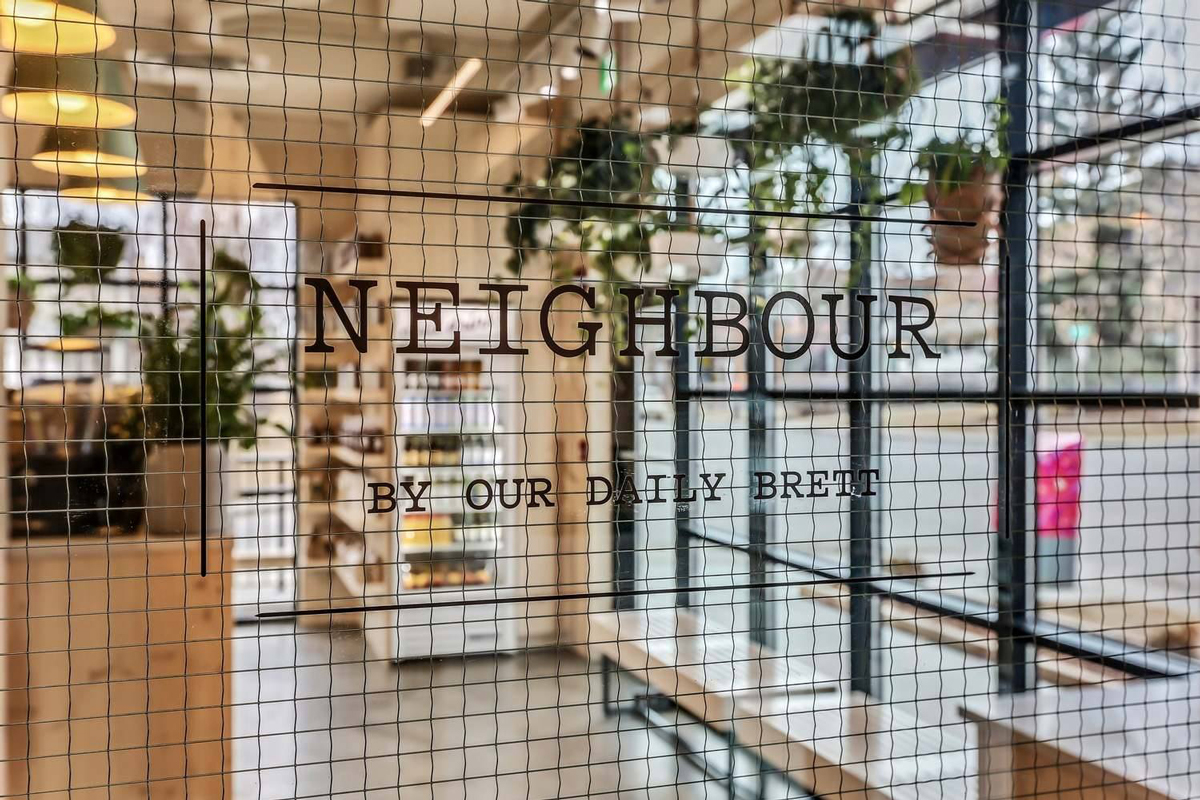 In the lobby, RE/MAX House of Real Estate has its own door that leads directly into NHBR, a local coffee shop owned by the team behind Our Daily Brett. Cain says it's a popular spot with not only their office, but the local community as well.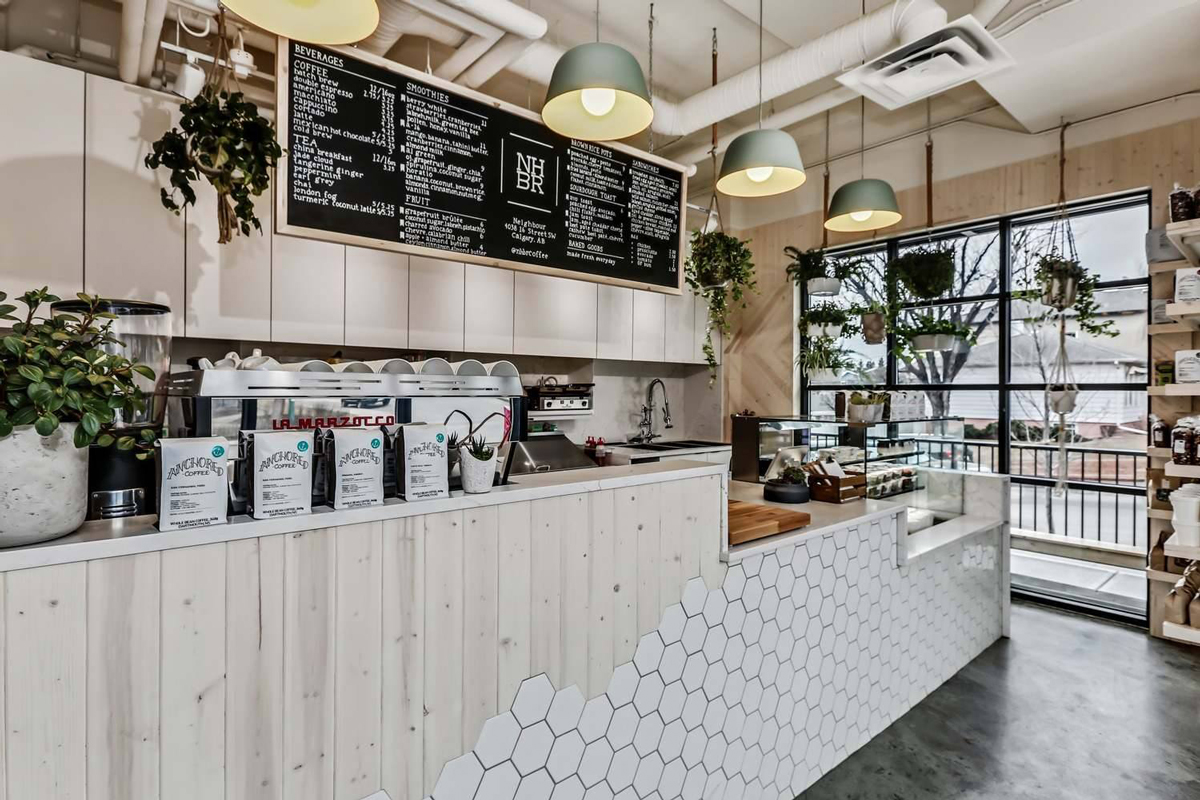 It doesn't get much better than having a neighbour like NHBR, which serves coffee, sourdough toasts, sandwiches, baked goods and more.