If you've been walking, cycling or scooting along East Village's RiverWalk recently, you may have seen a series of 16 murals cumulatively titled Bridge. If you haven't had the chance to see them yet or simply want to learn more about them, you can attend an official unveiling event at 5 p.m. on Tuesday, August 20 with artist Katie Green in attendance.
The event ought to be a cathartic one for Green, given she spent around four months working on the project. The funny thing is, actually installing the murals was just a small fraction of the overall process. From recruiting collaborators for three intensive workshops to translating portraits into masks then photos then murals, Green's process was rigorously mindful and as important as the murals themselves in genuinely reflecting East Village's diverse and changing community.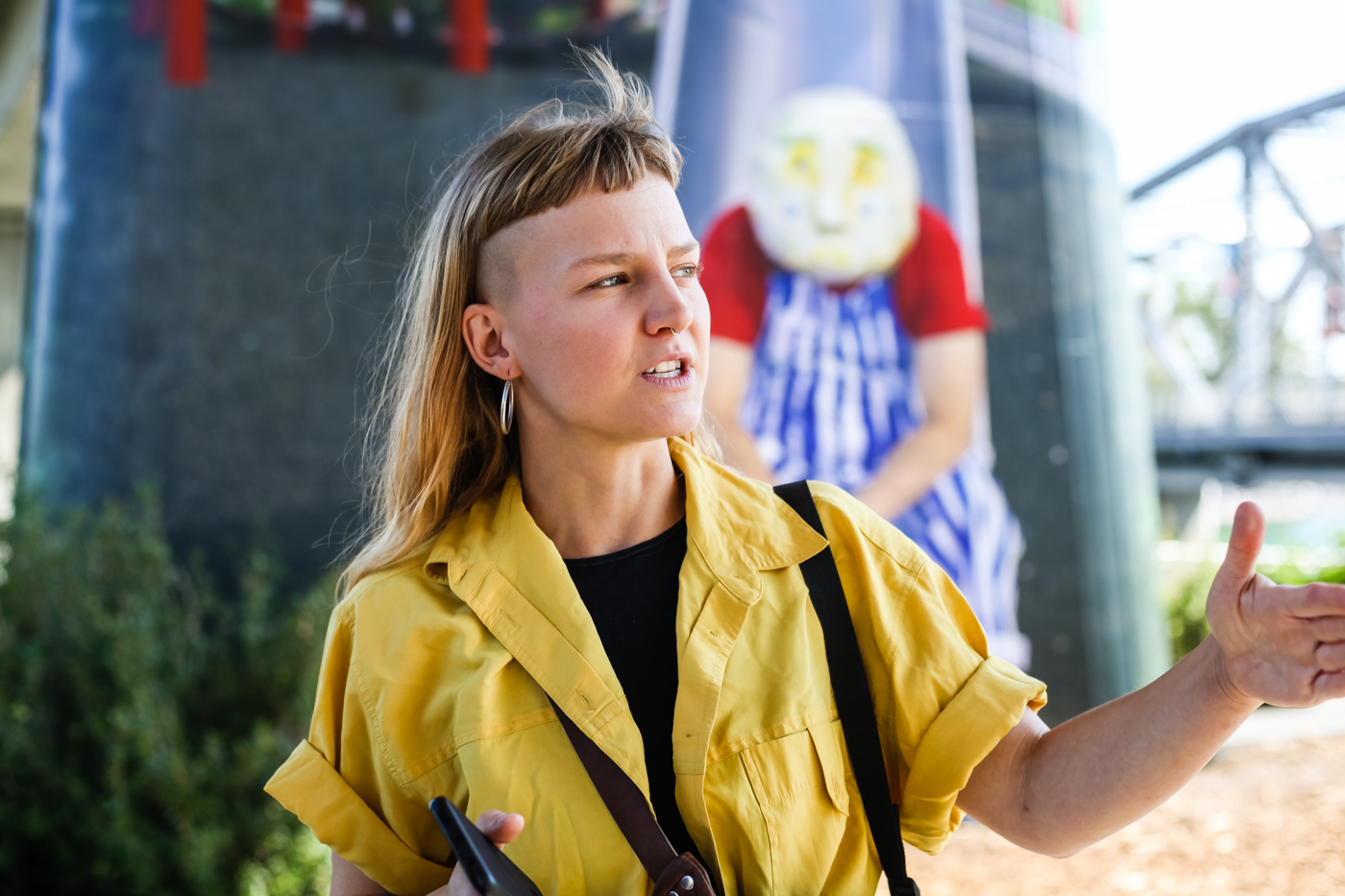 Green is a multi-disciplinary artist and no stranger to creating murals. You can see her work all over the city, in other Canadian cities and internationally in places like Berlin and Taipei. In her work, murals serve a greater purpose than to simply beautify an empty space — she believes that murals must meaningfully represent the communities they exist in and engage viewers with respect.
"I think when you're making public work, there's a lot of back and forth. There's a lot of different conversations that you have to have, or you're always kind of navigating," she says. "Who is this artwork for? How much of my artistic intent is important in this, but then also, who is it serving? And how do we meet in the middle?"
That's partly why she spent weeks finding participants for a three-part workshop series that shaped the entire project. Community stakeholders — including employees from the Central Library and National Music Centre, residents of the Calgary Drop-In Centre (The DI) and local seniors' housing, as well as others — were sourced in part through Calgary Municipal Land Corporation (CMLC) and the community organizations that make up East Village. In all, there were 13 participants who range from 13 to 65 years of age.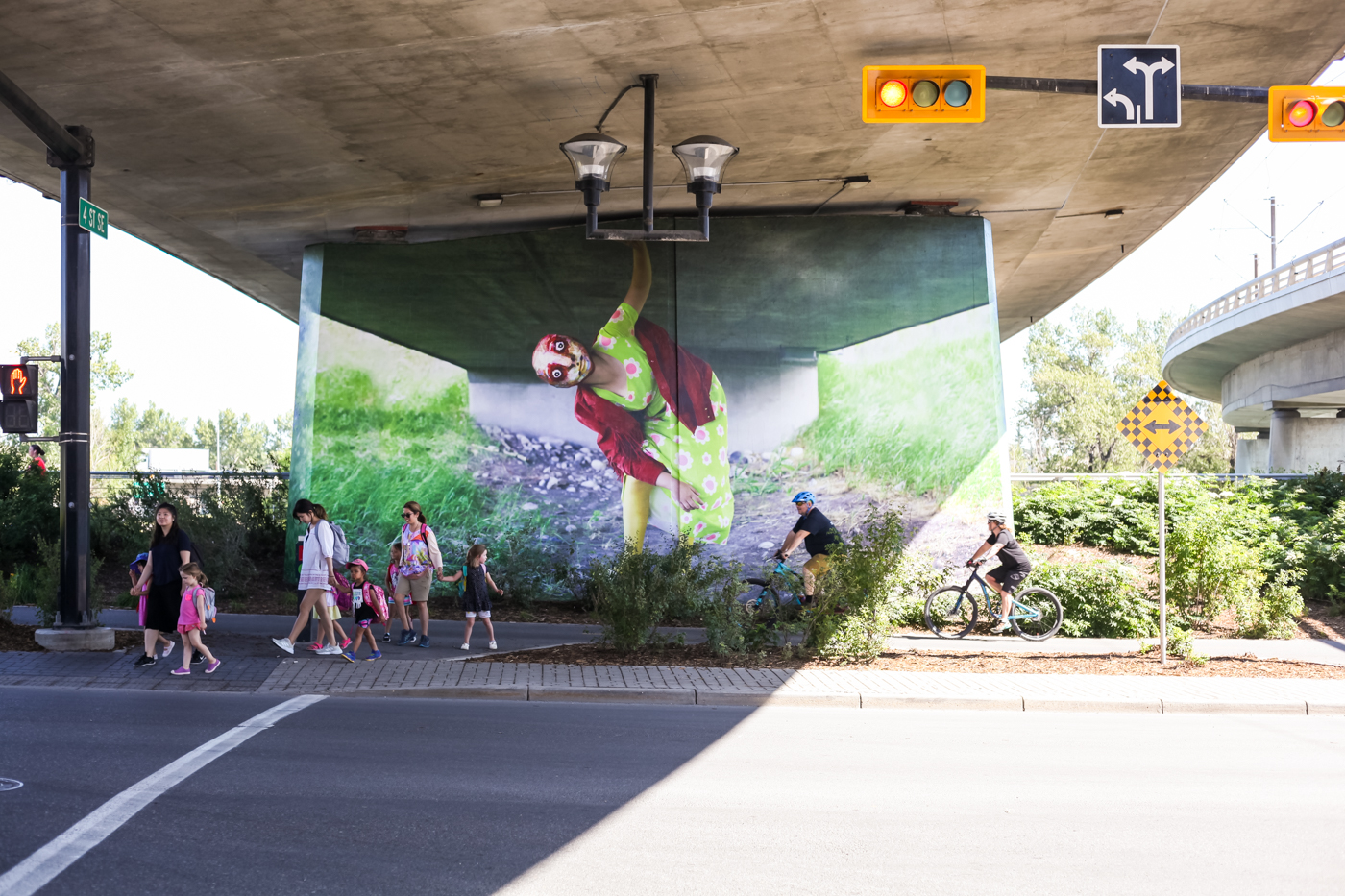 At the first workshop, Green invited them to participate in discussions with her and art therapist Chelsea Call before presenting approximately 50 different 3″ x 5″ watercolour portraits she started making during a 2018 residency in Vermont. The participants then chose the image they felt best represented them and explored why each person felt a connection to the specific piece. Reasoning varied quite wildly, with a man named Greg (pictured with balloons further down), picking one that represented what he did not want to be perceived as.
In workshop two, each participant created a mask by using papier-mâché to affix copies of the portraits onto strips of cardboard, with Green adding paint where necessary. In the final workshop, they each "met" their finished masks, tried them on and collaborated with Green and Call on how they would like to be photographed.
From there, it was time to schedule photo shoots. Green sourced costumery that matched the masks from her closet, thrift stores and friends, as well as borrowing from The DI's clothing drop off. Then, with help from Call and documentarians Asim Overstands and Vince Raquel, photos were captured around East Village at locations of the participants' choosing.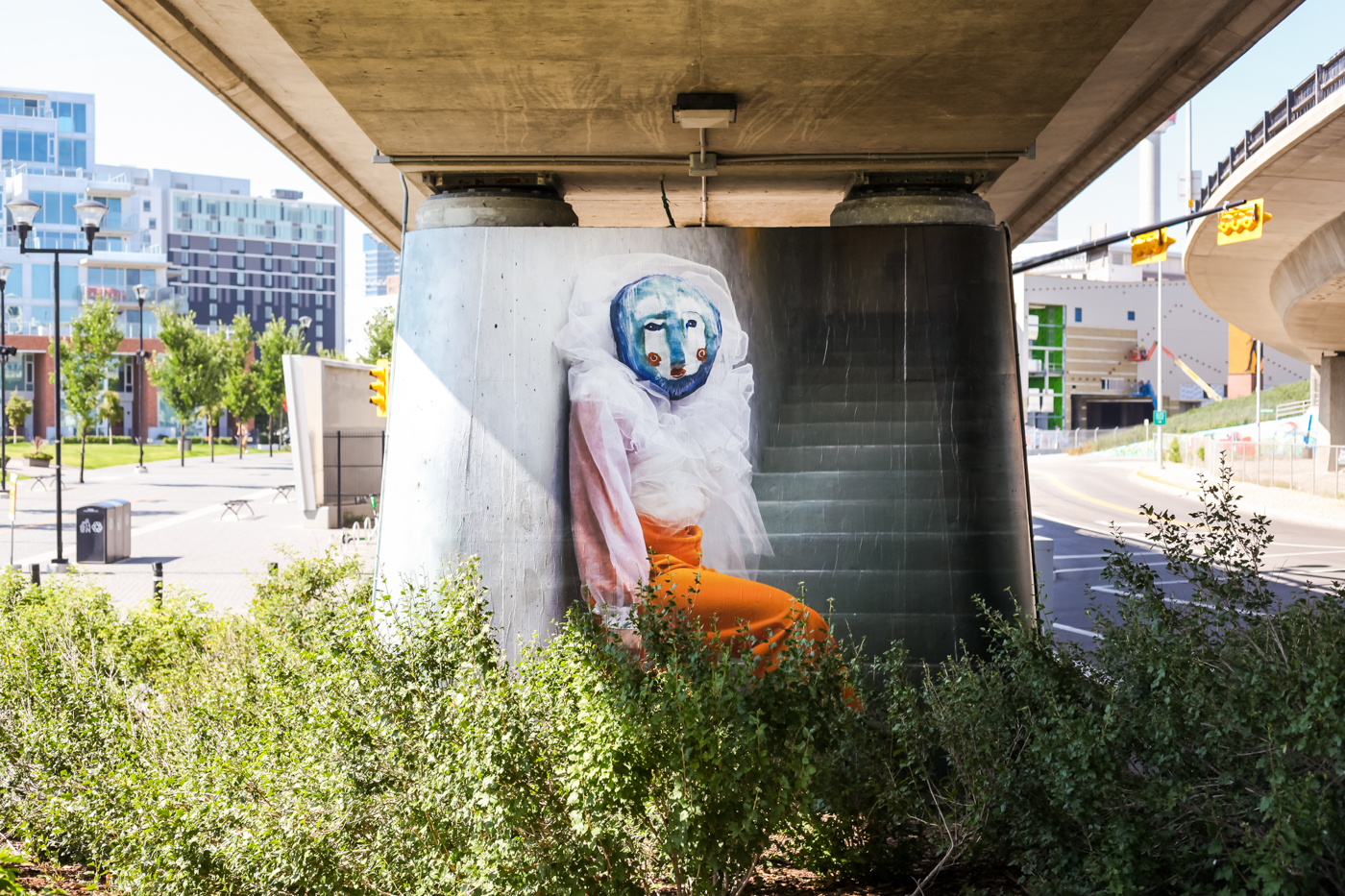 Finally, with the help of Process Color Print Limited, the 16 massive prints were wheat-pasted to surfaces around East Village's RiverWalk. Green then applied some paint to blend the murals into their surroundings.
During installation, Green got direct feedback from passerby. Reactions have been mixed, but Green doesn't mind a bit.
"I know that these masks can be challenging for some people. The main word I've been hearing as I paint is 'creepy,'" she laughs. "But then I've also had families bring their kids down and get a photo with them."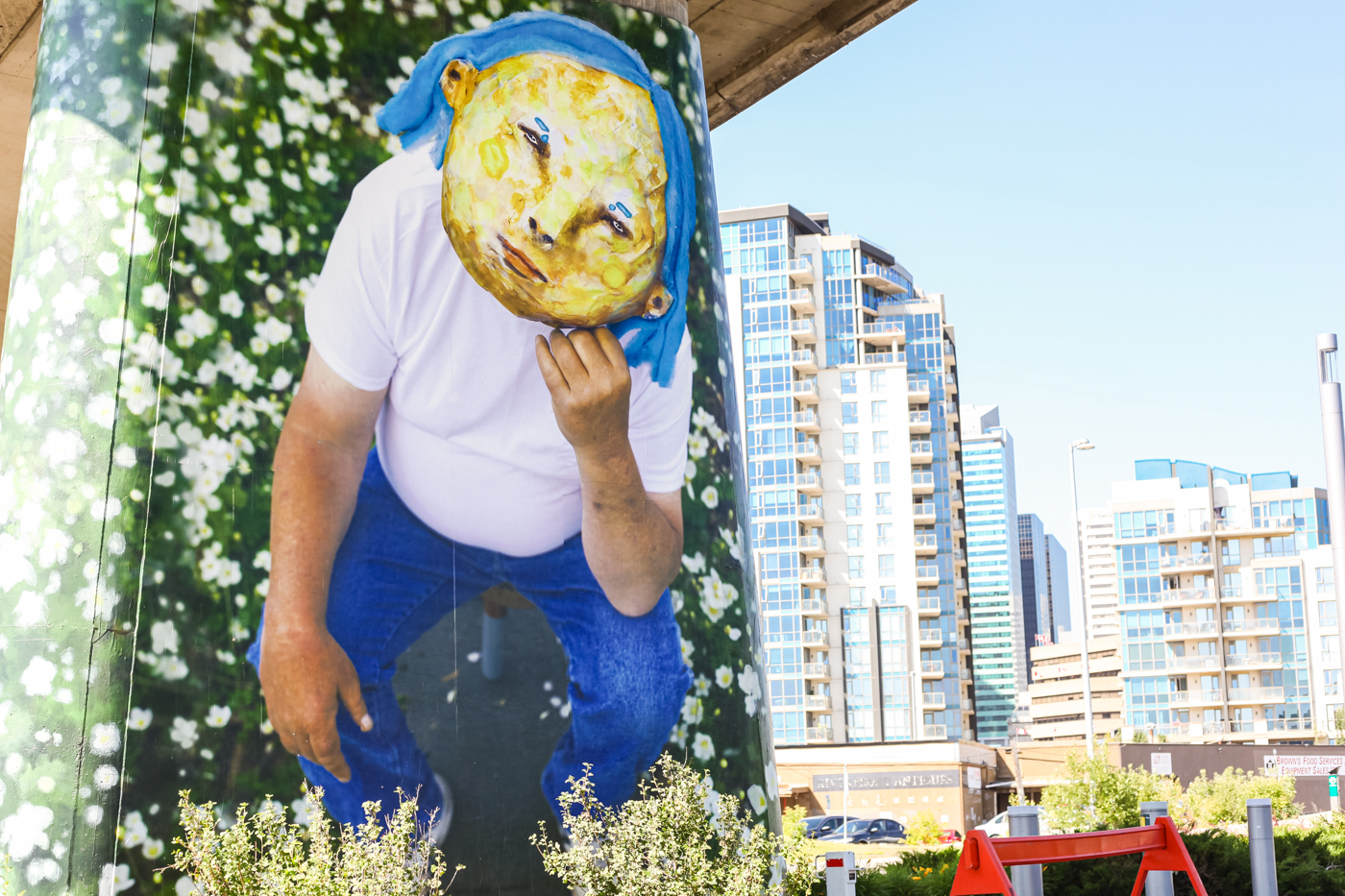 Bridge will occupy East Village until 2022. The project is part of East Village and CMLC's Art in the Public Realm program, which issues a new call for submissions for the site every three years. Green knew her murals would be temporary from the onset, so she has already prepared herself for the inevitable. Plus, the process of working with the East Village community is something that lives on, mural or no.
"I hope that the legacy of this piece is actually in the conversations," she says. "Especially for the participants who get to come down and bring their community and have the opportunity to share a deeper aspect of themselves or their story. Or, they get to remain anonymous and not tell anybody. I think that in itself is really empowering."
The grand unveiling for Bridge takes place on Tuesday, August 20 from 5 p.m. to 7 p.m. Attendees will meet at the East Village Experience Centre, 553 Riverfront Ave. S.E, then tour the sites with Green.
More Murals