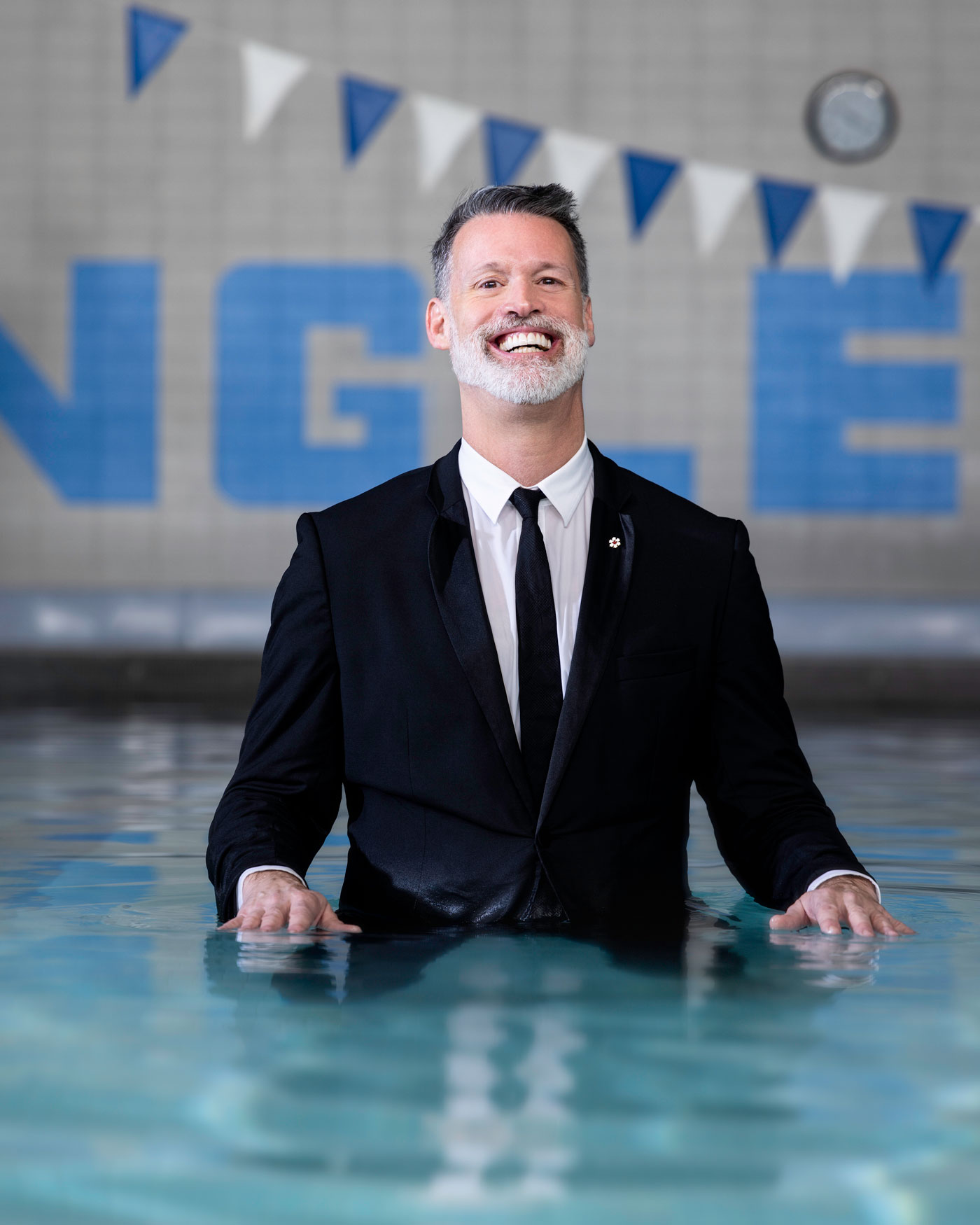 Mark Tewksbury is having a Calgary moment.
"We have a jewel of a city here," says the 53-year-old Olympic champion, who, with partner Rob Mabee, has spent many a pandemic afternoon cycling along Calgary's inner-city pathway system. "It's beautiful and has everything you need — you drive for an hour and you're in the mountains, or in a really cute town. I'm re-falling in love with this place."
It's most deserving for the eternally youthful "Tewks," as his friends know him, to have such a positive experience in the city of his birth. After all, he's the guy who gave Calgary — and the rest of Canada — one of its own greatest moments nearly 30 years ago, when he was the first to touch the wall in the men's 100-metre backstroke at the Barcelona 1992 Summer Olympic Games.
At the time, the then-24-year-old had already captured the hearts of Canadians with his winning ways, boy-next-door looks and self-deprecating humour, always served up with a million-kilowatt smile. His performance in Barcelona was also much-needed medicine for a country still smarting from the previous Summer Olympics in Seoul, when sprinter Ben Johnson's record-setting pace in the men's 100-metre race brought ignominy to not just one man, but an entire nation, after he tested positive for doping.
Still, that mutual love affair between citizen and city wasn't Tewksbury's reality for much of his life, especially before he became a star in a sport that, he admits today, literally saved his life. "I barely remember that early part of my life, because everything is so awesome today," he says of a childhood marred by his early realization that he was gay, soon accompanied by the heart-stopping fear that anyone else would find out. Still, he can recount the stories — many of which he included in his 2006 memoir, Inside Out: Straight Talk from a Gay Jock — as though they happened yesterday, but with a hard-earned maturity and empathy for his former self.
Despite his best efforts to fit in, in Grade 8 someone wrote a homophobic slur on notebooks in his locker. In what he later described as an act of self-destructive rage, he trashed the books and wrote the despicable word across the front of his locker. The school principal's remedy for such an outrage was to transfer the victim to another school. Even in those days before social media, word travelled fast. It took his classmates at the new school about three days to find out. He dreaded the world of team sports, where locker-room talk was filled with the kind of macho swagger he knew just wasn't in him. "Swimming was my escape," Tewksbury says of those difficult years. "The pool was a safe space for me."
It was also a space where he excelled. When Tewksbury was five, his dad, Roger, an oil patch junior accountant, and mom, Donna, moved him and his two younger siblings to Texas. "It was so hot there, you wanted to be in the pool all the time," Tewksbury says. When he got back to Calgary three years later, he joined the Cascade Swim Club and met coach Larry Neilson, who motivated kids not only with Olympic aspirations, but with short-term goals like a trip to the ice cream shop after practice. "We'd have dual meets with the Snoopies and the Red Barons, and Peanut Buster Parfaits after," he says with a loud, infectious laugh. "[Coach Neilson] didn't just teach us how to swim, he made it fun."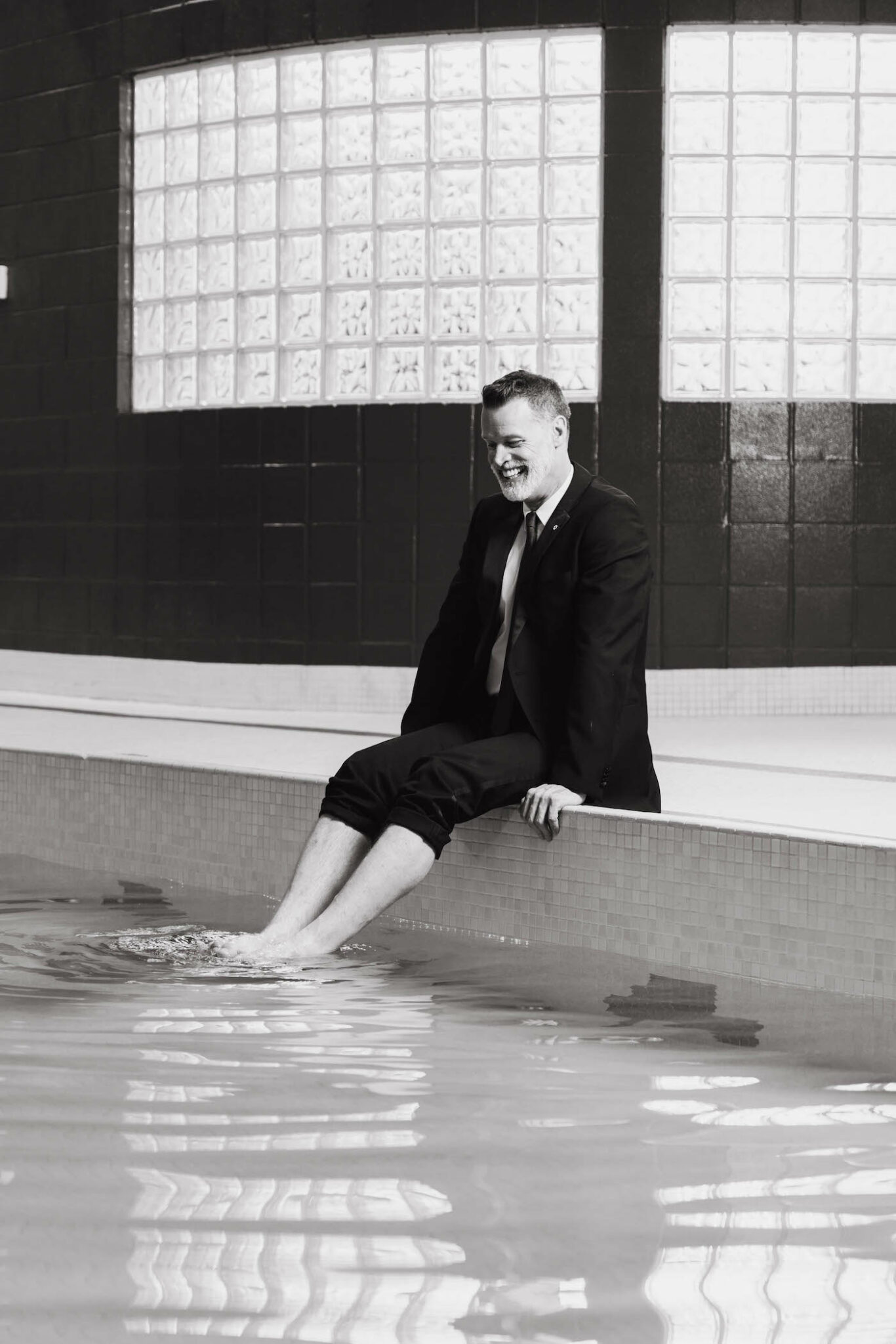 In the decade leading up to Barcelona, Tewksbury became increasingly known as a formidable opponent as a member of the Canadian men's national team, his 6'1", 176-pound frame a perfect accompaniment to his razor-sharp focus in the water. While he came fifth in the 100-metre backstroke at the Seoul 1988 Olympics, Tewksbury got a taste of the podium when the men's team won silver in the four-by-100-metre medley relay. By 1989, he sat second in the world standings and, by 1991, he made it to the top.
Still burdened by his secret, Tewksbury confided in one person of authority in his life: Debbie Muir, a synchro-swimming coach who worked with Tewksbury as a technical advisor. Today, he remembers the tense, and unexpectedly hilarious, moment he came out to Muir. "We were at Earl's on Stephen Avenue, and it was really, really loud," he says. "I kept saying, 'Debbie, I'm gay,' and she kept saying, 'Pardon? Pardon!?'" Not long after that revelation, Muir, who had long suspected Tewksbury was gay, but was pleased he could finally say the words, dared him to make a play for a concierge at a California hotel in the weeks before the Barcelona Olympics, which was met with success.
One month later, Muir handed Tewksbury a letter to read just before his historic swim. In it, she reminded him of the courage he displayed to come out to even just one person, and how that courage would propel him to the finish line. "Mark is gutsy," says Muir, who believes her friend's big smile and self-deprecating humour belies a warrior spirit. "He can be so fierce when he decides he's going to do something, and he's not afraid to take a stand." What he would later accomplish, she says, "doesn't surprise me at all."
Tewksbury's revelation to Muir, and her loving acceptance of who he was, played a big role in his Olympic win. "This is why being an ally is so important," he says. "To have even one person be there, you're not alone anymore."
Although Tewksbury was considered a medal contender in Barcelona, he wasn't the favourite. His photo-finish Olympic record-breaking win sent an entire country into paroxysms of jubilation. While he had achieved some public recognition from previous Olympic appearances, and even had a line of clothing with Sears Canada, Barcelona catapulted him to an entirely new level of celebrity.
Tewksbury was already honing his skills as a motivational speaker before the win, but afterward he was in demand across the country. With many citing his good looks, charm and clean, healthy image, he soon had big-money endorsements from such companies and organizations as Bugle Boy jeans, Speedo and the Canadian Cattlemen's Association. Muir says Tewksbury's early public-speaking skills set the stage for his future impact on so many. "Mark has the kind of storytelling ability that allows people to see their own stories in his," she says. "He really connects with people."
The inclusion of LGBTQ youth experiences in those numbers would come later. Until 1998, when he came out to the world — one of the first elite athletes to do so — Tewksbury still felt adrift and inauthentic. Feeling like Calgary wasn't a welcoming environment for a gay man, he moved to Australia in 1994 in an attempt to escape the limelight. He returned to Canada in 1996 and spent the next several years in Montreal and Toronto — the place he was living when he came out publically.
While many praised his courage, one company pulled out of a six-figure deal for a cross-country speaking tour. "Today, brands actually reward people for coming out, but, back then, you could lose it all," Tewksbury says. Calgary had started to host Pride events by 1998, but there had been none in the years Tewksbury lived there there prior to coming out publically. His parents also didn't take it well when he told them, post-Barcelona, but long before his public reveal. While his mother came around, "my dad could never really come to terms with it," he says, sadly, of Roger, who passed away in 1998.
For Tewksbury, the freedom to truly be himself, in time, bolstered his courage. "I wish I had come out at the press conference at the Olympics right after I won," he says. It's not necessarily a regret, per se, though he can't help but wonder what would have happened if he had decided to seize that moment. "But I wasn't ready then, and the world wasn't ready to hear it," he says.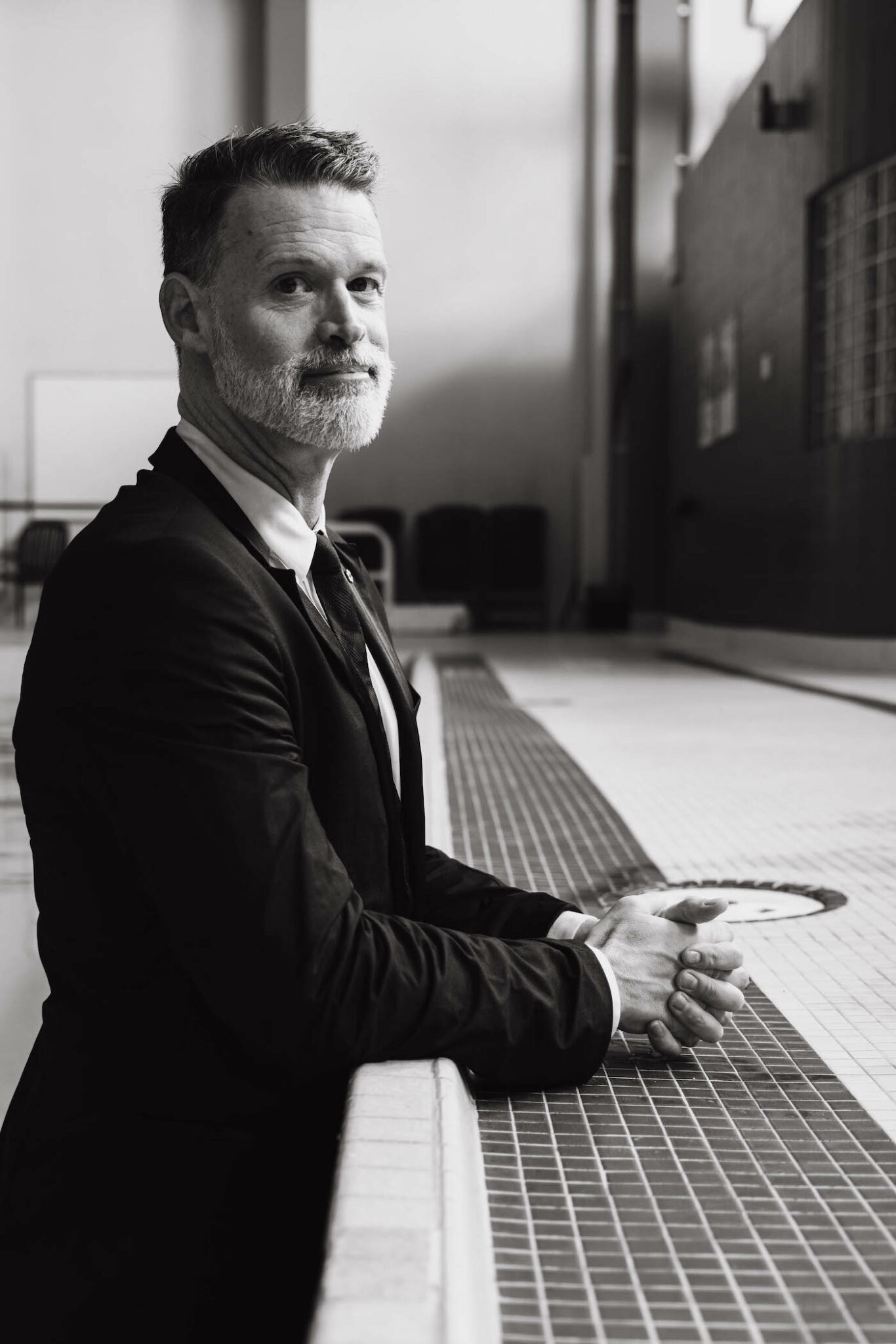 The courage Tewksbury had to come out would serve him well when the International Olympic Committee appointed him to be part of the Site Selection Commission and travel the globe assessing sites for the 2004 Olympic Games. He stayed in some of the world's best hotels and, at nearly every stop, found lavish gifts awaiting him. When the bribery-for-votes scandal hit the Salt Lake City 2002 Winter Olympics, Tewksbury knew it was more than spurious accusation.
In protest, he resigned from the Canadian Olympic Association (now the Canadian Olympic Committee) and the Toronto Olympic bid committee, then, along with Olympic speed skater Susan Auch, launched OATH (Olympic Advocates Together Honourably), raising the ire of such Olympic power brokers as fellow Canadian Dick Pound.
At the 1999 press conference announcing OATH, Tewksbury made a show of leaving his gold medal behind. As reported by the Canadian Press, Pound said that Tewksbury would ultimately regret discarding his medal and blowing off the chance to become part of the decision-making body for the Olympics. Today, Tewksbury laughs off Pound's remarks.
"I was always leaving with the medal," he says of the chunk of gold that has now been touched by more than a million Canadians.
Tewksbury can now afford to laugh about his so-called Olympics rejection. He went on to serve as Chef de Mission for the London 2012 Summer Olympics, and today is vice-president of the Canadian Olympic Committee. He has had a private audience with the Dalai Lama, kept up his speaking engagements and written even more books, now with a focus on leadership. His company, Great Traits, co-founded with former coach and confidante Muir, passes on the invaluable lessons he has learned about integrity and authenticity and how to put those values into action. "Mark is not a CEO-type of a leader," Muir says. "He is the kind of leader who opens up possibilities for others to see themselves as leaders."
Tewksbury has even dipped his toe into the performing arts pool with a one-man play in which he talks about his experience as a closeted gay man, along with other life adventures. He has a television gig to his name as well — a one-year stint as the host of Discovery Channel's How It's Made. ("That's how the kids know him," Muir says, with a laugh.) He continues on the public-speaking circuit and as an advocate for LGBTQ rights. In 2019, he received the Muhammad Ali Humanitarian Award for Gender Equality for his leadership and activism in the international sports community; and, last year, he became a Companion of the Order of Canada.
After years of living out of a suitcase, commuting between Toronto and Calgary, where Mabee resides, Tewksbury is now looking forward to making his "Calgary moment" a more permanent relationship.
"I guess my life has really come full circle," he says of his renewed love for the city that formed him, and later embraced him as a celebrity athlete, but also made it tough in the early days to be a gay teenager. "When I was young, this was not a safe space for me. But we've both grown up." And Calgarians just love this smart, funny, authentic and courageous man who first captured the hearts of a city, and a nation, when he swam his way to Olympic gold nearly 30 years ago.