Back in the summer of 1979, Mary Madeline White noticed an ad for an upcoming run for women, the first of its kind in Calgary. The nurse and mother of two had been running recreationally for years, but she had never raced, unless you count that one time back in 1943, at the age of four, when her mother entered her in a race for 12-and-unders. "And I won," laughs the pixie-haired White, now 79.
Back in the summer of '79, however, the idea of racing as an adult seemed intimidating to White. In those days, women were anomalies at running events – even at those events that permitted them to enter, as many did not.
White ended up calling the telephone number in the ad anyways. Marg Carleton, the race organizer and a member of the Calgary Roadrunners Club, answered.
White asked Carleton what kind of runners she expected. Carleton answered, "all kinds."
White told Carleton she could run up to four miles. "Great," Carleton responded, "then you can run six."
So White showed up on race day, paid her $4 entry fee and ran the first Calgary Women's Run, a 10-kilometre race sponsored by Bonne Belle Cosmetics, a company that was then leading a push to get a women's marathon event into the Olympics. (The event debuted at the 1984 Summer Games in Los Angeles.)
"Running was so different then," says White. "It was intimidating for a lot of women, although it probably still is for some."
Intimidating or not, today, of course, women participate in road races in increasing numbers. According to statistics published by Canadian Running magazine in 2016, women accounted for more than half of participants in five-km, 10-km and half-marathon distance categories in Canadian races.
This month, the Calgary Women's Run celebrates its 40th anniversary, making it one of Canada's oldest races for women, and White plans to be at the start line for the 34th time. She believes the run's longevity is due to its inclusive vibe. "There are some very fast women who run that race and there are also lots who walk it," White says. "If a woman [is hesitant] to get into a race situation, it's a great place to start."
Since her first go at the Calgary Women's Run back in 1979, White has run three full marathons, 26 half-marathons and several hundred races of shorter distances.  She mostly sticks to half-marathons or shorter now, having run her last full marathon in 2000 at age 62.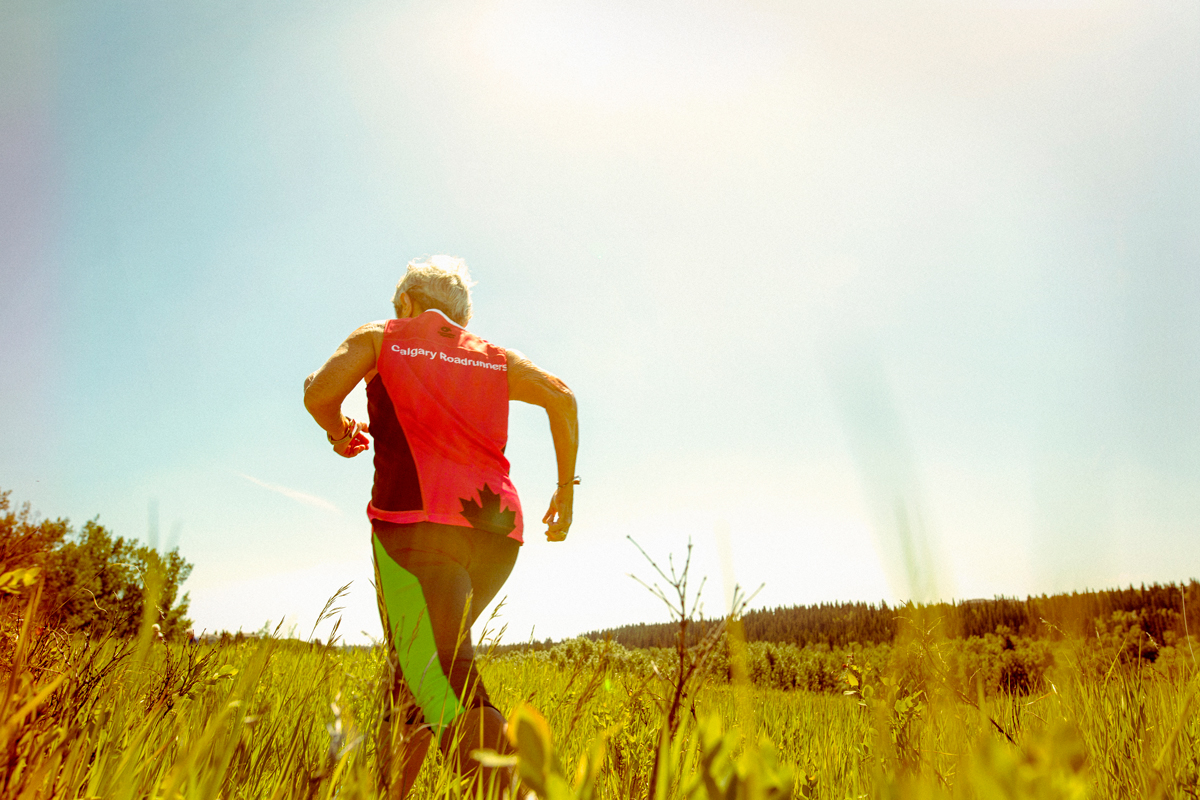 These days White, who stands just under five feet tall, runs between 20 and 32 kms in a week. She runs outside in the summer and on the treadmill or indoor track in winter, having given up running outdoors in cold temperatures several years ago on the advice of a doctor who said cold air was aggravating her asthma. White also avoids running outside in less-than-ideal air conditions to manage her asthma and always carries an inhaler.
Despite her age and respiratory issues, White says her doctors are very supportive of her running and believe it has helped strengthen the cartilage in her knees and kept other health problems at bay. On their recommendation, White takes Vitamin D daily and cycles for five minutes before and after each run. "In my case, asthma and arthritis are just two wee things that are manageable with help and do not interfere with my fun," she says.
White is also a firm believer in the benefits of cross-training. In addition to all the running, she cross-country skis and trains on elliptical exercise machines. She's also an avid cyclist and is the proud owner of "5.5 bikes" (one is a tandem). When it comes to her diet she describes herself as "not doctrinaire." She doesn't eat red meat, having given it up a few years ago ("you could say I'm 95-per cent vegetarian," she says), and eats her biggest meal in the middle of the day, something she is accustomed to from growing up on a farm. She then has an afternoon snack and a light dinner so she can sleep more easily.
Aside from the odd ankle issue, White has mostly stayed injury-free. "It's not running that hurts people, it's compulsive behavior. I'm too lazy to run myself into injury," she says.
That said, White did experience a bout of plantar fasciitis at the age of 76 while training for a half-marathon. She says her doctor laughed while advising her to rest, telling her that he doesn't usually see 76-year-old women with plantar fasciitis. "I looked at some of my 76-year-old friends and the bad things that are happening to them and realized I'm one of the lucky ones. I really am," White says. "I did everything my doctor advised and the plantar fasciitis went away. I did my half-marathon and never got it back."
White's own approach to running is that it can be complicated – or not. "If you decide you want to run, and something doesn't feel right or isn't comfortable, you need to pay attention to it," she says. "Visit with your doctors, hear them out. Pay attention, take care of yourself, and that's all there is to it." She says she still learns something from every race. And sometimes a race will just remind her of things she already knows, like last year when she watched her 10-year-old grandson smile through his first-ever 10-km race.
"Running is supposed to be fun," White says. "So let it be fun."
The 40th Annual Calgary Women's Run takes place Aug. 26, calgaryroadrunners.com.