The walls of Russell Broom's 
studio are lined with
 vintage guitars, including 
a 1957 Fender Esquire and 
a 1950 Gibson J50, which 
he refers to as his "power tools." Among them is a collection of memorabilia — awards and platinum/gold records — from his storied career as a guitar player and producer who has worked with a range of artists, most notably Jann Arden.
Broom loves his studio, a homey space he has settled into after leaving the life of a touring musician behind to focus his efforts on bringing the music of others to life. Arden and Broom's working relationship spans three decades, including 14 years of touring between 1994 and 2008. Whether he's playing guitar, recording or writing songs, Arden considers Broom nothing short of a genius. "His guitar is like an extension of his fingers," she says. "And he has a very good sense of song structure, how songs work and how they're laid out."
Though he has given up life on the road, Broom still looks back on his touring days fondly. He says the best part of performing is when a song ends, the rush subsides, and there's a second or two of complete silence before the audience applauds. "That's when you know everyone's listening, and those are magical moments," Broom says.
Born in Hull (the city in East Yorkshire, England, not Quebec), Broom immigrated to Canada with his family when he was three years old. They lived first on the East Coast, then went all the way to Tsawwassen, B.C., before eventually settling in Calgary when Broom was five. Broom recalls his father listening to a lot of folk and country music — one of his favourites being Ian Tyson. When Broom came of age, and was able to pick his own playlists, he gravitated to early Elvis Costello records and Jimi Hendrix's Band of Gypsys. "[That] album was the first time guitar really blew my mind," he says.
Broom describes himself as a child who was quite nerdy and insular, yet he understood innately that music made him feel better. He taught himself how to play guitar. "I sort of learned to play the instrument backwards," Broom says. "My ear led me, and then I wanted to learn everything that my ear told me sounded right." Official guitar lessons followed. His first guitar was a vintage Hondo Les Paul copy made from plywood, given to him when he was six years old. Broom played it so much he wore off the sunburst golden paint on its neck.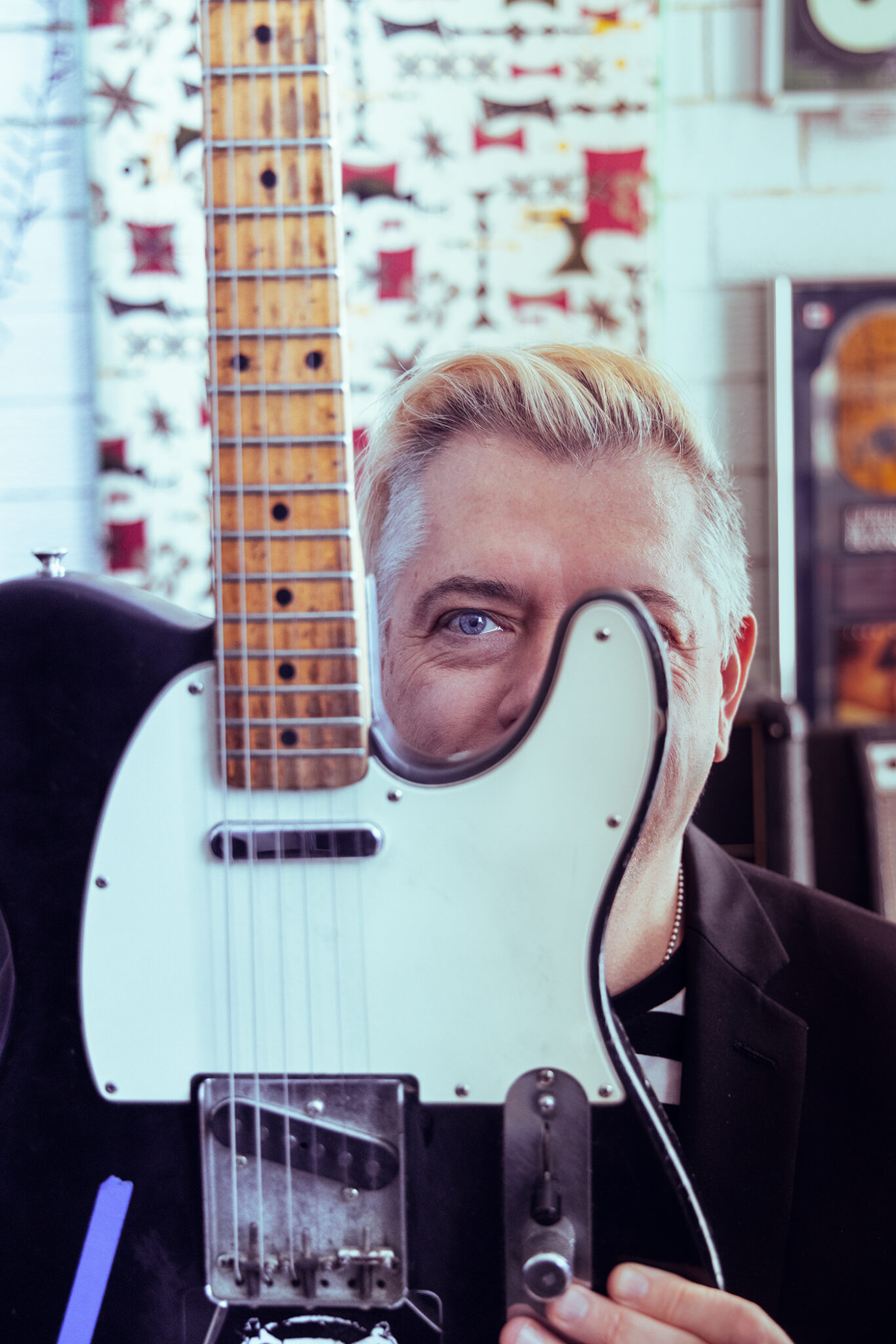 After high school, Broom went on to study music at Mount Royal Conservatory. When he was 19, his father passed away, inspiring existential feelings within him about how short life can be. It's what drove him to make a living playing music. "I decided I was going to do it and I didn't look back."
With no Plan B in mind, Broom played gig after gig as a guitarist, eventually moving to Montreal in the early 1990s. While he was there, he bought a cassette of Calgary-based recording artist Jann Arden's first album, Time For Mercy, after hearing and liking her plaintive hit song, "I Would Die For You," on MuchMusic. Though he didn't know it then, he would one day end up playing this and other songs from Arden's repertoire as her touring guitarist — and go on to earn a Juno Award for their songwriting together.
After spending two years in Montreal, Broom came back to Calgary in 1994. One night, shortly after his return, he took the stage for the open-mic night at the now-shuttered Morgan's Pub. Neil MacGonigill, Arden's manager at the time, was in the audience; impressed by the performance, he wasted no time tracking down and hiring Broom.
In October 1994, Broom joined Arden on tour for her album, Living Under June. Performing in his second-ever show with Arden, in Victoria, he walked out on stage and quickly realized he had forgotten his guitar in the green room. The guitar tech hustled back there, grabbed Broom's guitar, and walked it to the stage through a sea of fans, holding the guitar over his head. Broom was sure he was going to get fired, but, luckily, "Jann had a great sense of humour."
Alongside Arden, Broom played iconic venues all over the world, among them Australia's Sydney Opera House and what is now known as the O2 Shepherd's Bush Empire in London, England. They shared marquees with The Chicks, Michael Bublé, Bob Dylan and Sting, and opened for Eric Clapton on home turf at the Saddledome.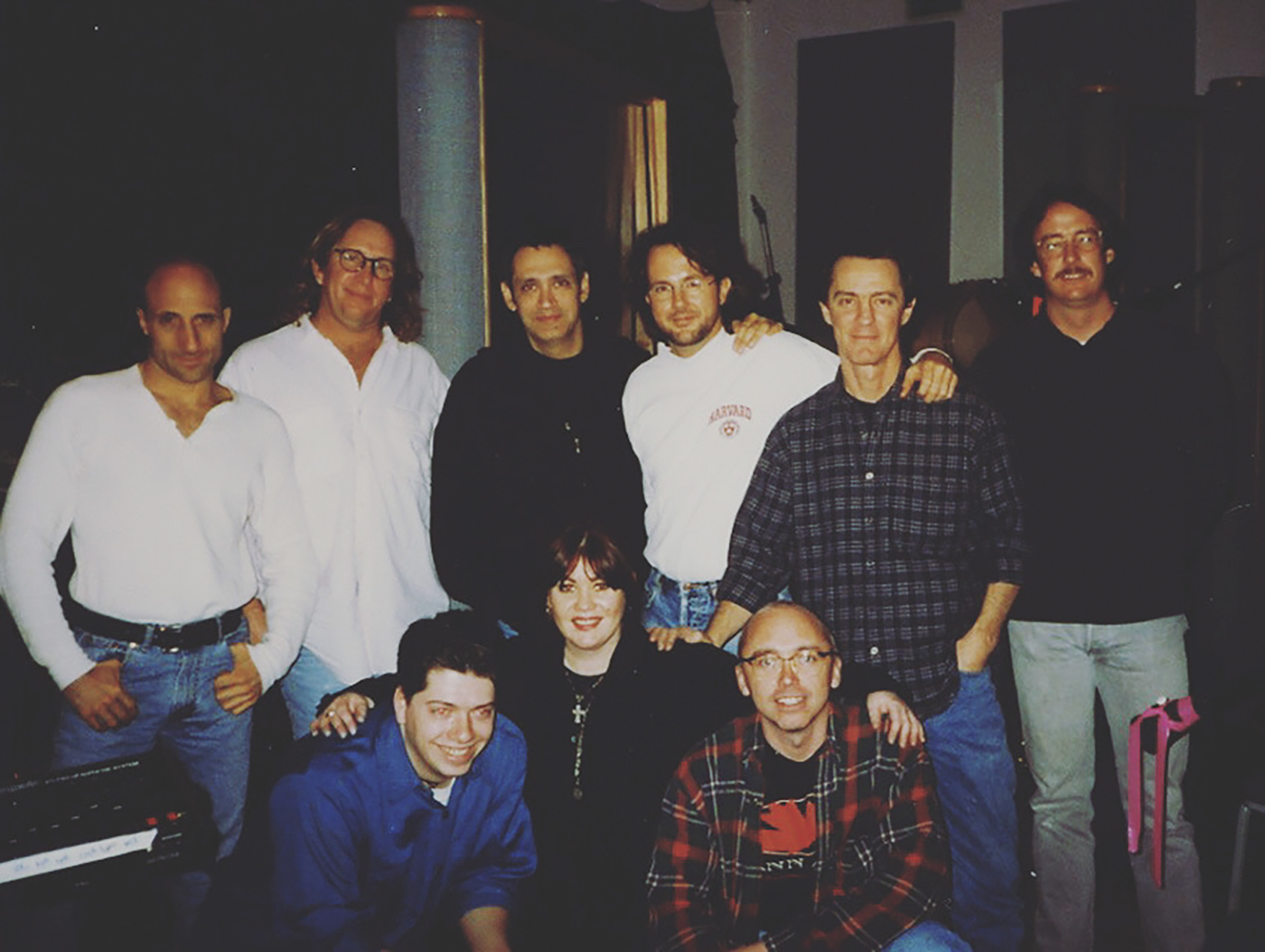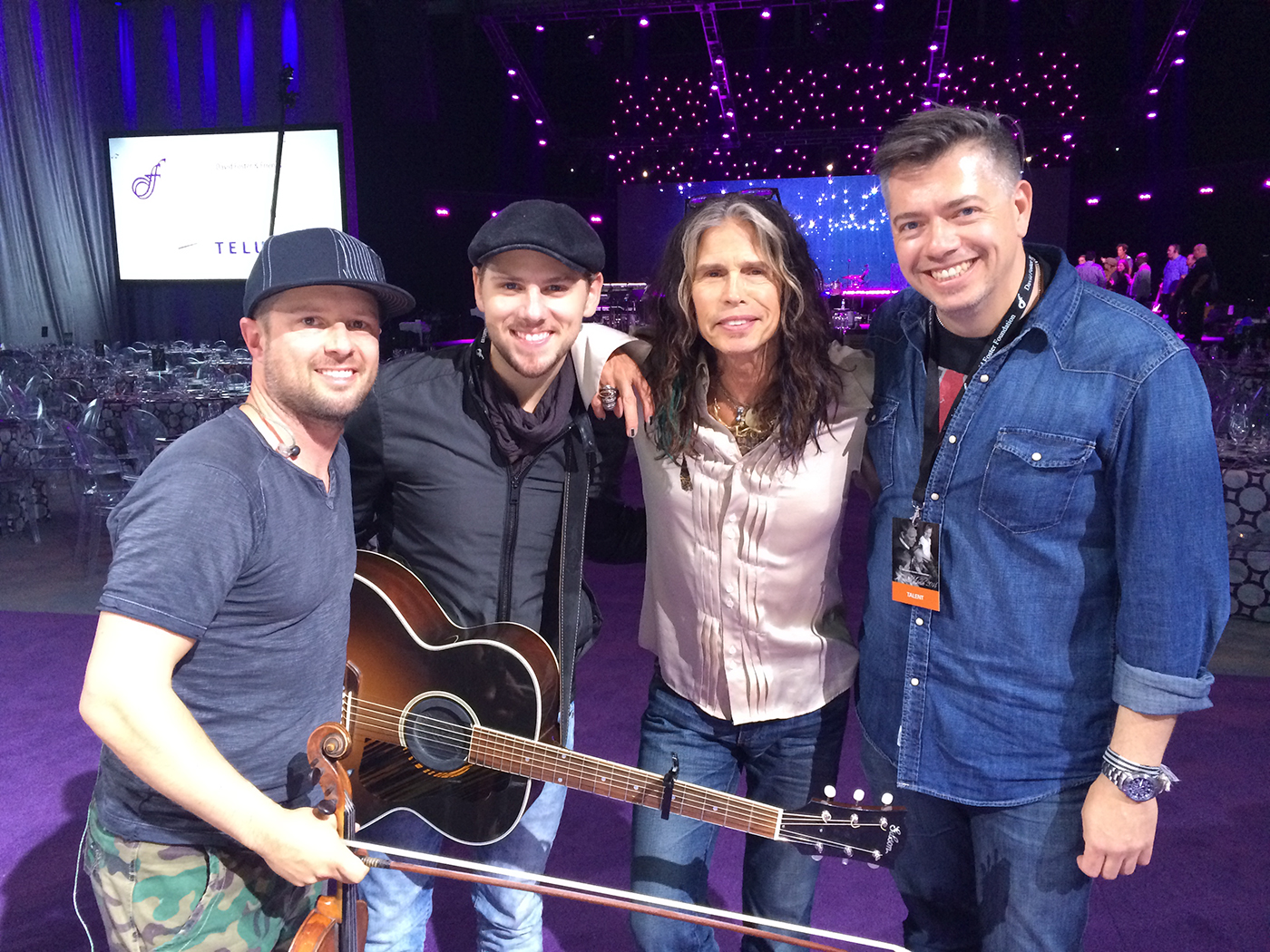 Arden and Broom would come to recognize that they had a unique connection — a "synergy," as Broom explains it. He based himself in Calgary when not on the road, so he could write and record with Arden. Many songs, including the hit, "Where No One Knows Me," were initially recorded at Broom's home. Broom would present a song to 
Arden, and they'd chat through it. Like other times he knew he'd landed on something good, when Arden heard "Where No One Knows Me," she stopped talking and started scribbling down lyrics.
In 2002, Arden and Broom were co-winners of the Songwriter of the Year Juno for their song, "Thing For You." Around 2008-2009, however, they parted ways, both feeling it was time for a creative change. Broom wanted to focus on being a parent and build his reputation as a producer, so he made the decision to stay in Calgary, despite the city's relatively low profile within Canada's music industry. "There's this idea that it can't be that good if it's local," Broom says about the notion that musicians must move to a music capital to be successful. "But I always argue that everybody's a local band."
He adds that, since Calgary is not necessarily a music industry player on the scale of Toronto or Vancouver, artists can develop at their own pace with fewer outside influences, which is generally a positive thing. That said, while there is amazing talent here, the city's lack of infrastructure can pose challenges for artists. He equates the music scene in Calgary to flowers growing in concrete: "It's like living on the moon, which kind of sucks, but is also great at the same time."
The prairies, Broom says, have always had a reputation for creating great musicians, and western landscapes have inspired many albums and lyrics. And the fact that Albertan winters can last up to six months also has an impact, he laughs. "[Musicians] work hard on their craft because what else is there to do than practice and create music?"
Lindsay Ell, a country singer from Calgary who has worked with Broom for years, agrees that the prairies are an incubator for artists: "There is an aspect to the prairies that always reminds me about how wide the open world is. We have always put such importance on the arts in our province."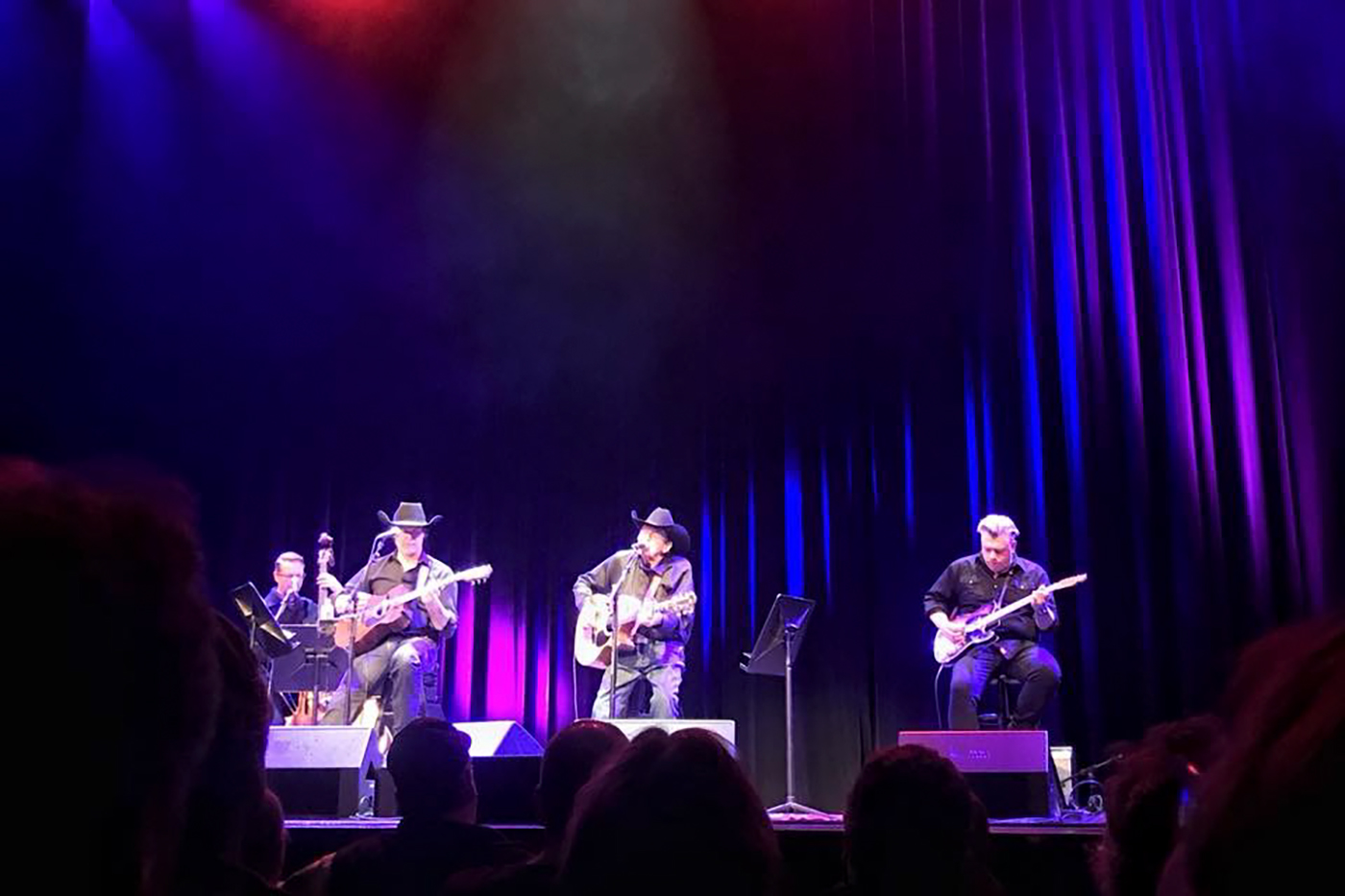 As a producer and guitarist, Broom has worked with some of Canada's best musicians, including his late father's favourite, Ian Tyson. Broom describes working with Tyson as a "full-circle moment." He admits to dismissing Tyson's music growing up, since it was his dad's music, but he grew to love and appreciate it, and considers Tyson one of the greatest songwriters who's ever lived.
In addition to working with established artists like Tyson, Arden, Ell and Albertan country musician Corb Lund, Broom is also helping develop the careers of emerging artists through his relationship with The Prophets of Music (POM). The local non-profit was created in honour of Joshua Hunter and Zackariah Rathwell, members of the band Zackariah and the Prophets, who were among the five young adults murdered at a Calgary house party in 2014. The program provides mentorship, artist and band development and other advice to those looking to succeed in the recording industry. Broom's niece and nephew knew Hunter, which is what led to Broom's involvement with POM. The artists selected for the program get to work directly with him. "They will actually make a record produced with Russell," says Dan Owen, owner of local recording facility OCL Studios.
Another full-circle moment for Broom was reconnecting with Arden in 2018, when she asked him to collaborate on the soundtrack for her CTV series, Jann. Since then, he has been helping Arden produce albums and even joins her on stage for corporate and charity shows in Calgary. Arden says she is grateful for any time she can get with Broom due to his busy schedule and jokes that, one day, she'll drag him out on tour again.
"Our friendship is the catalyst to the music," Arden says. "We've got lots left to write about. There's no end to the ideas Russell has."