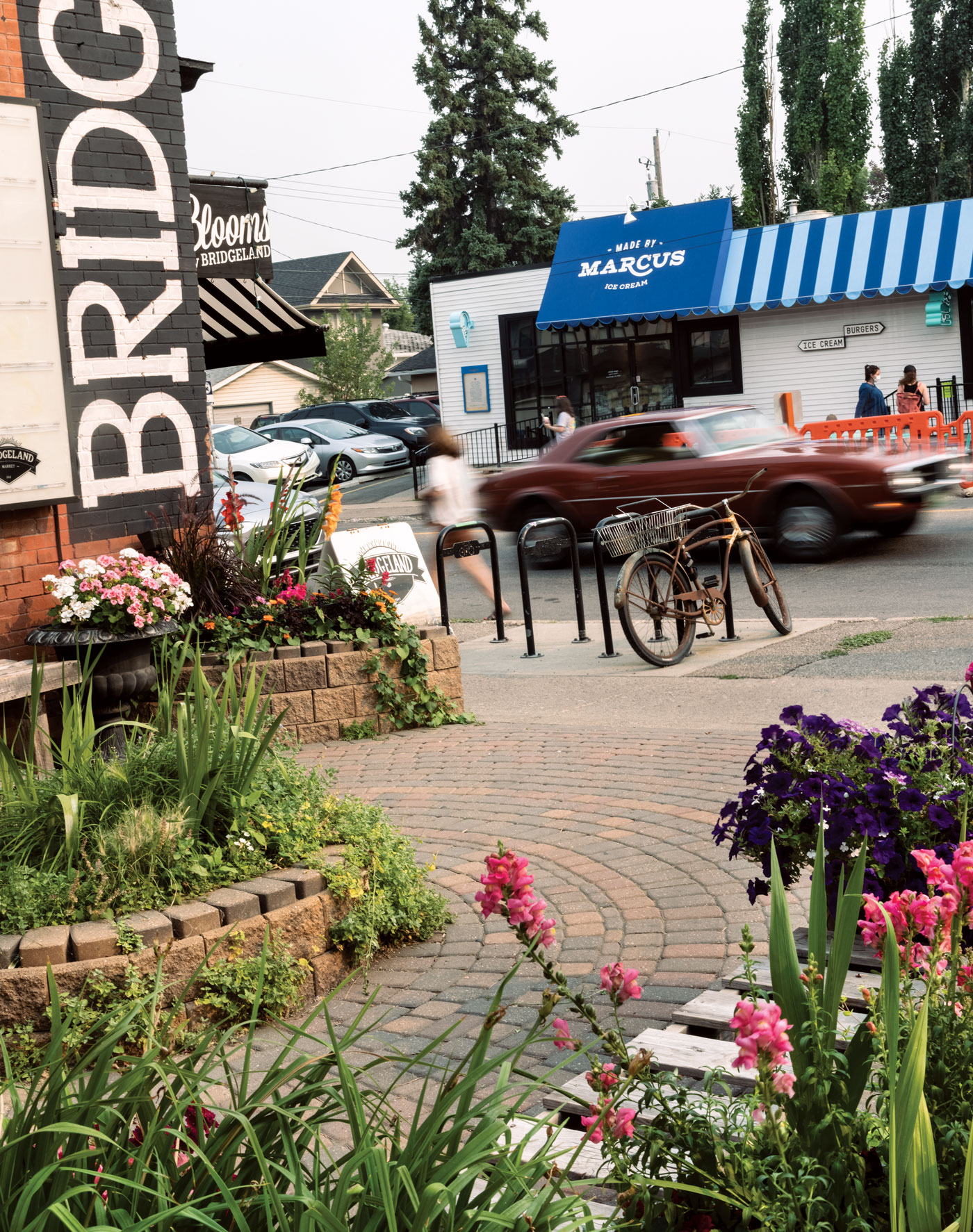 Enabled by a lack of geographical barriers, there's a tendency in Calgary toward building new communities. Drive far enough in any direction and you're bound to end up in one. Some offer large lots and sweeping views, while others have densely constructed homes. Some are built around shopping amenities while others center around human-made lakes and parkland.
But whatever the design ethos, Calgarians are certainly not starved for choice when asked to name a favourite new community — which is why it was somewhat ironic that when we did ask Avenue readers to name their favourite new community the most popular answer was actually one of the city's oldest communities: Bridgeland. How, then, can a community that has anchored the northeastern side of downtown for over a century be perceived as a new community?
The answer becomes clear if you enter Bridgeland from its south side. Walk past the Insta-worthy sign spelling out the neighbourhood's name and you'll find yourself in a hub of multi-family residential buildings all erected within the last two decades, some still under construction. A contemporary-styled community hall faces out onto a modern play park and sports field. Beyond that to the west, newly constructed streetfront shopping offers new incarnations of local favourites like Village Ice Cream and Una Pizza + Wine.
The catalyst for "new" Bridgeland was one of the most earth-shaking events in the city's history: the demolition of Calgary General Hospital No. 4. The hospital had been a cornerstone of the community from its opening in the early 1950s until it was deemed obsolete. At precisely 9 a.m. on Oct. 4, 1998, Calgary General imploded in a gigantic cloud of dust, breaking a world record at the time for the number of structures demolished in one go.
The transformation of the old hospital site into the modern community hub you see today certainly didn't happen overnight. Photographer Jason Stang moved his home and business into a renovated heritage fire hall just blocks from the site in 2000 and recalls a "fenced-off rubble heap" during his first years in the neighbourhood. Since then, he has had a front-row seat to the development of new Bridgeland and is mostly in favour of how the area has turned out. "I think they've done a very good job," he says (joking that the one downside is he might not be cool enough for the new neighbourhood). His most favourite thing about the new Bridgeland is the subsequent transformation of 1st Avenue N.E. from an unremarkable stretch mostly catering to hospital workers on break, into a vibrant and walkable area.
Stang doesn't take issue with the idea of Bridgeland being thought of as a "new community." He even agrees. "It's not anything today that relates to where it was," he says. "And it's become far more than what I conceived it would." You might say that out of the rubble, a new community has emerged — new buildings, but also a new outlook for an old community.