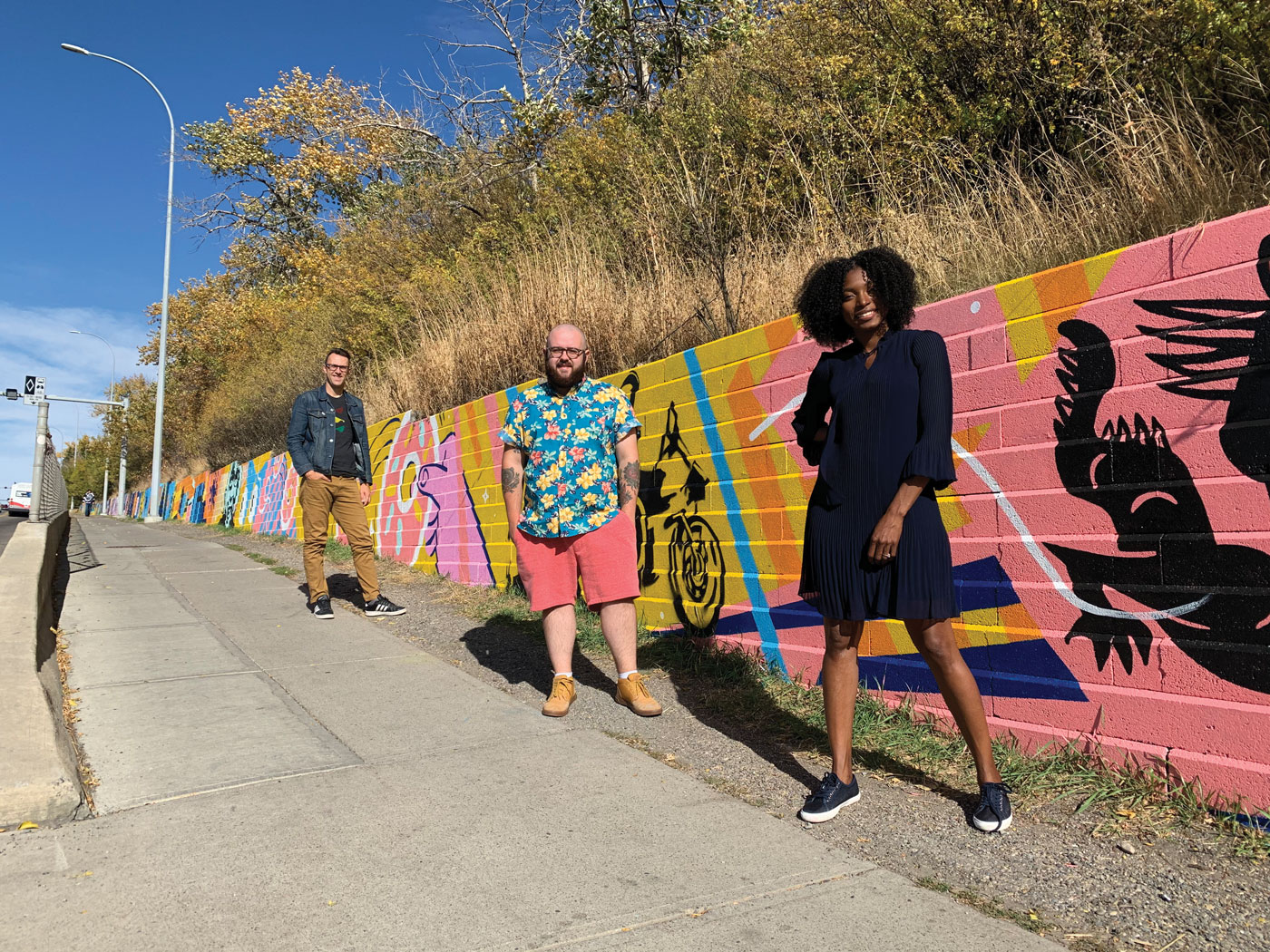 Going for a walk was one of the best (and only) ways to visit with friends and family during times when restrictions prevented gathering indoors. For many, this led to a rediscovery of the inherent pleasure a simple stroll can provide in a busy, fast-paced world. While you can go for a walk anywhere, these three walks in the neighbourhoods of Crescent Heights, Sunnyside and Brentwood Heights all offer something extra.
Crescent Heights Magic Walk
Sandwiched between busy Centre Street and a retaining wall, the stretch of sidewalk leading into Crescent Heights from downtown was formerly an uninspiring trudge — local residents went so far as to refer to it as "The Walk of Doom" — and a poor representation of the vibrant and engaged community around it. So, in 2019, the Crescent Heights Community Association asked neighbourhood residents how the walk could be improved. The answer was simple: colour and art. Selected by a Crescent Heights jury, artists Sydonne Warren, Tyler Lemermeyer and Cory Bugden transformed the walk with a colourful new mural. No longer the walk of doom, the stretch is now referred to as the "Magic Walk."
Centre Street N., between Samis Road and 7th Avenue N.E.
Memorial Drive Lane Closure Walk
The section of pathway along Memorial Drive across from Prince's Island Park is usually packed with pedestrians, cyclists, strollers and skaters on warm days and evenings. In an effort to give everyone a bit more room to move during the pandemic, City officials closed the two eastbound lanes of Memorial to traffic and opened them up to non-vehicular use as part of Calgary's Adaptive Roadways Program, a pilot project to provide safe spaces for people to walk, run and cycle. The popularity of the program thus far means plans to expand capacity are already in the works.
Memorial Drive (Eastbound) between 9th Street N.W. and Centre Street
Whispering Woods Walk
Back in the 1960s, during the development of the northwest community of Brentwood Heights, a little piece of grassland got cut off from the larger spread of what would eventually become Nose Hill Park. In 1995, Dr. E.W. Coffin School adopted that small patch of prairie as part of Calgary's outdoor environmental education projects. The students named the area the "Whispering Woods" and turned it into an explorative and interactive nature walk, creating a series of panels called the Whispering Signs and placing them throughout the area. Each sign is an "ecological alphabet" that reveals more about the plant species and local wildlife, making Whispering Woods both a beautiful walk and an educational experience.
Access from Barrett Drive N.W. or Brenner Drive N.W.