Whether you're travelling along lines of latitude or longitude in Calgary, if you go far enough you'll stumble upon a new subdivision being built. But sometimes to see what's new you have to look inward. From luxury row houses and live-work condos, to office-residential conversions and backyards suites, we take a look at some of the unique and innovative building projects that have gone up recently in Calgary's developed communities.
Not Your Average Row House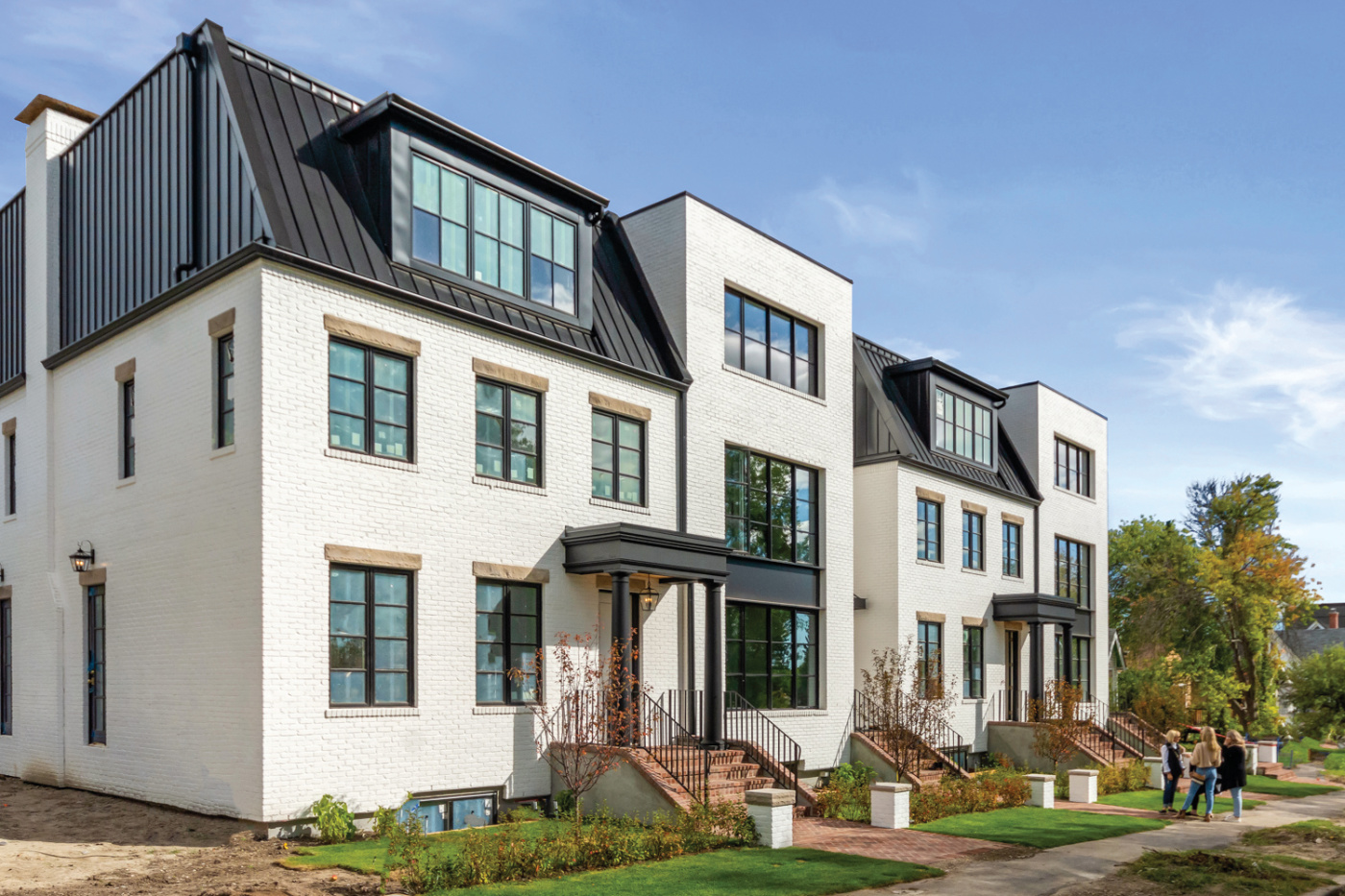 Nam Dang-Mitchell knew she was taking a risk with her row of four freehold townhouses in the inner-city neighbourhood of South Calgary. The esteemed local designer loved the character of New York and Boston brownstones, a style of home that is as integral to life in those cities as pigeons or traffic. In our youthful western city such high-end townhouses are rare. However, a perfect piece of property adjacent to South Calgary Park convinced Dang-Mitchell to take the plunge on creating this style of home. "A lot of people [told me], you could fit eight units on here. But I just felt like there was a lot of that product on the market already," she says.
"The park is so fabulous, it wanted something more, something permanent and substantial, something that was going to age well, and keep its value."
What followed was a labour of love — and many sleepless nights. Dang-Mitchell was involved in every aspect of the build and selected all decor elements for the homes, from choosing the modern light fixtures in each living room to opting to have the mud-room floors covered in a herringbone tile. (When it came time, it was also Dang-Mitchell's decision to list the four properties with Bōde, a Calgary-developed platform that facilitates peer-to-peer transactions including real-estate sales across Alberta, rather than a conventional agent.) The final result is four spacious, light-filled homes with a designer's attention to detail, revealed in striking elements such as the curved demi-walls running the length of the stairwells between the main and upper levels. When 400 people attended the open house for the properties, it was clear that her risk had paid off: the four units sold quickly, emphasizing that even in a city without a brownstone past, there is a market for thoughtful design.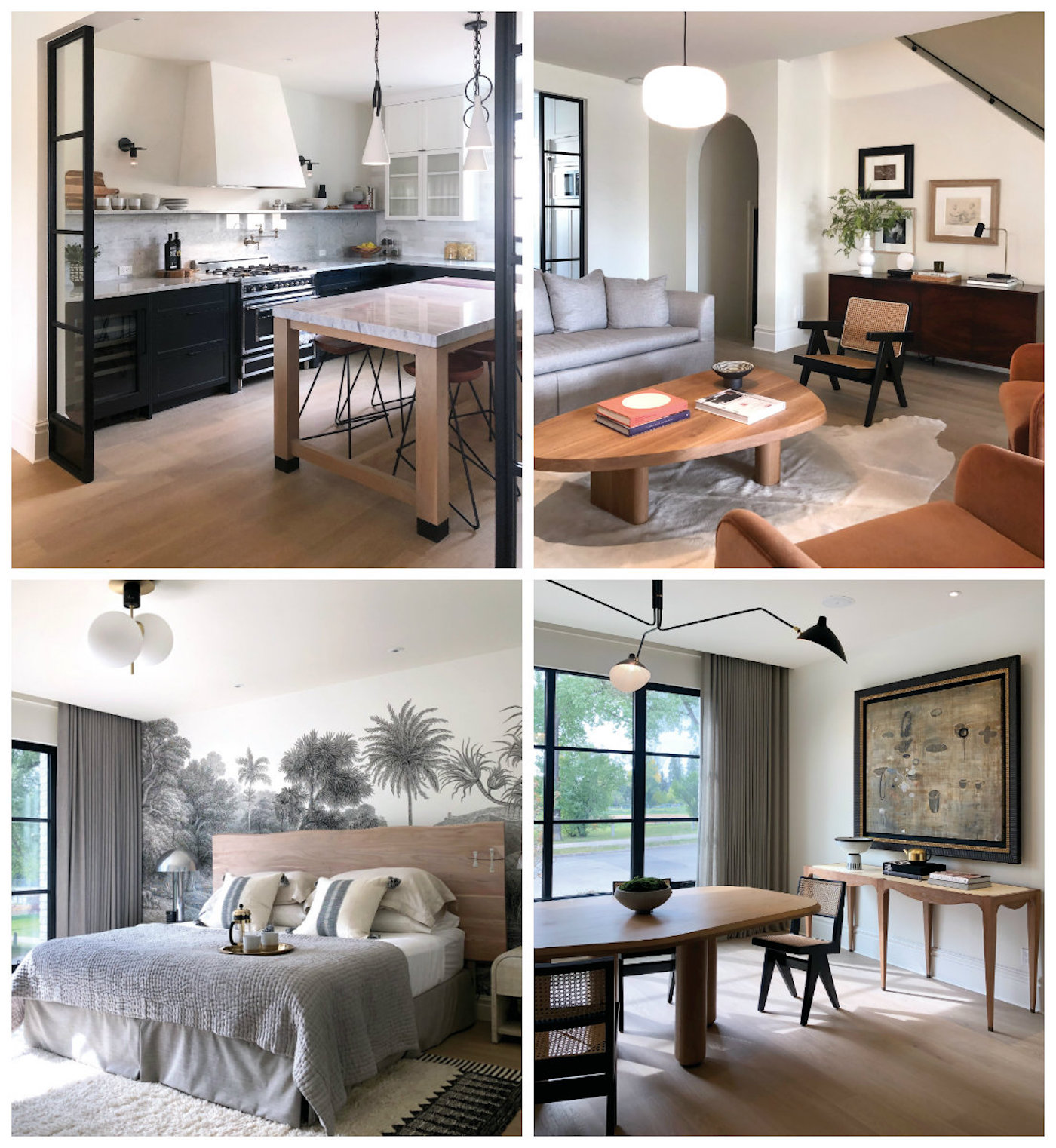 Backyard Suites Have Landed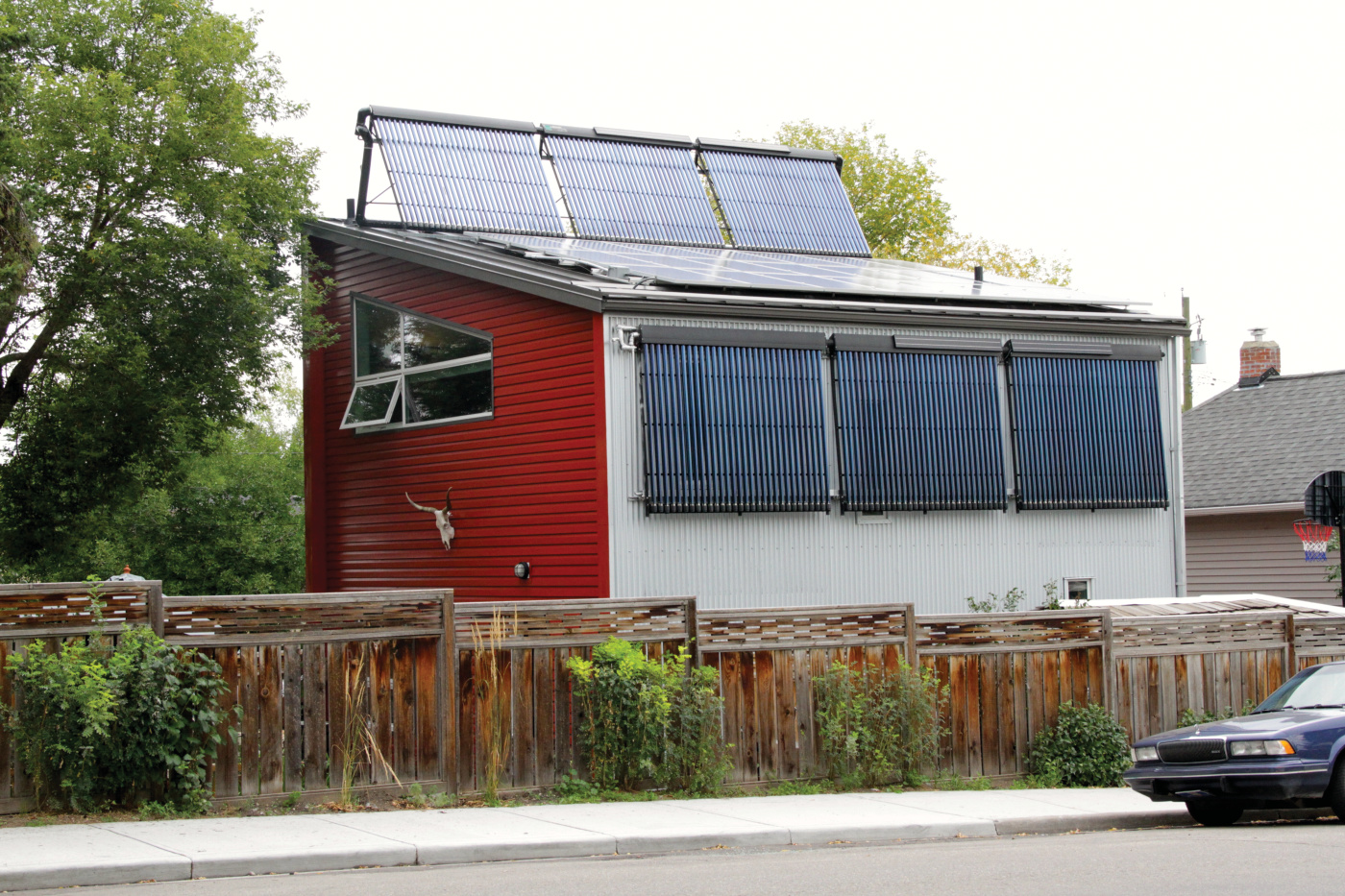 Some of Cornelis Koster's friends like to joke that a spaceship has landed in his yard. Though perhaps a bit of an exaggeration, the solar-powered, one-bedroom apartment with a sharply angled roof perched on top of Koster's garage certainly is eye-catching, inspiring many a passerby to stop and check out the informational materials about the project Koster has pinned to his fence. Koster, who works in the solar energy industry, designed the award-winning suite himself, and he hopes that other Calgarians will also embrace his vision of backyard housing. It's a big reason why he allows his property to be part of the recurring tours guided by Calgary Backyard Suites, a local non-profit that advocates for backyard housing. (The group started in Edmonton three years ago as YEGarden Suites and expanded into Calgary this past October.)
According to the City of Calgary, "backyard suites" are secondary residences built behind or alongside the primary residence, and recent numbers suggest they are gaining in popularity. With 39 permit applications last year as of Nov. 8, 2019 — the most of any year since 2009 — both City Hall and individual citizens are coming to value this as a clever way to increase density in the city without fundamentally altering a community's aesthetic the way that bulldozing homes to put up multiplexes does. "It's a form of hidden density," says Ashley Salvador, president and co-founder of Calgary Backyard Suites.
Scattered throughout Calgary, backyard suites serve many different needs — from bringing in rental income to providing independent living space for aging relatives. Some are carefully designed to blend in while others, like Koster's, stand out. Keep an eye out for one landing in your neighbourhood sometime soon.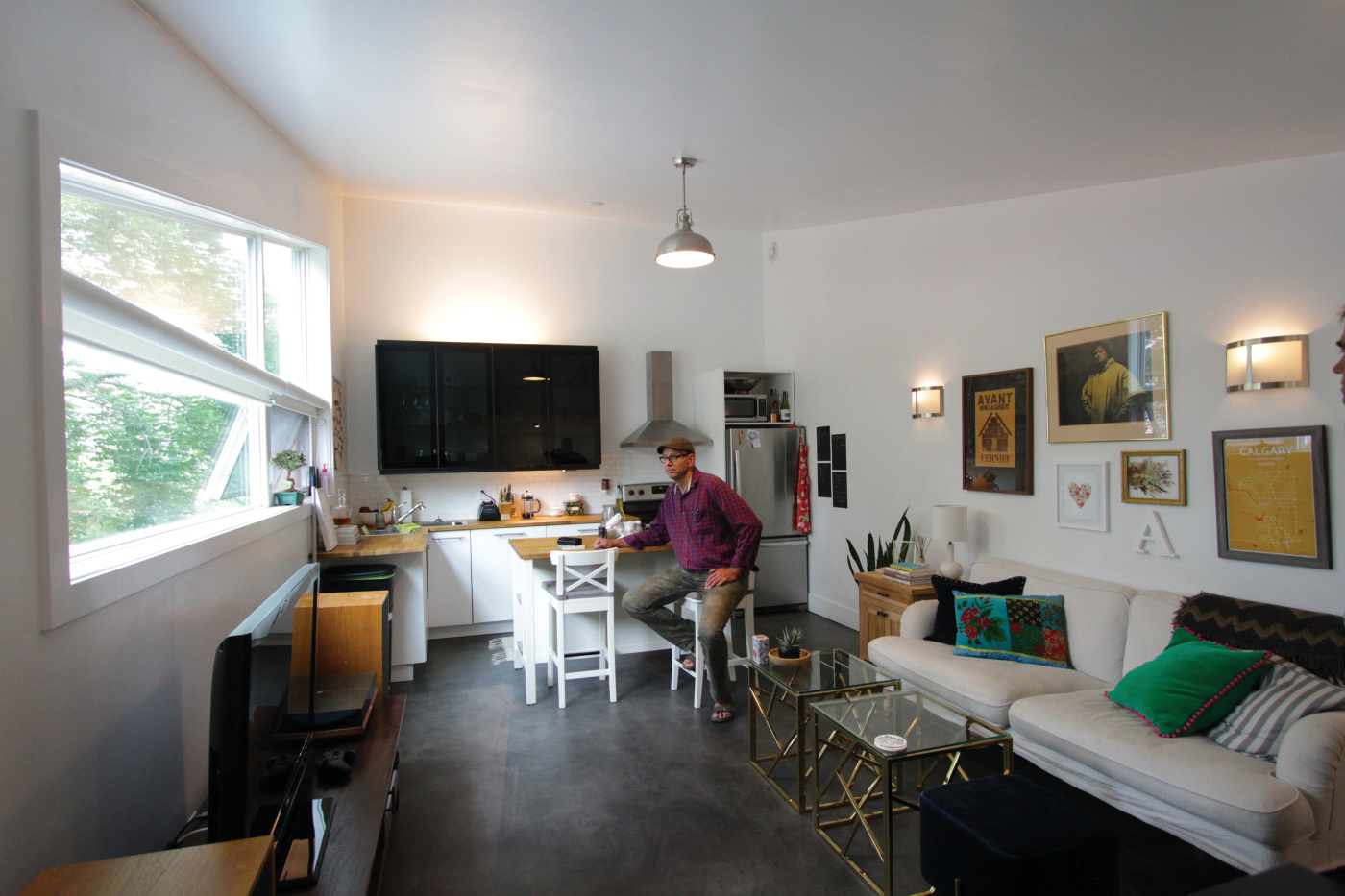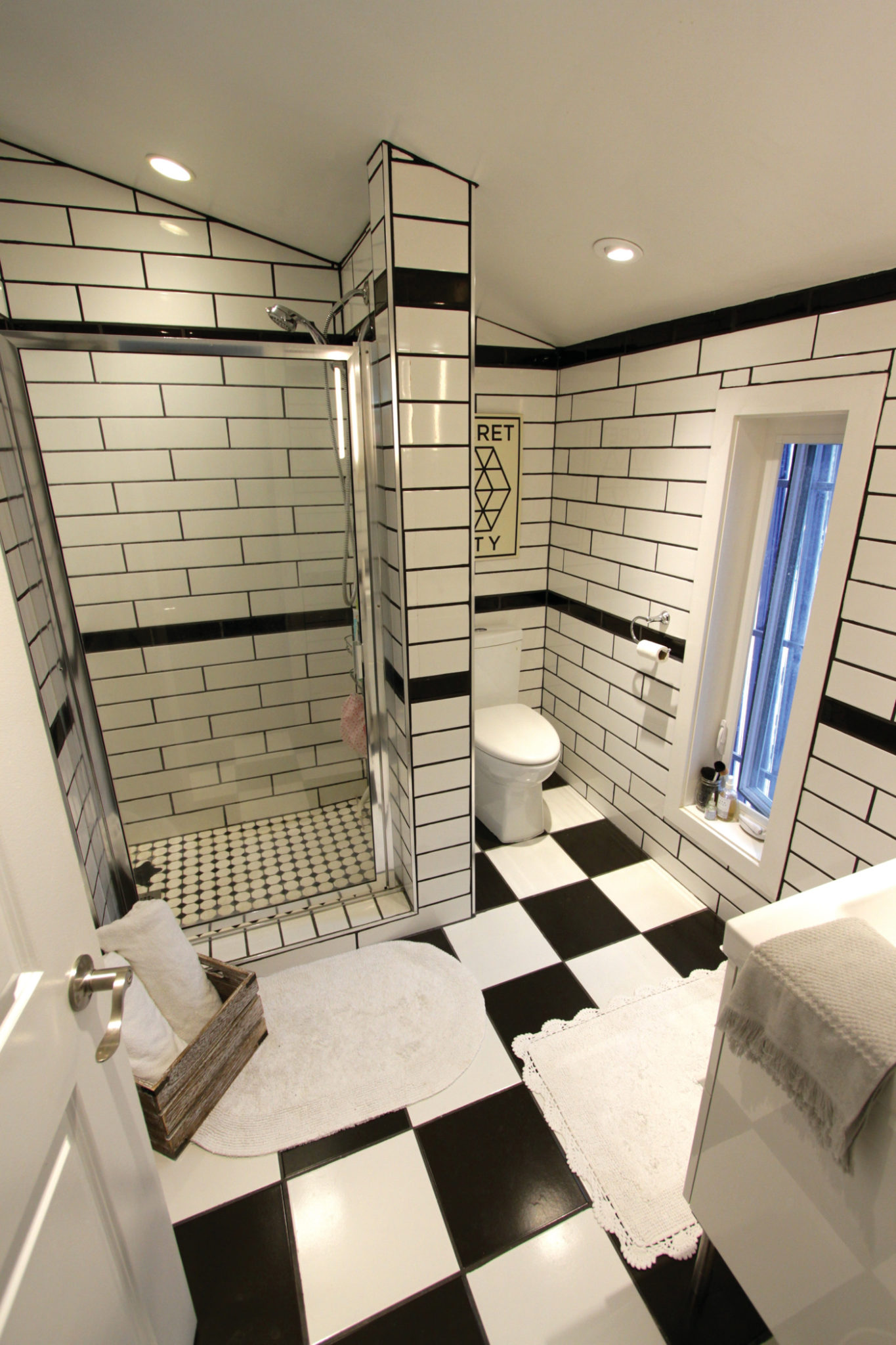 Cube Office-to-residential Conversion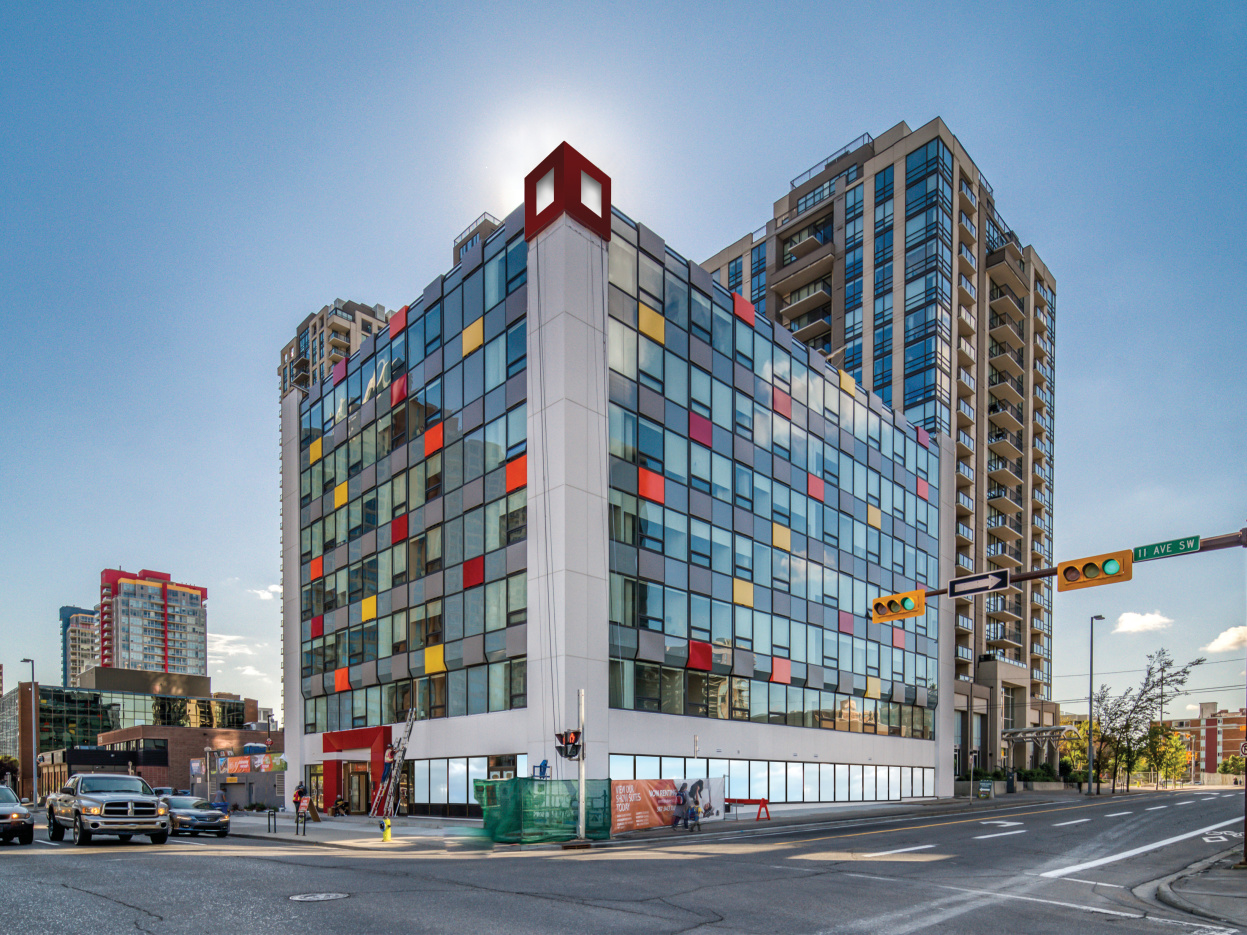 The economic downturn has hit Calgary in its core. Office buildings that once saw companies clamouring for space now boast ample vacancies. In some cases, entire towers are empty. It's a sobering sight, but one that has also provided an opportunity for urban renewal.
Strategic Group, a Calgary real-estate company, decided to take a chance with a vacant office tower on the corner of 11th Street and 11th Avenue S.W. With a $24.5 million overhaul, the Beltline neighbourhood tower has since been relaunched as Cube, a collection of stylish one-and two-bedroom rental apartments.
The project is the first of its kind in Calgary, perhaps because repurposing large buildings is a challenging undertaking. Converting office space to apartments isn't as simple as slapping up some drywall and installing a few bathtubs. The Strategic team first had to strip the interior down to its bones. The company installed new HVAC and safety systems and built the new suites to modern standards, and even gave the exterior a makeover.
Despite the complexity of the project, the potential payoffs are significant. "By repurposing an older office building, we saved nearly 8,000 tonnes of demolished waste material from going to a Calgary landfill," says Riaz Mamdani, CEO of Strategic Group. The interest from renters was immediate, and the building quickly filled, adding new energy to the Beltline neighbourhood. Strategic Group plans to continue converting more under-utilized buildings into apartments.
Live-Work Spaces at Park Point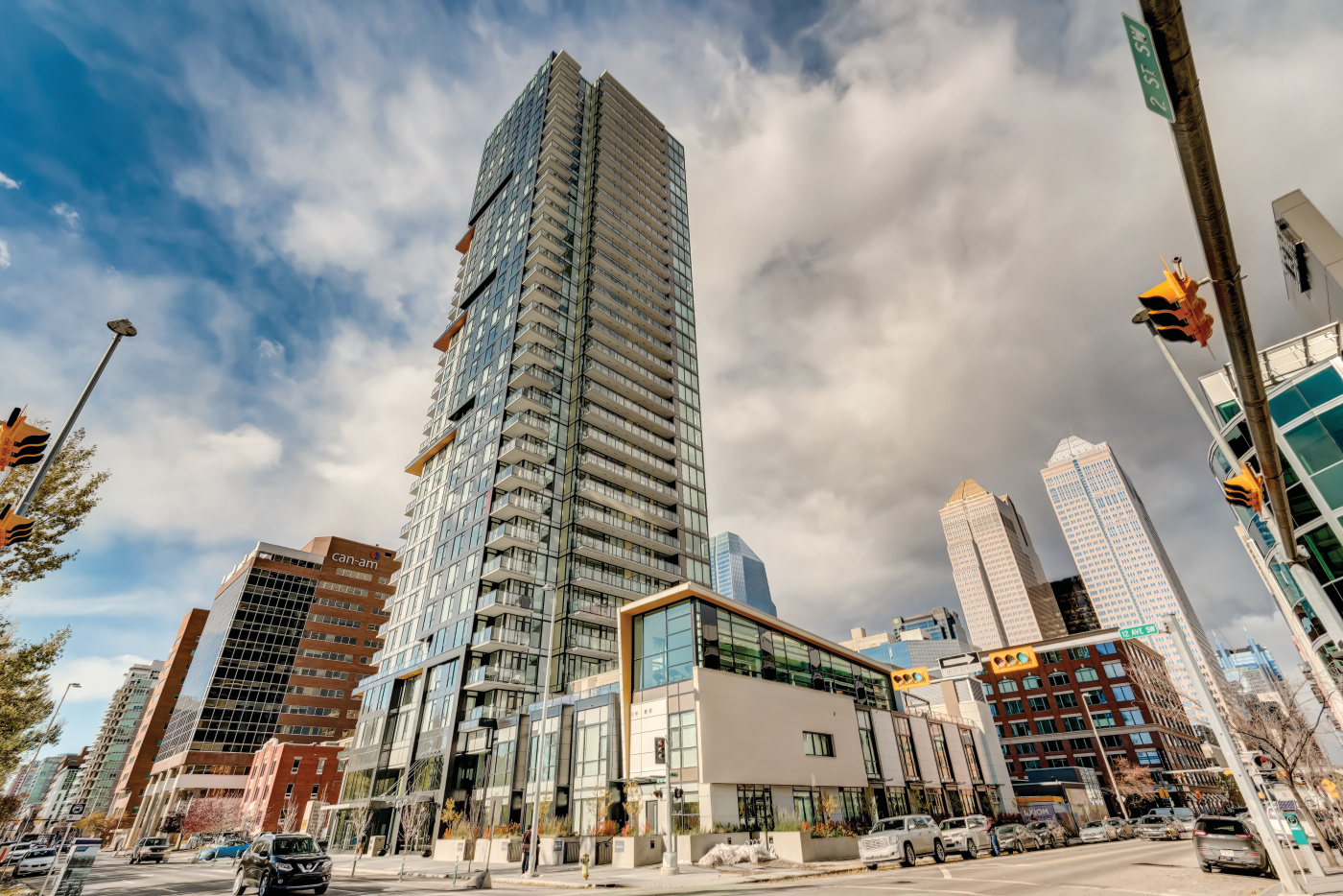 Not everyone in this city works an office job — at least not in the traditional sense of the word. Growing numbers of Calgarians are entrepreneurs and small-business owners, and many work from home. But ditching the daily commute doesn't negate the need for dedicated workspace, particularly when clients are involved. Enter live-work spaces.
Park Point, located across the road from Central Memorial Park in the Beltline, is a residential tower divided into classic apartments and penthouse units. At the street level the building boasts eight live-work units, zoned for both business and residential use. The two-storey units have streetfront business entrances as well as private entrances to the interior of the building. With the public areas of the home located on the main floor and the private areas on the second floor, clients don't have to share the family bathroom or bear witness to unmade beds.
For some owners, this set-up can also encourage better balance in their personal lives. "In the absence of separation, someone like myself will work all the time," says Kyla Wenzel, a Park Point resident and owner of a skin-care business. "I don't have the insistent environmental temptations to lure me away from other, important components of my life that also deserve my attention!"
The units are so popular that developer Qualex-Landmark is considering creating more than originally planned in the second phase of Park Point. As the entrepreneurial initiatives in our city continue to grow, expect live-work units to follow suit.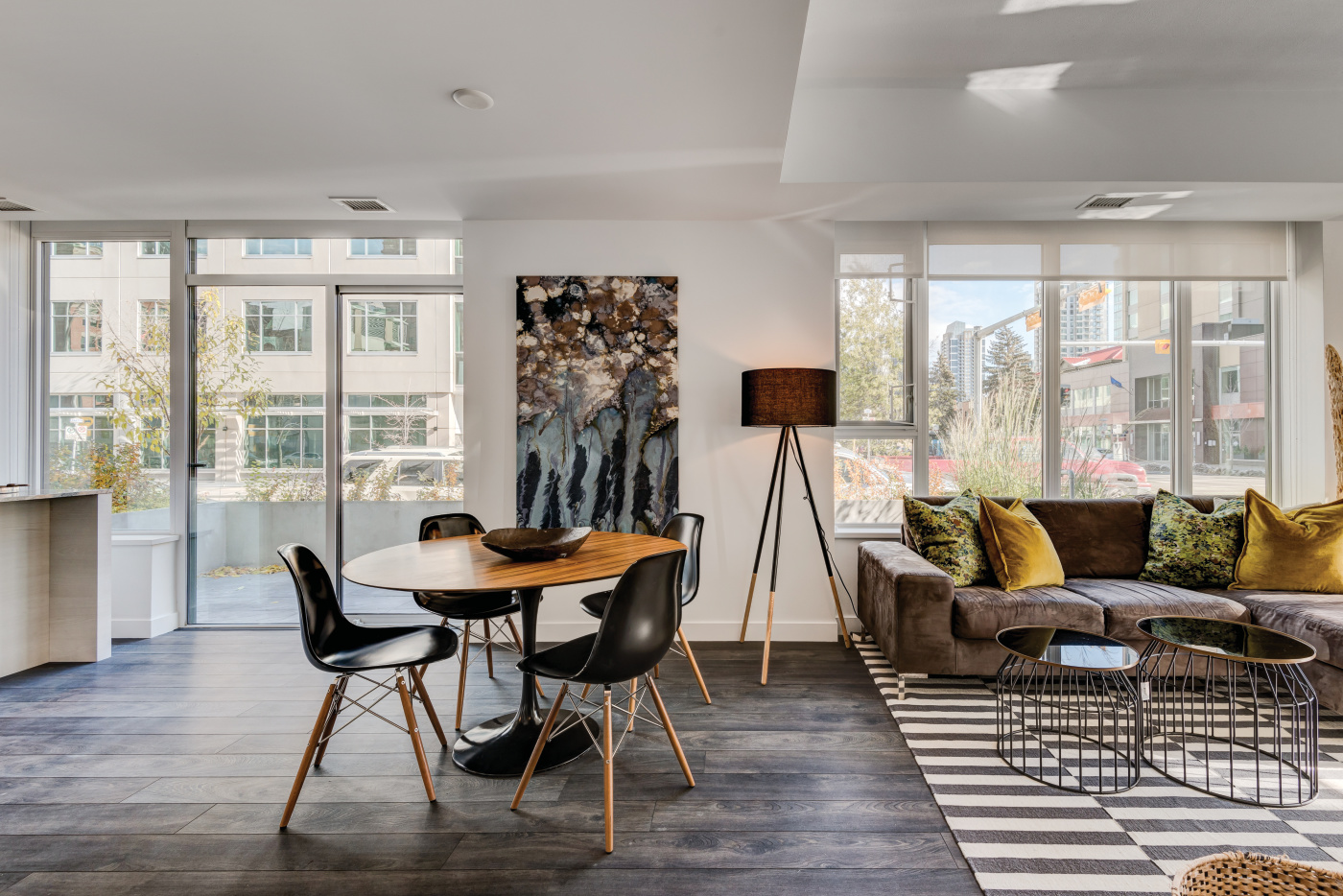 Rosedale Affordable Housing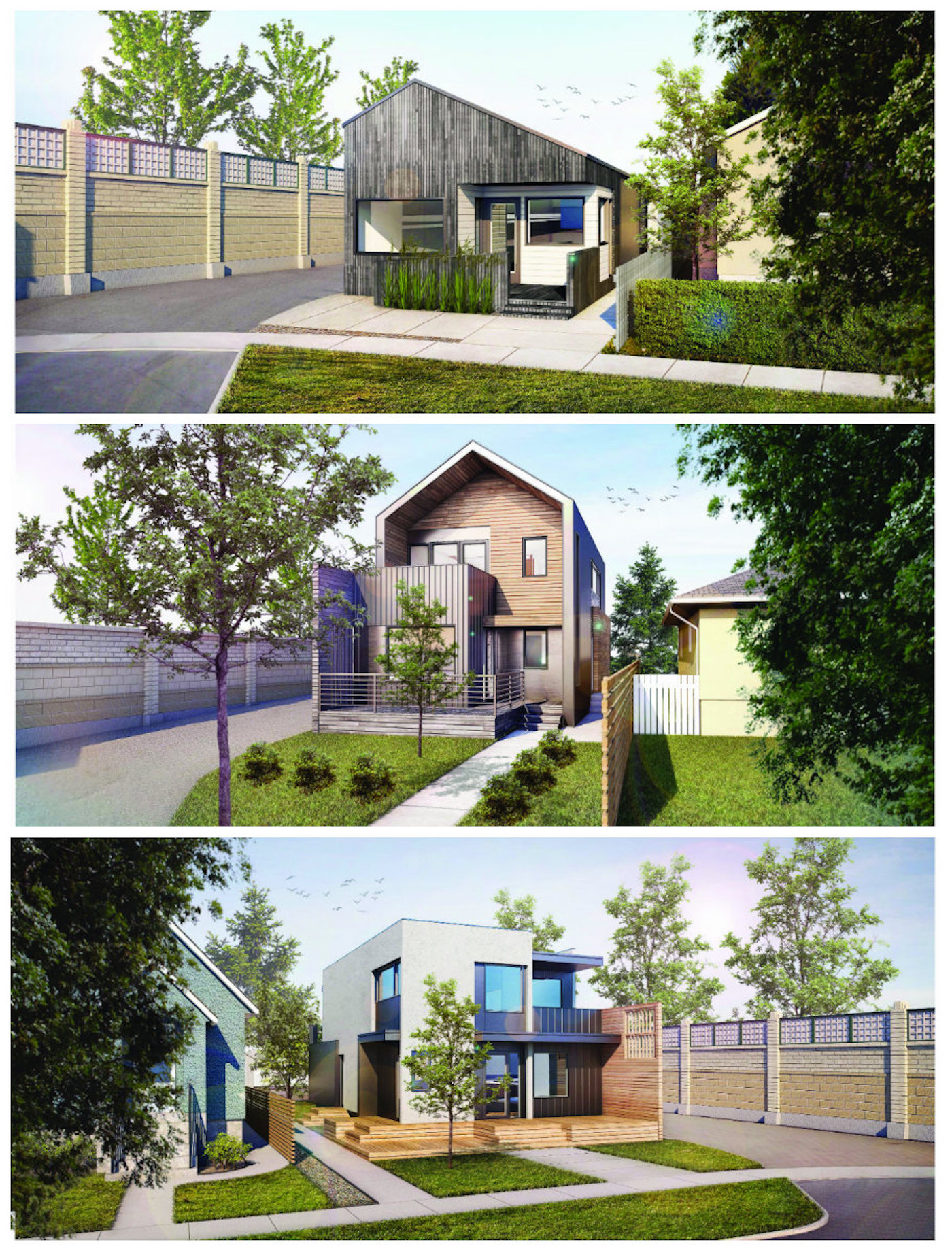 Affordable housing in Calgary has not always been synonymous with thoughtful design. Scattered throughout the city are units that were clearly built with cost as the main consideration and no design links between them and their surrounding communities. But projects such as the recent affordable housing build in the inner-city community of Rosedale aim to change that stigma. Rosedale is the site of eight new two-unit residences, built by the City of Calgary's Affordable Housing Capital Development program on small parcels of land left over from the widening of 16th Avenue N. (the segment of the Trans-Canada Highway that runs through the city).
Designers from Formed Alliance Architecture Studio took care to match the new homes with the character of the neighbourhood. This meant designing a variety of exteriors: on one street, peaked roofs were an important feature; on another, two-storey designs blended in well.
"We try to make sure that our buildings are indistinguishable from private developers," says Susan Sanderson, City of Calgary capital development coordinator. "You would never know it was affordable housing. Our goal is to foster pride of residency by building attractive, landscaped homes that fit well in the community. That is important to us."
Costs were reduced by prefabricating parts of the units offsite, and by keeping some of the interior components the same across the different units. The result is affordable housing that truly blends in, benefitting established neighbours and new residents alike. The project also impressed the judges for the 2019 Mayor's Urban Design Awards (which included Avenue's editor-in-chief, Käthe Lemon), who gave the residences top honours for Housing Innovation.