Where is it: 7303 30 St. S.E.
Office size: Approximately 28,000 square feet
Number of employees at DIRTT HQ: Around 180
Number of wine bottles in the wine room: 540
Over the past 15 years, DIRTT has established itself as a leader in creating flexible and innovative spaces.
DIRTT focuses on pre-fab interiors and the technology we use to create them. Since it was founded in Calgary in 2004, DIRTT has designed and built spaces for more than 7,800 clients ranging from Fortune 500 companies to Calgary-based companies like Benevity. The company has taken on projects in a range of industries, including healthcare, corporate offices, education, public sector and more.
DIRTT's innovation is showcased within its own Calgary headquarters as well. With technology like its Timber construction solution, ICE software and ICEreality experience at its fingertips, DIRTT can easily reimagine and redesign elements in its own office with minimal disruptions. Walls can be moved and new spaces are brought to life in mere weeks.
"It's a building that's never really done. We're always upgrading it based on changing needs or new technology, and we're able to do that because the DIRTT components are so flexible," says Madison Pinder, Marketing and Communications Specialist at DIRTT.
"It's kind of a testament to the office of the future. The office of the future is not stagnant."
DIRTT HQ is also where clients can come to check out interior examples in the DIRTT Experience Centre or see what their future space will look like with the help of a physical mock-up or virtual reality.
"It's a workspace, but it's a show space as well, so we're showing clients that we live in it and it works," says Debbie Carruthers, the now-retired Head of Design.
As if the innovative architectural and design elements weren't enough, DIRTT HQ has plenty of other charms as well. An open concept workspace, a well-stocked wine room, a cafe and bistro, dog-friendly Fridays and staff activities like the long-standing Thursday lounge nights all contribute to the fun workplace culture at DIRTT.
Take a look inside DIRTT HQ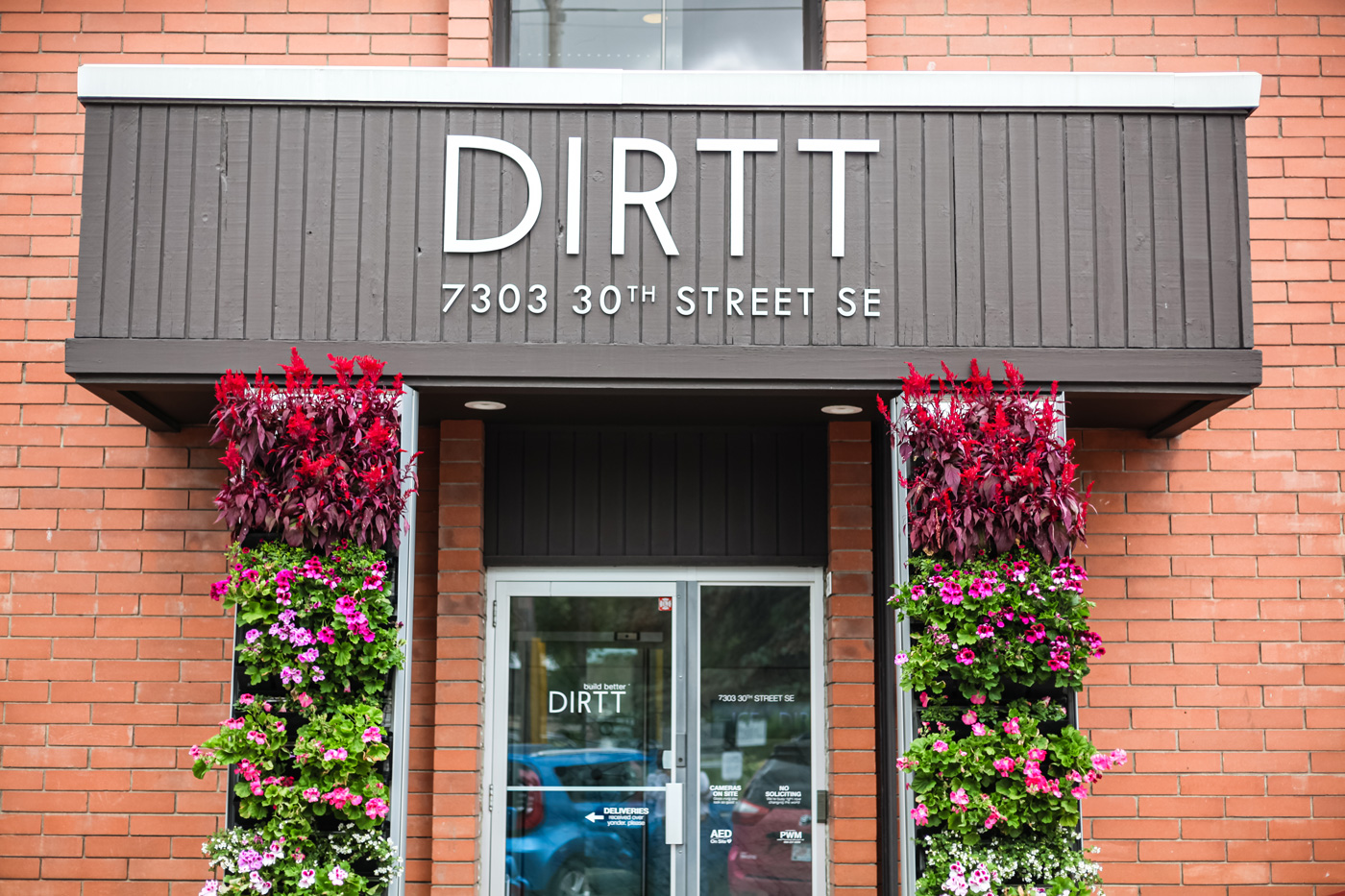 DIRTT's innovation starts right at the front door, which showcases the company's living plant walls (known as Breathe walls).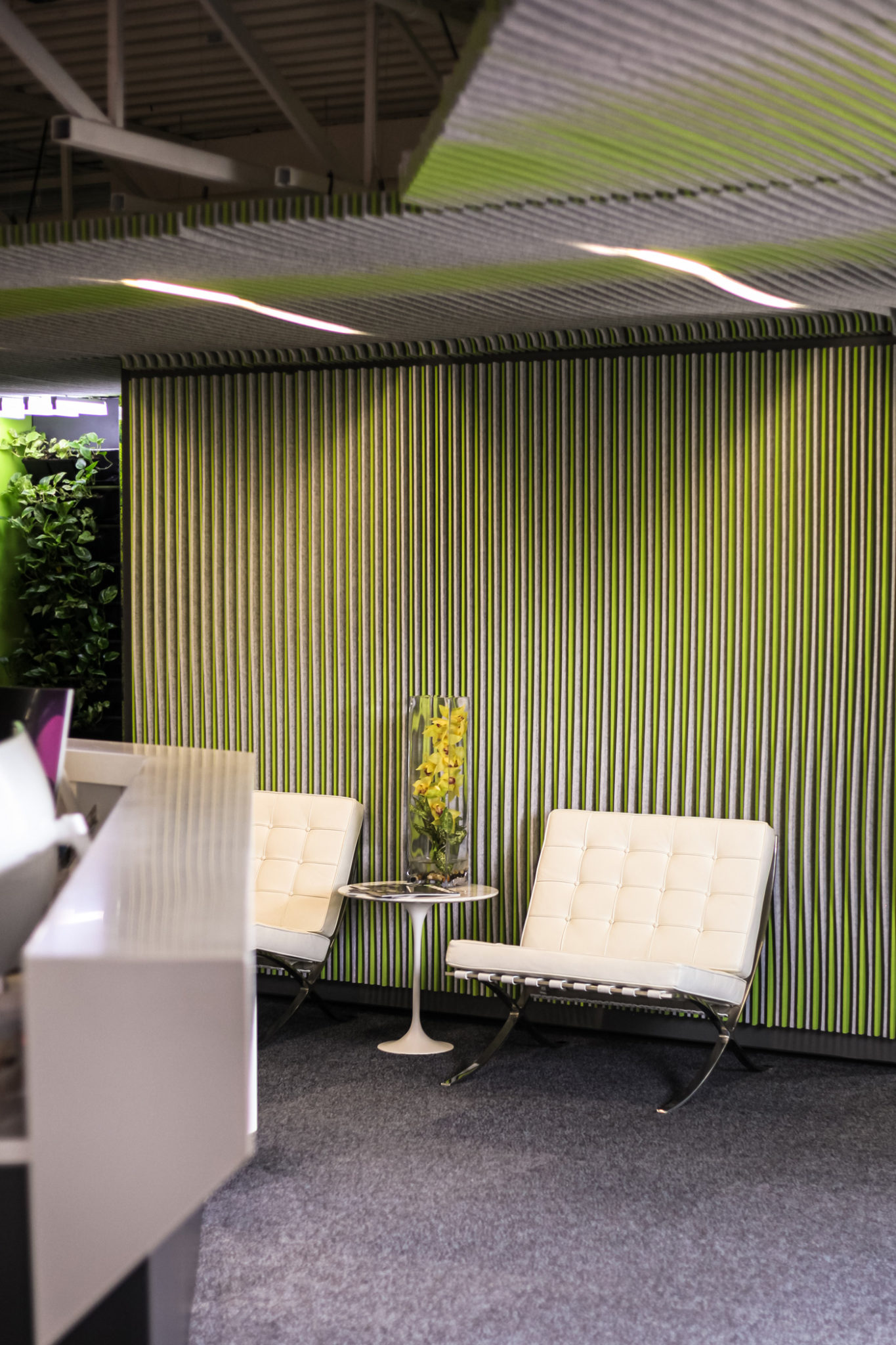 According to Carruthers, the goal with the lobby was to create a "wow factor" when people walked into the building. The angular reception desk was built by DIRTT's own millwork factory and the space features green and grey felt panels along the walls and ceiling to absorb sound.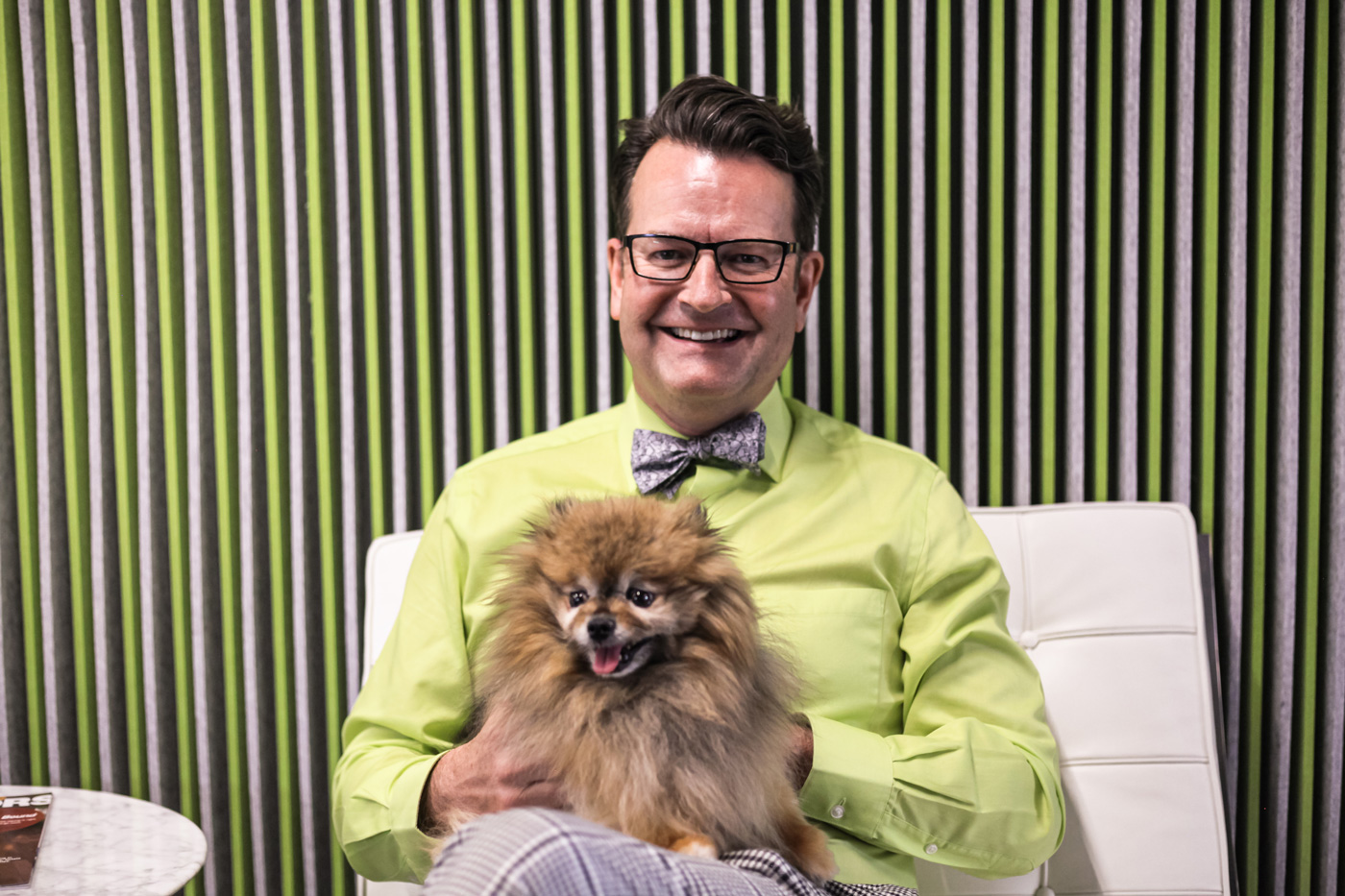 David Brown, DIRTT's Director of Strategic Accounts, says it's not uncommon to find close to a dozen dogs in the office on Fridays. This is his dog, Lexi.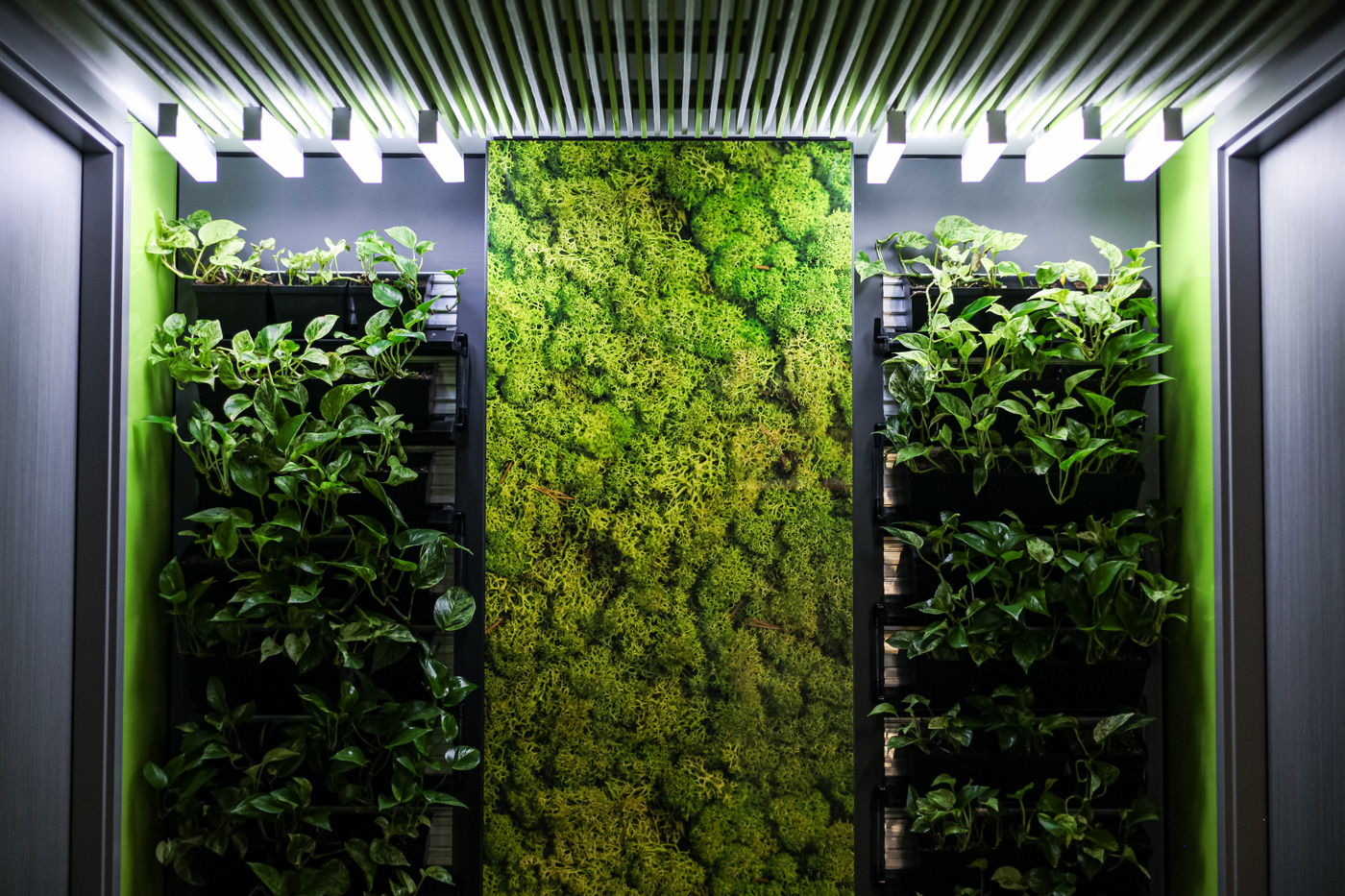 Another example of DIRTT's Breathe walls. Carruthers estimates there are around 200 plants used in the office's decor.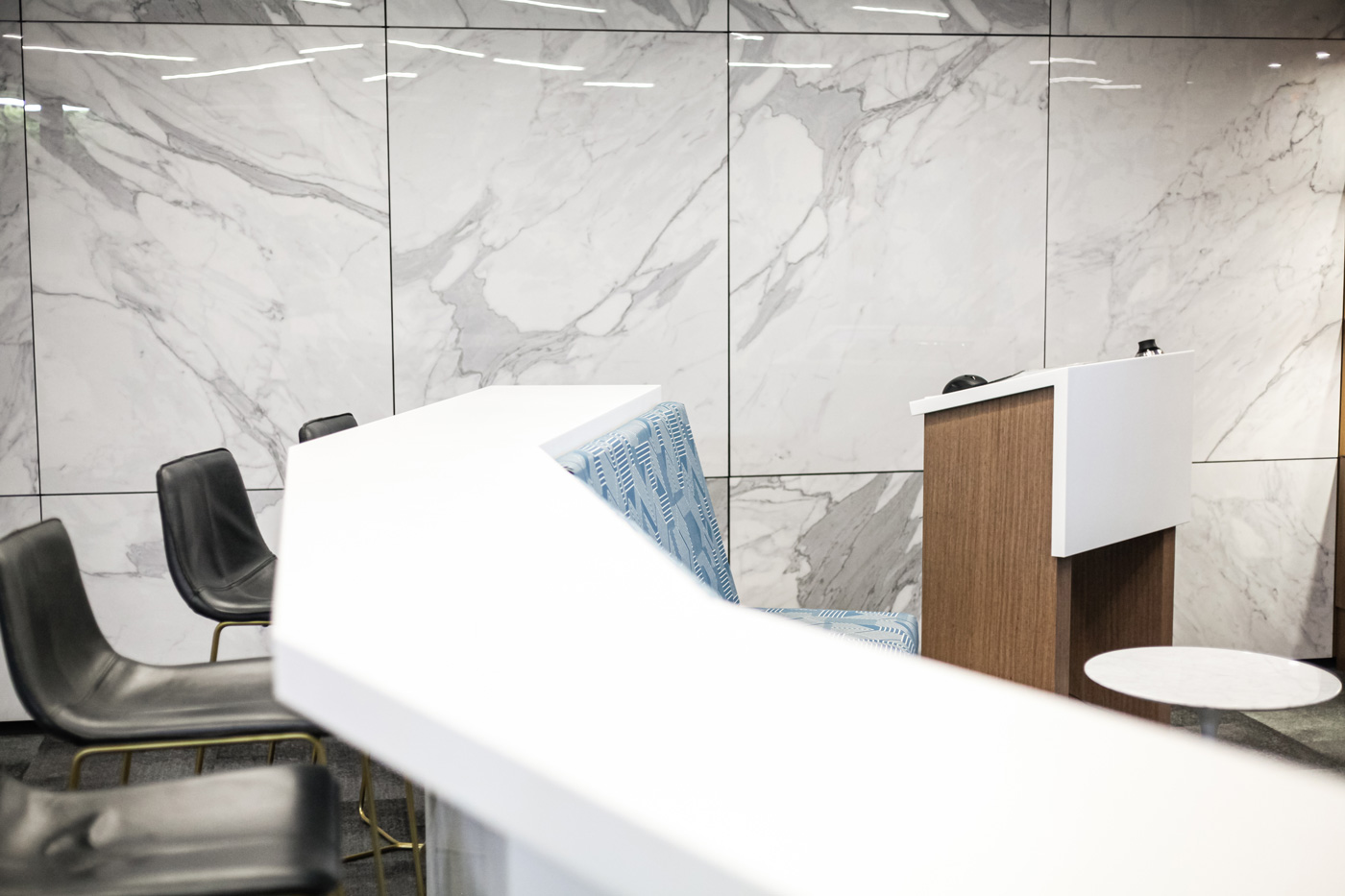 This client presentation room offers a mix of high and low seating, as well as walls that can be written on like a whiteboard.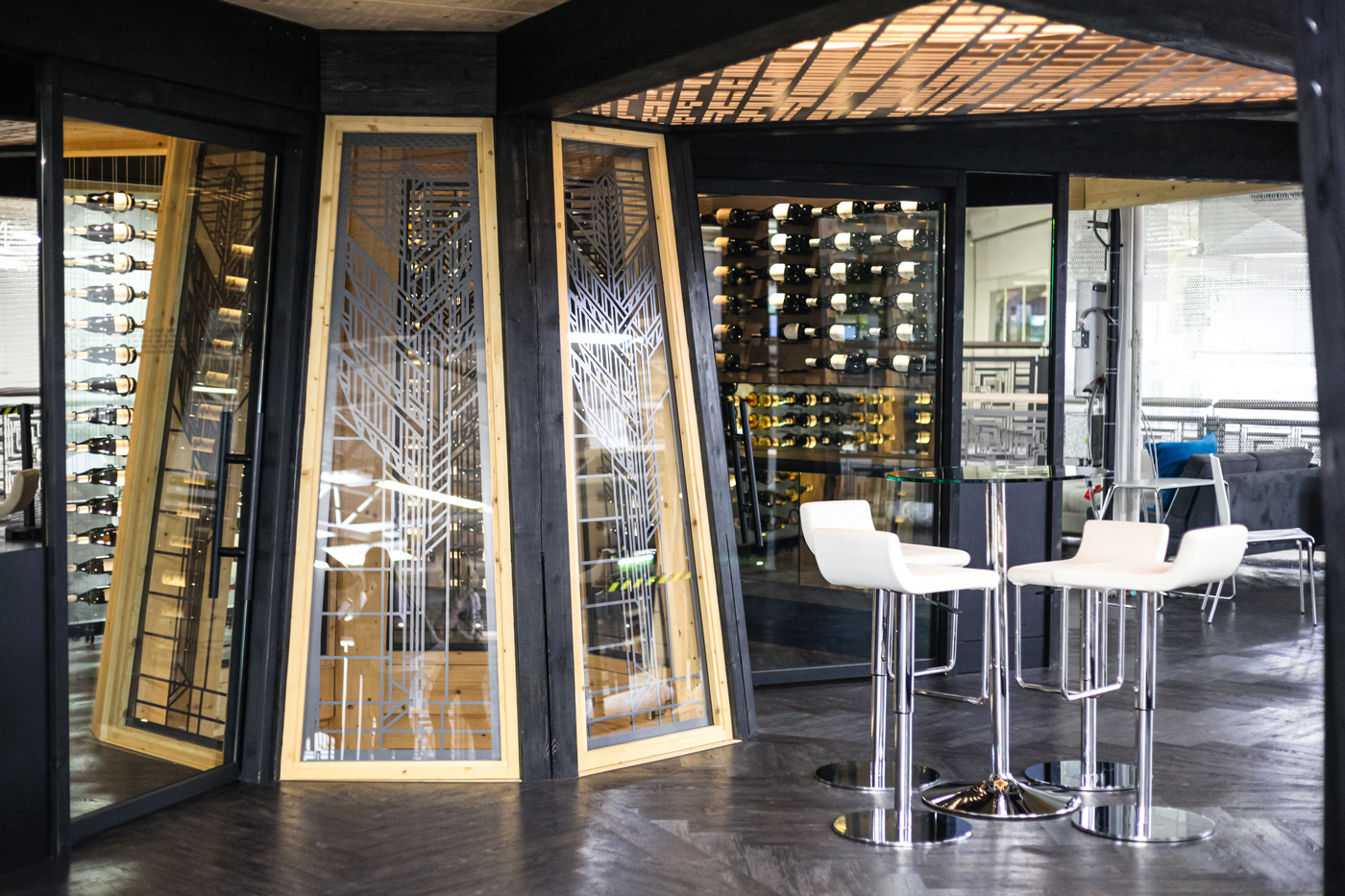 The star mezzanine was built inside the office five years ago and showcases DIRTT's Timber construction solution. At the centre is an impressive wine room that is home to 540 bottles of wine. There are open seating areas around the wine room where staff can work away from their desk when they want a change of scenery.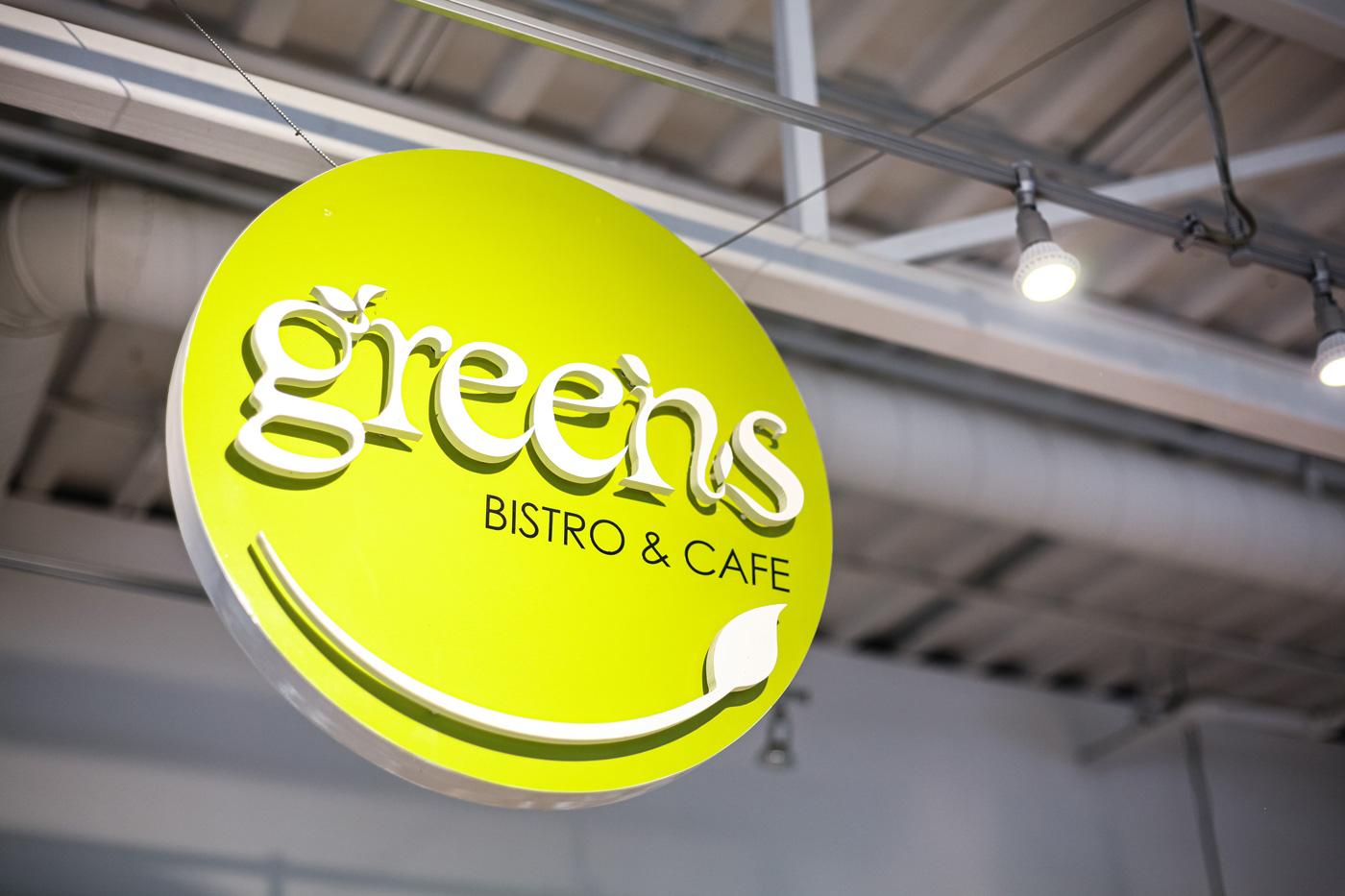 When the staff get hungry or thirsty, they can head to Greens Bistro & Cafe in the office. The eatery is equipped with refreshments like coffee, tea, soft drinks and juice. For $3 a day, the staff can also take part in the daily lunch offerings, which have included beef tenderloin, butter chicken, burgers, lasagna and even breakfast for lunch in the past.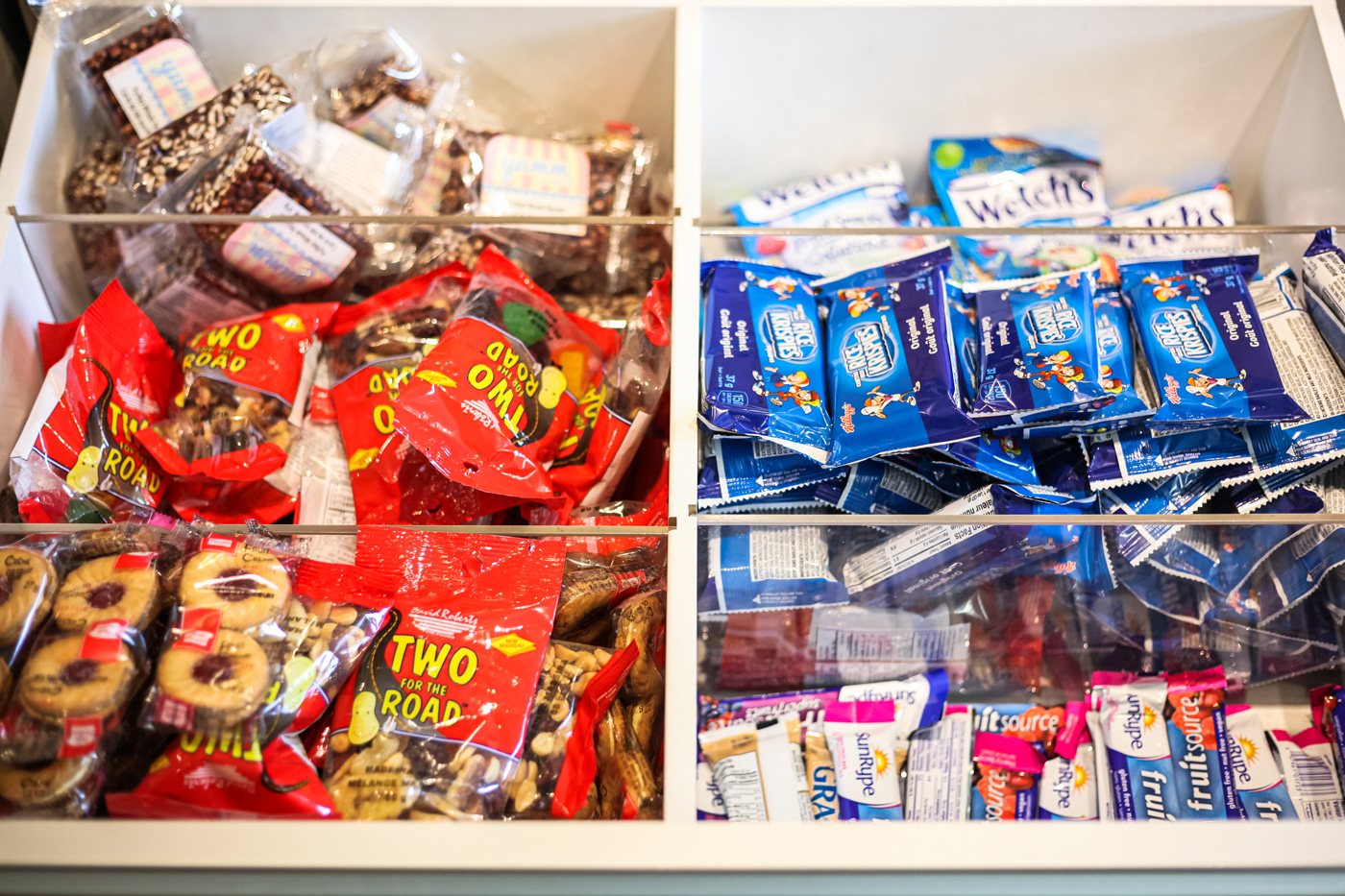 The bistro and cafe also has a snack drawer full of treats for the staff.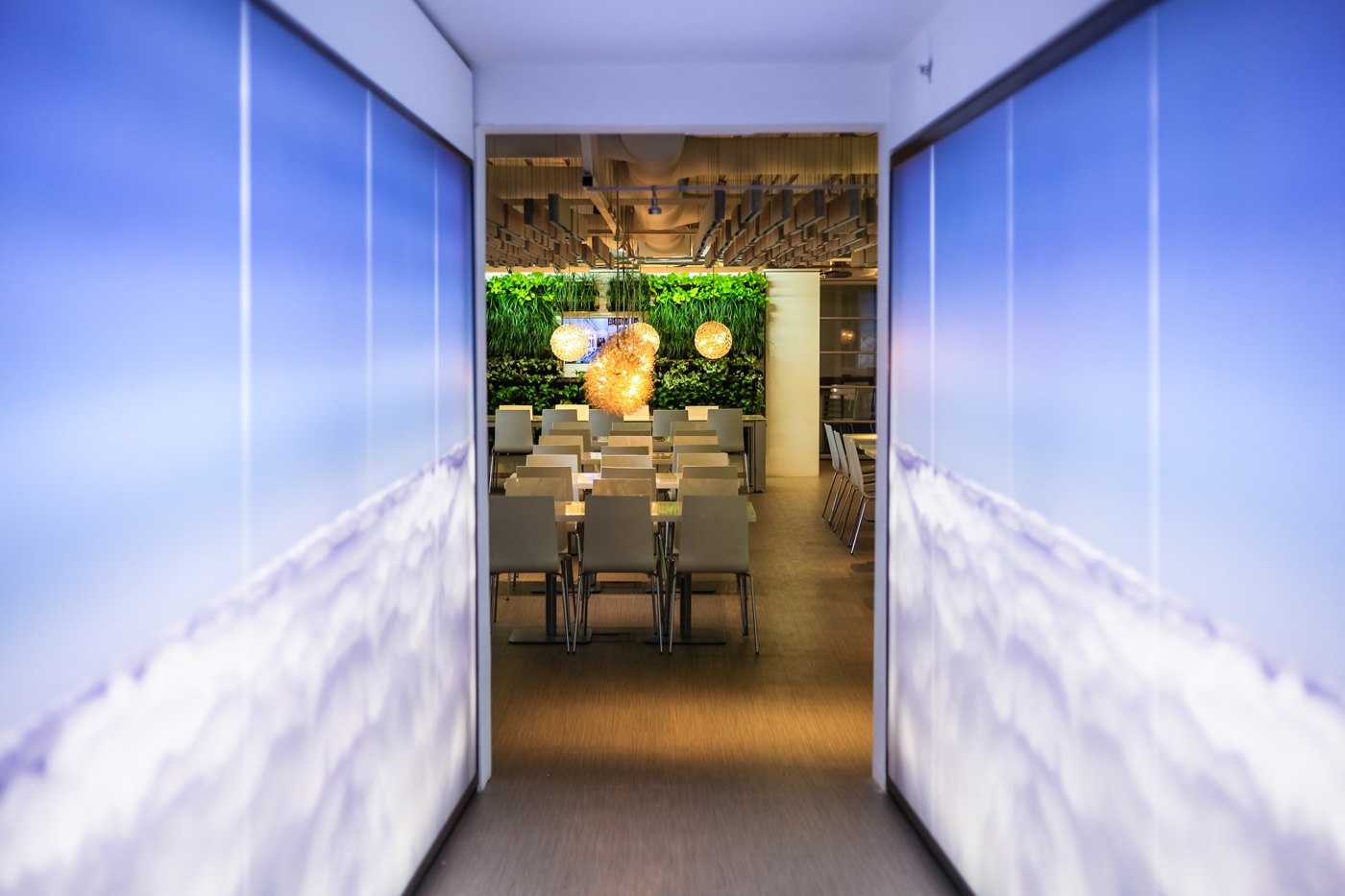 The kitchen and the dining area are connected by this corridor, which is lit up with images of clouds in the sky. "It's almost like you're in an airplane and you're looking out the window," says Carruthers.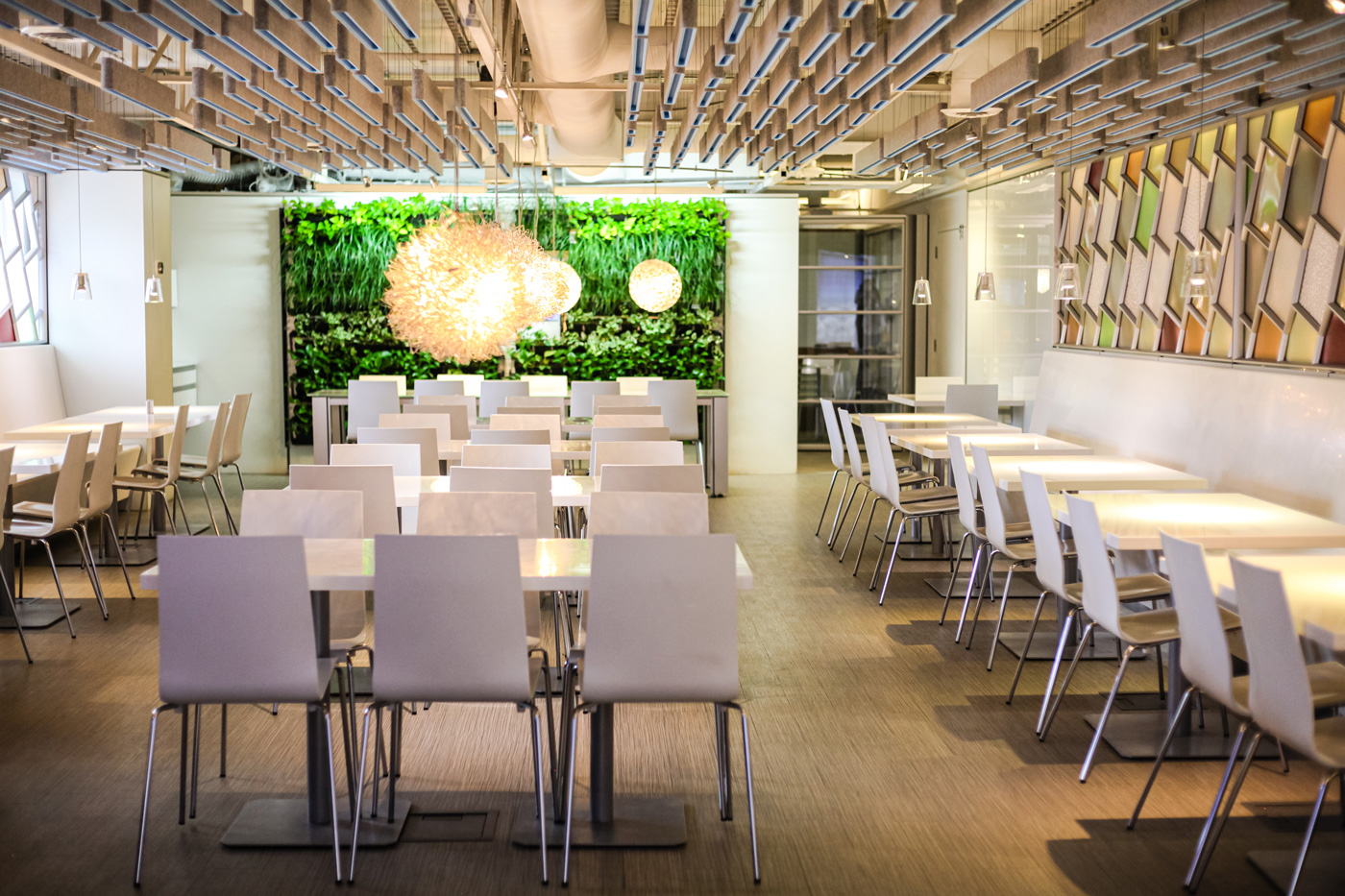 The dining area fits 124 people and features funky pendant lights, felt panels along the ceiling to help keep the noise down and another leafy Breathe wall. Back in 2013, a friend of Carruthers actually got married in this space after their previous venue was flooded.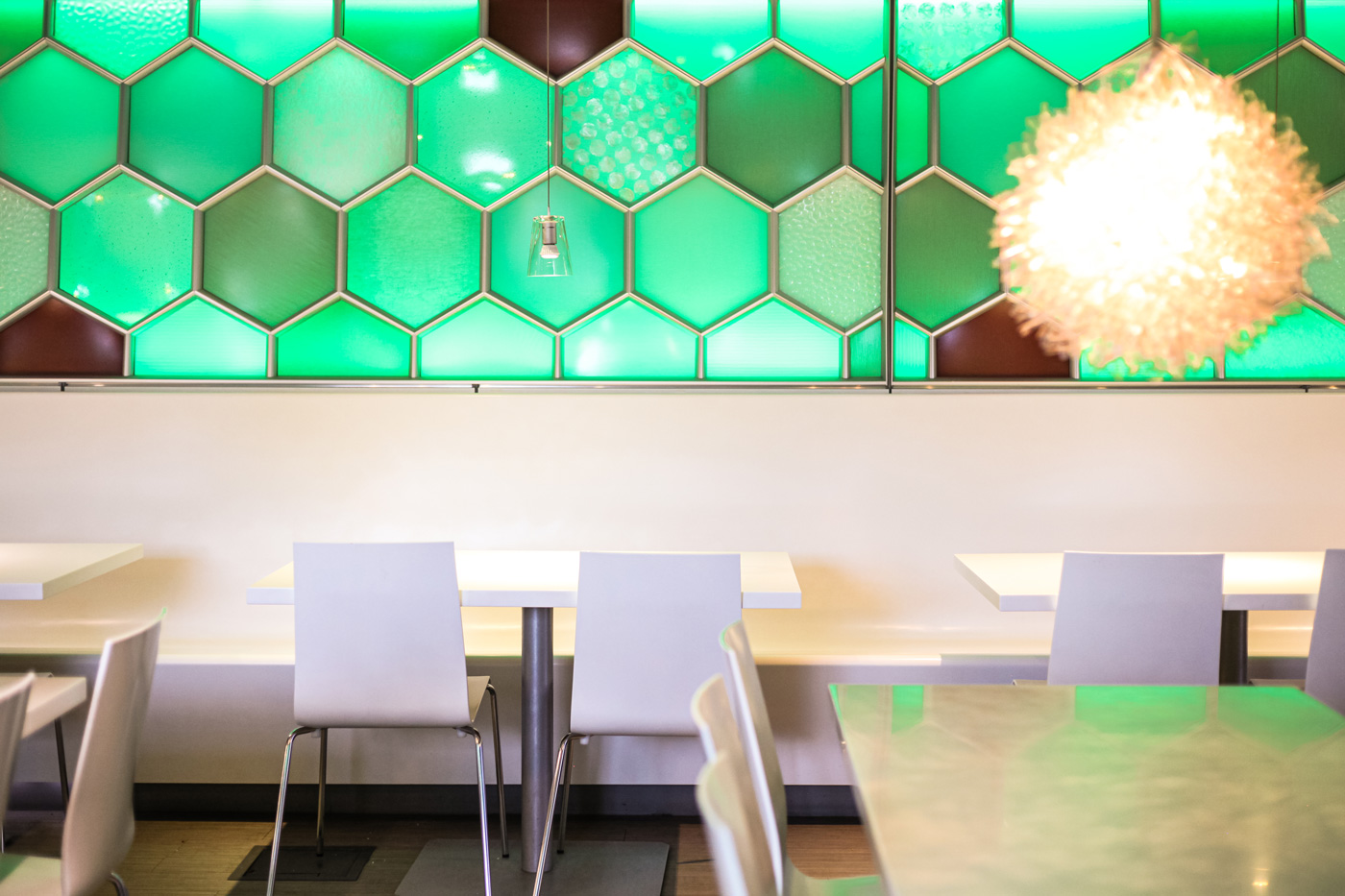 Both sides of the dining room feature backlit translucent walls. The LED lights change colour frequently, casting a green, pink and blue light around the room.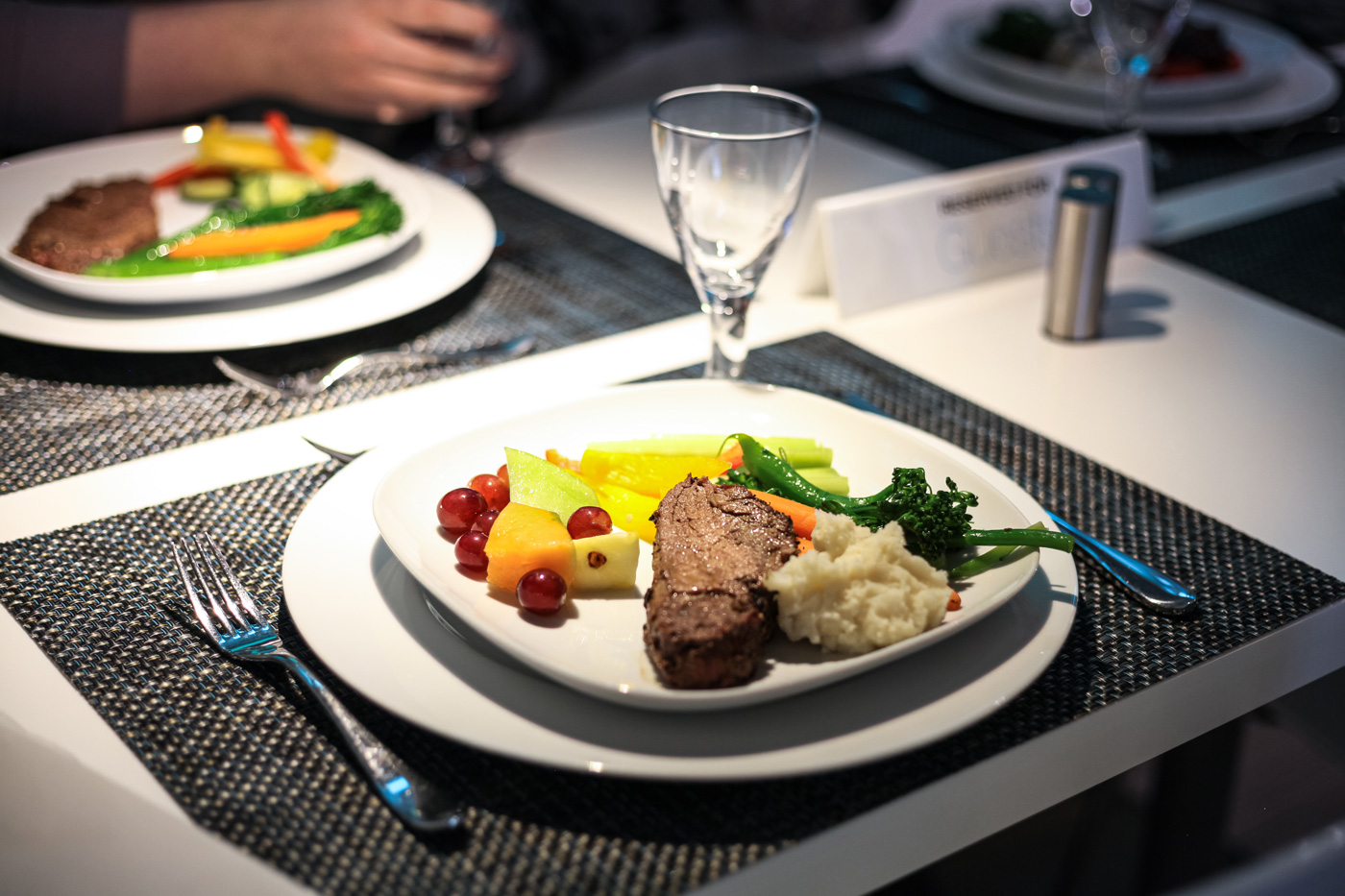 On the day we visited DIRTT HQ, the lunch menu featured roasted beef tenderloin, baked quinoa, mashed potatoes, broccolini and more.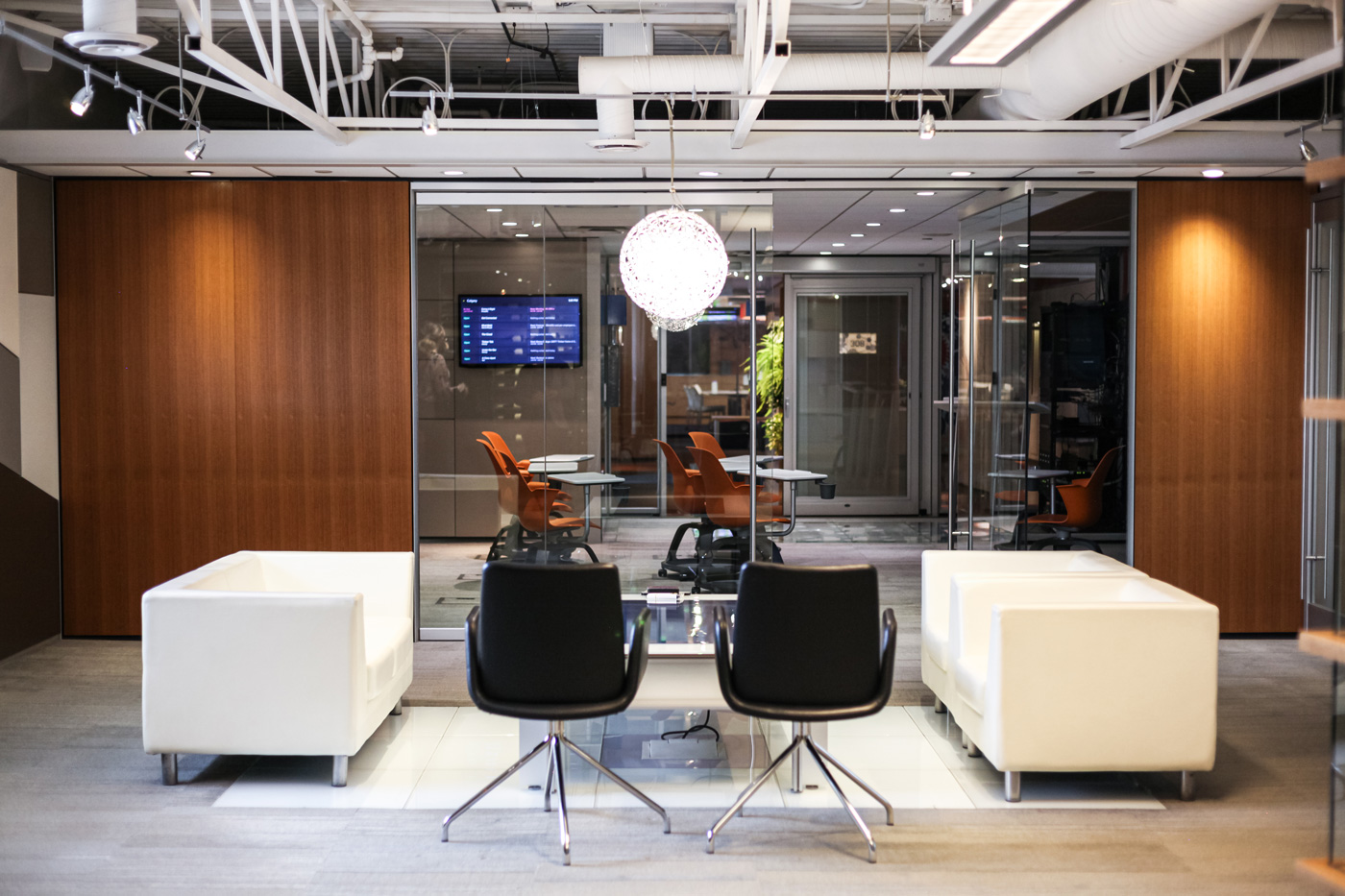 The DIRTT Experience Centre is essentially a showroom for clients. DIRTT staff can demonstrate different kinds of learning spaces, healthcare exam rooms, office designs and more.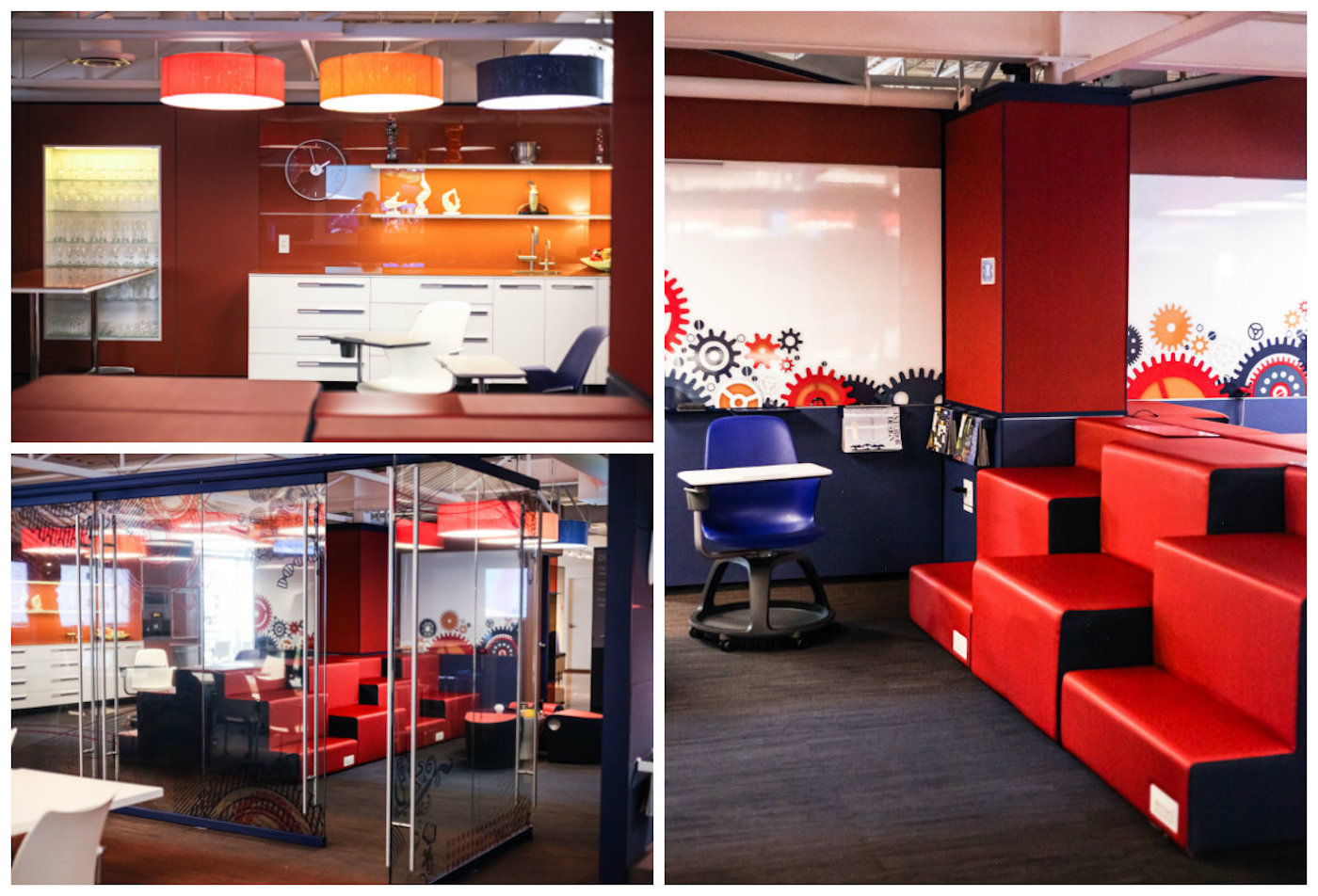 A few more spaces inside the DIRTT Experience Centre.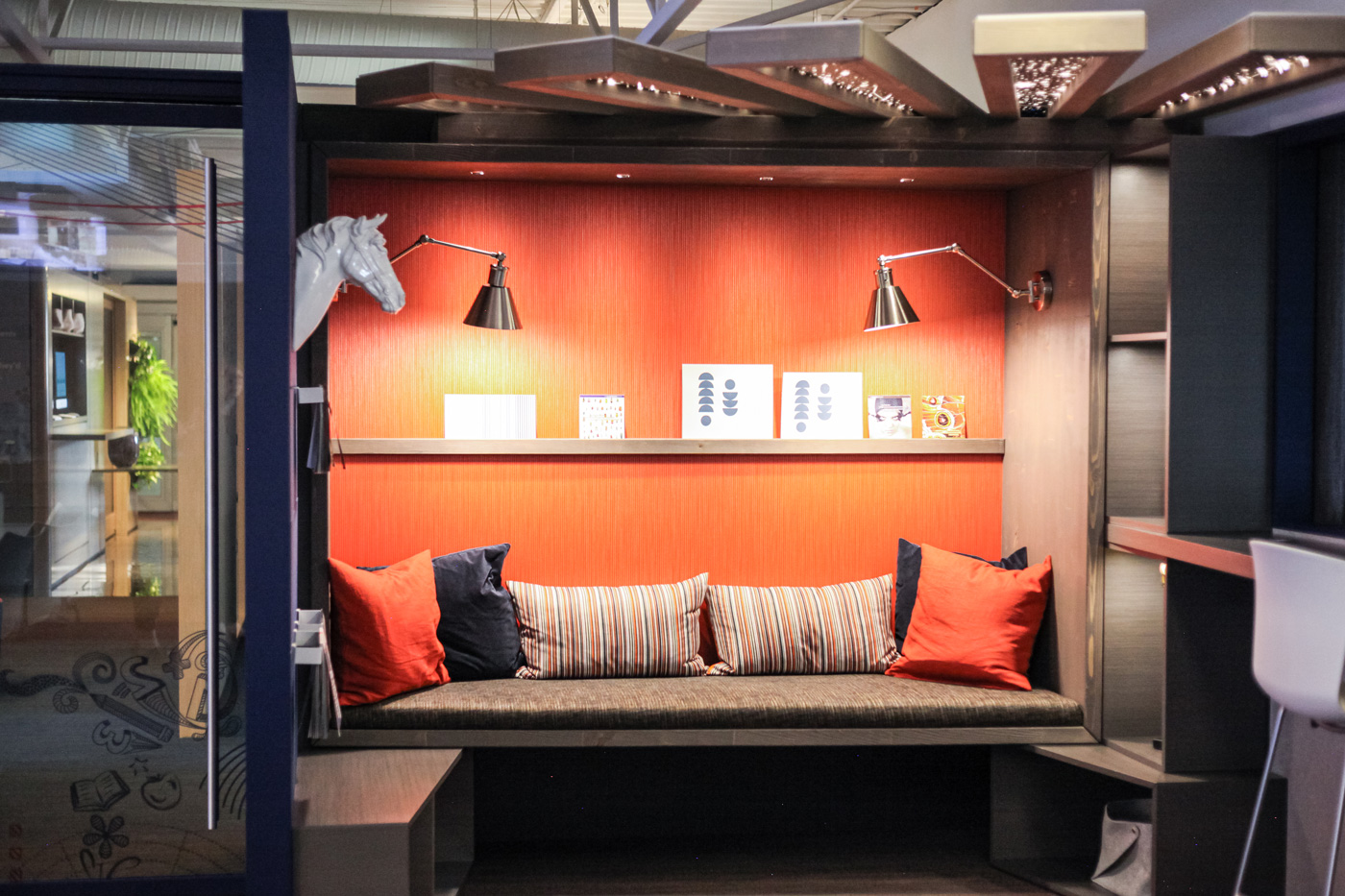 This reading area was added to the Experience Centre to bring in a more residential feel. The lights hanging above were laser cut into the shape of constellations. This area only took around two weeks to complete.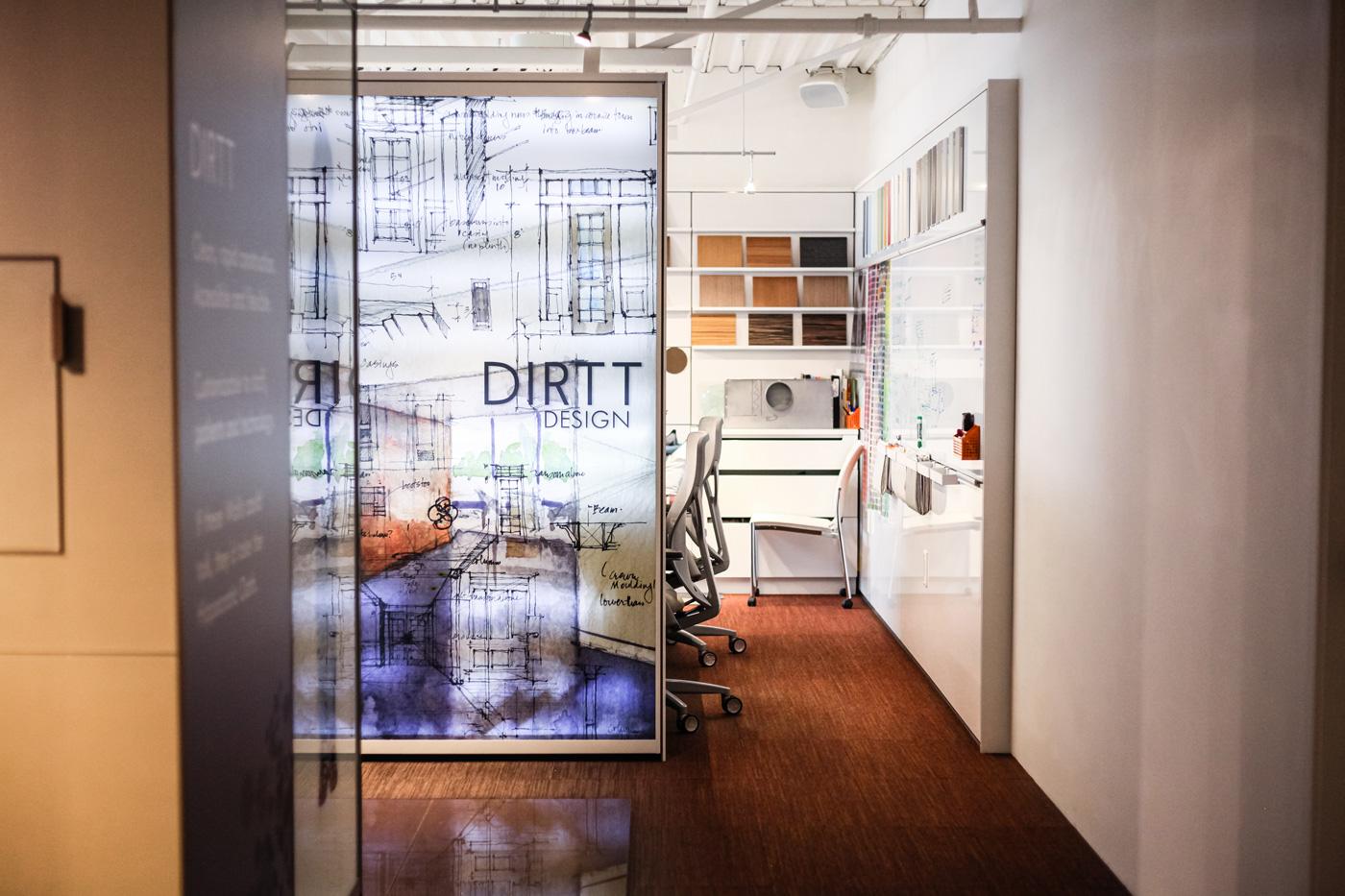 This is where DIRTT's design team works and keeps their product samples.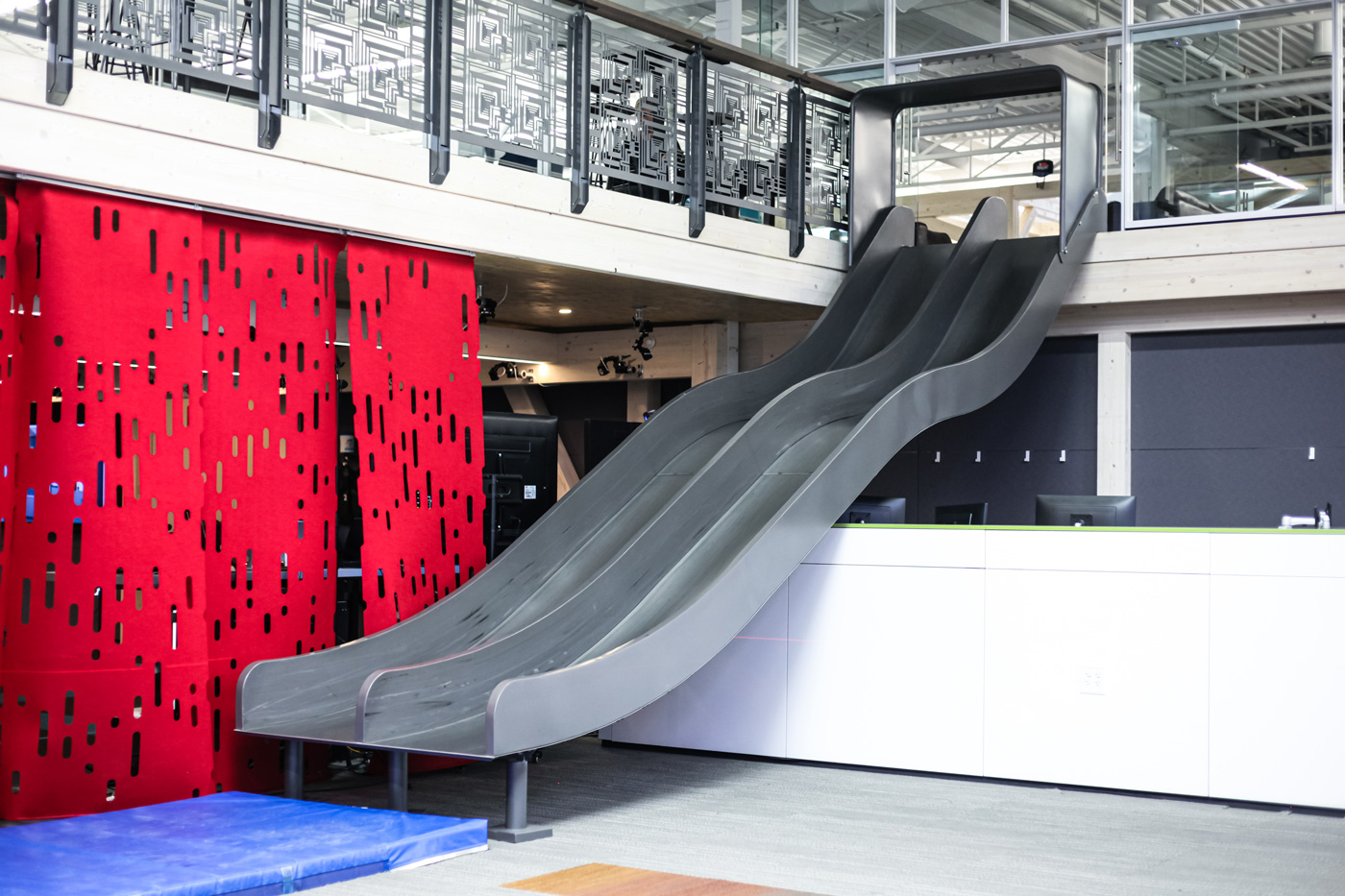 One of the most unique parts of the office are the slides, which clients and staff alike use regularly to get from the upper floor down into the office's mock up area. Why did they want to install slides, you might ask? "Oh, because we're fun!" Carruthers says. "And not just one slide — we're very competitive so we had to have two so you can race each other down."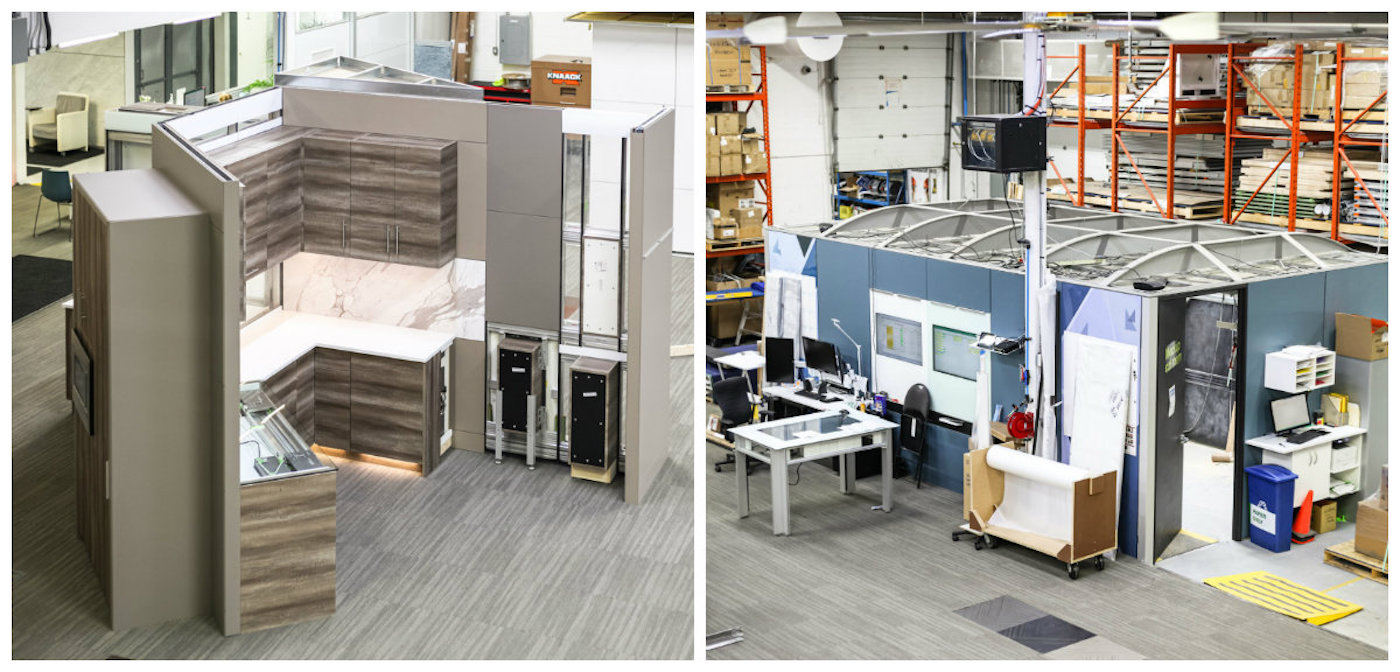 There are usually projects being built in the office's mock up area so that clients and staff can get an idea for what their future space will look like.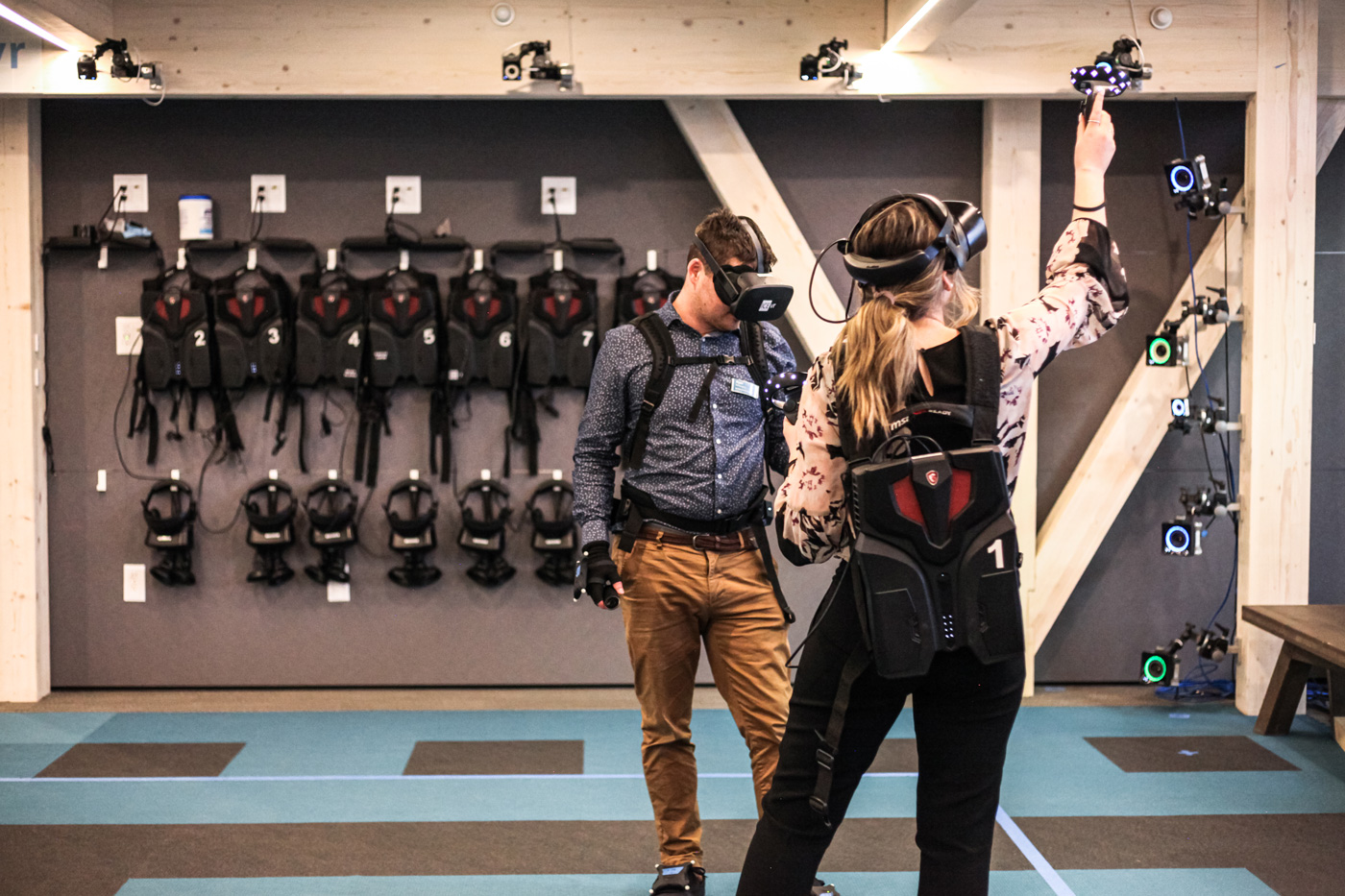 DIRTT's ICEreality Lab is a virtual reality lab that lets clients experience their future new space. Participants don gloves, controllers and a pack before stepping into the virtual reality world. The ICEreality Lab is especially useful in that people from different offices in different cities can be in the same virtual reality space together.
"The goal is to give clients certainty on their spaces," Pinder says. "Not a lot of people can visualize what a 2D drawing looks like so this is all about putting them inside their future design and letting them collaborate, walk around as a group. It's multi-user and its tetherless, so they really get the sensation of what it's like to explore their finished project before they sign off on it."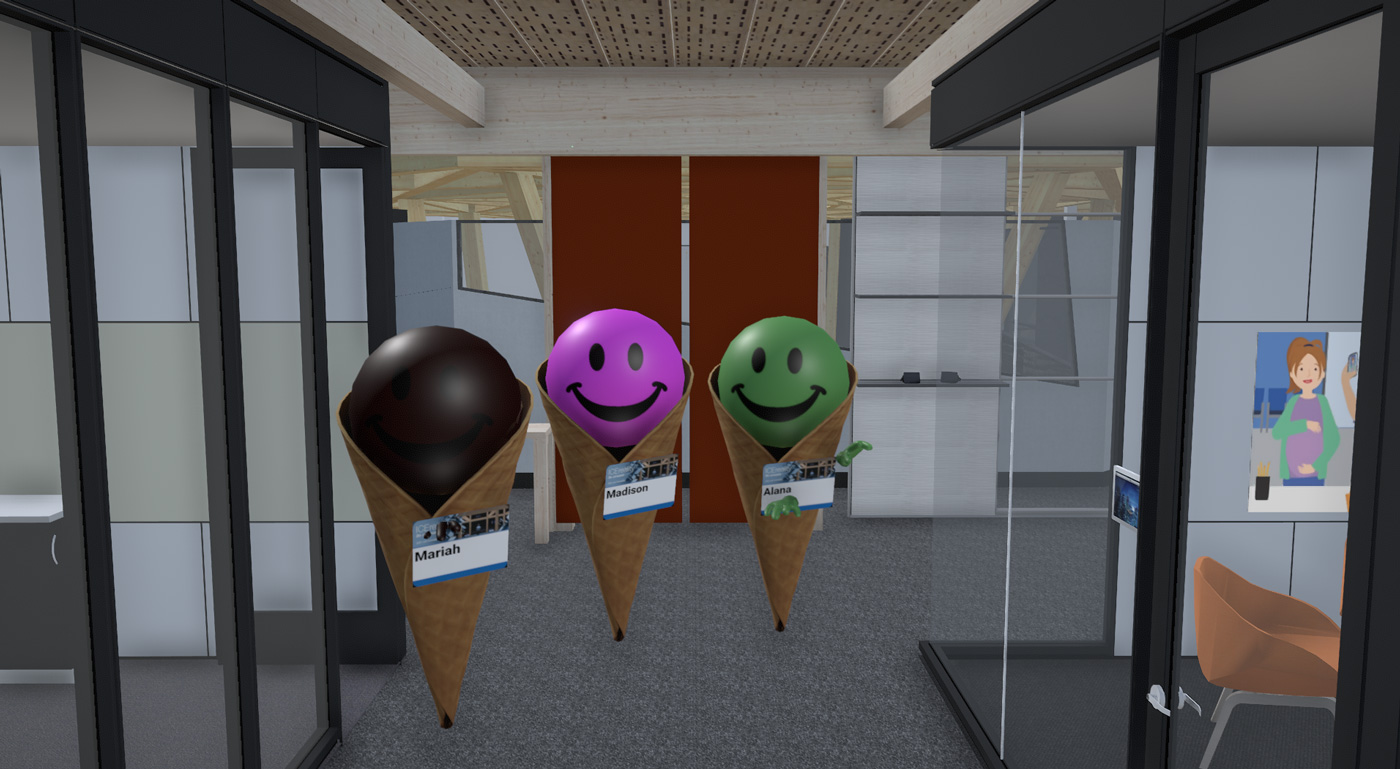 Once inside the virtual reality experience, clients and staff can walk around a space and really experience it by opening doors, cupboards and more. As an added fun touch, participants appear as ice cream cones to each other.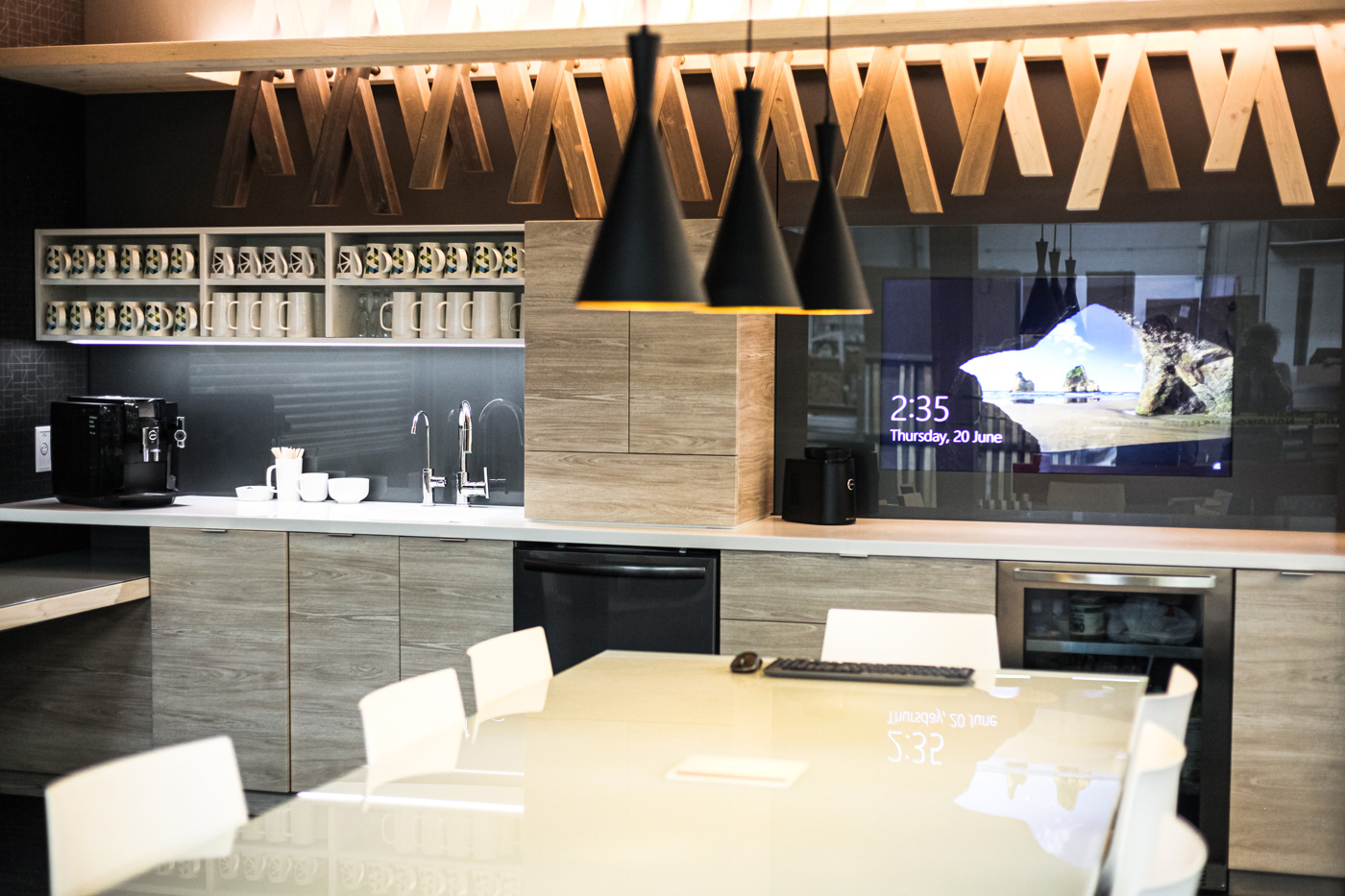 A lower level meeting area and kitchen where the Timber team works.
Do you have a suggestion for a Calgary office we should feature next? Tell us what makes the office space notable and, when possible, supply a few photographs for reference. Let us know.
This content was produced by Avenue Magazine. The advertiser had no influence over this editorial.