Where is it: 100, 221 10 Ave. S.E.
Office size: 14,500-square-feet
Number of employees: 4
Current number of co-work members: Around 60
Before opening Infusion Coworking in late 2018, co-founders Dan Giovinazzo and Kirsten MacKay spent years working in traditional office environments in the corporate world. But with changes at work and growing five-year-old triplets at home, the pair decided to go in a different direction for the next steps of their careers.
"We started evaluating what our priorities were in life, what we wanted to do and how we wanted to be part of the community," Giovinazzo says. "[We] started thinking about helping entrepreneurs and working to help diversify the economics in the city when it starts moving in a different direction, and realizing the traditional sectors are going be important for a long time here but we need to start doing things differently."
In the end, that meant creating a space focused around innovation and consultation where local businesses, entrepreneurs and communities could congregate to work, collaborate and grow in new and different ways. At Infusion, that's done through both the people who are members there and the space they have to work in.
"[With Infusion,] we were always trying to create an environment that functioned like an office but didn't feel like an office. You could just work how you want. I think that's the direction pretty much everything is going," says Giovinazzo.
Both Giovinazzo and MacKay agree that coming from a corporate background and seeing what worked and didn't work in traditional offices has helped them create a space like that. While Infusion has office staples like boardrooms, meeting rooms, enclosed offices and open desks, there are also more unique elements like underground bike storage, beer on tap in the kitchen, an enclosed building patio, a podcast room, local artwork and tons of breakout spaces where people can work, hold workshops, put on events and more.
Take a look inside Infusion Coworking's Office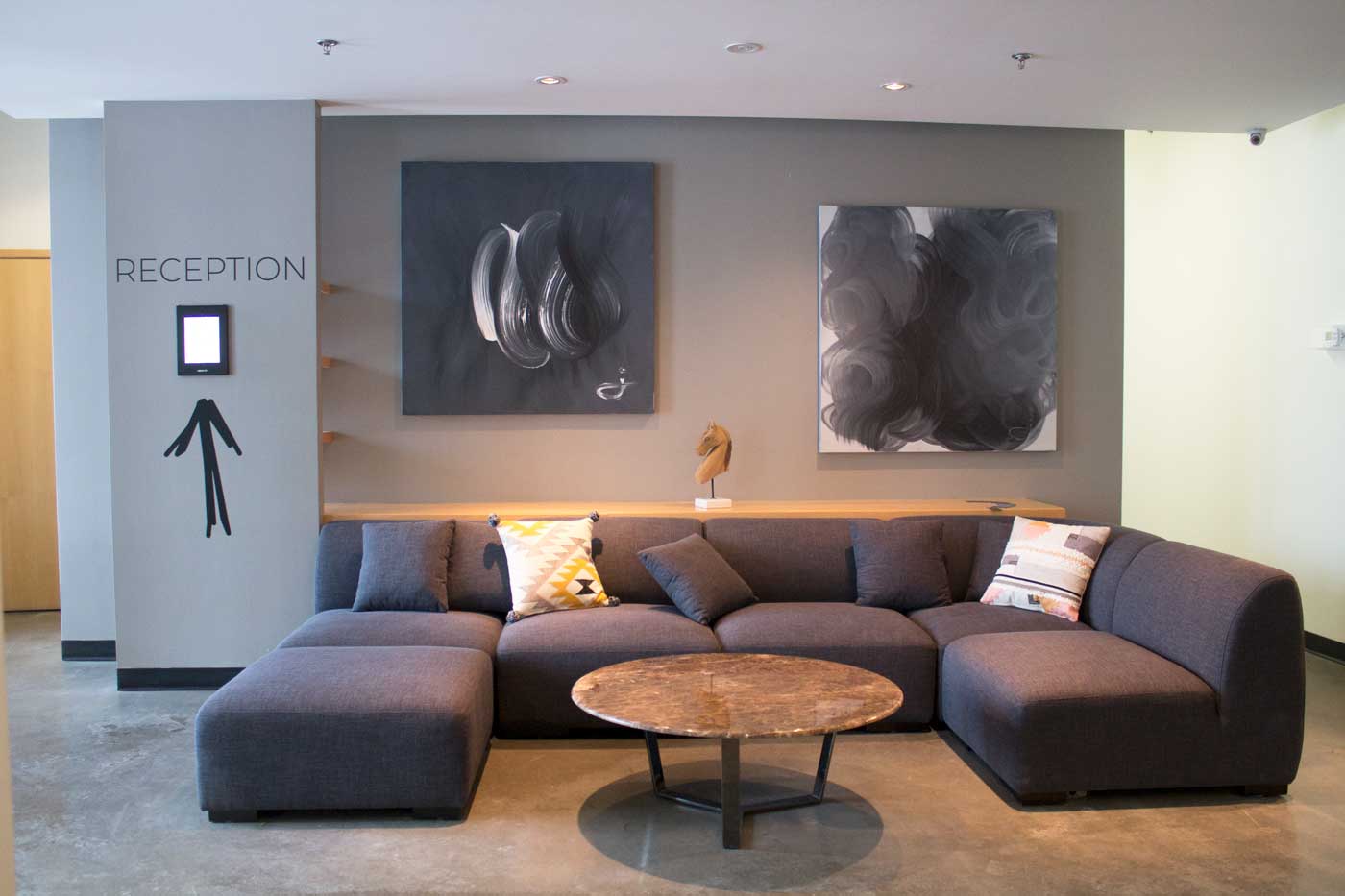 When guests arrive and check-in, Infusion's digital receptionist lets the co-work member know they've arrived by sending them an email or text message.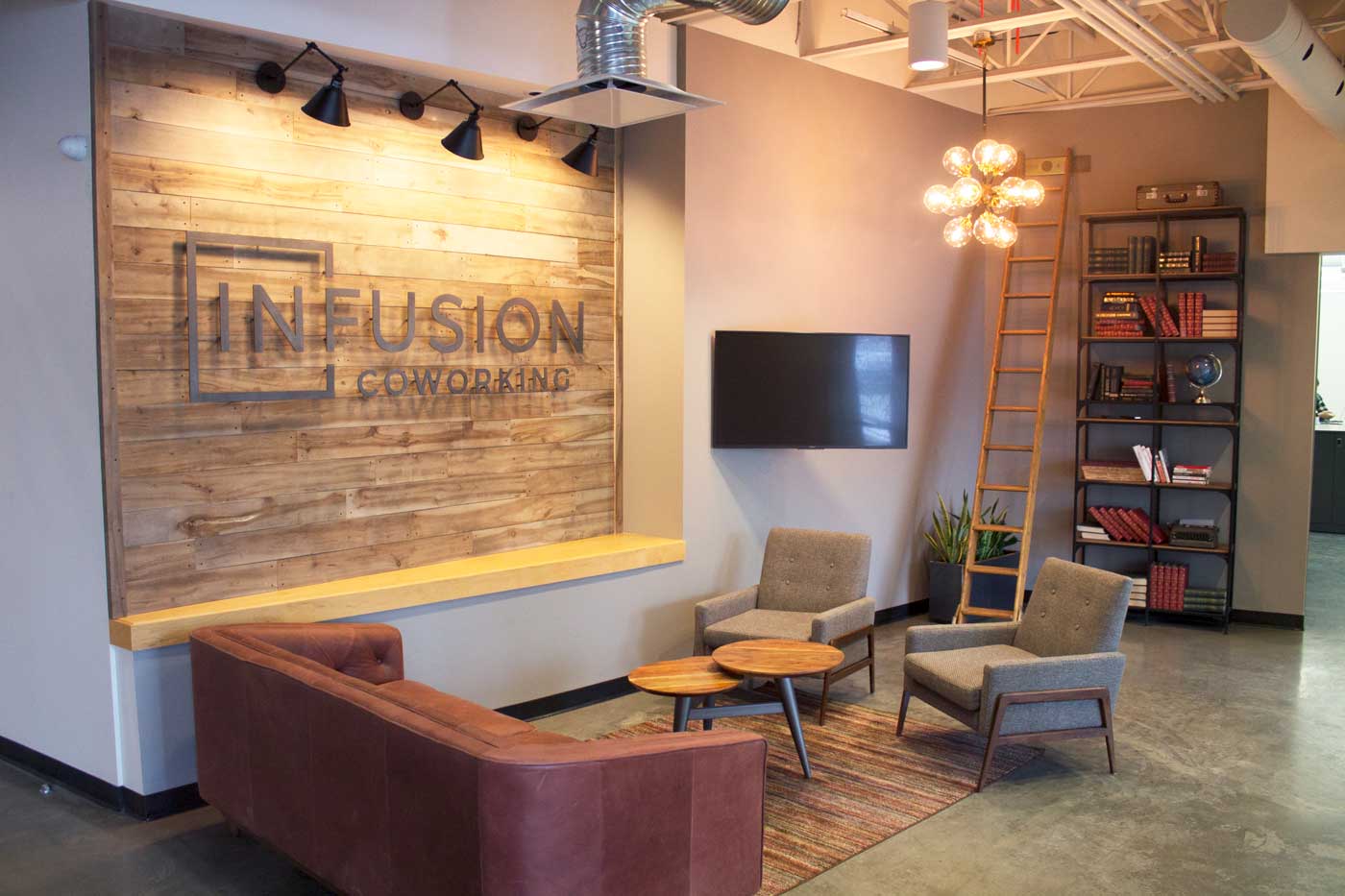 The space used to house an architecture firm before Infusion moved in, leaving them with design elements like angled walls that add some extra personality to the office. The Infusion team added this cool wood feature wall and seating area to the lobby.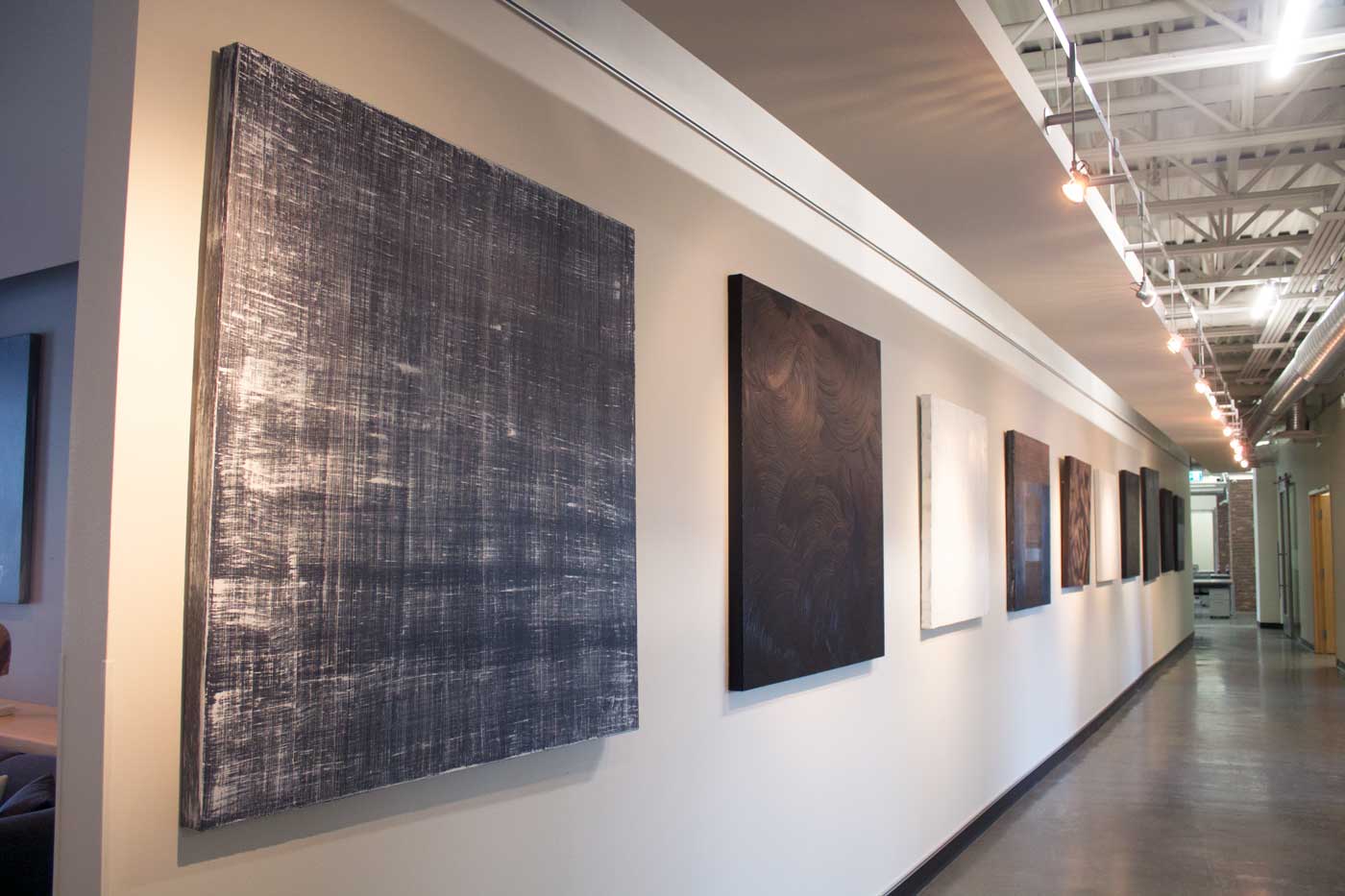 The office features tons of local artwork and murals, a detail that was important to the Infusion team. This main hallway has become a free gallery wall for local artists and will feature new works regularly. Currently, the wall features textured paintings by Jacqueline Fairley.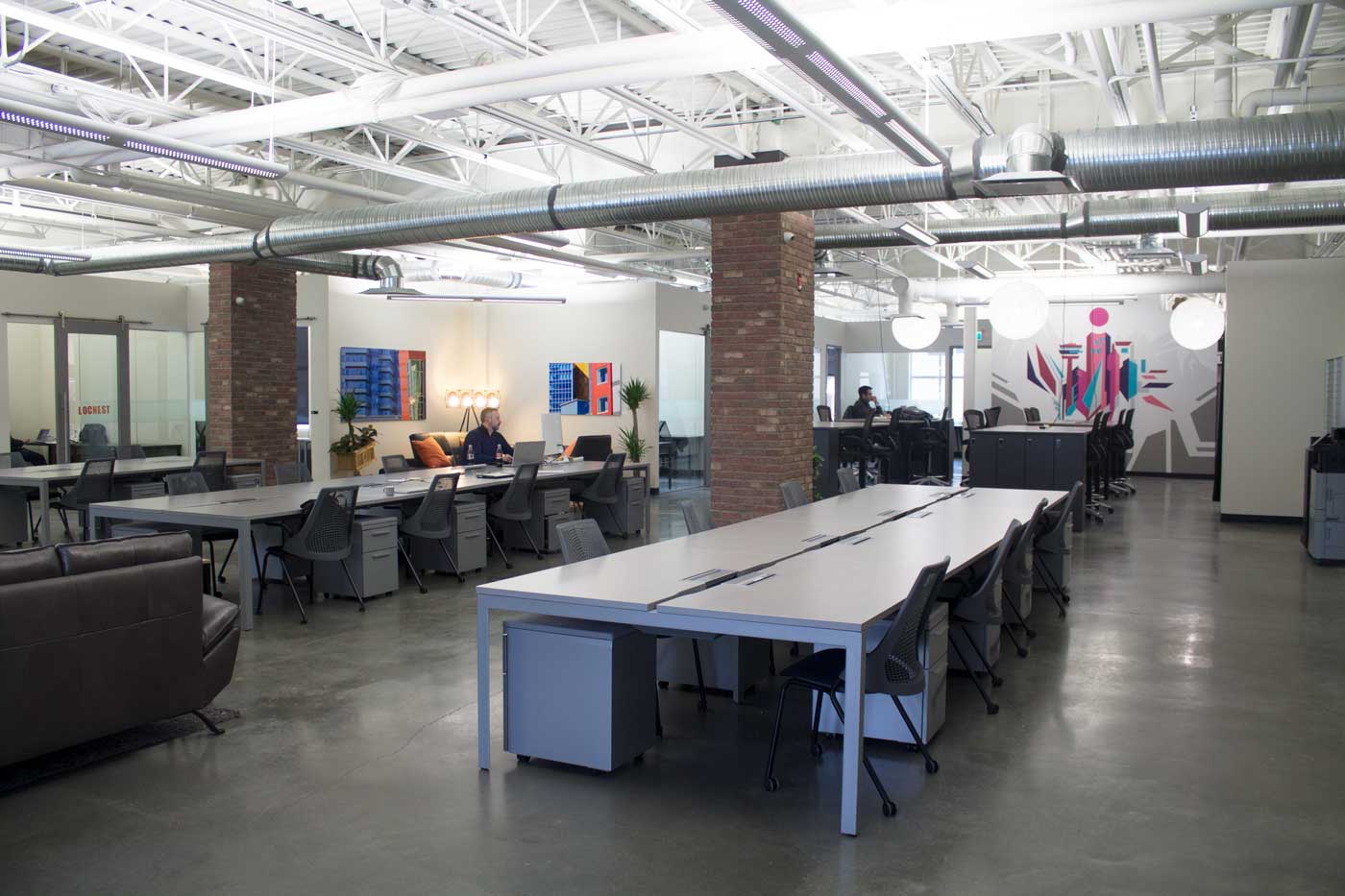 The main hallway leads to this open work area, which features a section of dedicated desks, open tables and some private offices and meeting spaces around the edge.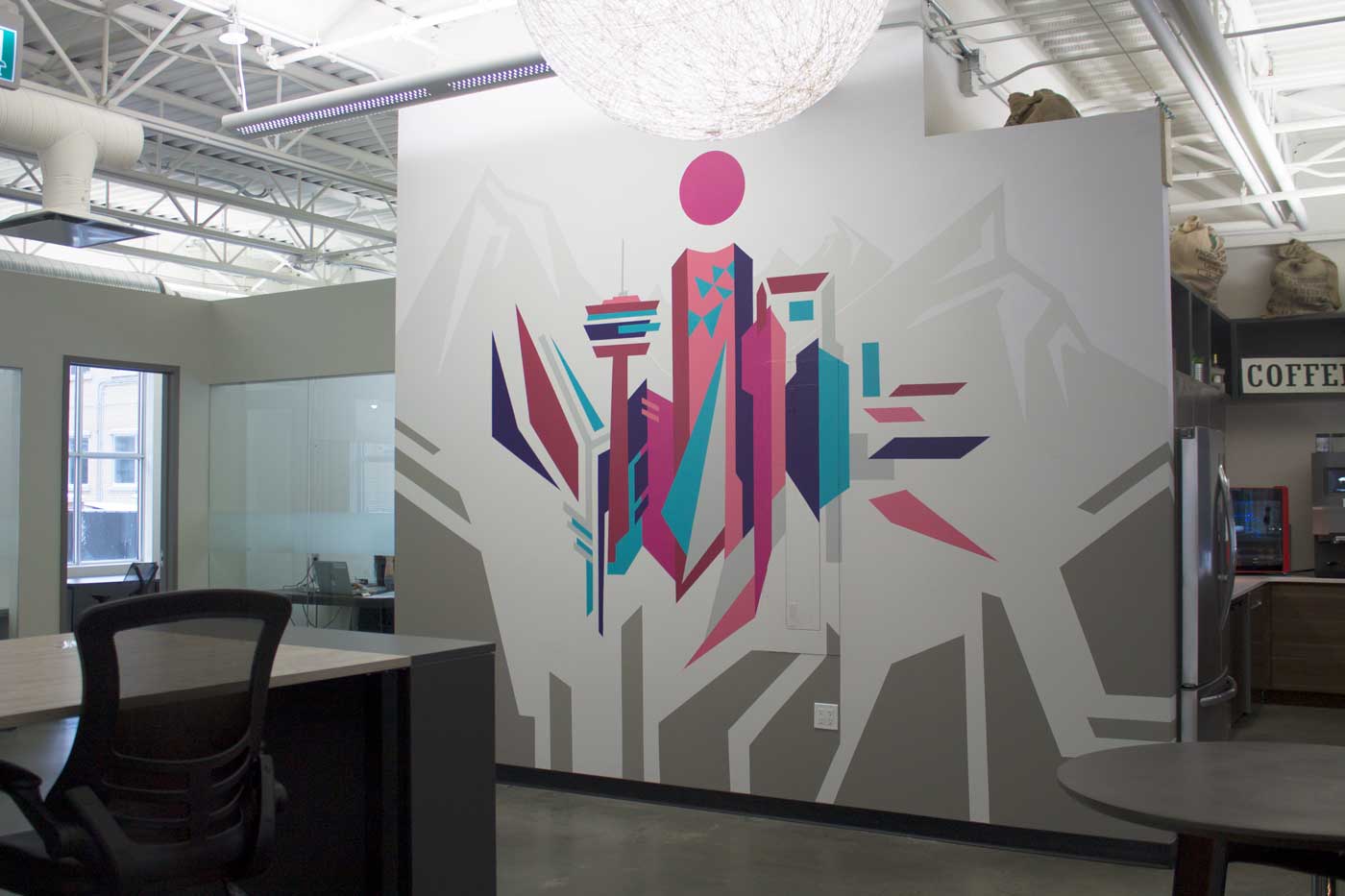 This area is also home to two large murals done by local artist Andrew Olivier. This one was inspired by the Calgary cityscape.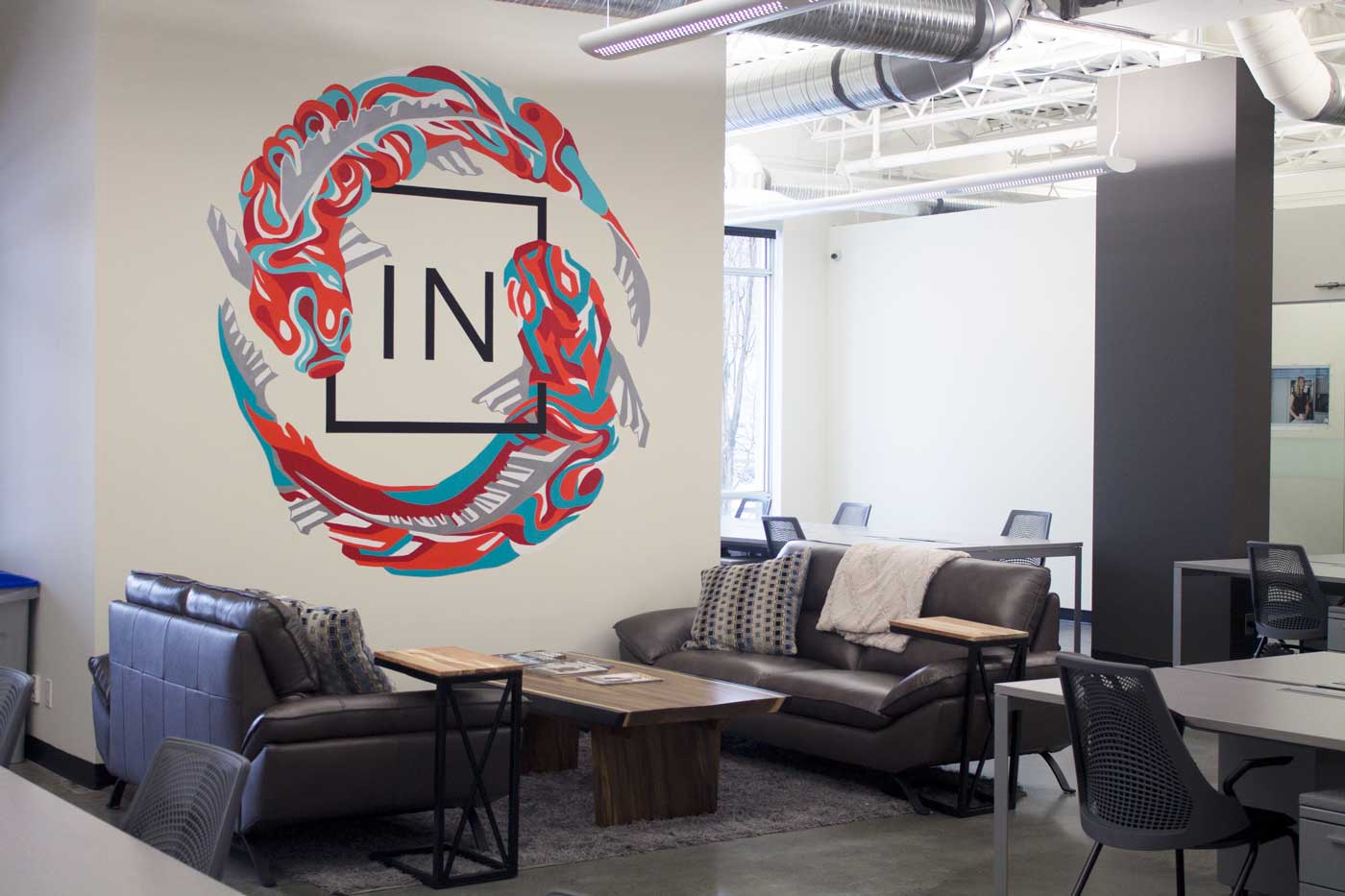 Olivier also created this second mural of koi fish (which symbolize prosperity) swimming around Infusion's logo. "We loved it because it really brought together the whole idea of a fusion, which is bringing different people and different concepts and different things together to create prosperity," says Giovinazzo.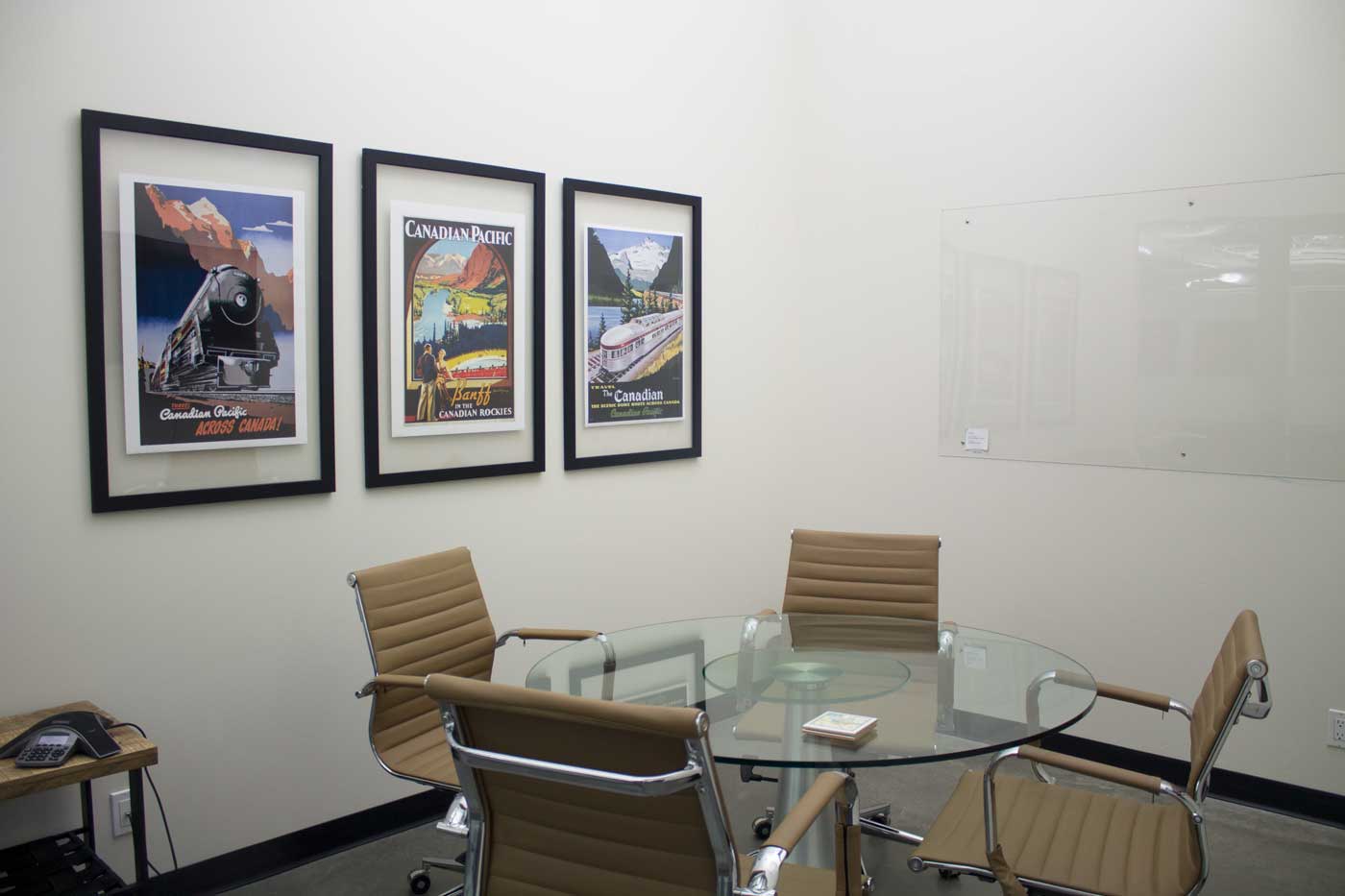 The meeting rooms, which are equipped with phone conferencing, clear writing boards and smart TVs, also feature little nods to Alberta. They have names like "The Spark" and "The Bow," as well as colourful posters featuring the Canadian Pacific Railway and the Calgary Stampede.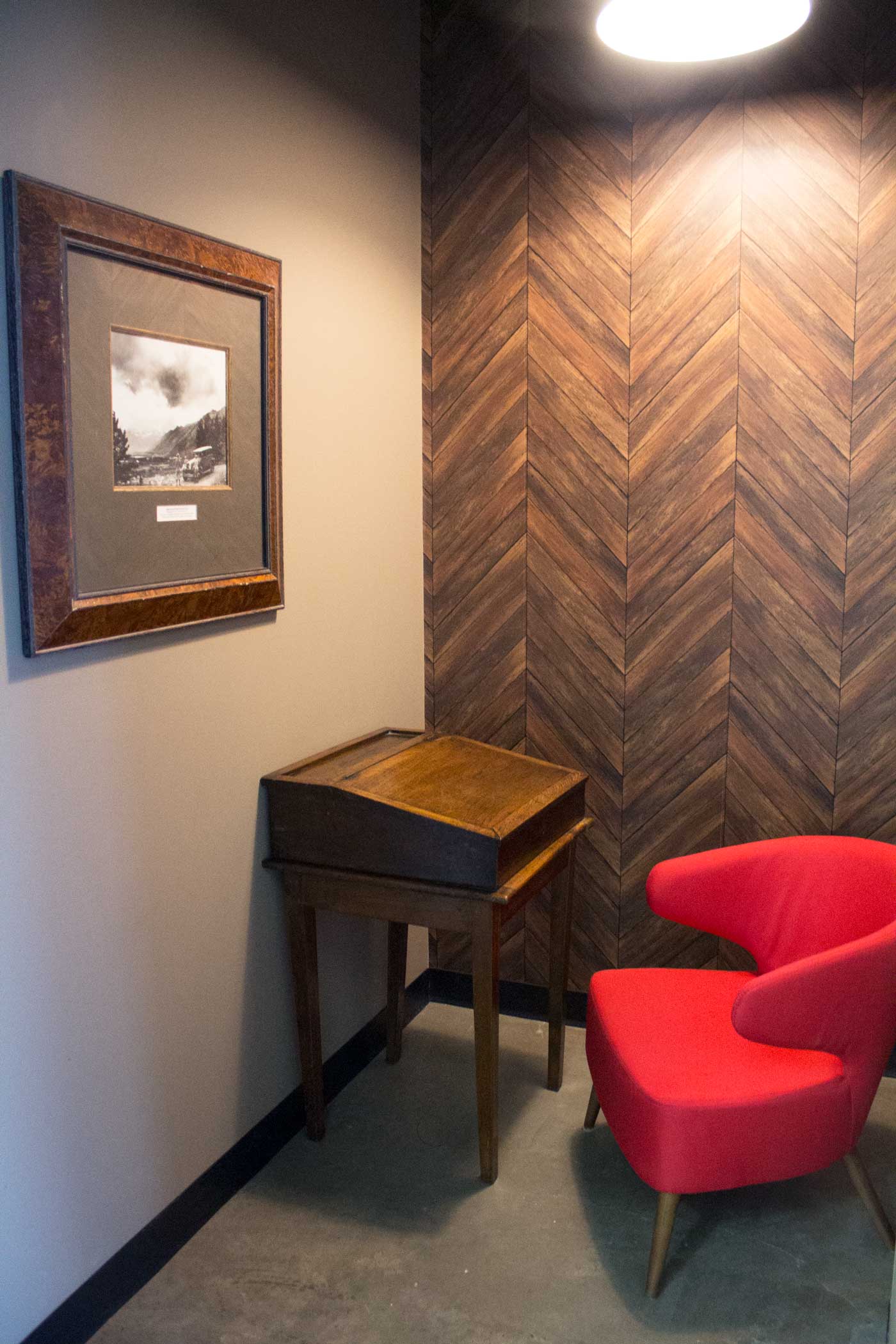 The nods to Alberta continue in these private phone booths. The vintage desks hails from Lake Louise while the walls feature historic photos of the Canadian Rockies from Calgary's Glenbow museum and Banff's Whyte Museum of the Canadian Rockies.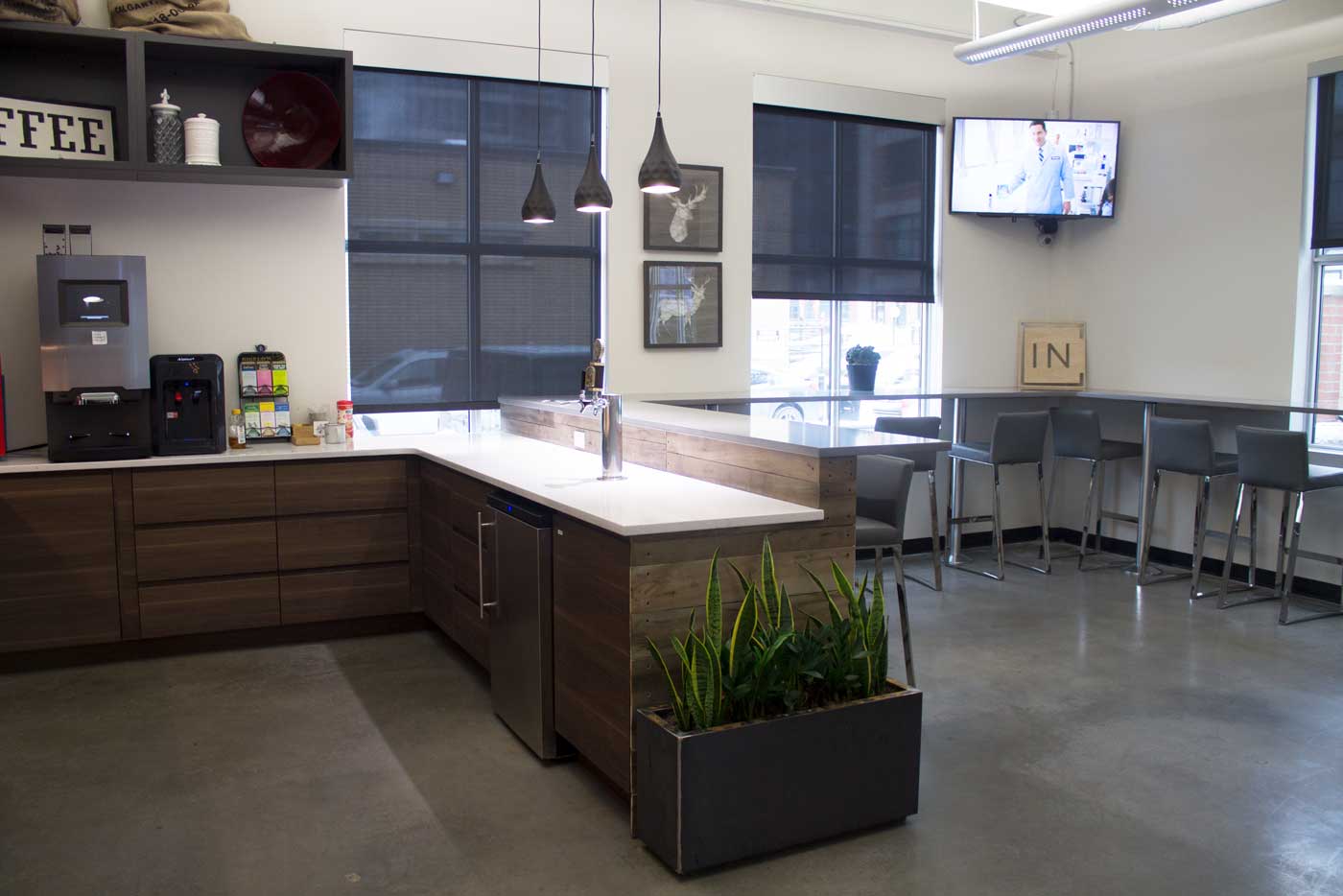 The kitchen is a major gathering spot at Infusion and members can either eat or work in the cafe area. There's also direct access to the building's patio from here.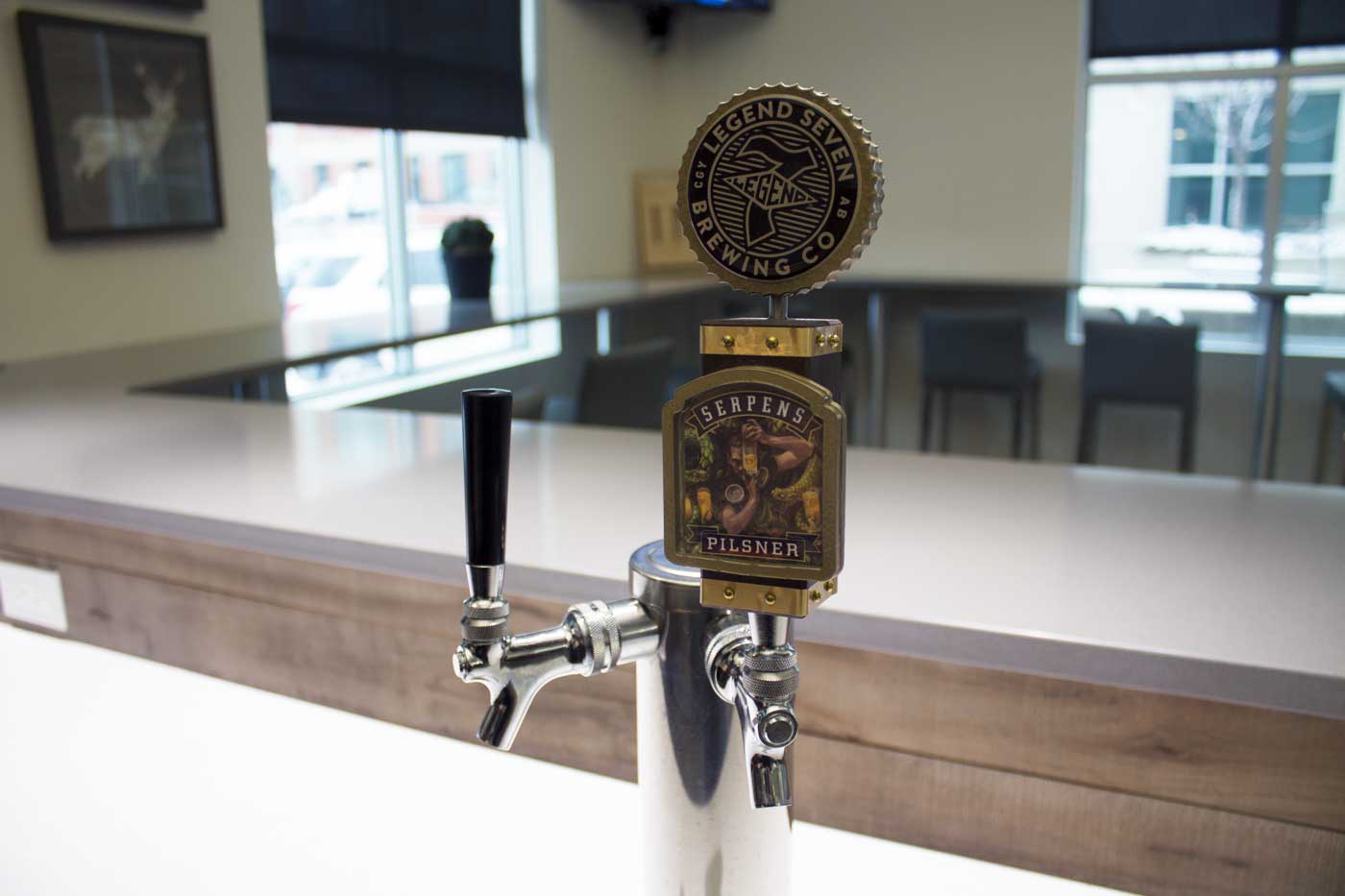 Legend 7 Brewing Company's Serpens Pilsner is on tap in the kitchen, while the coffee comes from Calgary's Tragically Vital.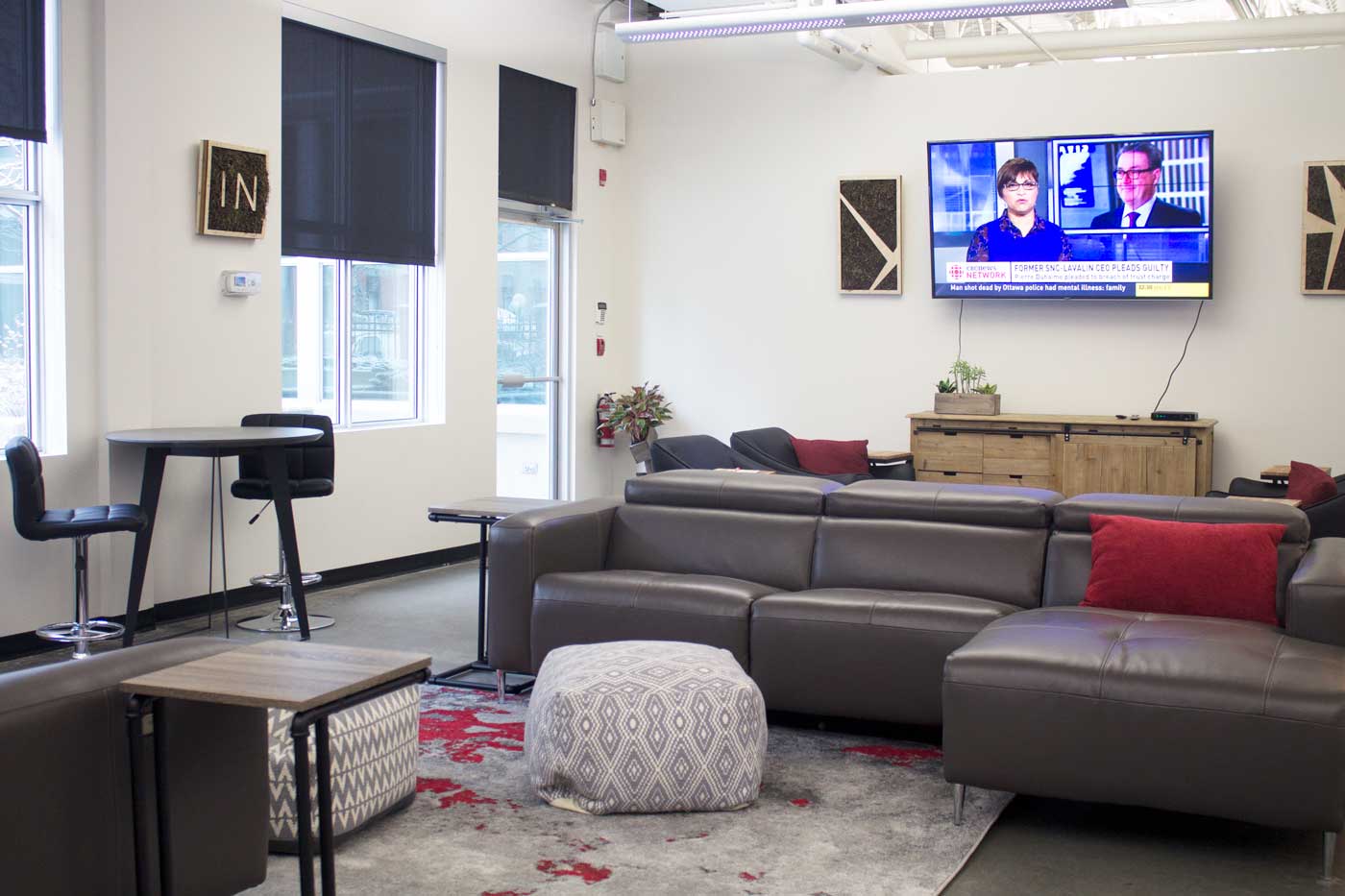 There's also an adjacent seating area where members can work, talk, relax and watch some TV.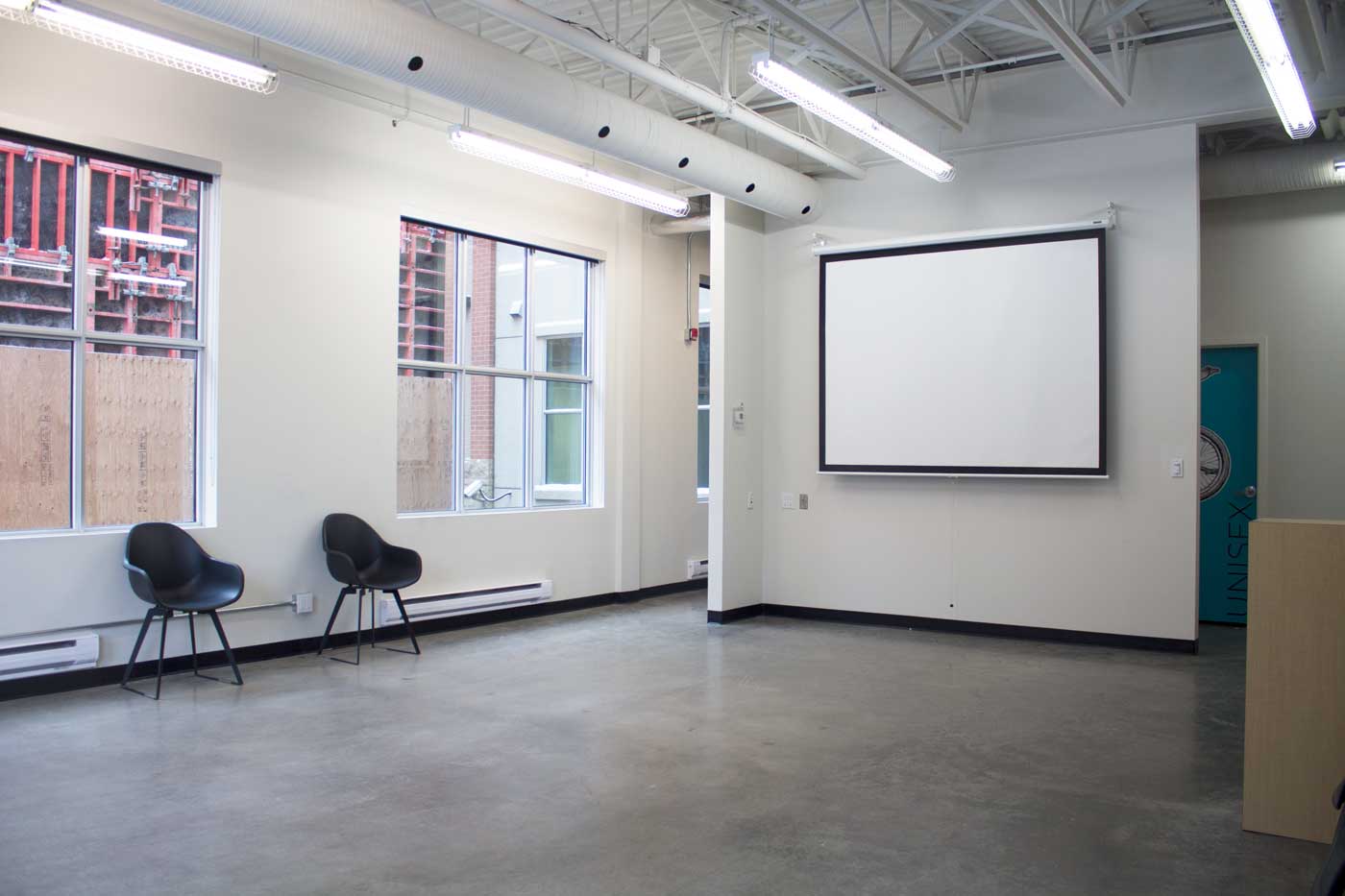 Workshops, presentations, events and even yoga classes have taken place in this event space known as the Sun Room.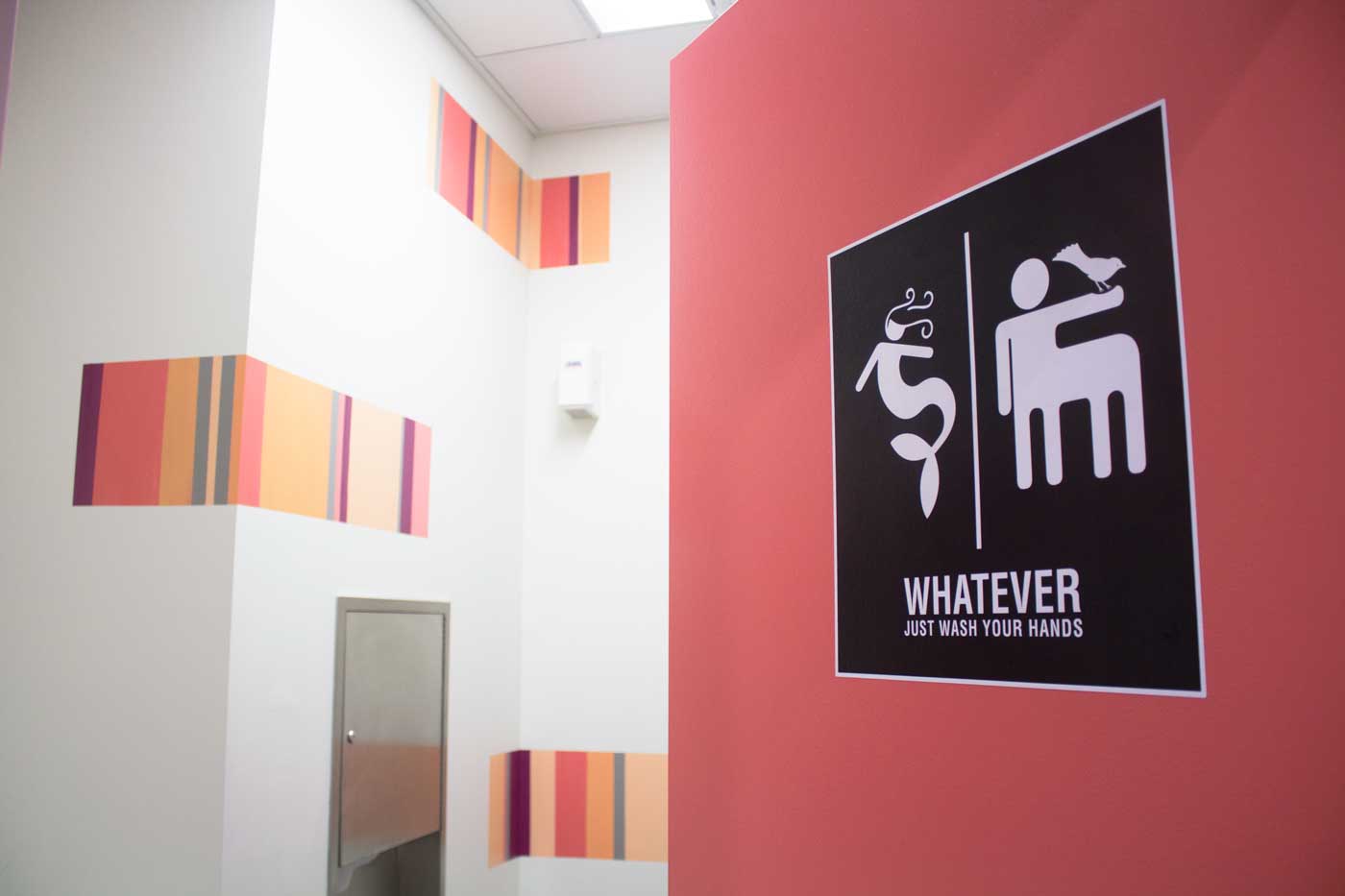 Five of the washrooms at Infusion are gender neutral and feature more colourful mural work by Olivier inside.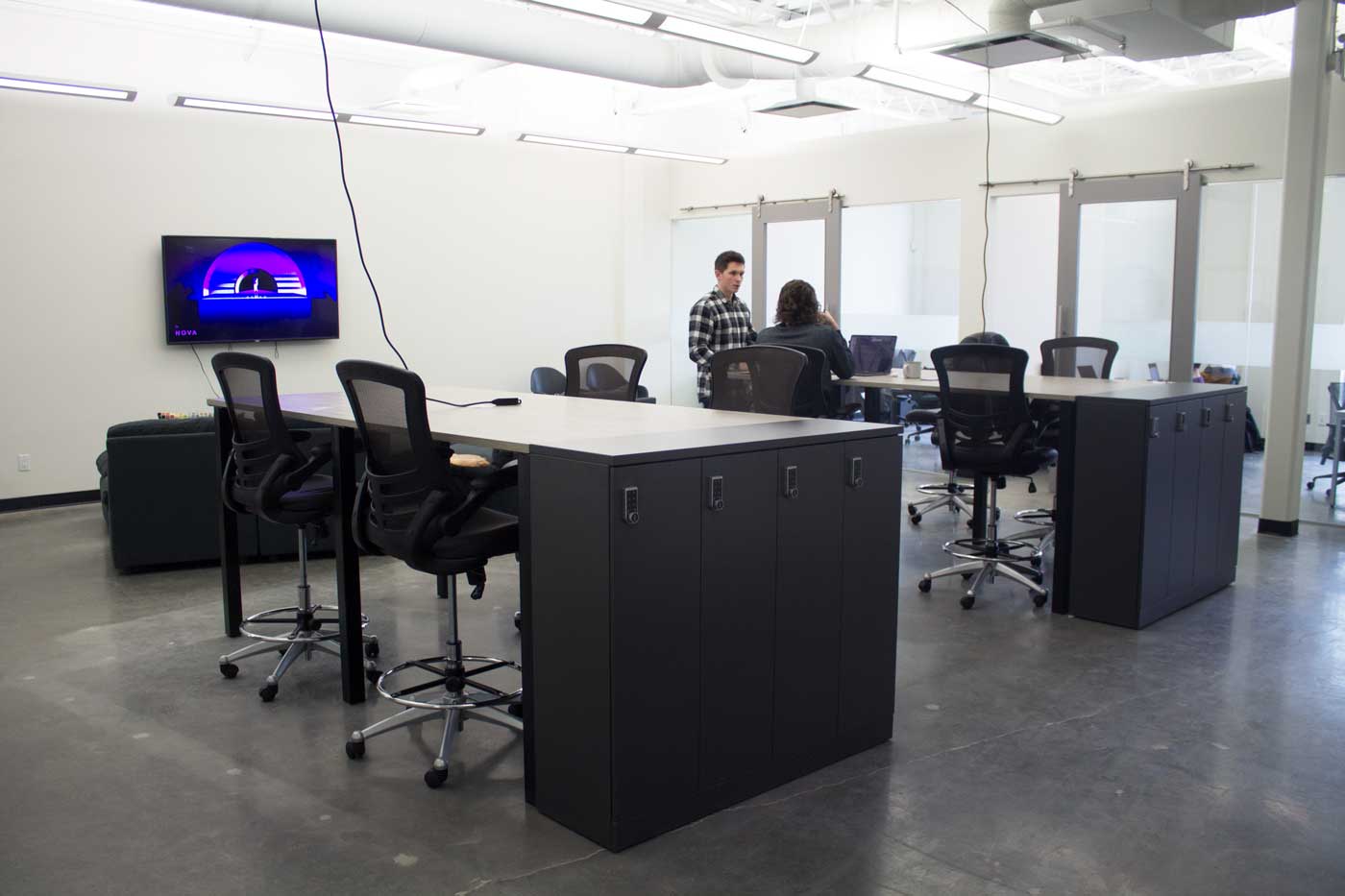 This end of the building features phone rooms, offices, open tables and a huge comfy couch. This area can also be rented out and used for presentations.