Like many construction contractors, Claus Brink has been working from home for years. He's well-acquainted with what legions of workers are now just discovering in the age of COVID-19: the interruptions from kids, pets and partners, the work papers piled on the dining room table, no place to escape work at the end of the day.
A little over 10 years ago, Brink realized the solution was as close as his own backyard, and he set about converting an old workshop behind his Altadore bungalow into an office. After taking it down to the studs, he replaced the aging wood floor with concrete, had the walls insulated with spray foam and finished the interior to professional standards. The result is a beautiful, comfortable, distraction-free workspace that is also a portfolio piece for his business, Rhodes Brink Construction.
Like Brink, other resourceful Calgarians have embraced backyard offices. The next step up from backyard studio spaces (a.k.a. "she sheds"), office sheds are less whimsical hobby hubs and more intentional workspaces designed to be close to, but still separate from a home. As COVID-19 lingers, and with it the need to isolate from traditional office set-ups, which are often unsuited to follow social-distancing protocols, look for the demand for backyard offices (or "bunkies" as they're known in some circles) to grow.
Writer Fiona Wren's office shed is tucked behind her 800-square-foot home in Glendale. Built by her husband, junior high teacher Mike Stahl, Wren's shed has all the comforts she needs to work comfortably in summer and winter: electricity, heat, a desk with a large monitor and a sunny view of her backyard. The couple originally built it as a bonus room for their modest-sized home and, at first, used the space for yoga and spin training. But when COVID-19 struck, Stahl started teaching classes from home, and he soon tired of spending so much time in the dark improvised office space they had created in their drab basement. Operations quickly moved to the shed.
Today, Stahl is back in the classroom, but their bunkie continues to act as a backyard office for Wren and her eight-year-old son Niko. At 9 a.m. each morning, they make the short commute to their desks so that Niko can attend Grade 3 online while Wren attends to her writing work.
Wren says that having a backyard office is critical to her family's sanity. "It's been nice to have the extra space even just for a mental break from each other," she says. She laughs about the shed being her "escape" from the house, her voice rising in a shaky, pandemic-worn way about just needing to get out and spend time in the office. In all seriousness though, Wren cherishes the shed and the privilege of leaving her work behind when she reenters the main house. "We just can shut the door at the end of the day," she says.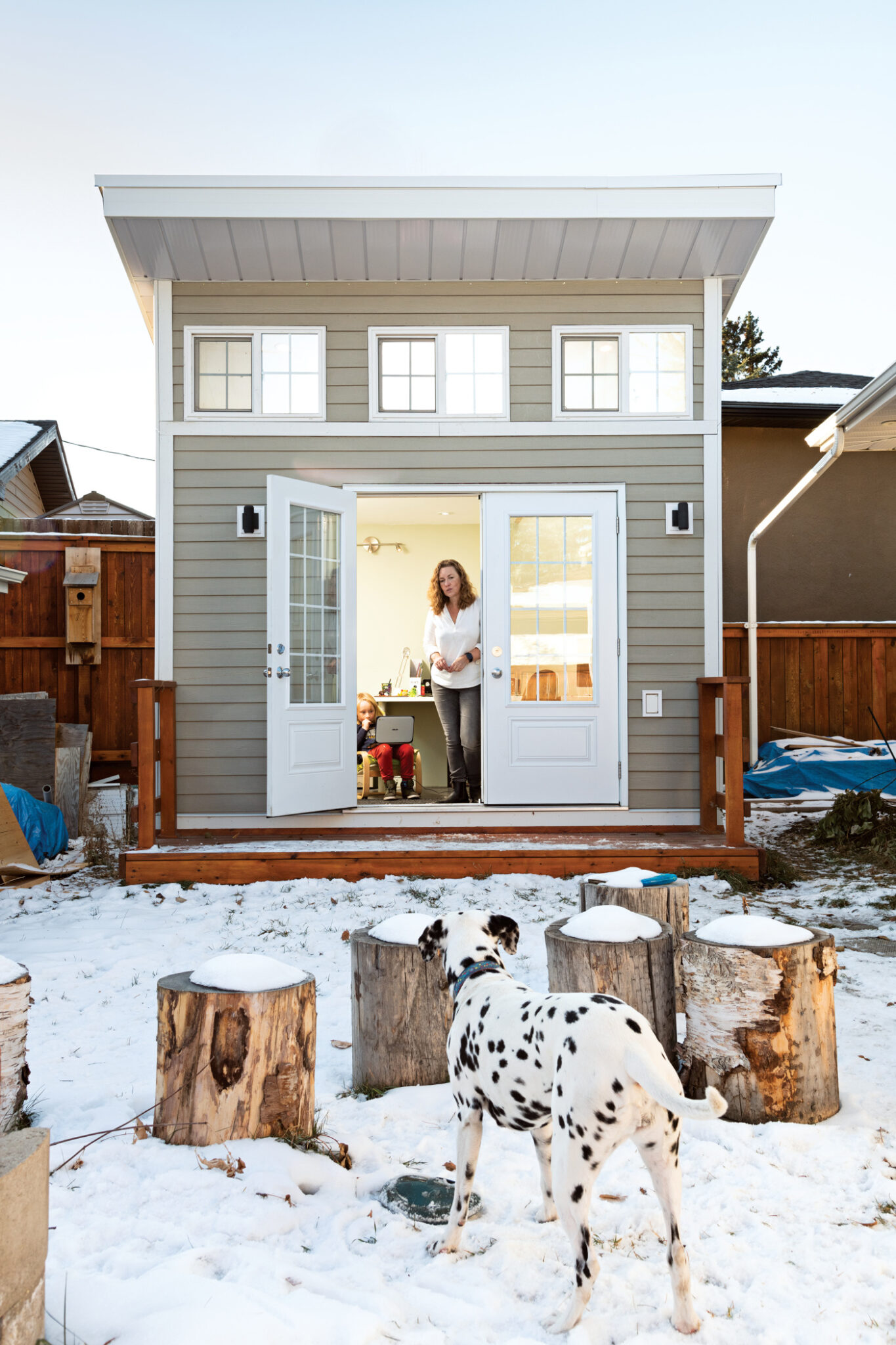 Compared to the expense of building an extension on a house, a well-insulated shed with heat and light can be a relatively inexpensive option for creating a comfortable and attractive home office. Despite what you may have heard, the building process is not entirely free of red tape though: according to Calgary's development and construction bylaws any structure with electrical, gas or plumbing requires permits and inspections, even if the footprint is less than 10 square metres.
Ulrik Seward, chief building official and managing chief of approvals for the City of Calgary, advises that homeowners should go the extra mile to protect their personal safety and property value. For those doing the construction themselves, Seward advises that it's still a good idea to consult the building code, as a safe structure must tolerate wind, rain and snow loading. For those who are less confident about their building skills, Seward recommends engaging design and construction professionals. "Although it does cost extra, I think in the end, it's very much worth the money to work with somebody [who] knows what they're doing," he says.
Fritz Kass agrees. Shortly after moving to Calgary, Kass purchased the services of custom home renovator Unique Projects at a charity auction. His daughters had enjoyed a treehouse at their previous home in Ohio, and while the Calgary home didn't have suitable trees for another one, Kass wanted them to have a similar space where they could do homework, practice music and hang out.
Kass consulted at length with Adrian Wilson at Unique to make sure that their backyard shed would complement the design of his West Coast modern home and would be comfortable during Calgary's harsh winters. It includes touches like a loft to make the space ideal for his girls. And while their backyard structure wasn't designed to be an office, building it essentially gave Kass back his office within the main house, which had been taken over by his girls for homeschooling during the initial COVID-mandated school shutdowns.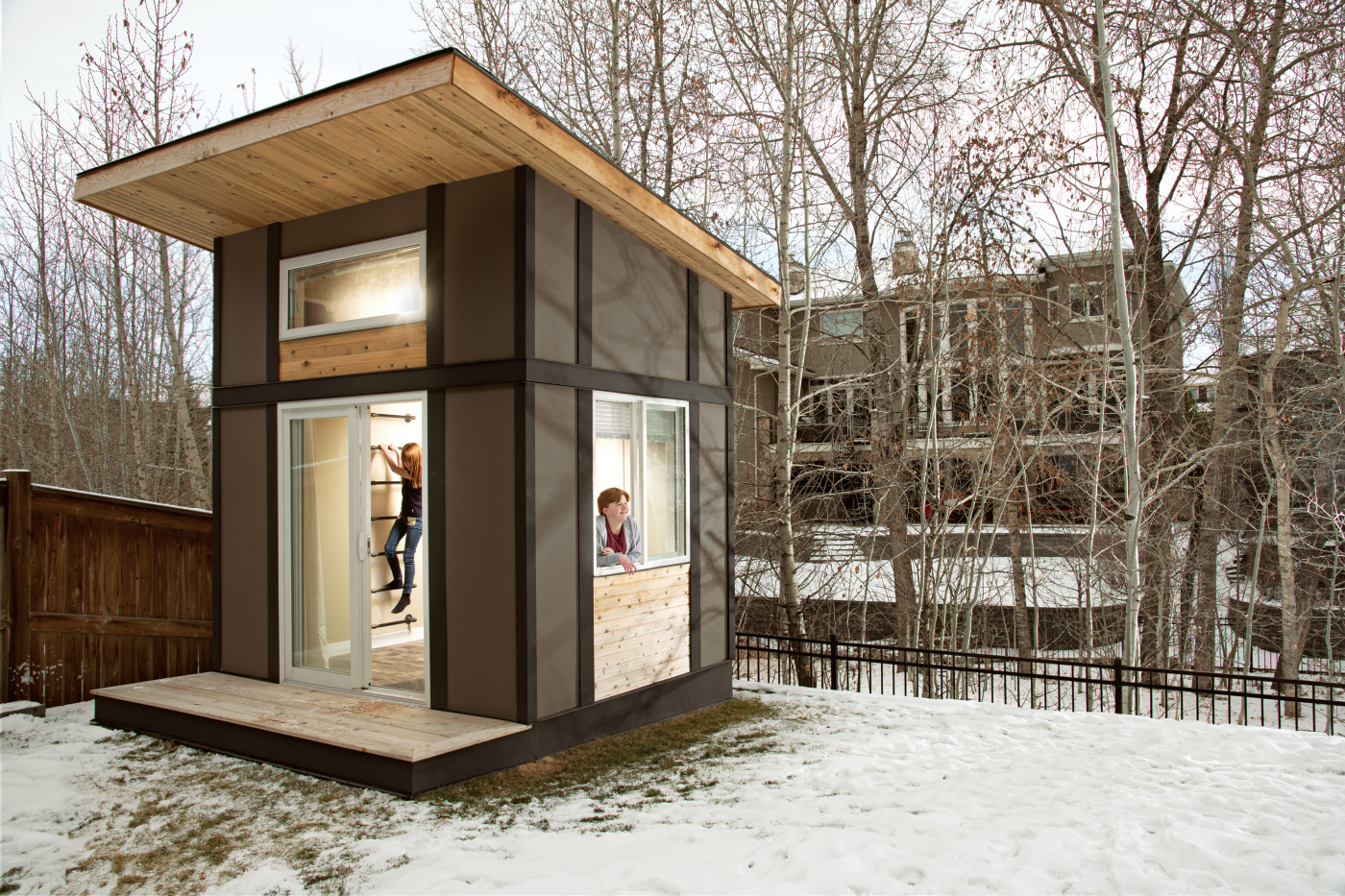 As COVID-19 lingers, other Calgary designers and builders are creating their own new versions of these "shedquarters." Builders like Unique Projects and Urban Shed are using techniques and finishes from custom home building, while firms like Re+U and Modern Huts are introducing prefabricated solutions that are both attractive and quick to erect.
After designing corporate offices for over 30 years, the pandemic gave Re+U founder Keith Moe a fresh opportunity to explore his interest in designing small, elegant spaces. Moe grew up on a farm near Drumheller and his modern designs are inspired by the simplicity of the bunkhouses, farm sheds and granaries that lie scattered across the Prairies.
Re+U uses a modular approach that starts with a 10-square-metre base unit constructed from prefabricated structural insulated panels placed on a floor assembly. Last fall, Moe built a demonstration unit in a residential community in southwest Calgary to iron out the construction details. With that experience behind him, he expects he can now construct a new unit in about five days.
Despite the speed of construction, he is still dedicated to creating a thoughtfully designed, high-end product. Drawing on his experience with corporate offices, Moe believes companies that are now embracing work-from-home policies need to find new ways to make a positive brand statement. In a future dominated by Zoom, home workspaces are essentially serving as the public face of the company, making the case for employees to have more professional settings at home. "This now becomes an impression of the company, rather than just a happenstance of the pandemic," Moe says.
Of course, there's a cost to all of this. While a homebuilt solution like Wren's might cost as little as $10,000, professionally built versions of the backyard office shed can range from $15,000 to upwards of $50,000, depending on construction, finishes and accessories. It's a fair chunk of change and a barrier that some cash-strapped families simply can't afford.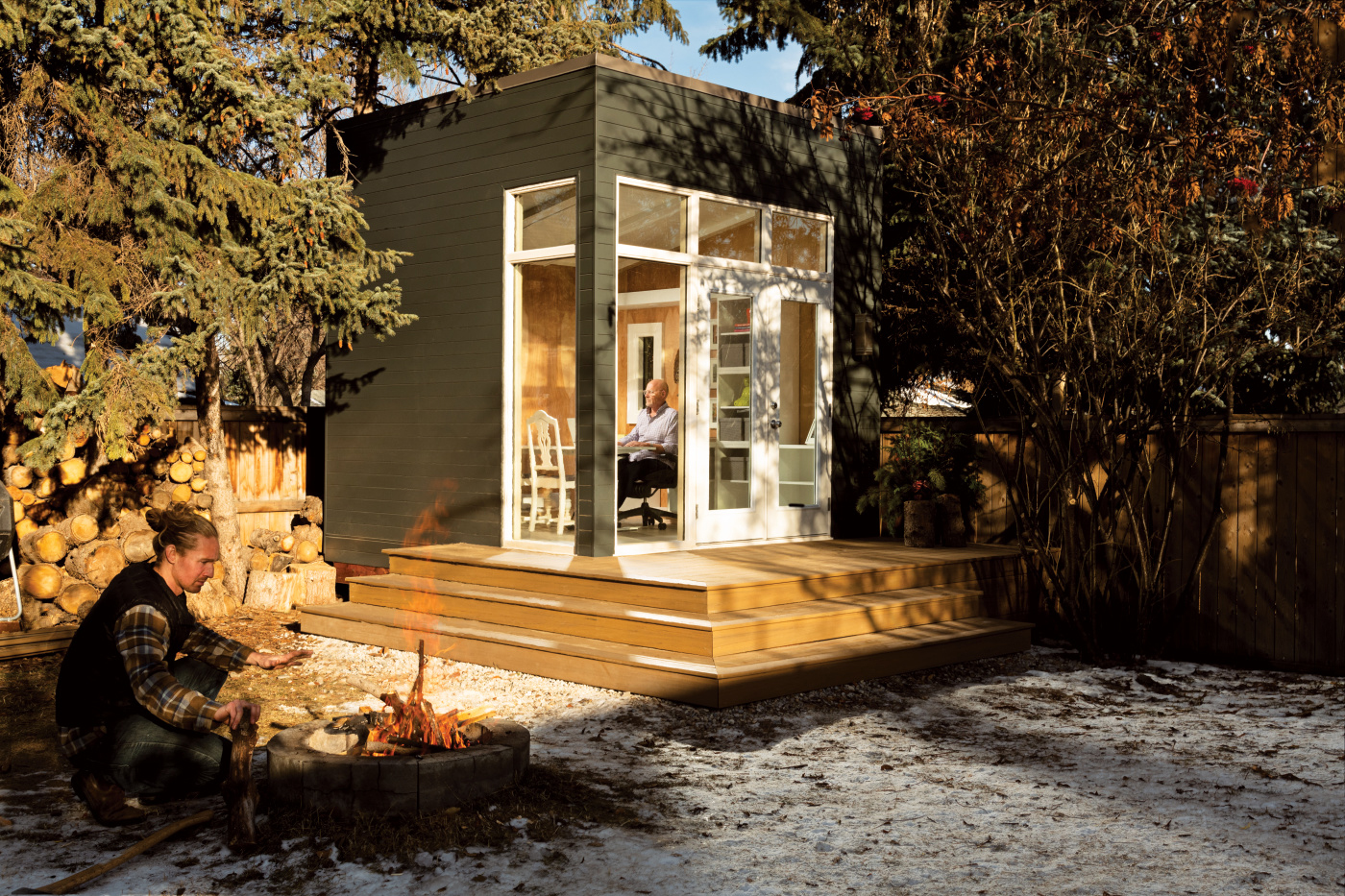 Builder Jeremy Johnson hopes to overcome the cost issue by leasing backyard offices pre-constructed from recycled shipping containers. Johnson's company, Modern Huts, was already using shipping containers as a durable building envelope for homes, cabins and studios they've built for clients in Calgary and across Western Canada. When the pandemic started, he pivoted to building backyard offices from small shipping containers.
When Johnson discovered that demand for the $20,000 units was soft, he introduced a leasing option that allows his customers to secure a backyard office for as little as $500 a month, including ongoing maintenance. Leasing not only makes Johnson's solution more affordable, it also allows companies and the self-employed to write off their lease costs as a business expense.
The flexibility offered by shipping containers is particularly well suited to Johnson's leasing model because the offices can be built and stored offsite and delivered when customers are ready for them. They're also easy to remove and repurpose when the lease is over.
This new world of backyard offices has the potential to influence the character of Calgary's neighbourhoods, says David White, principal and owner of urban planning and design firm, CivicWorks. The company's clientele includes developers in places such as Vancouver Island, where many professionals are choosing to migrate because they have the option to work remotely, and where demand for high-end homes with well-designed, professional workspaces is growing. After seeing the Re+U model office in southwest Calgary, White deemed it "a simple, considered, thoughtful and potentially really affordable, achievable addition to a property to be able to accommodate … working remotely."
To White, another key benefit of the backyard office is less commuting, and as a result, less traffic. If the backyard office trend takes hold, White believes our neighbourhoods will also benefit. "I think there could be a really positive knock-on effect to neighborhoods being more amenity-rich and service-rich because of this," he says, with more localized options for grabbing coffee, buying pens or conducting a business lunch.
Says White: "It'll take a while, but it will create more complete neighbourhoods."