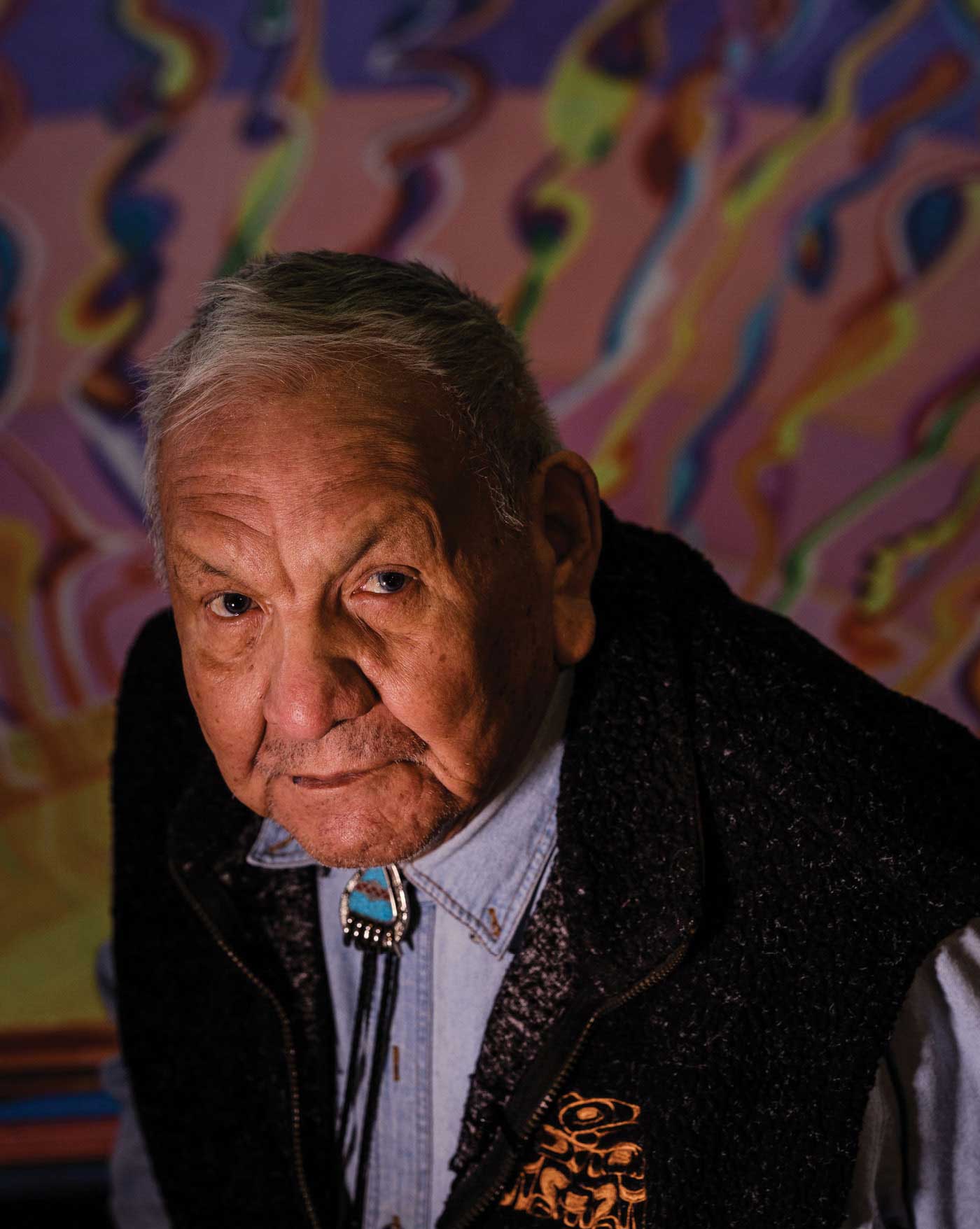 There is arguably no higher honour in the art world than being deemed a "master," your creative output a "masterpiece." Curators of the National Gallery of Canada felt the eminent Canadian painter Alex Janvier deserved that designation, exhibiting his work from 2016 to 2017 under the title "Modern Indigenous Master" (the show toured to the Glenbow in Calgary in 2018). But then, this is an artist who, over the course of painting his Morning Star mural on the ceiling of the Canadian Museum of Civilization in the 1990s, was likened to perhaps the most famous master artist in history, earning the nickname "Alexangelo."
Janvier has built up a weighty catalogue of honours and recognitions in his five decades as a professional artist. And in spring 2019, the octogenarian received yet another, when he was given the first-ever honourary Master of Fine Arts from the newly minted Alberta University of the Arts (formerly Alberta College of Art + Design) at its first official convocation ceremony.
The honourary MFA is a recognition of Janvier's grand artistic achievements, but also of his more humble, pre-Alexangelo beginnings as a student of the institution's precursor, the Alberta College of Art (ACA). We caught up with Janvier while he was in town to accept the honourary MFA, completing a circle that began there in 1960, when he became ACA's first-ever Indigenous graduate. The funny thing about that, he says, is it almost didn't happen.
"See, halfway through I quit," Janvier says. "Disappeared. Nobody missed me."
He had gone home. Back to the Cold Lake First Nations, Treaty 6 territory northeast of Edmonton, just a whisper west of the Saskatchewan border. Janvier was born there in 1935, and he still lives and works there today with his wife of 51 years, Jacqueline Janvier, executive director of the Janvier Gallery. His late father, a farmer and the last hereditary chief of Cold Lake First Nation, gave the young college dropout "the dirtiest job on the farm." After two weeks of that, his father told him: "Go back and finish what you've started and don't come back until you're finished with it."
So he did. And beyond graduation, Janvier has held those words close to his heart. "That's my advice to anybody because that's what I was given by a man who was the last traditional chief," he says. It helps to explain how he has racked up such an impressively long list of high-profile public commissions, among them a diptych and site-specific installation at the Alberta Legislature Building finished earlier this year, and the awe-inspiring 45-foot-diameter circle mosaic Tsa Tsa Ke K'e: Iron Foot Place at Rogers Place in Edmonton in 2016.
While there are scores of young artists — Indigenous and non-Indigenous alike — who would consider Janvier a sort of "art elder," he is less inclined to take on that mantle. "Well, I'm an artist that's kind of getting old, that's about it," he says. "Eldership, it's not easy. You have to earn that. There's lots of responsibility. But if somebody wants advice, I do [give them advice] and that's about as far as I go. But for the art, they're on their own, just like I was."
As for how he has stayed so creatively fertile well into his golden years, "well, it's easy," he says. "You get up in the morning, you recognize your higher power, then you eat your porridge in the morning, or sometimes in the afternoon — I don't always get up on time. But once the painting starts, I'm serious."
Outside of the studio, Janvier tends not to be quite so serious. Asked if there is anything he's working on currently, he gestures toward a half-finished fruit plate sitting to the right of his hand. "I'm workin' on that," he says with a chuckle. "And yeah, I'm trying to do this thing called retirement." Another chuckle. "I can't seem to get to that."