During an artist residency in Cape Town, South Africa, in 2014, Calgarian Tom Brown decided to do a performance-art project in which he would set up a mobile kitchen on a busy street known for its food vendors and make pancakes for passersby. As Brown's pancake project attracted a crowd of curious onlookers, he drew the ire of another pancake seller who was worried about the impact free pancakes would have on his sales. The vendor's boss contacted the police, who came to shut down Brown's operation. However, once they saw what Brown had going on, the cops were very obliging, even suggesting new spots for him to set up shop. That's because Brown was making pancakes about the size of
a quarter in a functional miniature kitchen about the size of a small tool chest.
"That's the great thing that the kitchen does – it disarms people," says Brown. "On the street, people will be skeptical of it at first, but once they're engaged in what's happening and they're watching, people have a tendency to start opening up to me."
Brown has been making miniature items since he was a boy, when he would stay up late at night and mold wax into tiny sculptures using a bedside lamp. He has since graduated from the Alberta College of Art and Design (ACAD), and has been promoting his miniature movement through two projects: Feeding the Masses and Finders Keepers.
For Feeding the Masses, Brown installs himself on a street and prepares small foods with his tiny kitchen, which counts nearly 300 handmade kitchen tools, including cutlery, a pasta maker and even a functional stove. These he uses to make everything from sushi and soups to corndogs and mini-doughnuts.
The other pint-sized project, Finders Keepers, involves Brown hiding tiny kitchenware around Calgary on Fridays, with clues posted to his Instagram account. He's been stashing his creations since January of this year and says interest has only increased since then. "Now it's gotten to the point where people watch on Friday and wait until I post, and there's somebody there within 20 minutes," he says. "To have something I'm doing causing a reaction out in the world is really cool."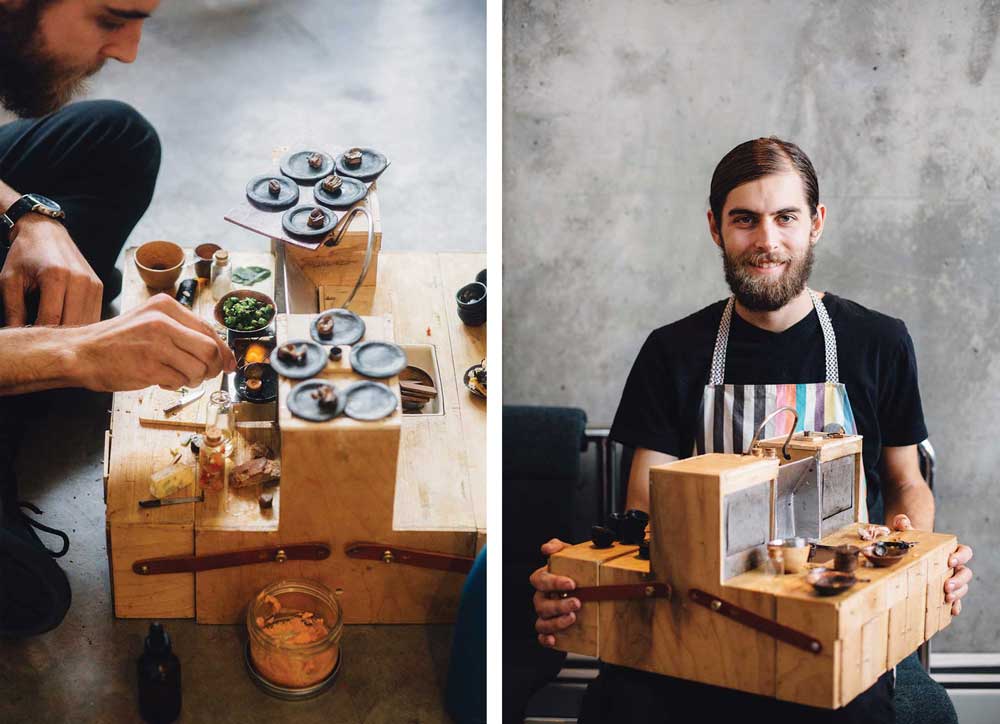 photographs by mike tan
Tom Brown cooks on this functional miniature kitchen.
Brown says he makes miniatures to highlight the scale of our bodies in relation to the world around us. He cites Marshall McLuhan's idea of art functioning as an "anti-environment" that exists as a reflection of the everyday environment we take for granted, making us take notice of it. "[The miniature environment] is a really obvious anti-environment, because it is literally a replica of the environment made different," Brown says.
During the warmer months, Brown can be found performing in public areas of Calgary, something he enjoys in no small part thanks to the reactions he draws. "When something goes in the deep fryer and oil sizzles out the side and catches, shooting fire in the air, people love that," he says. "The best reactions I get are from people who want to stay and talk. They'll stay for the whole hour-and-a-half that I'm there."
Brown's next addition to his mini-verse will be a series of cocktails in real glass cups about an inch-and-a-half tall. Other than that, he's trusting his work ethic will yield interesting results. "As silly as it sounds, I believe in this mystical idea of faith in hard work," he says. "I don't have any idea where this project will be in a year, but I know that if I continue to work hard on it, that natural evolution will continue to happen."
For more information on Tom Brown's artistic endeavours, visit tombrowncreates.com.