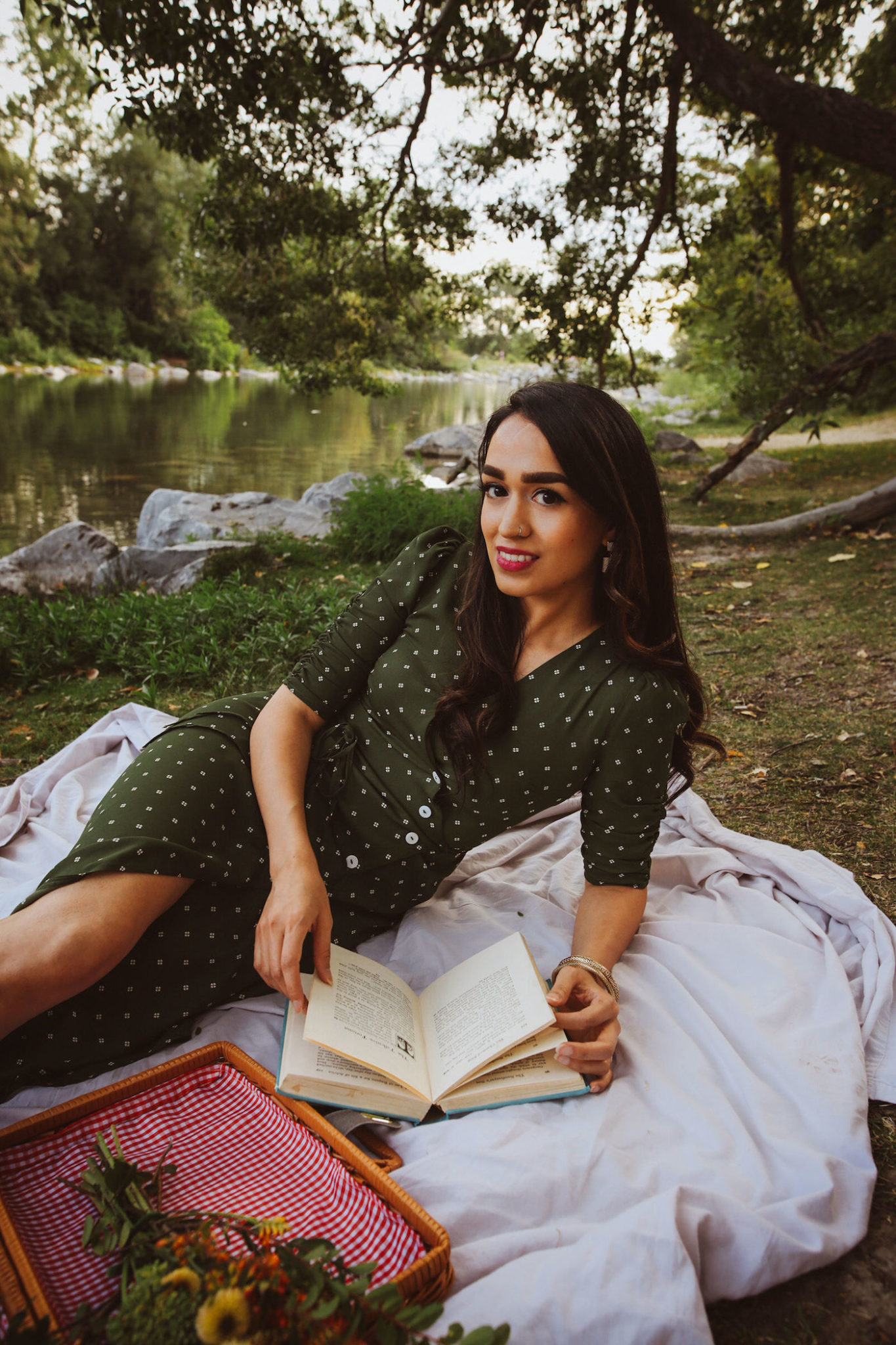 Harpreet M. Dayal is the creator of Love Notes, an annual event where poets, painters, dancers and musicians come together to explore the amalgamation of art forms deriving from numerous cultures, disciplines and mediums. Dayal is also the author of a children's book, Wilbert the Worm. She has built an online Instagram platform with 100K followers where she shares poetry and inspirational notes to help people recognize their untapped inner strength, resilience and transformation through artistic expression.
Here, Dayal talks about the process of discovering your creativity and re-inventing yourself as an artist.
For starters, tell us more about what Love Notes is and what led you to start it.
"Love Notes is an event that I started in 2017. I bring musicians, poets and visual artists together to create a love note and share it with Calgary, and beyond. It's a show I curate, emcee and host. I also perform my own work at these events. So far, I've held one at Art Commons and one at the Moonlight Market, which takes place in the fall in East Village.
"What really inspired me to start Love Notes was to find a way to bring more compassion and love into the world through art – the only way I really know how. Around the time that I started it, the whole Brexit saga had started. There was a lot of overt racism and I feel like it gave people the ammunition to say things like, 'Go back home to your country.' I was born and raised in London, and to hear that, and for my parents to hear that — my dad had moved there when he was 18 or 19 years old and built his whole life in England — was heartbreaking. So, that's why I started it. Now I've done four events since 2017."
As a matchmaker of talent, how do you bring different artists together who may or may not know the art form that the other brings to the table?
"Matchmaking artists is the fun part of this event! Literally, I have a vision for the show. I have artists in mind. Sometimes I look up local artists in Calgary and what they're doing. I stalk their Instagram page, and so on. It just formulates in my head that I feel like this artist will work well with this artist, and will be able to create something really great.
"I'll give you one example. I'm really proud of this because what the artists created was just amazing, and it brought me to tears. I had [introduced] a local spoken word poet, Audrey Lane Cockett, to Bharatnatyam dancer, Subiksha Subramani. I sent out information about Bharatnatyam [a form of Indian classical dance], and where it comes from. They came together and created this wonderful story on stage alongside Saranjot Singh on Tabla [an Indian drum instrument], and Esteban Herrera, a musician from Mexico who brought a jazz element to the performance.
"Ultimately, what that does is it really illustrates and shows people in the audience that no matter who you are, no matter what walk of life you're from, no matter what you sound like, or the colour of your skin, or what your story is, you can all come together. We can all come together to create something beautiful."
You were born in London and moved to Calgary. How did your move to a new country influence your creativity?
"I was always creative growing up. Writing and singing, I enjoyed all those things. But then I was kind of encouraged to pursue a more traditional career. So, I went to university, studied business psychology and started working in the retail sector of banking. Over time, that creative spark was sort of dwindling. It was only until I met my now-husband and moving to another country was becoming a reality that the fear of moving sparked this desire to do something different. The first thing that I did was I opened my notebook and started writing a story about a worm. It ended up being a children's book about a worm who lives underground and wants to go aboveground, but is afraid of change. And I was really just pouring myself into this story and finding that refuge in words. It was sort of like therapy for me to really overcome that fear, those sleepless nights of, 'Okay, what will I do when I move, will I make any friends?' So that's what sparked that creativity in me, and I haven't really stopped since then.
"When I moved in 2015, I had written a poem called Mehendi which is about change and starting a new chapter in my life, while embracing and really cherishing memories of my home in England. That same year, I was introduced to a poet, Miranda Krogstad. She said, 'I'm doing a show in December, you'd have to share this poem on stage.' I had moved in June and the show was in December. So fresh and new to Calgary, I went on stage and read this poem. I remember how nervous I was. It was the first time I had been on stage. To share this poem about change opened this whole new world for me. I started going to open mics. I started getting called to events to share poetry. Along the way, Love Notes came and it became my little baby that I could grow in Calgary."
If someone reading this right now wants to make a shift into a creative line of work, what advice would you share with them?
"You just have to take the leap. If things don't work, at least you tried. There have been times where I've failed. But it didn't really stop me. It's just that continuous inner work that you have to do to overcome the old narratives that you've taught yourself, like 'Am I good enough to share my story? Am I good enough to start something like Love Notes?' There's always that imposter syndrome that shows its ugly face. Stop saying you're not enough. Separate yourself from that by remembering the impact that you're having, even if it's small.
"Read up on whatever industry it is that you want to move into. Look at what people are doing in the arts community, for example. Have an open heart and that belief in yourself, because if you don't try, you'll always wonder, 'Should I have done that three years ago, or not?' You just don't know what you're capable of and what your potential is until you just take that leap and try! It could be a small step, something as simple as just picking up a paintbrush if you want to paint or picking up a pen and buying yourself a nice notebook to start writing."
What are some ways people can get involved with your work?
"You can get involved by just sending me a DM on Instagram. You can go on my website, which is harpreetmdayal.com. If you are an artist and you know you're interested in being a part of Love Notes, feel free to message me. If you are interested in starting your writing journey, I started this eight-week guide called 'A Journey to your Heart.' The purpose is to bring you closer to your heart through writing exercises. When you buy the guide [on my website], you would receive each exercise once a week for eight weeks. And it's just a really great way for you to just start putting pen to paper without overthinking or self-critiquing yourself."