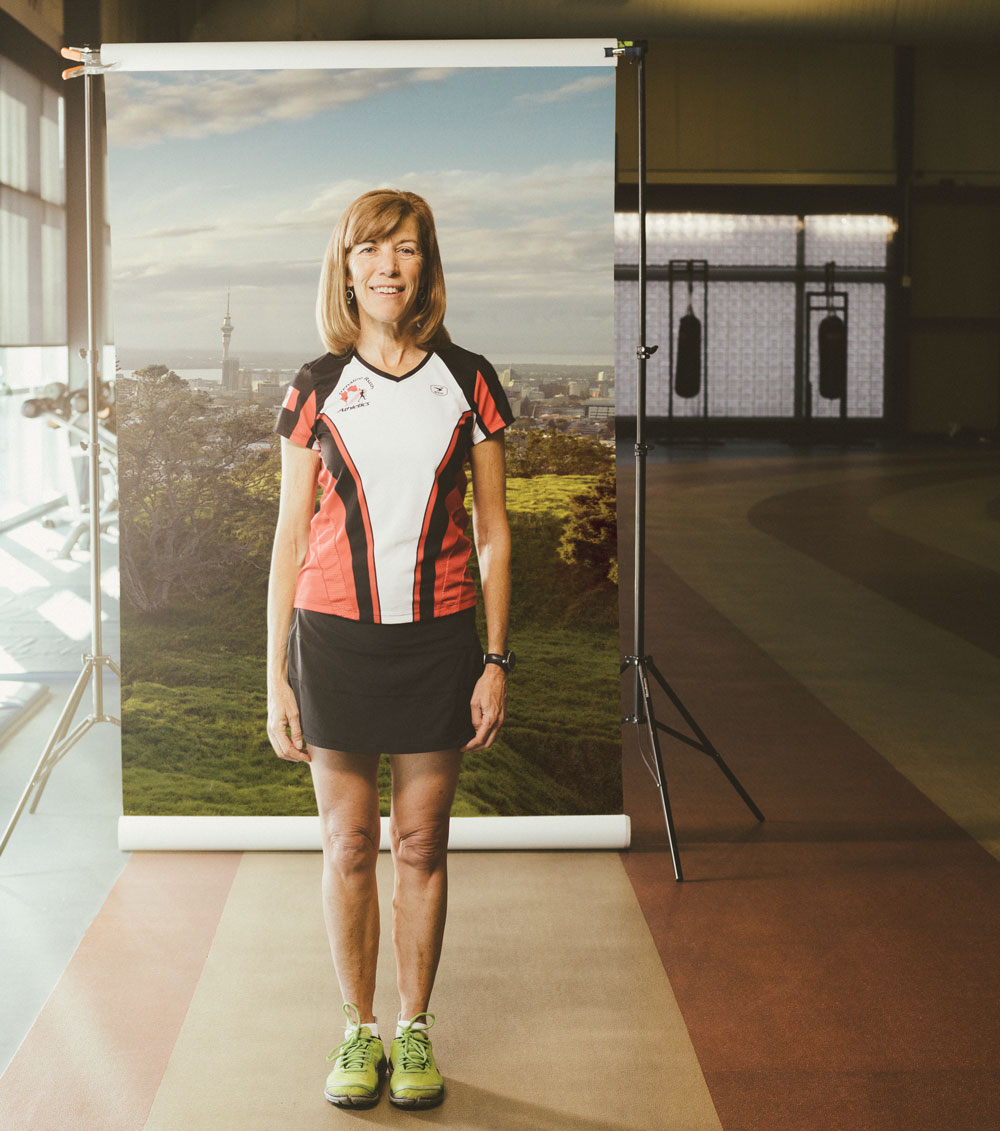 photograph by jared sych
Runner Janice McCaffrey will compete this month at the World Masters Games in New Zealand (pictured behind her).
This month, in Auckland, New Zealand, Calgarian Janice McCaffrey will take her mark for the 10-kilometre road-running race at the World Masters Games. As a former Olympic race walker, McCaffrey has been in this position more times than she can count – with much higher stakes. But the old butterflies still show up whenever she gets to the start line, turning her stomach inside out. "I say to myself, 'why did you sign up for this? You retired a long time ago. You don't have to do this. Nobody cares what you are doing!' "
Her answer is the same now as it was back then: "But I want it so bad!"
McCaffrey, now 57, represented Canada as a race walker at the Olympic Games in 1992, 1996 and 2000 and also competed in race walking at three Commonwealth Games during the '90s. In addition to race walking, McCaffrey competed as an elite-level long-distance runner, winning her first provincial title as a Grade 10 student in Edmonton and going on to represent Canada on the world stage. The year following the 2000 Olympics, she ran the marathon at the 2001 Francophone Games. Following that event, a tough race in hot conditions, McCaffrey, then 41, decided she had fulfilled her desire to represent her country as an athlete and effectively retired.
That's not to say she was done with competing altogether. McCaffrey continues to race as a recreational athlete, and has set age-group records for running in Alberta and Canada. "The definition of fun for a competitive runner is competing," McCaffrey says, "tapping into an intensity that you like to experience."
This spring's World Masters Games will be McCaffrey's fourth as a runner. At the last Masters Games in Torino, Italy, she won bronze medals in the five-km track event and 10-km road race. She also won gold in the sprint triathlon in 2005 (she started doing triathlons at age 40 after a flare-up of plantar fasciitis prompted her to shift her training to swimming and cycling), and in the 3,000-metre and 10-km race-walking events in 2010.
The Masters are a very different experience than the Olympics. Athletes supply their own gear, there are no formal team uniforms, everyone is self-funded and the only criterion to qualify is age – for many events, the minimum age begins at 30.
McCaffrey had to laugh when she arrived at her first Masters Games. She expected to compete against a bunch of former Olympians, fresh into retirement. Instead, she found herself among a diverse mix of athletes – runners in their 80s, people new to racing and athletes competing in extra events just because they'd already paid to go the Games. "They're like, 'I'm here, I might as well get my money's worth,'" McCaffrey says. In Torino, McCaffrey followed suit and ended up with a respectable fourth-place finish in golf, much to her surprise.
Unlike the Olympics, there's no real pressure at the Masters Games. "Nobody really cares how you do," McCaffrey says. "No one's going to say 'she let our country down.' "
McCaffrey also regularly signs up for local races, sometimes on a whim, and relishes the ones where she executes her plan perfectly – like last October's Ambulance Chasers Charity Run where she beat everyone in the five-km category. Her closest competitor, a man in his 30s, crossed the finish line a minute and half after she did. "I [ran] just like I was trying to win a spot to qualify in the Olympics," McCaffrey says.
When she's not coming up with her own race strategies, McCaffrey coaches a strong group of long-distance runners known as the Adrenaline Rush Athletics. The team started with a few runners who used to train with McCaffrey in her competitive race-walking days – as they trekked along, they'd ask her for race tips. Eventually, she turned it into a formal coaching business. Though she has never advertised, there is usually a waitlist to work with her. The 30 or so runners on the team are generally between 30 and 60 years of age and have an eye on running the Boston Marathon or setting personal bests.
"I get it. Boston is their Olympics," says McCaffrey, who was given a "Golden Shoe" award from Canadian Running Magazine in 2012 for her coaching.
McCaffrey herself trains six days a week, incorporating two interval sessions with the Adrenaline Rush group. She does at least three weekly 10-km runs and a longer run of a length dependent on whatever distance race she has in her sights. She has hired a personal strength coach to address her slowing pace – it's something that's to be expected of a former elite-level runner but it pains her just the same. "I'm on the decline and I'm fighting it hard," she says.
McCaffrey often finds herself wondering why she fights so hard, why she continues to push herself. Ultimately, her reasons go beyond results. "The watch doesn't tell the whole story," she says. "It's the experience of being athletic, of feeling athletic – that's the story."