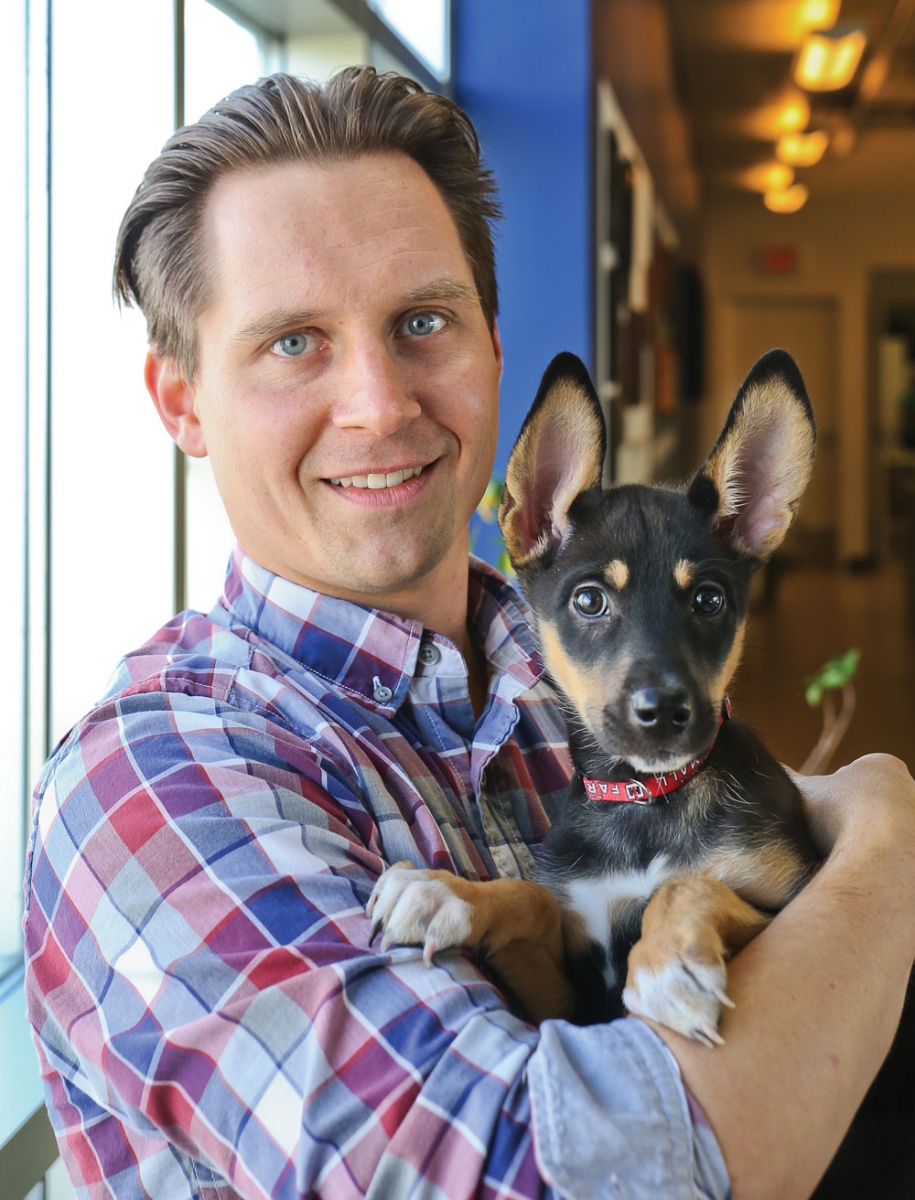 The Calgary Humane Society never turns an animal away. In 2015, the organization took in 7,698 cats, dogs, rabbits, reptiles, bunnies, birds, mice and more. Of that number, more than half were either adopted or returned to owners.
As Calgary's oldest, largest and only open-admission shelter, the Humane Society is equipped to not only house but also really care for the animals it receives, indefinitely. No animal is ever euthanized because of space or time restrictions. "Open admission means we accept all types of animals regardless of behaviour, age or species," says Philip Fulton, Calgary Humane Society's manager of community outreach. "We'll accept the adorable and easy-to-handle bunny that will be an easy adoption, and we also accept the cat that has house-soiling issues or a dog that has been surrendered to us because of aggression issues."
Every new animal the shelter receives goes through a health assessment with onsite veterinarians. Cats and smaller critters that have been cleared will be available for adoption. Dogs go through an additional behavioural assessment with certified dog trainers. The behavioural assessment gives staff a clear idea of exactly what type of home each dog will thrive in.
The lack of time and space restrictions means the humane society's adoption process is in-depth and thorough. "We want to find the best possible match for the potential owner and also set them straight in terms of unrealistic expectations. We want to find the best home, not the first home," Fulton says.
Visitors to the society's adoption centre, regardless of the type of animal they'd like to adopt, must fill out a questionnaire and sit down with an adoption counsellor to talk about their expectations for a pet. "When it comes to dogs, a lot of times people say, 'It has to be small to medium, non-shedding, good with kids, good with other dogs, hypo-allergenic and moderate energy.' Well, that dog doesn't exist," Fulton says.
Adoption counsellors ask open-ended questions to get a sense of how potential owners may care for their pets. Red flags include cat declawing and de-barking surgery on dogs. "It's a conversation, but declawing is a deal breaker for the Calgary Humane Society," Fulton says. "There are some cases when we will deny an adoption if we know that the potential home will harm one of our animals."
New owners, especially dog owners, continue to receive support from the society even after they take their pet home. The society offers ongoing dog-training group classes, seminars and one-on-one private consultations.
The reasons animals end up at the shelter are often sad ones, including neglect, abuse or behavioural issues, but the shelter is a calm, clean, happy place. Visitors can wander past the "kitty kabins" (large rooms reserved for rotund cats) and the "feline flats" (comfy clear cages for the cats) and individual dog runs with glass viewing windows. The animals sheltered in its walls may be looking for someone to adopt them, but they aren't in need of "saving."
"Sometimes people come in with the mentality that they're rescuing an animal from the humane society, but actually our animals have all of their needs met," Fulton says. "You're not rescuing it from us, but we 'd be delighted if you gave it a home."
For more information, visit calgaryhumane.ca or call 403-205-4455.