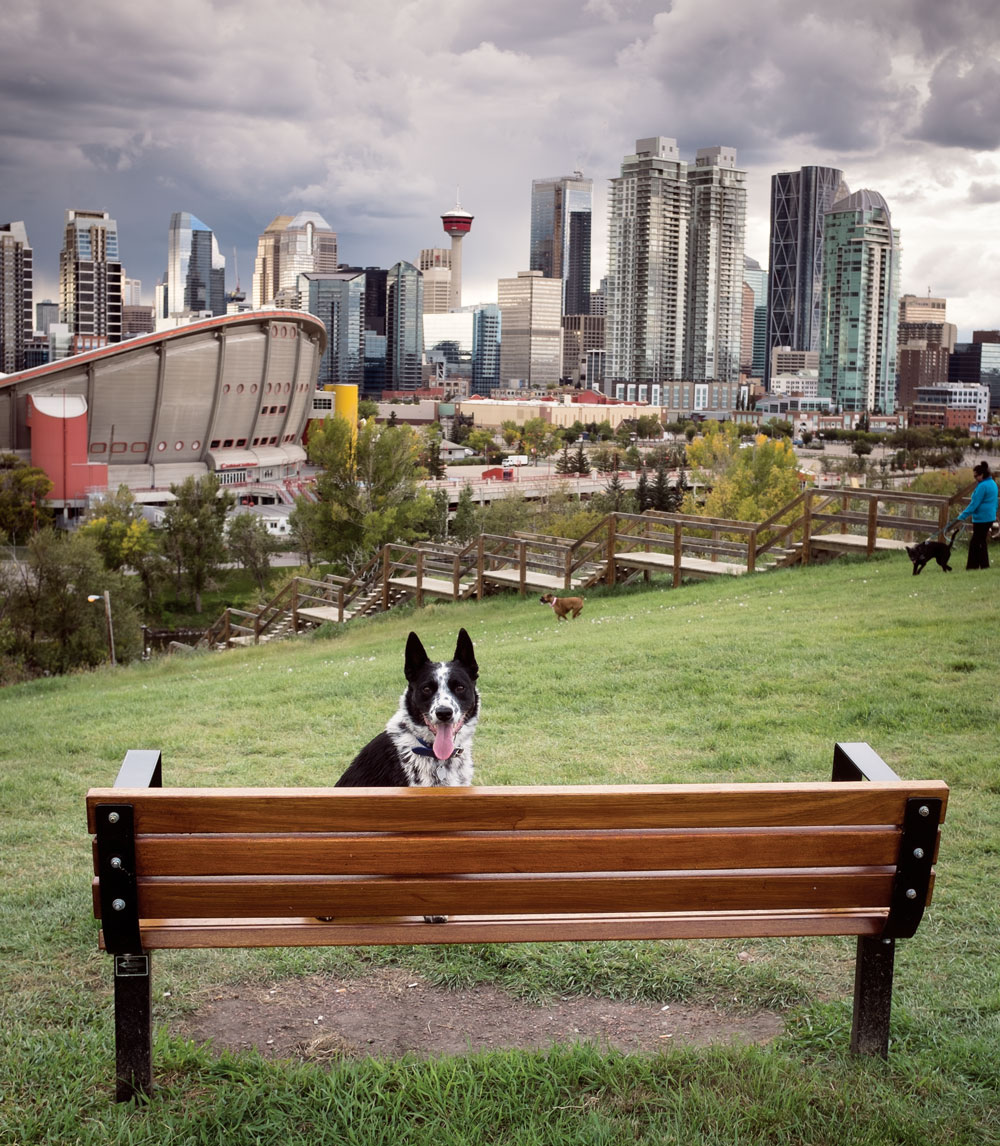 Calgary is decidedly dog friendly. The city has 150 designated off-leash areas. That equals almost 20 per cent of the city's park space with more than 1,250 hectares for dogs to roam, explore and socialize – the highest amount in North America.
As with any public space, the City has established rules and guidelines for users to ensure a safe and enjoyable experience for everyone. Under the City's Responsible Pet Ownership Bylaw, dogs in off-leash areas must be tagged, under control and respond to commands, and owners need to pick up and dispose of their pet's waste. Seems pretty easy, and most of the time off-leash parks are safe and fun. But sometimes dogs aren't under control – sometimes they tussle or won't come when called – plus, there's the risk of coyotes, fast-moving water and nearby busy highways. And sometimes, owners don't pick up after their pets.
In 2013, the City of Calgary created the Off-Leash Ambassador program as a way to address some of these off-leash park-related complaints. Off-leash ambassadors are trained volunteers who frequent the city's dog parks armed with extra poop bags, educational materials and animal first-aid skills. The ambassadors are also familiar with dog behaviour, identifying, for example, when an animal may be stressed or reactive. Ambassadors walk the parks, often with their own dogs, wearing City of Calgary volunteer jackets and chatting with owners about dog behaviour and safe play and offering gentle reminders to pick up waste.
Cheryl Herperger, senior business strategist with the City of Calgary's Community Standards and team lead of the Off-Leash Ambassador program, says the program's "did you know" approach has had an extremely positive impact on the parks. "Since the program started, complaints into our 3-1-1 line have been significantly reduced," Herperger says. "We're not about enforcement, we're about education." The program helps create a positive pet experience in off-leash parks, but the main responsibility lies with pet owners, Herperger says. "It's huge for people to realize that not every dog should go to the off-leash park."
Hailey Seidel, founder and owner of BowDog Canine Specialists, says having a dog you can take to the dog park is not a reflection of it being a good dog. Just like people, some dogs are more social than others. The busy, highly energetic atmosphere of an off-leash area can be more stressful than beneficial to an introverted pooch.
If you do have a dog that loves to run free, Seidel says it's important to differentiate between the two distinct types of dog parks in the city: fenced, like Sue Higgins Park, and non-fenced, like Nose Hill Park, an area BowDog's dog walkers frequent.
Seidel says the non-fenced off-leash areas challenge dog owners to get the very best behaviour from their dogs. "You wouldn't take a dog that didn't have reliable recall or had a really high prey drive into these places," she says. "In that regard, I think those types of parks are great because they really challenge owners to engage with their pet and create reliable behaviour."
Seidel says fenced dog parks can be a little more problematic because owners may rely on the physical barrier of the fences, as opposed to the reliability of their dog's behaviour. "Maybe they know their pet is great off-leash but doesn't have great recall, or is great off-leash but not on-leash, so the dog is completely out of control in the parking lot," she says. "You end up with a lot less predictable behaviour."
Fenced or not, like Herperger, Seidel says the responsibility for creating a safe off-leash area lies with the dog owner. "There's so much you can't control in an off-leash park," Seidel says. "If you are nervous or concerned at all about your dog's ability to go to an off-leash park, that's probably an indication that you shouldn't."