Near the section of the Elbow River that runs alongside Rideau Park, the ruins of a half-built manor stand as a sort of cautionary tale. Known as Lindsay's Folly, the sandstone structure was built by Dr. Neville James Lindsay, a physician who made a fortune in Calgary real estate in the 1880s. Intended to be a beautiful mansion on the banks of the Elbow, instead it became a pile of stones after Lindsay lost everything when the real estate market and economy collapsed in 1913.
Lindsay's Folly may be the most striking, but it isn't the only economic scar tissue dotting our city. The subsequent slump in 1914 saw many a piece of prime real-estate turned into vacant lots, the proliferation of which led to the creation of the Calgary Vacant Lots Garden Club, which used the spaces to grow food. Some of these repurposed lots, like the Bridgeland/Riverside Vacant Lots Garden, still exist today.
But despite these visible reminders of what happens when boom turns to bust, Calgary's economy hasn't yet managed to break the cycle. As the city endures yet another one of its economic downturns, dusting off the, "Please God, send us another oil boom; we promise not to piss it away this time" bumper stickers and judiciously reapplying them to any truck not sold in desperation, the underlying belief is in the pendulum inevitably swinging back.
But forecasts suggest this bust could be a particularly bad one. A report by TD Economics released last summer qualifies the 2015-2016 slump as, "a well-above-average recession based on a number of key benchmarks," and predicts a cumulative annual decline in real GDP of around 6.5 per cent, more than twice the average of past downturns. So yes, it's bad. The question is whether this one is bad enough to have a sobering effect on future boom times, or whether the headiness of economic prosperity will once again override the memories of hardship. As the saying goes, those who cannot remember the past are condemned to repeat it, so a look back seems in order.
According to historian and author David Finch, our economy has seen about one bust per decade since the early 20th century. This is in spite of the fact Alberta has enjoyed relative prosperity twice as often as it has struggled financially. "The last time I crunched the numbers, for 57 of the last 75 years, there have been surpluses in the budget in Alberta," says Finch. "One of the real vulnerabilities for our society is that the people think the good times are normal and the banks and the other lenders do, too."
Finch points to the housing market as an example of how we can be misled by market trends; our assumption is that houses have been going up in value when, in real terms, they are simply being built larger and, therefore, are more expensive. Factoring in inflation, the reason houses seem to appreciate is just that they're getting bigger, while the value of our money is actually decreasing.
This optimism means Albertans tend not to save money against the hard times, preferring to take their chances rather than make difficult decisions, like whether to reinstitute a sales tax. "We tell our politicians we'd rather roll the dice, play the lottery, because if two out of every three years you have more money than the government can figure out how to spend, then why should you have a provincial sales tax?" says Finch. "It's time for the people of Alberta to grow up. Boom and bust is a gambling way to live."
Where Finch compares our finances to a roll of the dice, Ron Kneebone, economist and professor at the School of Public Policy at the University of Calgary, relates the situation to a different vice, comparing the provincial government to an alcoholic in need of a 12-step program. "The first step is to acknowledge that you're helpless against what you're fighting, whether it's alcohol, drugs or, for the Alberta government, the price of oil," he says.
In his research, Kneebone found that, from 1928 through 1947, government spending was mostly in line with taxation; when spending fluctuated, taxation was adjusted in kind. Then, in 1948, when oil was discovered in Leduc and significant oil revenue started to come in, spending and taxation split apart, with the former climbing away from the latter.
One of the biggest problems with our economy isn't necessarily that it fluctuates with the price of oil, says Kneebone, but rather that our government hasn't taken the necessary steps to mitigate the instability that comes from using revenue collected from non-renewable resources. In his view, one of the purposes of government is to encourage economic stability, but, for the better part of the last century, Alberta's provincial governments of all stripes have instead created volatility by allowing spending to rise quickly during booms and maintaining or cutting it during busts.
That's not to say that there haven't been efforts to save for rainy days. In 1976, the Alberta Heritage Savings Trust Fund Act was passed, partly intended as a bulwark against future downturns. The fund, which started with just over $2 billion, benefitted from an annual investment of 30 per cent of provincial energy revenues until 1987, when Premier Don Getty stopped the transfers. Subsequent governments spent the majority of the province's oil revenue. Despite good returns on investment and the occasional injection of funds, the Heritage fund's value, adjusted for inflation, has essentially stagnated relative to its previous growth and now hovers around $18 billion.
From Kneebone's perspective, the cure for what ails us is simple: "Controlling spending, but also a stable source of revenue to replace an unstable source of revenue, which is oil and gas," he says. "We're talking about a sales tax. It's obvious to every state economist in the world that Alberta needs an HST [harmonized sales tax]." A sales tax of just a couple of percentage points, says Kneebone, could have potentially huge benefits to the economy; one paper from the U of C's School of Public Policy theorized that an eight-per-cent HST would bring in $800 million a year from non-resident tourism alone.
Though the numbers of a financial downturn are easily calculable, there are also emotional and psychological costs as the unemployment rate inches upwards. David Kirby, clinical services manager for Distress Centre Calgary, which provides free, 24-hour crisis support and professional counselling, says the recent economic downturn has resulted in a significant uptick in demand for the centre's face-to-face counselling services, approximately "30 per cent across the board," compared to last year's numbers.
Kirby, who started at the centre as a volunteer in 1996, says that, at the beginning of the downturn two years ago, the centre began seeing more people calling in after losing their jobs, fearful for the future. These days, circumstances for callers have become increasingly dire. "We're seeing more people who are just losing hope that this is going to end anytime soon," says Kirby. "These are people who have exhausted their [Employment Insurance], are now on the verge of exhausting their personal savings and have no clue what they're going to do next."
Kirby says, historically, two of the hardest things to cope with when experiencing financial duress are the loss of hope and the feeling of being a burden to people. "In general, what we see over a hundred years of research is that any time there's an economic downturn, like a recession, and unemployment goes up, so do suicides," he says. "Even though the reasons for those people taking their own lives are individual, there's something horrifically consistent."
The omnipresence of social media is one way modern busts differ from their historical counterparts. This relatively new phenomenon can needlessly amplify the severity of a downturn, leading people to assess the situation as being more dire than it really is. And, while social media can be an effective way for people to connect (albeit superficially), it often fails at reaching people on an individual level. That's where support groups like Laid Off Calgary can help.
Founder Bianca Sinclair started the weekly group in January 2016 when she was disappointed with the lack of support available in Calgary and wanted to use her skills and experience to create a forum that she felt was needed. Sinclair has since organized more than 50 meetings that have reached between 250 and 300 people, and says there's currently a waiting list for the 12-person, 90-minute events (the group size is limited so people get to know each other). People often come to the meetings sad, frustrated and anxious, many waiting for months after they're let go to seek support, and a doom-and-gloom mindset is common, Sinclair says. But, through discussion and mutual guidance, members can rise above the negative messages that perpetuate a bad situation. "Their perspective shifts to be more clear on what's within their control and what actions they can take, feeling more empowered or hopeful," she says.
According to Todd Hirsch, chief economist at ATB Financial, the numbers aren't good right now, but they're still not as bad as some of our past busts. "When I look as a cold-hearted economist at the numbers and not the stories, data-wise, we are still not as bad as it was in the 1980s," he says. "I started high school in Edmonton in September 1981, and that month the unemployment rate in Alberta was 3.1 per cent. By the time I graduated, in June 1984, the un-employment rate was 12.5 per cent. That is an economy that essentially collapsed."
Comparing the current situation with the downturn of the '80s, Hirsch says there's plenty of reasons to feel optimistic; for starters, there's more economic diversity in town, more major head offices for companies like WestJet, CP Rail and Agrium, as well as other transportation and warehouse industries that weren't here 30 years ago. The housing market is also substantially better than it was during the '80s when prices fell 25 per cent, a catastrophic shift compared to the current 3.5-per cent decrease Calgary has seen in the past two years.
Though unpleasant, busts are necessary corrections to the economy, Hirsch says, the hangover caused by economic excess. "It's kind of like when you've got the flu … the fever is the body's way of recalibrating and fighting off the infection or virus. A recession is a lot like that; it is the economy's way of recalibrating, in some ways rebalancing the labour market."
It's true, Alberta's economy has traditionally bounced back, though mostly thanks to a petroleum-based trampoline. Going forward, if the only way to get rid of the lows is to mitigate the highs, unless the province takes steps in that direction, we'll just have to keep bouncing.
---
Economic milestones in Calgary's history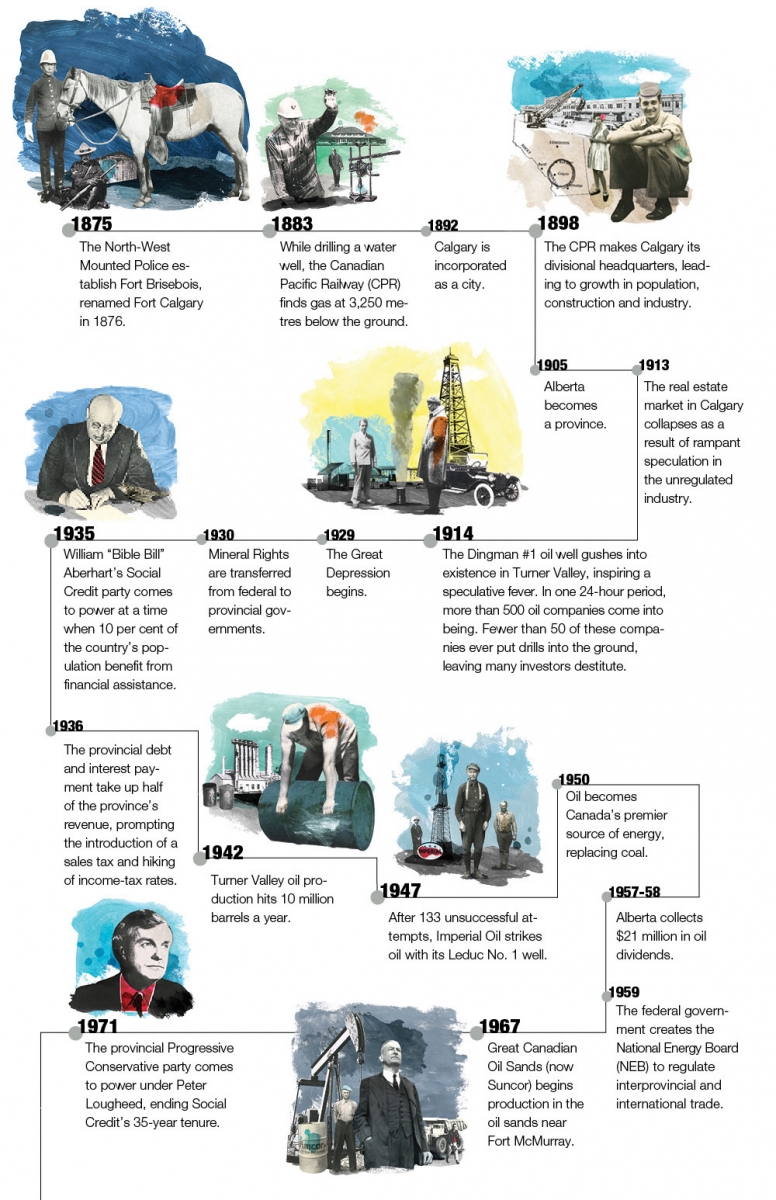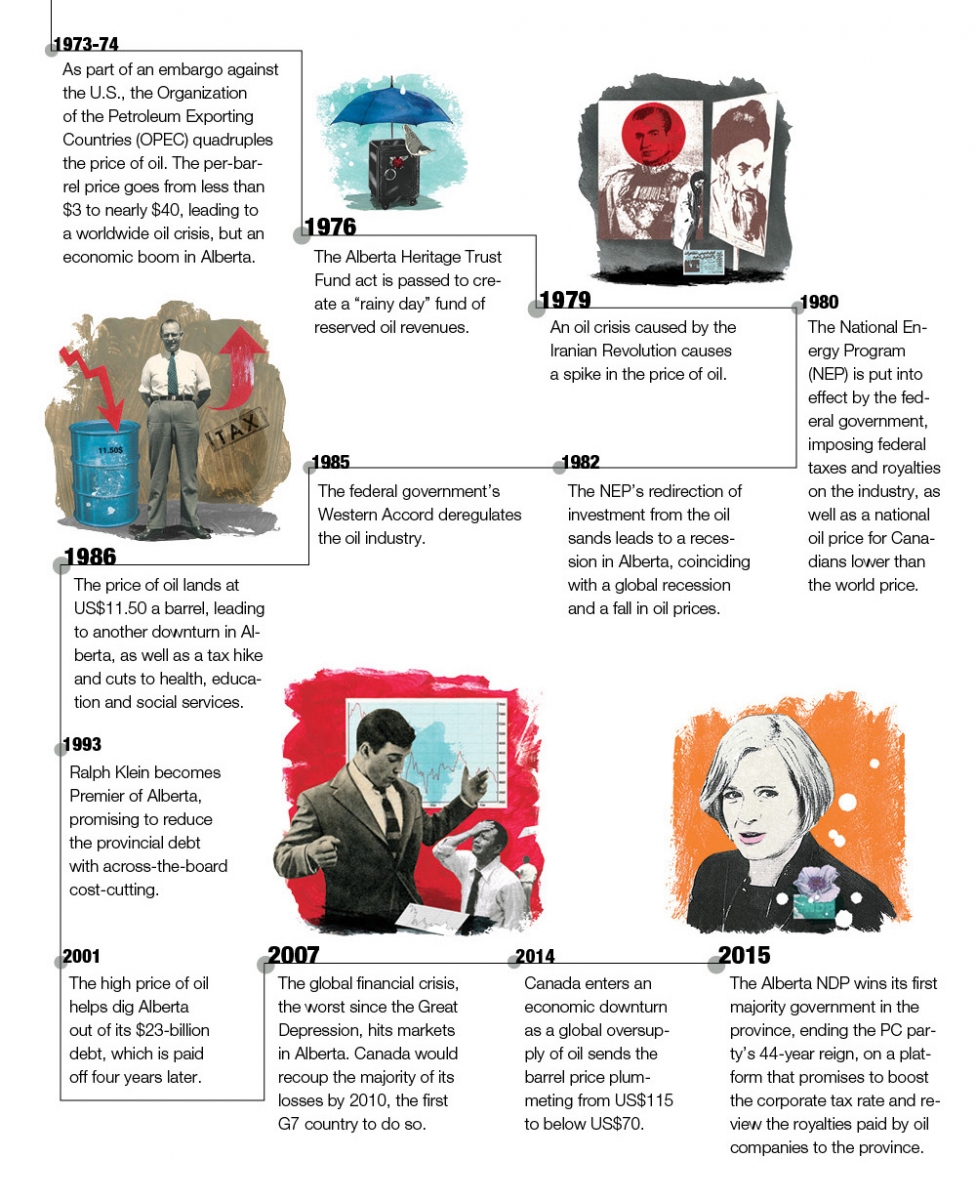 ---
Making the best of a bust
Tips on how to keep your head above water when the economy is going under.
David Kirby
Clinical services manager for Distress Centre Calgary
"The challenge is to find a way to bring out the positives in a negative situation, so how do we focus our time on building positives, rather than just seeing the entirely negative situation? Knowing what we can control and what we can't control helps to align ourselves energetically in the right direction."
Bianca Sinclair
Founder of support group Laid Off Calgary
"First of all, it's about coming to terms with loss. The second step is looking at your routine – how you start your day – and setting it off on the right foot, getting up at a good time like you did when you were working and establishing things in your day that provide a sense of structure. Self-care activities, taking time to exercise and look after yourself, that's going to show when you are interviewing and networking."
Todd Hirsch
Chief economist at ATB Financial
"It depends on the individual, but, for a lot of people, [a bust] is a fantastic time to reevaluate career choices. Maybe that's a shift in career to something different altogether. Maybe it's skills upgrading. Maybe it's taking online courses or enrolling in a course at SAIT or at a university
or college."