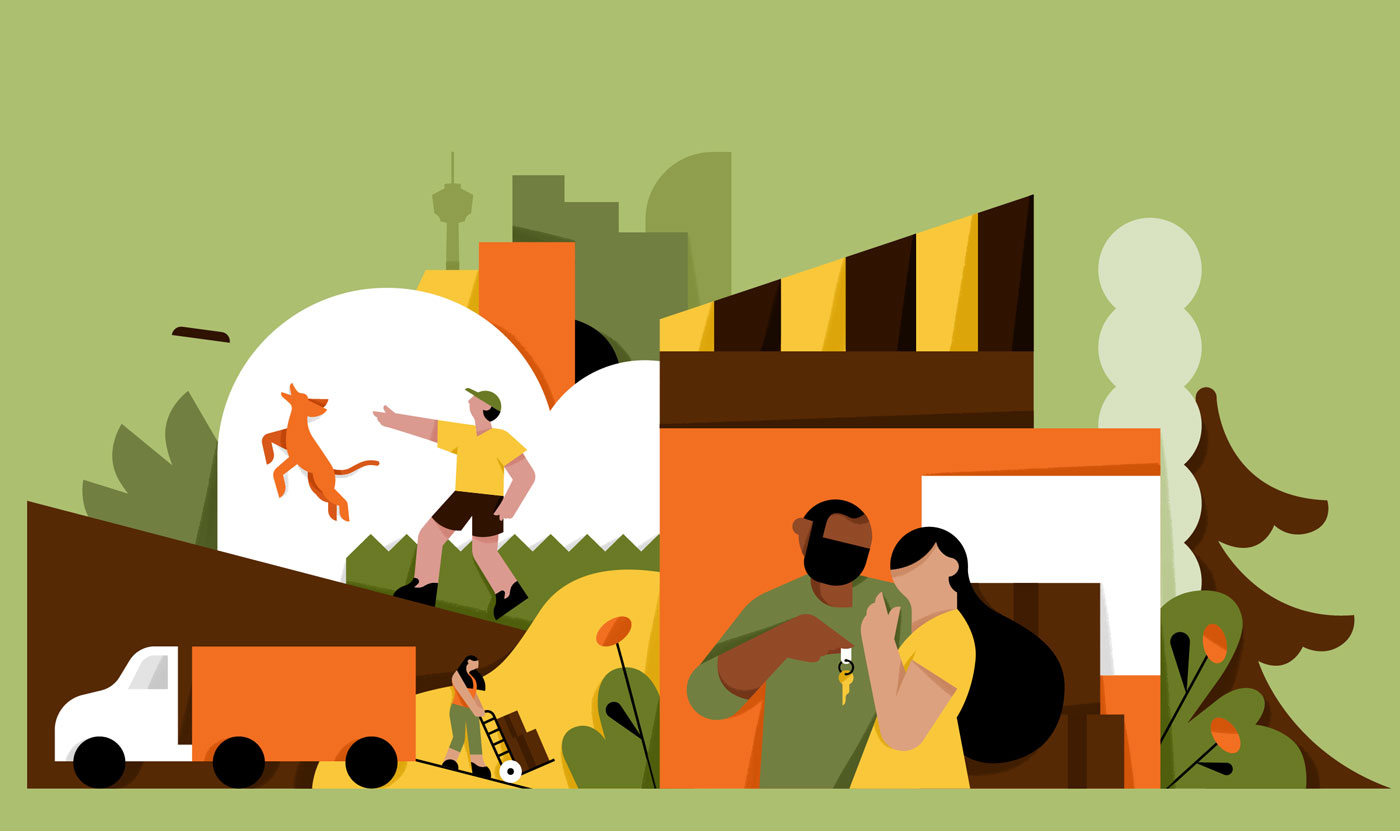 Josh Sim lives in Calgary and works remotely for an Ontario-based company, a work-life situation spurred on by the pandemic. Statistics Canada reports that since the beginning of 2021, 32 per cent of Canadians aged 15 to 69 are working mostly from home, compared to just four per cent who worked from home in 2016.
In his pre-pandemic life, Sim lived in Ontario in a rented apartment. He had considered buying, but felt priced out of the market. "I rented the whole time and kept an eye on prices, but I felt like I was a long way off from owning what I wanted to own," he says.
Originally from Calgary, Sim saw an opportunity to buy here thanks to the more affordable market and the fact he could now work remotely. His search began in November of 2020, and in March of 2021 he was able to close on a house in Killarney that he took possession of in May.
Like Sim, many other homebuyers have experienced changes in their home needs and possibilities, and these shifting needs — especially for the new remote-work lifestyle — have fuelled a housing boom. Between pent-up demand for new homes created by the early pandemic freeze on buying and new needs created by lifestyle changes, the market has seen drastic upheaval in a short time. As such, first-time buyers, upsizers and downsizers alike need to be aware of how the market is changing before jumping in.
First-Timers Taking Their First Steps
When the pandemic reached Calgary, realtors and economists predicted a full freeze in the housing market. Uncertainty about the future meant no one wanted to buy or sell.
But then Calgarians caught what real estate agents now refer to as "pandemic fever." The market kicked into overdrive and houses sold faster than new listings came available. Despite the initial impact of the pandemic, Calgary has since seen some of the strongest sales comparative to the last five years, nearly enough to offset all the losses from the first shutdown.
In March 2021, the Calgary Real Estate Board (CREB) reported 2,903 home sales. The last time the month of March saw such high housing sales was in 2007 with 3,939. April 2021 also saw record sales with 3,209 homes sold, compared to 573 in April 2020 and 1,547 in April 2019.
The surge in sales is, in part, a result of the number of homebuyers looking for larger homes with bigger backyards — homes that can accommodate remote offices and online classrooms. Single-family detached homes with three or more bedrooms are currently leading the market.
For first-time buyers, stepping into a market that's even more heated than usual can feel daunting. That said, Royal LePage reported that 56 per cent of Albertans aged 25 to 35 own their own home, and 25 per cent of them bought during the pandemic. Paradoxically, the pandemic created the perfect market for many first-time buyers. Interest rates are low and there is a lot of comparatively affordable inventory. While the prices of larger detached houses have soared, bungalows have increased by about four per cent and condos have decreased in price by 1.6 per cent.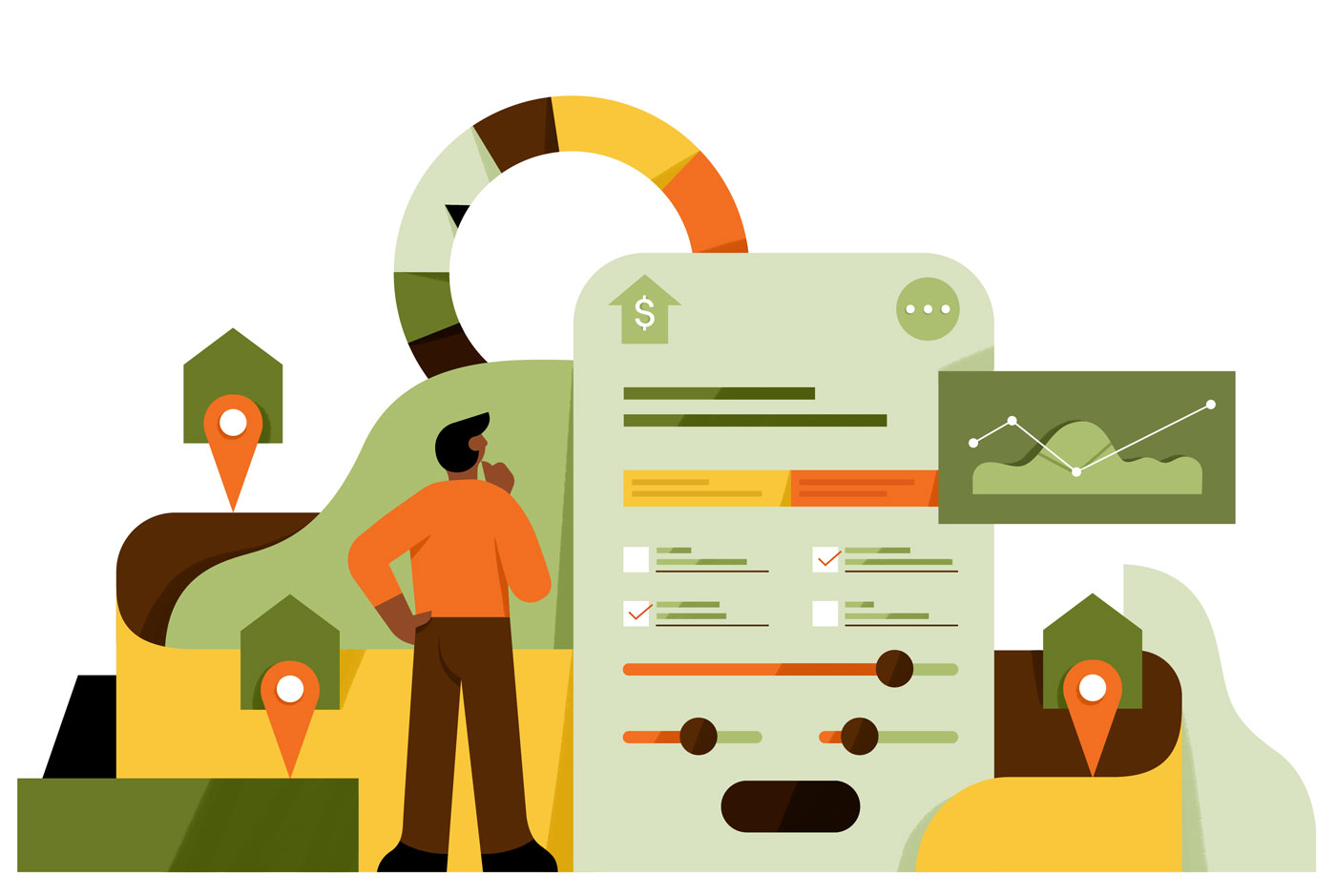 Mortgage Matters
When the economy is strong, interest rates are typically higher. The Bank of Canada adjusts the lending rate in order to cool the economy and stabilize inflation. In a weak economy, the opposite is the case. Low growth leads to fewer investors and buyers, so lower interest and mortgage rates help the economy recover. As a result of the pandemic's extremely weak economy, interest rates have plunged to historic lows. Not just the lowest rates since a specific year, but the lowest rate ever recorded in Canada.
"They've never been as low as they have been since they started keeping track of these things," says Dan Eisner, founder and CEO of True North Mortgage (and a member of Avenue's Top 40 Under 40 Class of 2009).
Pre-pandemic, mortgage rates sat between two and five per cent, depending on the type of loan. In the spring of 2021, the best rate on a five-year fixed-rate mortgage was 1.58 per cent. True North's online mortgage calculator used to put out an error message if clients tried to search for anything less than two per cent. "There's never been a mortgage rate of two per cent or less. So, the rates are so low it literally broke our calculator," says Eisner.
Calculator-breaking mortgage rates are part of what ultimately opened the market to buyers of all kinds. Right now, the Bank of Canada has set rates deliberately low to help support economic activity and steadily promote new growth. The question is when the Bank of Canada will increase the lending rate. While there are lots of estimates, there is no definite answer. Still, the Bank of Canada has promised an increase once the country reaches its inflation objective of two per cent. Currently, experts predict that goal will be reached in the second half of 2022.
As for True North Mortgage, Eisner guaranteed its calculator would never break again by setting it to accept anything above zero.
Bigger Homes and Gardens
While first-time homebuyers like Sim have helped heat the housing market, one of the early factors that pushed the real estate market into fever territory came from upsizers. Homeowners in the inner city and the core migrated to larger suburban homes with space for home offices, online learning and bigger backyards.
Buyers looking for larger homes created what real estate agents call "the hollowing out" from the downtown residential and commercial scene. In the fourth quarter of 2020, Calgary's downtown office vacancy rose to 26.9 per cent and commercial real estate services company Avison Young predicts things will still get worse. As many jobs shifted to remote work, fewer Calgarians needed to live near their corporate offices. And with lockdown measures in place there wasn't anything else to do downtown, either. Short commutes were no longer the domain of those living in the inner city as suddenly everyone's commute was measured in metres.
Upsides for Downsizers and Investors
Thanks to the strong interest in single-family detached homes, downsizers are ideally placed to take advantage of high prices on what they're selling and comparatively lower prices on what they're buying. Those looking for smaller condominium homes are especially spoiled for choice at great prices. In April 2021, 837 condos went on the market, pushing the total inventory to more than 1,800 condo listings. CREB's June 2021 benchmark price for apartments sat at $253,000, a modest increase from $250,500 in June 2019.
Thanks to these comparatively lower prices, there's also potential opportunity for investors looking to earn extra income through rising rental rates.
Since hitting a high in August 2019, Rentals.ca has seen rental rates decline steadily in many Canadian cities. As of this past June, year-over-year rent on a one-bedroom in Toronto had declined by 12.9 per cent, in Vancouver by two per cent (and 8.2 per cent for a two-bedroom), in Montreal by 3.7 per cent and in Edmonton by 0.9 per cent. Calgary, however, is one of the exceptions. Here, as of June, average monthly rents have increased year over year by 6.9 per cent for a one-bedroom and by 12.7 per cent for a two-bedroom unit.
Even though downtown is hollow now, Kamil Lalji, an associate broker at CIR Realty, predicts people will move back once the pandemic is over to return to the social scene offered by the area. For those looking for a long-term investment, snapping up downtown real estate while it's priced competitively may be just the ticket.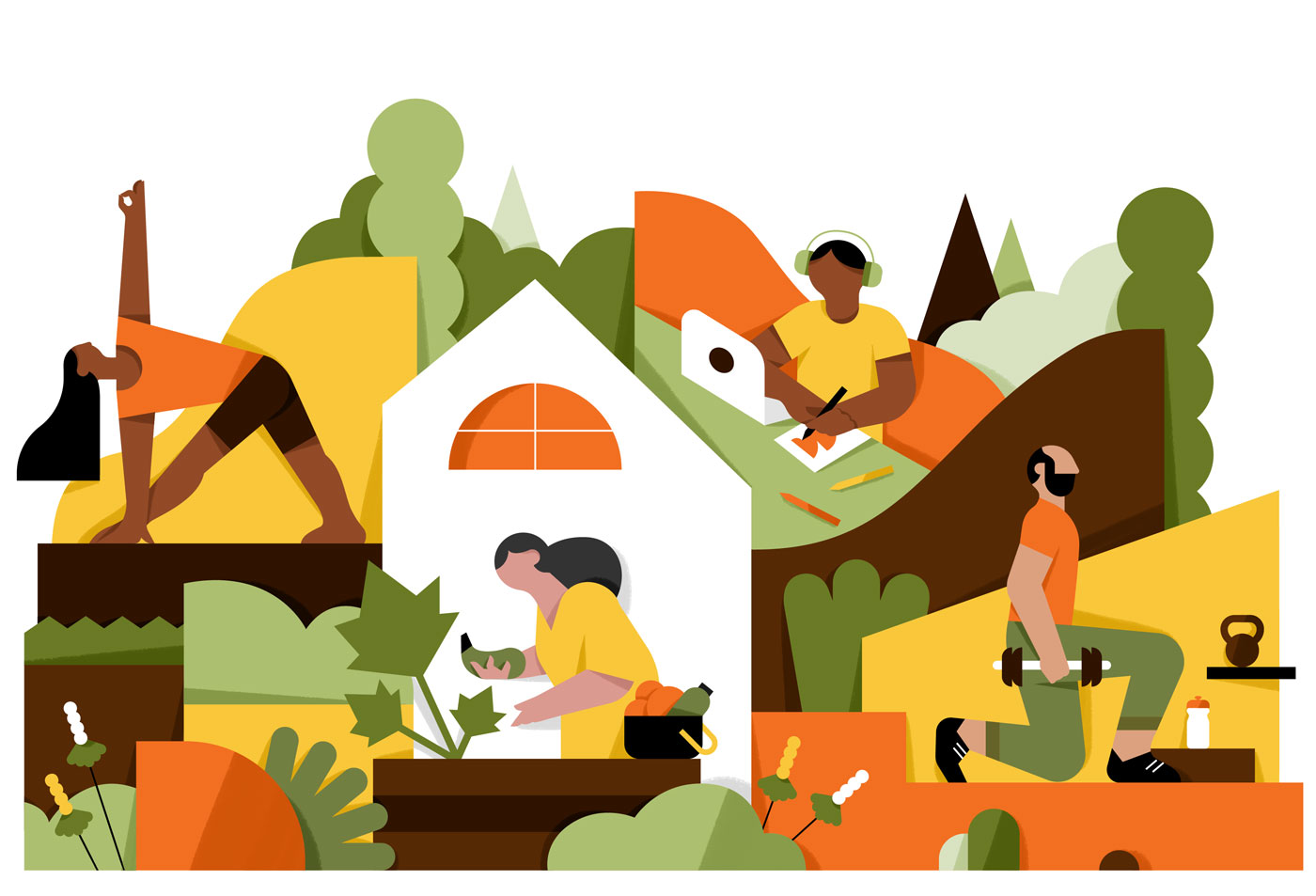 Logic vs. Emotion
Mortgage rates are so low now that they have nowhere to go but up. As those rates increase, Eisner says it's likely home prices will decrease. The question is how much and how soon.
If increases are driven by natural economic growth, the drop shouldn't be too big. But if the increases are a "bubble" and the prices are unrelated to value, the drop can be steep. When real estate bubbles burst, housing prices plummet suddenly and leave mortgages above the market value of any property. Eisner says, there's no real way to know which scenario you're in "until after the bubble bursts." Still, he believes Calgary isn't experiencing a real estate bubble.
A bubble, Eisner notes, is characterized by speculative sales. "So you have people buying a home today in anticipation of it costing more a year from now and maybe selling it in a year. Generally, that's not what we're seeing. We're seeing people that want a home they like to be in when they're forced to stay home all the time."
Lalji believes that much of the boom in the housing market is a result of lifestyle changes brought on by the pandemic. What people want in a home and in their life now is different from what they wanted before, and one thing the pandemic has done is given everyone clarity. "There's been a lot of situational change, and that's the biggest reason why there's all this energy and excitement," he says.
Indeed, Sim purchased his Calgary home, an older, smaller detached house, with a sense of newfound clarity. "When I was looking at [homes in] Ontario, I was looking solely at condos because of the prices. Now, I work from home, which will be a pretty significant part of my work going forward, so I wanted more space." He also needed a yard for his new dog and space for a home gym. While going to a gym was a regular pre-pandemic activity for him, Sim says it isn't something he wants to continue. "I wanted a bigger garage for a home gym. Having more amenities in the home has become quite important to me," he says.
Lalji cautions, however, that as the demands of post-pandemic life start to change again, there isn't necessarily a guaranteed return on investment on a big suburban home with lots of amenities. "If you overpaid for the property in the suburbs, you're stuck with that for 15 or 20 years until things reverse again," he says.
But across the market, homebuyers are jumping onto low rates and appealing homes before prices and rates can change, regardless of the cost. Lalji sees buyers who are more than willing to pay above asking and to waive conditions getting "caught in the emotion of the time." In one case, Lalji says, a listed house sold unconditionally for $60,000 over asking.
Eisner calls it a fear-factor reaction — homeowners responding to the threat of rising interest rates rather than to an actual increase in rates.
If your own interest in buying is lifestyle needs rather than trying to make money on a smart investment, then buy now. Just make sure it's right for you, not because of the market buzz, or what Lalji calls an "auction mentality," where you're buying just because everyone else is.
He adds that homebuyers should analyze the property and make sure it makes sense from a value perspective first. "There's always opportunity in every market, so it really just depends on what you're buying."
Fortunately (for some), new mortgage stress test regulations came into effect this past June, making it harder to get a mortgage. The stress test thresholds help ensure that buyers will be able to pay off their mortgage even if interest rates go up. The change will most likely help cool the market (and emotions) a bit.
The Post-Pandemic Housing Market
James Robertson, president and CEO of the University of Calgary Properties Group (UCPG), says that companies and employers are shifting long term to working from home. "I think companies have realized they don't have to bring their staff downtown every day and people enjoy that lifestyle," says Robertson. He also notes the "social side effect" of working from home that many people have since come to appreciate. "We see more of each other, we get to know our neighbours."
Even so, Robertson believes housing demands will change yet again post-pandemic. "We're going to see people choose location as a very important criterion. I think [the pandemic] has made people conscious about how they choose to live."
That new sense of value will also transform future building demands. Senior living communities, multi-generational housing and affordability are at the forefront of these new demands. And there's already a shift toward houses with home offices built into the layout becoming the new standard.
Spending more time at home has also shifted many homeowners' focus on the sustainability of their homes. Everything from energy-efficient appliances, LED lighting and triple-pane windows are becoming standard in new homes. "The sustainability aspect is now almost an expectation, versus a stretch goal. People are simply building sustainability into their lifestyles," Robertson says.
In addition to the UCPG's sustainable building measures, a number of local developers, including Trico Homes and Jayman Built, are implementing sustainable measures and methods into their future building plans. "We start to win on sustainability when we no longer talk about sustainability. It just becomes an aspect of design," Robertson says.
Like Lalji, Robertson believes the pandemic has encouraged a new outlook of connectivity, community and support, which he sees playing into Calgary's recovery. "I think we're going to appreciate getting our way of life back to some level, but I think it's made people conscious about what they value."
Whether you're a first-time buyer, a buyer looking to upsize or downsize, or just want to stay put where you are, considering your own values rather than home values might be the key to coming out of the fever market in good health.
Confessions of a Former Renting Advocate
Writer Max Fawcett has advocated renting as the road to financial security for many years. But this past spring he bought a home. What changed?
If you try to make your living as a writer for long enough, eventually you get hoisted on one of your own petards. But even by that standard, my recent decision to buy a house — an actual house, with actual land underneath it — still came as a surprise. After all, I've spent the better part of a decade advocating on behalf of renting, and renters, and it's not like my argument has fallen apart. If anything, the soaring prices in the cities and suburbs across Canada makes it stronger than ever.*
But here in Calgary, we live on an island of relative sanity — at least when it comes to our real estate market. That's why as my life changed and the personal advantages of homeownership started to clearly outweigh the negatives, I decided to buy.
I'll still happily wave the flag for renting in this country, and I'll continue to insist that we need policies that make it a more attractive and rewarding choice. In places like Toronto and Vancouver, there is no reasonable alternative for millions of people.
The only difference now, I suppose, is that I'll wave that flag from my house. —Max Fawcett
*To read those arguments, just type "Max Fawcett rent" into any search engine.