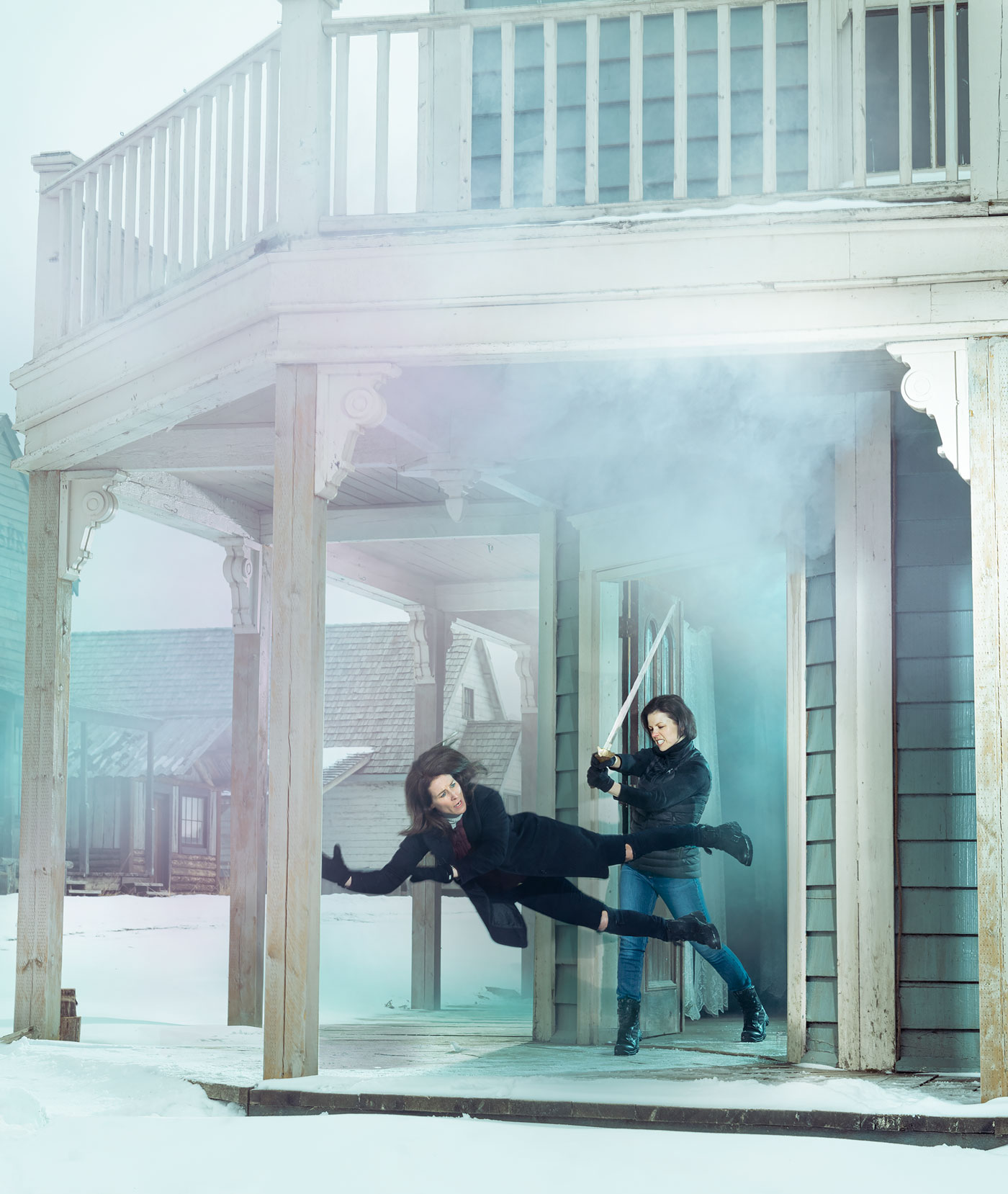 Contrary to popular belief, stunt performers are not just adrenaline junkies, says Sally Bishop, an industry veteran in Alberta, who has stunted and doubled for A-listers like Demi Moore, Julia Roberts and Robin Wright over the course of her career.
With no formal certification to become a stunt performer in Alberta, or Canada, most stuntwomen are martial artists, gymnasts, swimmers, or, in Bishop's case, horsewomen — she grew up trick riding and Roman riding (riding while standing on the backs of two or more horses) — who spend years honing their craft. Breaking into the industry requires a bit of luck. "The first job you get is essentially a stunt coordinator taking a chance, because it's sometimes quite risky," Bishop says.
Stunt coordinator and performer Leslie McMichael's expertise in motor vehicles, fire work, martial arts and wire work has earned her credits on a variety of projects, from a Ninja Turtles TV series to the movie X-Men: The Last Stand.
McMichael says that performing a fight scene in a miniskirt — a garment that leaves little room for protective padding or insulation — is part-and-parcel of the industry for women. One of her most memorable stunts was her first safe skin-burn for the movie Final Destination 3. Slathered in fire-resistant gel that was at the time still new to the industry, McMichael was set aflame for a scene where a character gets trapped in a tanning bed. "First, we lit our finger on fire, then our forearm, then our whole arm, and then I did from my waist and my arms all the way up to my neck," she says.
Stunt performers know that their career can only last as long as their body does, leading many to have alternative aspirations. McMichael has melded her industry experience with academia, attaining a PhD in psychology with an emphasis on media psychology, researching the effects of concussions in the stunt industry. She continues to work as a stunt coordinator on projects such as the 2019 Disney film Togo.
Bishop toyed with the idea of law school, going so far as to enroll at one point, but she dropped out before classes began to commit to trick riding full-time. She currently represents Alberta on the Alliance of Canadian Cinema, Television and Radio Artists' national stunt committee.
"I certainly have had times in my life where I wonder if [being a stuntwoman] was the right choice, but I don't think I would have been happy in [another] life," she says. "I have had an adventurous life and I don't regret it."