Working multiple jobs isn't new; throughout history, people have always done what they needed to do to get by. That said, working a second job hasn't always been a point of pride. Even the term used by previous generations — "moonlighting" — suggests something secretive or illicit, happening under the cover of night.
But these days having what's known as a "side hustle" is seen in an entirely different light. Rather than something to hide, it's something people promote on their Instagram feeds. A 2017 Harvard Business Review article put forth that "even senior-level executives need a side hustle," listing reasons that ranged from hedging against economic uncertainty to enhancing your brand and building your network.
It may be that there are more people working side hustles now, or maybe it's just that we're just more aware of it, says Dr. Rob Oxoby, a professor in the economics department at the University of Calgary and a researcher in behavioural economics. The driving force behind the changing nature of side hustles, and our increasing attention to them, is technology. Apps such as Uber have spurred the rise of the gig economy, while online marketplaces and social media allow anyone, anywhere, to sell all manner of goods. "With technology, people's hobbies can become their second jobs. A lot of the things we did because we enjoyed them, we can now find a commercial aspect for them," Oxoby says. Those same technologies allow individuals to outsource tasks and projects that can become side-hustle income for others.
Advances in technology have also blurred the lines between working and leisure hours. More and more, it's expected that employees will check work email outside of office hours. "People used to work a nine-to-five, come home and that was it," Oxoby says, "but with technology, you're always on the clock."
There are, of course, financial advantages to having a second (or third, or fourth) source of income. For those who are lucky enough not to require income outside of a primary job simply to pay the bills and cover the necessities of life, side-hustle earnings become bonus cash — a way to justify making indulgent purchases or, for those of a more responsible nature, build up savings. "Behavioural economics shows that people code their money into specific mental accounts. The money from a side hustle is often stored in a different mental account than paycheques," Oxoby says.
That perception helps explain why people might continue working a second job even when their primary job gets increasingly busier. "As soon as you have that money, when you stop doing it, it becomes a 'loss,'" Oxoby says. "People may think they're out of the money they could have made."
Oxoby also cites the "productivity revolution" as a factor in the rise of the side hustle. "Level of busy-ness is bragging rights now," he says. "The whole productivity revolution has been about stuffing as much as you can into your time, so why not pick up a side hustle?"
But while some people may enjoy wearing multiple hats, there are also downsides to having a side hustle, particularly when it comes to the commercialization of hobbies. "It's not surprising to me that the new side hustles and productivity are coming up alongside [a collective interest in] mindfulness. If you're productive all the time, then when do you have the time that goes into whatever makes you subjectively happier?"
The best side hustles, of course, are those that don't just earn extra cash, but are also fulfilling in that "if you do what you love you'll never work a day in your life" way. We spoke to five side-hustling Calgarians about what motivates them and how they make it all work.
Odai Almoqadam
Day Job IBM Consultant
Side Hustle Clothing Company Owner

Odai Almoqadam started the apparel company Harf Design a year after graduating from the University of Calgary's Schulich School of Engineering. The company creates garments printed with Arabic calligraphy. "There is a social part to it," Almoqadam says. "The main objective is to bridge cultures and embrace diversity."
Almoqadam says he has always been interested in the intersection of technology and art. "I got into calligraphy because I had terrible handwriting, so I took lessons and fell in love with the concept — it's actually very mathematical because it's about symmetry," he says. In line with his background in engineering and interest in art, he is fascinated by wearable technology. "I see [Harf Design] as my window to get into wearable technology," he says.
Since he works full-time as a consultant for IBM, Almoqadam has to make time in the evenings to connect with his designers in Calgary and manufacturers abroad. He admits that keeping up with the demands of his side hustle can be exhausting. "You get weeks where you just don't want to do any of it," he says. "I take breaks, I rely on friends and I try to talk about new things I can do."
But his efforts are definitely earning him exposure; last year Harf Design won second place in the Emerging Designer category at Western Canada Fashion Week.
"It was one of those moments where I thought, 'yeah, this paid off,'" he says.
Jason Hastie
Day Job Accountant
Side Hustle Country Musician

Originally from Saskatchewan, Jason Hastie moved to Calgary in 2002 after getting his MPAcc (masters of professional accounting degree) from the University of Saskatchewan. He started working at an accounting firm here, but just four months in he realized the job wasn't for him, so he quit to start his own consulting practice.
In those early days, while he was still building his client list, he found himself with considerable free time, which he used to pursue his interest in country music. "I was going to a lot of jam sessions in Black Diamond and thought, 'hey, I'd like to [do this] professionally,'" says Hastie.
Today, Hastie and his band The Alibi have released two albums and multiple singles that have gotten local, national and international radio play (he's been played on 75 radio stations in France). He continues to work as an accountant, but has transitioned to a cloud-based accounting practice, which gives him flexibility to pursue his music. "It's quite hard to make good money in the music industry," Hastie says. "I feel super fortunate to have my accounting, and that's where I can get my income to support my music. I almost base my schedule on what my music requirements are and then allocate time to accounting."
Hastie says music provides a balance with the more tedious aspects of accounting and, in turn, accounting provides stability that complements the highs and lows of a music career.
Music isn't all fun and games, of course — Hastie notes that a big chunk of his time goes toward administration and logistics — but he says hearing his songs on the radio makes it all worth it.
Jason Holley
Day Job Marketing and Business Strategy Professional
Side Hustle Beef Jerky Company Co-owner

Jason Holley says he started considering what he could do as a side hustle during the summers when things were slower at his job in marketing. Originally from Toronto, Holley lived in Vancouver and Portland before settling in Calgary in 2011. Inspired by the dynamic craft-beer scene in Portland, he decided to start a beef jerky company with co-founder Dion Lobreau. Launched in 2017, Brazen Jerky is produced locally and distributed in select breweries and markets across the city. "It's more than just the products … it's about the community," Holley says.
Though Brazen draws on Holley's experience in marketing and branding (and Lobreau's background growing up on a ranch), Holley says actually owning a brand is very different from what he does in his day job. "It's a fun way to stretch myself and learn new skills," he says.
Running Brazen has made him "hyper-focused" on setting priorities. "[Your side-hustle] will take as much time as you devote to it, so it's important to set boundaries," he says. Between his commitments to his young family and day job, he typically works on Brazen in "five-minute increments," using his smartphone to respond to emails, make calls or do accounting updates.
The Brazen Jerky motto is "made for the choosy" and Holley says allowing the company to grow organically and keeping it as a side hustle will keep it true to its branding.
"Our products are for people who are choosy about the food they put into their body, are adventure-oriented, and looking for something special," Holley says. "There is that alignment of personal connection."
Alex Leung
Day Job Wealth Management Sales Support Officer
Side Hustle Wedding Photographer

Photography has always been Alex Leung's favourite hobby, but her first foray into doing it professionally was when a co-worker asked Leung to photograph her wedding. "It was unexpected, because I hadn't really done anything besides personal stuff and some family photos," Leung says. "It seemed unreal at the time that I would be able to do it for money. And then I got a referral from [the co-worker's] cousin. It went from there."
Leung now operates a thriving wedding photography business along with her fiancé Adam Maisonet. Their bookings for summer of 2018 doubled over those from 2017 and Leung says she owes much of that momentum to social media. "The majority of our couples find us through Instagram," she says.
Leung says she also uses Instagram to connect to the small-business community in Calgary. "It helps you feel less isolated," she says.
A large portion of the time Leung spends on her side hustle involves photo-editing as well as managing bookings.  "[Adam and I] have a shared Google calendar that we utilize more than I ever thought I'd use a calendar in my life," Leung says. "We struggle to manage it, but we make it work and it has actually been a good learning process."
While her side hustle allows her to indulge her artistic side, Leung says she appreciates having a day job that provides financial freedom and health-care benefits so she can "just be passionate about photography."
"My biggest fear is I'd resent my passion," she says. "I don't want my livelihood to depend on my art so that it takes the passion out and becomes just about making money."
Kyle Regular
Day Job Pet Store Manager
Side Hustle Vegan and Vegetarian Pet Treat Maker

Kyle Regular started making his own vegan and vegetarian pet treats two years ago when his dog was diagnosed with irritable bowel syndrome and was bothered by meat-based proteins. "I started making treats for [my dog] at home and thought, if he is like this there must be other animals like this, too," Regular says. "It naturally progressed."
That progression led to him starting the pet treat company Monster Cravings, which he runs in his off hours from his day job managing a chain pet store. Regular says having a side hustle has forced him to become more organized, particularly when it comes to scheduling. "I've gotten into the habit of doing things at least a month in advance," he says. "On certain days, I bake all my cookies and on other days I decorate them all. I've started to plan things out better."
Monster Cravings markets itself mostly on Instagram and sells its treats at local markets (farmers' markets and night markets) and in shops around the city, as well as through the online marketplace Etsy.
Regular says social media has been a catalyst in driving his business. "A lot of my customers are from social media," he says."I probably wouldn't have gotten into some of the local [stores] I've gotten into without it."
Regular says the best part about his side hustle is that it doesn't feel like a job. "I can do it whenever I want to do it and it's on my own time," he says. "It's something I enjoy at my own pace." Though he hopes his business eventually grows to includes toys and accessories, he is comfortable with where Monster Cravings is at now.
"I want to see it naturally grow," he says.
When Your Side Hustle Becomes Your Main Hustle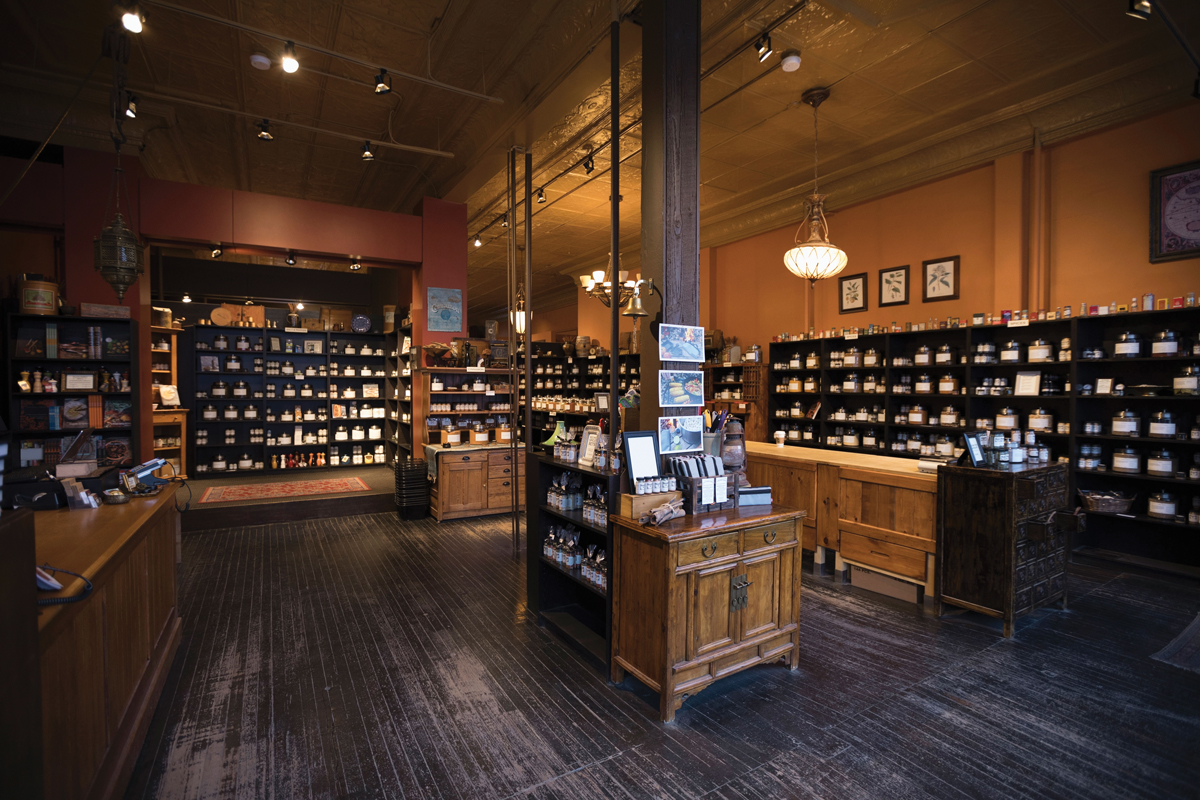 Colin Leach is a co-owner of The Silk Road Spice Merchant, a Calgary-based retailer of high-quality spices and spice blends. In the summer of 2008, Leach and his business partner Kelci Hind, his then-wife, started Silk Road as an online side hustle when Leach was working full-time at the online advertising agency Critical Mass and Hind was on maternity leave from her job as a registered nurse. Hind quit her job the following year, around the time they decided to open a Silk Road booth at the Calgary Farmers' Market, while Leach transitioned from full-time to part-time at Critical Mass. He eventually quit, too, when they opened a bricks-and-mortar store in Ramsay.
Since then, Silk Road has moved to a larger location on 9th Avenue in Inglewood, opened on Whyte Avenue in Edmonton and leased two warehouse spaces to serve the thriving online business.
It's an inspirational story for anyone who dreams of ditching their day job to live off their side hustle, but Leach says it certainly wasn't an easy process. "It took a long time for the business to make enough money to support a family, as well as the staff we had," he says. "There were a lot of stressful times. A lot of soul-searching and staring at the bank account thinking about what the future might look like."
His number-one piece of advice to anyone on a similar course is to exercise patience and take things slow. "Really talk every decision through carefully; I'd caution people against being too impulsive," he says, "and be prepared for other people to not love your idea as much as you do."
But even with the weight of responsibility, the appeal of running your own show is hard to deny. "There is the flexibility to work when I want to," Leach says. "And I get to feel really good about it and be proud of what we've built."