The doors of Small Space Gallery in Hillhurst officially swung open in March 2018. Sisters Sarah and Katrina Ali want it to be a space where community engagement and local creativity could mingle and meaningful connections are established.
The sisters are both supporters of the arts and development of urban spaces. Sarah studied drawing at ACAD and takes a minimalist, organic approach to curation and design. Katrina has a Spanish degree from the University of British Columbia and is passionate about the arts and the urban development.
When the space at 424 10 Street N.W. became available for lease, Katrina and Sarah started to brainstorm ways how they could redefine it. "It wasn't long before we married the idea of the space to its potential for artist opportunity and collaboration. Our space may be small, but it is mighty in potential," explains Katrina.
"Rather than explore ways in which we could get our own message out into the community, we aspired to create an opportunity for others to do so as well," she says. "We wanted to start a conversation. We want projects in our space to be intentional and inspiring, with a focus on community engagement. Small Space offers a blank canvas from which innovation comes to life. We believe art is a proponent of the collective existence and creates a culture where possibilities are constant. The intimacy and exposure of the space restores connection that can only be made possible through physical interaction."
The sisters took inspiration from the pop-up movements in Portland, Oregon and New York City. "These cities all take an alternative approach on art showcasing; one that is open, accessible and bursting with creative variety," says Sarah. "Locally, we were inspired by Market Collective and the various pop up markets that were starting to appear throughout the city. Having said that, our space is not entirely comparable to a market experience, as it is an enclosed gallery space, which creates additional opportunities in and of itself. Small Space is a cooperative art/project space which caters to the emerging and professional artist."
Small Space offers its space at cost-effective Hire Rates and they hand over the key for all pop-ups. ACAD and University of Calgary Fine Arts students and alumni receive 10 per cent off of their Hire Rates and profits are injected back into the community.
Some of the recent exhibitions and collaborations that have been presented in the space include a one-month pop-up shop by the curated consignment vendors, Kindred Thrift; a two-week art exhibition by emerging mixed media artist and ACAD student Jane Finley; and a weekend art exhibition with a focus on minimalist architecture by professional photographer Nancy MacEachern.
"The beauty of developing a concept that is so fresh is the endless opportunity it presents," says Sarah. "Every day, we are connecting with more and more local creatives who introduce new potential for the space."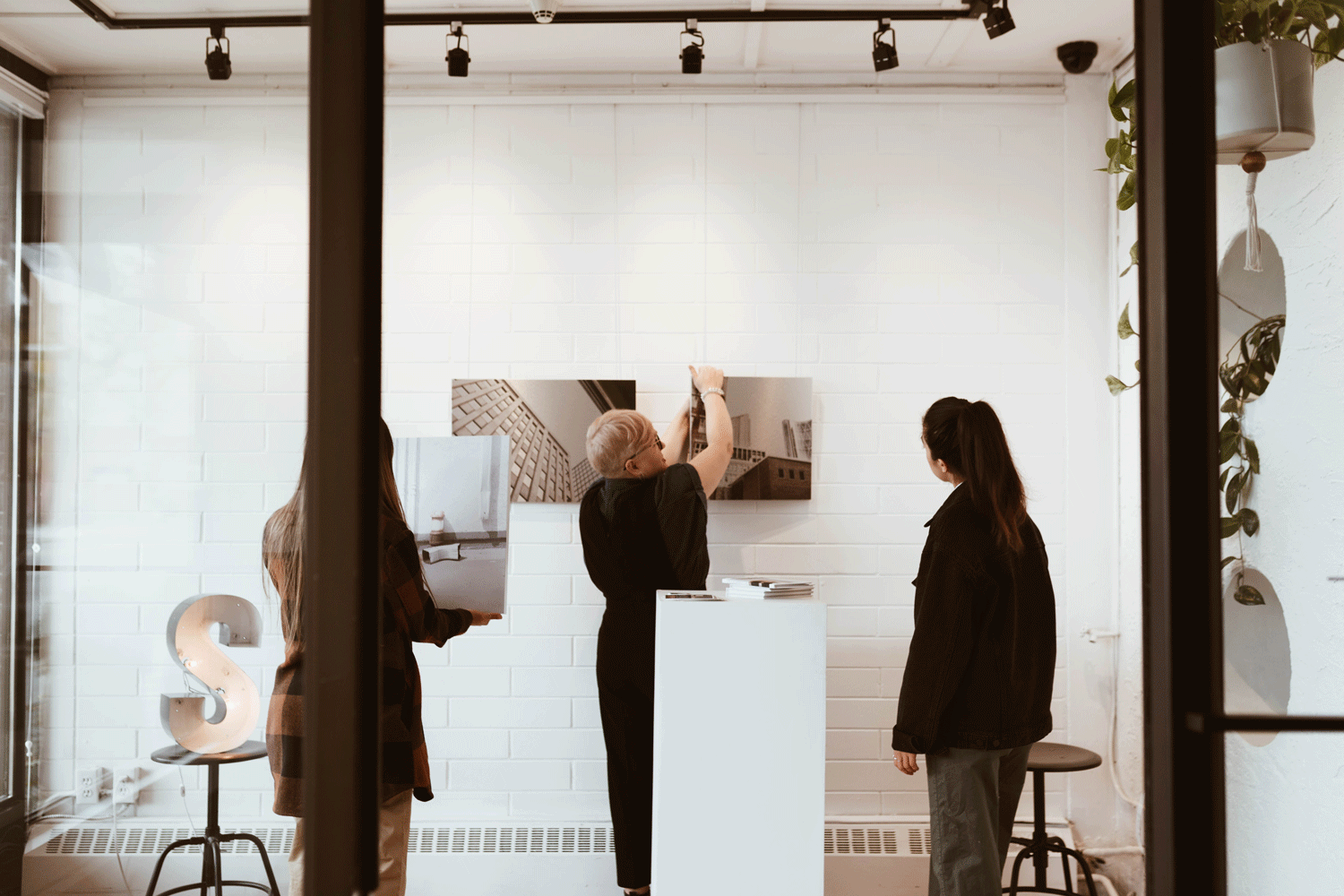 Coming up at Small Space Gallery
Christmas Market Pop Up Shop hosted by Rachel Lyon Design Co. will be at Small Space from November 16 to 30. Rachel Lyon, originally from Toronto, grew her business online via Etsy. Rachel has collaborated with various shops around the city to offer a variety of goodies from local artists and trendy gift ideas. In addition, she will be hosting a few workshops in the space, such as a Gold Leaf Ornament Workshop, a Brush Lettering Workshop and a Water Colour Workshop. For more information or to sign up for a workshop, visit @theshopsmallpopup.
For the entire of month of December 2018, Small Space hosts its first sponsored art installation. Jacqueline Huskisson is an interdisciplinary artist from Calgary with a BFA from ACAD. She is a screenprinter and illustrator and does public art installations and artist exhibitions. She will be displaying an installation piece made of wheat paste and silkscreen.
Small Space Gallery, 424 10 Street N.W., 403-801-7927, @smallspacegallery