From dinner table debates to the odd errant pie landing in a politician's face, food and politics often cross paths. That was the case at this weekend's ward 8 debate when candidates briefly ceased trading barbs over bike lanes and property taxes to share their homemade soups with the audience.
Melisa Centofanti came up with the idea and has been organizing the combined culinary and political showdowns at the Killarney-Glengarry Community Association since 2011.
"I think it's really important to be engaged, but it can be boring when you're talking about bylaws," says Centofanti. "It's a way to make it a little more interesting."
Incumbent Evan Woolley won the blind taste test with a cream of potato and bacon soup. He says the soup was homemade, though Woolley admits he had some help with the dish.
"During the election campaign I haven't gotten to spend all that much time with my family," says Woolley. "The soup debate is a nice opportunity to make soup with my mom."
Woolley believes food is a clever way to help engage voters and build community. Whether the 37-year-old councillor can follow-up his soup triumph with another electoral success will become clear when Calgarians vote on October 16.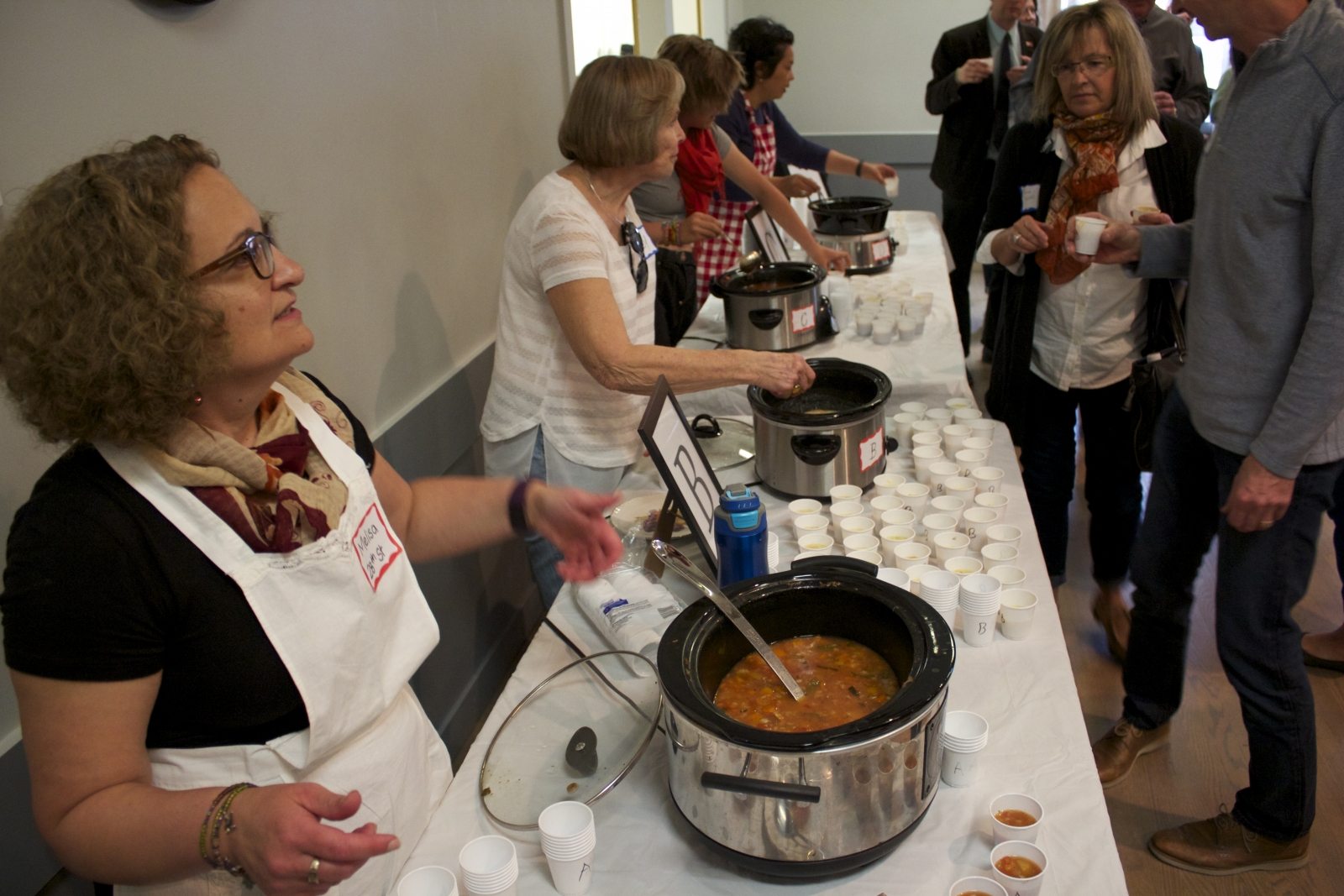 Self-described political and soup junkie Russell Scantlebury was eager to hear the candidates' thoughts on where the city is headed, and to try some soup.
Scantlebury says he learned a long time ago that food makes politics easier, recalling time spent studying abroad in Moscow.
"Experiencing the food and culture made it easier to understand the politics," says Scantlebury. "Especially when you get out some vodka and smoked herring."
Soup was chosen due to the vote's timing, but past municipal, provincial and federal election candidates have been tasked with bringing meat pies, pizza and curry to share with community members.
Centofanti believes food has the power to help bridge political divides. Something she experienced personally when a candidate with whom she strongly disagreed shared her curry recipe and the touching personal story behind it.
"I could no longer have a sense of hate for those ideologies because people are people in the heart of things," says Centofanti. "We all need to meet at the table and that's kind of what food represents for me."
The curry debate also stands out for debate moderator Robert Smith, albeit for different reasons.
"The curry was strong and powerful, like politics in Calgary."