Spend Springtime in the Columbia Valley
It's open season in the Invermere area for the sports enthusiast who likes to ski in the morning, golf in the afternoon and soak in a hot spring under the stars at night.
By Joanne Elves
Greywolf Golf Course
Photograph courtesy of Panorama Mountain Village
Ah, the Columbia Valley – the home away from home for so many Calgarians. And why not? It's an all-season getaway with much to recommend it for anyone who loves the outdoors. The mild weather in the Rocky Mountain Trench brings spring early, so, by late March, the mitts are off, the clubs are polished and the bikes are oiled. It's time to start shifting into summer mode.
But is it really here yet? Maybe it's the best of both worlds. Considering the population of Invermere swells from 4,000 in the winter to more than 40,000 in the summer, spring might be the best time to actually stroll through town at a leisurely pace, walk – not run – the fairways and set your own pace on a mountain trail or catch the tail end of some ever-so-sweet spring skiing.
Here are a few reasons to beat the summer crowds this spring.
Put the clubs in the trunk
Yes, many of the golf courses are open. The clubs start swinging mid-March at many of the resorts on the flats in the river valley, while mountain courses like Greywolf at Panorama open in early May. There are eight courses between Radium and Fairmont, with a fistful around Cranbrook and Kimberley. That means there are more than 250 holes calling your name. Or laughing at you, which is the case with the 6th hole at Greywolf. The Cliffhanger, Greywolf's signature hole, is a scenic, yet nasty par-3 that has you slugging the ball across a canyon (175 yards from the blacks). Maybe start your season at the Resort Course at Radium. It's been a favourite in the valley since 1957.
Pano is where to party
From humble beginnings more than 50 years ago, Panorama Resort has swelled into one of Canada's premier resort locales. Hotels, condos and private chalets offering beds for more than 2,000 guests cluster at the bottom of 4,000 vertical feet of skiable terrain. By now, the hard-core snow fanatics are relaxed and ready to roll out the spring skis, the crazy outfits and party on the deck, and "Pano" is up for the challenge.
The annual Easy Rider Snowboard Cup is held April 3 to 5 and is a great opportunity for any level of snowboarder to challenge the courses, including banked slalom, slope style and rail jam. If you don't know what any of that means, check it out as a spectator – a goggle tan is a goggle tan, no matter how you get it.
Birdwatching
The Columbia Valley is one of the longest continuous wetlands in North America. It hosts more than 260 species of birds, and now is when many are migrating. Drag the kayak out of storage or rent one from one of the many outfitters and slip into the current. Watch for trumpeter and tundra swans, eagles and gosh-darn-cute ducklings as they rest in the reeds. If you've never dipped a paddle, the outfitters are more than happy to guide you on an adventure.
Glide, soar or hover
Have you ever wondered what's behind those peaks? Helicopter, glider and plane charters will give you a glimpse. Babin Air offers airplane tours to glaciers and snow-clad peaks to the west of Invermere on charters of up to one hour. For the golfers, check out the 25-minute special that flies over many of the local golf courses.
Hot Springs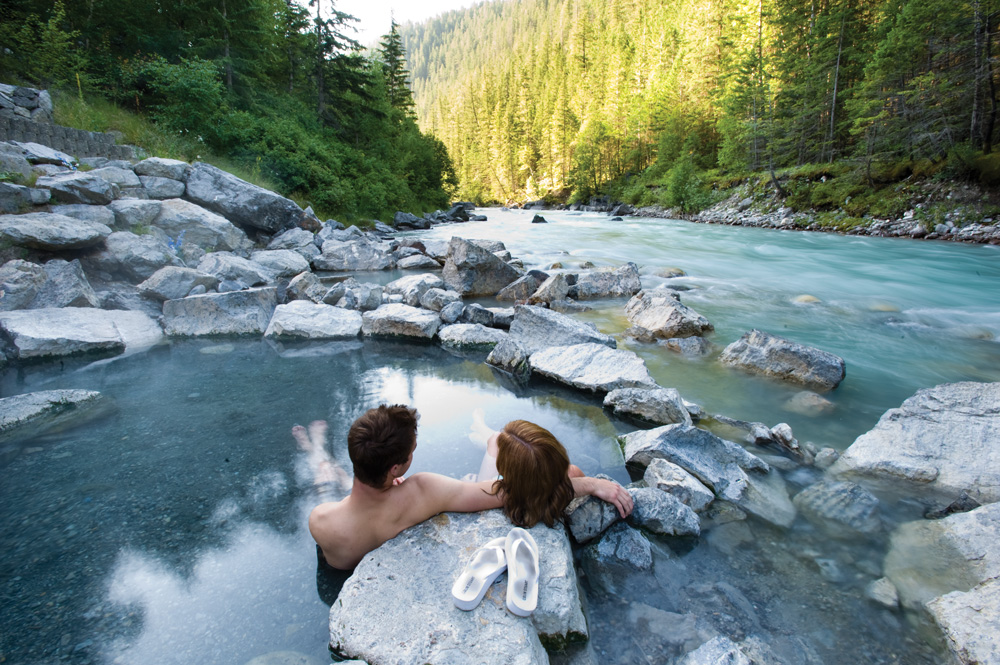 photograph by David Heath; courtesy Destination B.C.
Lussier Hot Springs.
The Columbia Valley is known for its hot springs, including Radium and Fairmont, but there are a couple a short drive away in Whiteswan Lake Provincial Park that take a bit of hiking to get to – but are well worth the adventure. Locals and old hippies know of Lussier Hot Springs and Ram Creek Hot Springs, but seeing as they aren't commercially managed sites, they float under the radar of most new visitors. The access is just south of Canal Flats. The active logging road winds up to Whiteswan Lake Provincial Park, and, after about 25 slow kilometres on gravel, you will see the sign for Lussier Hot Springs.
Ram Creek Hot Springs are not as hot and are another 45 minutes beyond Lussier. At Lussier Hot Springs, the steep path from the parking areas leads you to three stone-lined pools made by travellers many years ago and slightly modified by the provincial park since. The closest to the source is the hottest. The other two pools have a chance to mingle with the frigid waters of Lussier River, making the trio too hot, too cold and just right. Soaking in the natural setting alongside the rushing river is very liberating. But don't even think of liberating your swimsuit, as this is a family-friendly zone.
If you want the therapeutic soak without the gravel road drive, both Fairmont and Radium offer easy access into their pools and proper changing areas. Other modern conveniences include the health spas and concessions.
Slow down and stroll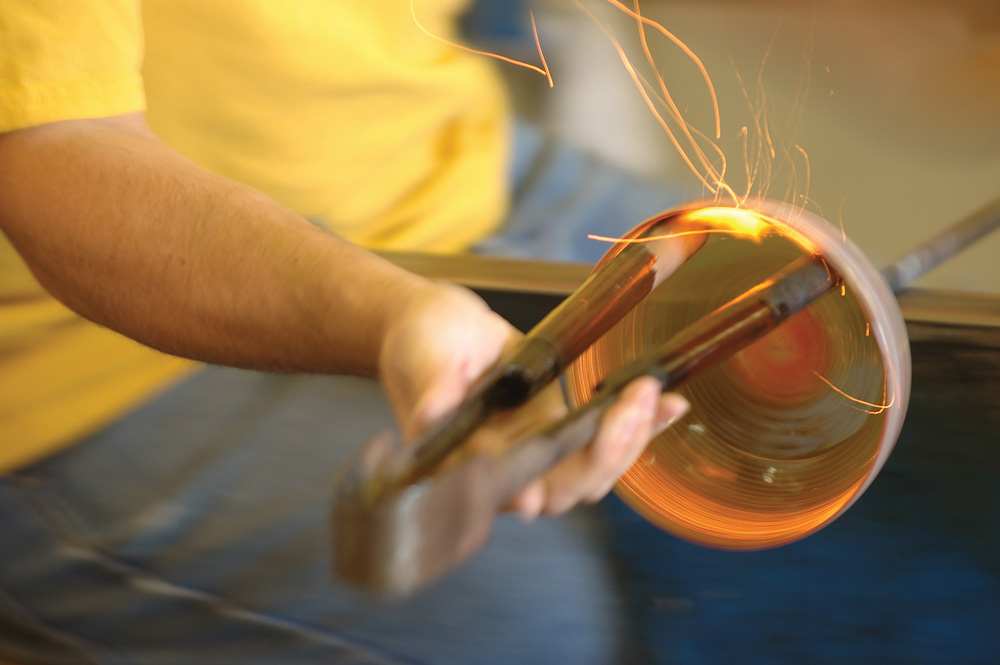 Bavin Glassworks demo.
Shopping in Invermere is easy. Books, candy, bikes, fashion, ski and sport stores are all within blocks. In particular, fashion shops Her Public Boutique and Details By JoAnne, and Bicycle Works are all on the same block and worth perusing. Or plan a day to browse almost a dozen art galleries. Watch glassblowers at Bavin Glassworks create amazing art. Count the Canadian artists featured at Artym Gallery (hint: more than 65 are presented), or pick up some funky jewellery or artisan handbags at Black Star. The Village Arts Artisan Co-op displays an impressive list of Western artists from wall art to woodwork, while the century-old Pynelogs Cultural Centre & Art Gallery hosts art shows, concerts, workshops and films.
Coffee and beer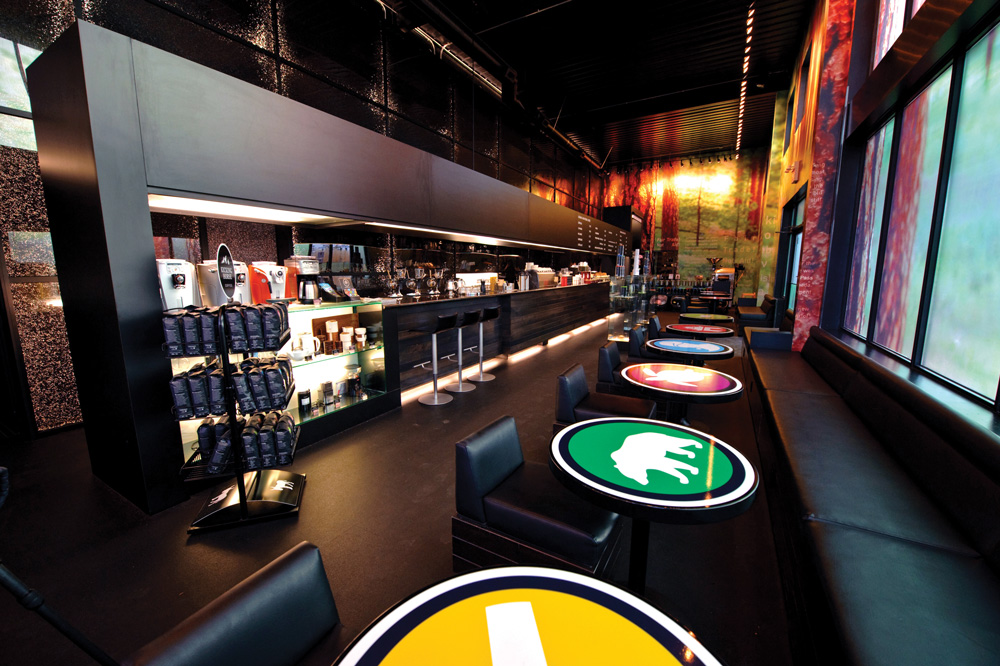 Photograph courtesy of kickinghorsecoffee.com
Kicking Horse Cafe.
Need to start the day with a kick-ass cup of coffee? Look no further than your favourite java beans from Kicking Horse Coffee, roasted right in Invermere. Stop at the Kicking Horse Caf, adjacent to the roastery, for breakfast and to get your caffeine fix.
To get that craft beer fix, walk across the street to the bright-blue Arrowhead Brewing Company. Along with a few selections of ale, there are plenty of beer-related T-shirts to take home, too.
---
3 tips from locals
Where to get the wine
Every Thursday from 5 to 9 p.m. in the lobby of the Fairmont Hotel, the in-house sommelier brings along four of B.C.'s best wines for sampling. ($10).
A must-visit venue
Check out "Open Mic at Pynelogs" on the first Friday of every month. It's an all-ages, licensed event, if you need a little liquid courage.
For the kids
Easter weekend at Pano is all about family fun. The Easter Carnival features egg decorating and puppet making. And what would Easter be without an Easter egg hunt? Pano breaks participants into age groups to give everyone a chance to find the hidden treasures.