Sun Peaks: A Mountain Destination For Winter and Summer
Kamloops' Sun Peaks Resort scales new heights with its recent expansion.
By Mike Berard and Jennifer Hamilton
Photograph by Royce Sihlis
Calgarians rarely think outside the alluring box that is the Rockies when it comes to skiing and snowboarding. After all, one of the world's greatest mountain playgrounds lies within sight of the city. But skiing is and always has been about the spirit of travel and adventure, so going a little bit further is never a bad idea, especially when it's as easy as Sun Peaks.
An eight-hour drive away, "easy" might seem like the wrong word to apply to the resort that's near Kamloops, but when you consider the convenience factor of Sun Peaks' village, the ski area takes on a new level of laid-back. Located 60 kilometres from Kamloops, the ski area saw fit to build a village that kept visitors happy without ever leaving the resort. With 20 cafs, pubs and restaurants, seven hotels, multiple spas and a shopping district that features much more than just the requisite ski shops, Sun Peaks has managed to keep skiers and snowboarders entertained without driving back to Kamloops each night. The time you spend getting there is saved by skiing to and from the door of your condo accommodation each day. Park the car. Ski, eat, drink, sleep. It's a pretty simple (and sweet) equation. Even better, fly into Kamloops Airport and take a shuttle in the same time it takes to drive to Lake Louise.
This winter, the resort has stepped up its game with a massive expansion. With the addition of two new pieces of terrain modelled after the popular trend of sanctioned "backcountry" sections, Sun Peaks is calling itself "Canada's second largest ski area" at 4,270 skiable acres. The two new alpine areas feature expert and high intermediate terrain, appeasing the new breed of weekend warrior raised on Travis Rice films and Red Bull. Formerly regarded as a resort with relatively, ahem, relaxed terrain, this could be a huge draw for people who want more from Sun Peaks. It definitely means families with a more diverse span of experiences will be happy.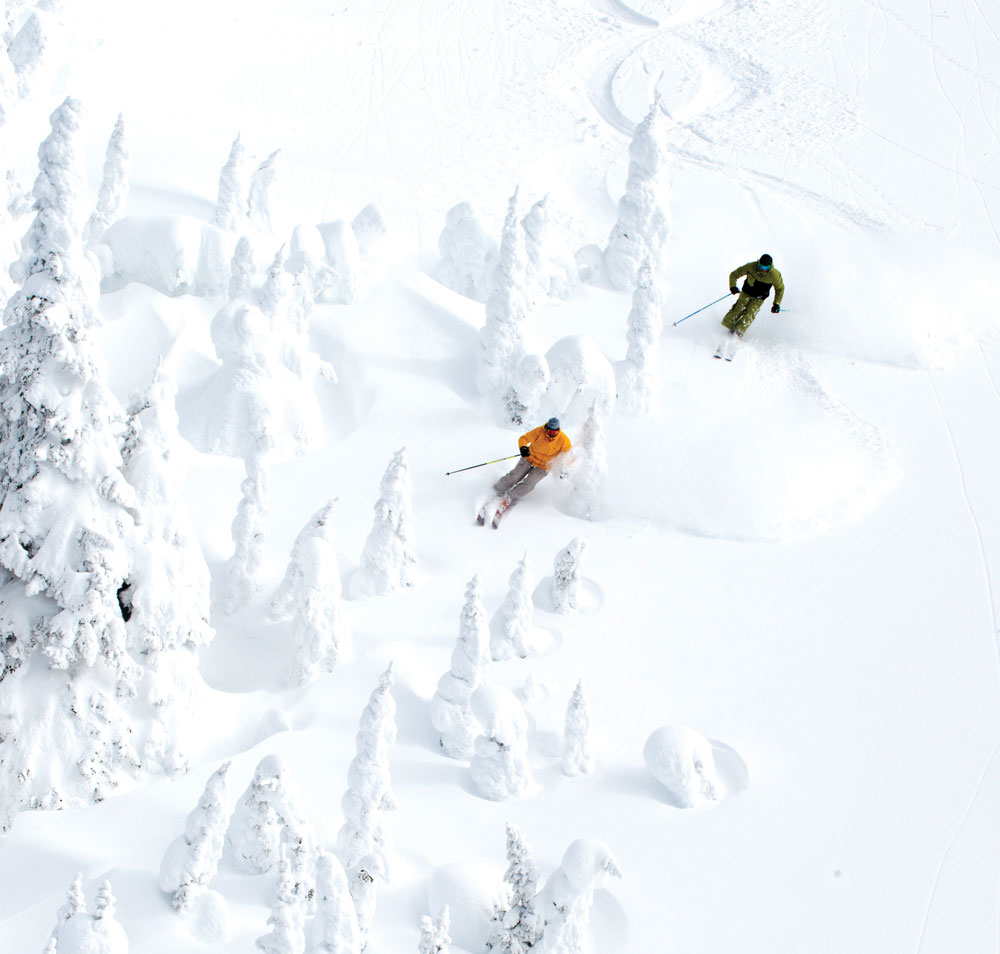 In-bounds "backcountry-style skiing."
Where to ski
Sun Peaks' smart layout and design links 130 runs through 11 lifts. The best part of this is that they encircle the central village and keep the family close to amenities at all time. The terrain is mostly beginner and intermediate, which makes it a great fit for the kids or families who only get out a few times a year.
A potentially exciting highlight for this winter includes the "backcountry-style terrain" aimed at advanced riders and skiers. The area, named Gil's, is located a short traverse from the top of Crystal Chairlift or Top of the World. Sun Peaks says it's a good place for an advanced skier's "first off-piste adventure." Five Mile to The Other Way is one of Sun Peaks' longest top-to-bottom leg-burners full of rollers, side hits and powder stashes. Lonesome Fur Glades is a perfect option for families who love to ski trees together.
Did you know?
Sun Peaks Central Reservations is a great resource for planning all aspects of your vacation. Whether you're a small family needing accommodations or a large group with particular needs, such as arranging a banquet dinner or a ski race, a single agent makes it easy.
Aprs ski
Bottoms Bar & Grill is the place for aprs, hands down. Located at the base of two main ski lifts, Bottoms is an easy meet-up spot, and the atmosphere is charged with fun-loving locals. Kids are welcome until 8 p.m.
An Irish-style watering hole, Morrisey's Public House is located in the Residences at Sun Peaks Grand and will be using a brand-new karaoke machine to kick aprs up a notch this winter.
Where to eat
Offering a unique approach to ski hill food, this restaurant serves French-Canadian-inspired fare, harkening back to the days of Canada's fur trade. Historic artifacts and antique canoes hang from the rafters. Local B.C. wine, bison steaks and tourtire liven up the menu while live music provides an occasional treat for diners. Don't miss the in-house salmon-infused vodka. Yes, you read that right.
A crowd favourite in Sun Peaks Village, Powder Hounds nods to classic German dishes like its famous schnitzel, but it also serves up classic Canadian dishes that will satisfy starving skiers. The pub atmosphere here can be deceiving – this food is as good as any you'd find in a less drinky place.
Albertans will feel at home with house cuts of 100-per cent Canadian beef and a bottle of good, red wine in Steakhouse's laid-back dining room. Seafood, barbecue ribs, house-made pastries and coffee that comes from the right kind of machine are also served, making this a must-visit restaurant.
Where to Stay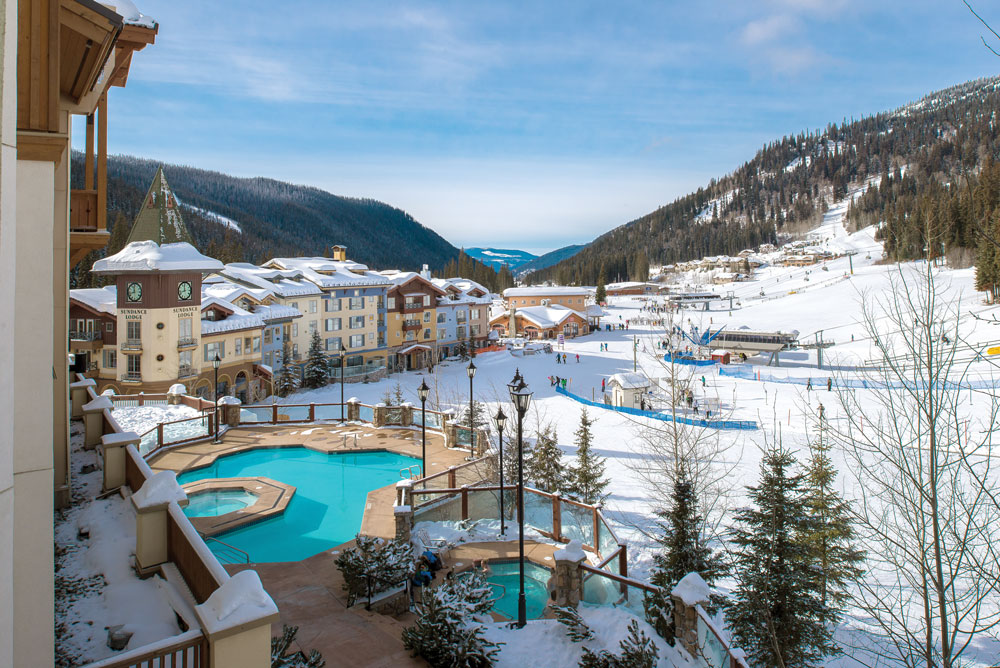 The heated outdoor pool at Sun Peaks Grand.
Here's most of what you need to know – almost all accommodation at Sun Peaks is ski in, ski out. Convenience is king at Sun Peaks and this one detail will make the trip here worth it.
The newly refurbished Sun Peaks Grand Hotel & Conference Centre is located in the heart of the village and features a heated outdoor pool with mountainside views.
Nancy Greene's Cahilty Lodge, named for the local Olympic champion, also boasts slopeside rooms and dining. This property is popular with families and groups for its kitchenette and suite-style rooms – perfect for those who prefer to self-cater a few meals.
The Fireside Lodge in the heart of the village features studio and one- and two-bedroom condos with access to a common outdoor hot tub, all while still looking down on the pedestrian village ski-through.
Insider tip:
Sundance Fine Wine, Beer & Liquor has a stellar selection of hard-to-find B.C. wines and single malt Scotches. It's located in the Residences at the Sun Peaks Grand, which also houses the Bluebird Market, where you can pick up specialty cheeses and deli.
Wining about winter
The 17th annual Sun Peaks Winter Okanagan Wine Festival, which runs from Jan. 16 to 25, features 10 days of unique events combining skiing with B.C.'s best wines. The Sun Peaks' Progressive Tasting is one of the biggest aprs at any ski resort, and it's a blast. There are 30 winery stations set up throughout the village, and the 650-plus attendees meander around the village, glass in hand, tasting wine in what's essentially a mildly rowdy and elegant village crawl. Besides the Progressive Tasting, there are also casual and formal wine and food events, wine education seminars and special treats like Moonlight Snowshoe & Mulled Wine and Mixology to Music. Overall, the event is great for grown-ups who appreciate fine food and wine with their skiing. -M.B.
Summer at Sun Peaks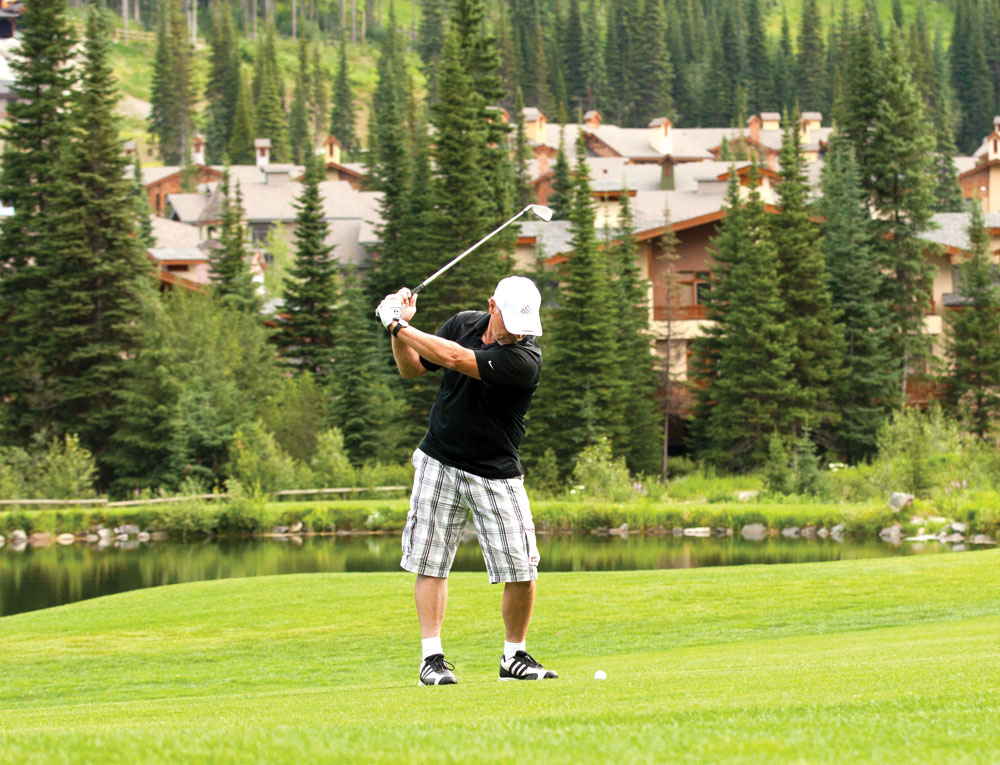 So now you know that Sun Peaks is a great winter destination, with its mild weather, excellent amenities in the village and something-for-everyone skiing. What you may not know is that summer at Sun Peaks is equally appealing. With its hot, sunny weather, great golfing, lots of activities and events, and relatively sparse crowds, it's a kinder, gentler alternative to the hustle and bustle of the Okanagan and a much better value.
The Sun Peaks golf course is a true mountain course – the highest in B.C. – with narrow fairways, plenty of elevation changes and spectacular scenery. The par-72 course is challenging, making it attractive to skilled golfers, but it's not so hard that novices can't enjoy it (especially the back nine holes, which are more open and forgiving).
If you're one of those who believes that golf ruins a good walk, fear not – there are 16 excellent marked hiking trails at Sun Peaks that start right from the village or from the top of the Sunburst Express chairlift that range from easy strolls to challenging, full-day adventures. Wildflowers are abundant around the resort and in the high alpine, so expect to see glorious expanses of colour and consider going on a guided hike so you can learn all about the flowers, wildlife and history of the area. You may even get lucky and have esteemed locals Nancy Greene Raine (senator and Olympic champion) or mayor Al Raine as your guide.
The chairlift shuttles not only hikers but also downhill mountain bikers to the top of the bike park, which features 2,000-plus feet of vertical on 38 different trails, and includes a dirt jump park. In keeping with the family-friendly appeal of the resort, there are easy, flowy downhill trails for the total beginner right up to some super gnarly, steep and fast tracks for experts, and rentals of all gear are available. Sun Peaks runs multi-day camps, clinics and private lessons all summer long that are well worth doing to get the most out of this sport. For the cross-country biking set, there are numerous lift-accessed trails as well as a network of single-track trails that surround the village. Check sunpeaksresort.com/summer/bike-park/ for a downloadable trail map of all bike trails. -J.H.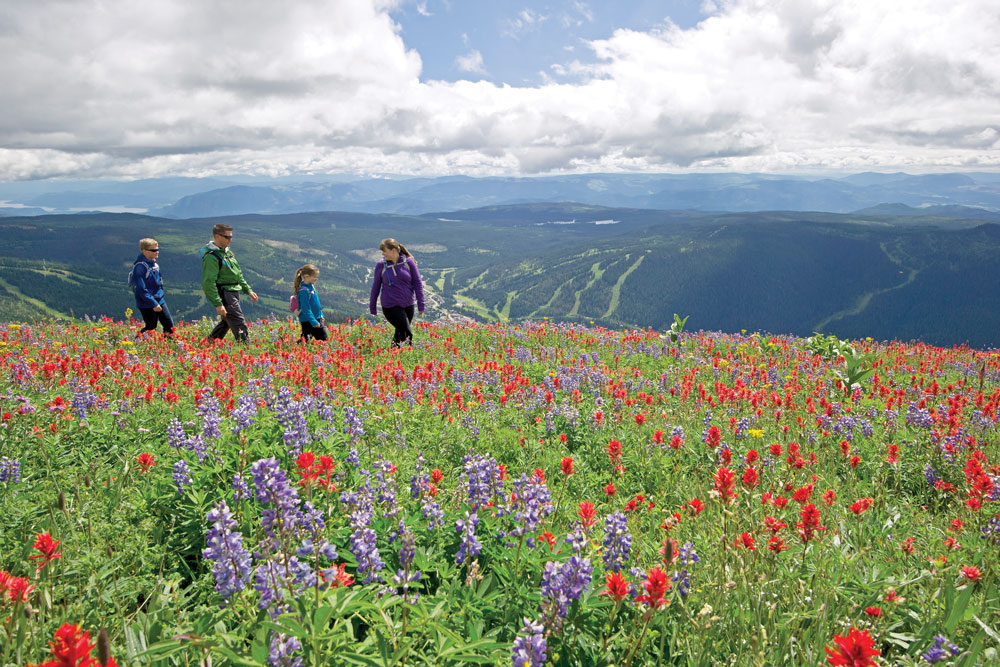 Sun Peaks' alpine flowers are in full bloom in early August and the annual Blossom Festival (Aug. 1 to 3) celebrates this with kids' entertainment, live music in the village and a guided hike with Nancy Greene Raine.
Tip:
Pick up a picnic lunch from Caf Soleil to take up with you on your hike and enjoy a little feast among the wildflowers. It's about $28 per person and includes your lift ticket.