Take a Quick Trip to Austin For the Austin City Limits Music Festival
The annual October music festival is a must-do for music lovers
By Lisa Wilton
Photograph by Jack Edinger
Reuben Bullock always knows exactly where he's headed the moment he touches down in Austin, Texas.
"Jo's Coffee, for sure," says the frontman for burgeoning Calgary folk-rock band Reuben and the Dark. "They make the best iced coffee I've ever had, and it's in a great part of town."
Ask anyone who's been to Austin about his or her experiences and you are sure to get an earful. It's one of the most progressive and artistically inclined cities in the United States and has been dubbed the Live Music Capital of the World thanks to its abundance of singers, songwriters, musicians and venues.
Austin is Shangri-La for music fans, hosting dozens of festivals each year with the largest and best-known being South by Southwest (SXSW). But hot on its heels is the Austin City Limits Music Festival, which takes place over two weekends every October at picturesque Zilker Park on the shores of Lady Bird Lake. This year's festival runs Oct. 3 to 5 and Oct. 10 to 12 and features more than 130 acts, including Reuben and the Dark.
"I'm really excited about playing Austin City Limits," Bullock says. "It's a big deal for us. Austin is amazing and ACL has such a strong lineup. It was an honour to be asked to play it."
Named after the popular, long-running PBS series, Austin City Limits held its first event in 2002 and has since grown into one of North America's premier music festival destinations. Although the original version of the TV show, which began airing in 1975, focused largely on Americana country, rootsy rock 'n' roll and Texas blues, the festival features artists from all over the musical map. Hip-hop comeback kids OutKast, superstar rapper Eminem and electronic dance titan Skrillex share headlining duties with Pearl Jam, Beck and Calvin Harris over the two weekends.
Other notable names appearing on the site's eight stages include teenage Grammy winner Lorde, legendary post-punk rockers The Replacements, alternative country heroes The Avett Brothers, Scottish indie band Chvrches and Belle & Sebastian, smouldering songstress Lana Del Rey and acclaimed Australian hip-hop newcomer Iggy Azalea.
"ACL Fest feels like a backyard concert with 75,000 of your closest friends," explains ACL's marketing manager, Lindsay Hoffman."It's a must-have experience for any music lover."
In addition to getting to hear some of the coolest names in contemporary music, ACL Fest also offers fans a wide selection of mouth-watering local food, an eco-friendly artisan market and the cleverly named Austin Kiddie Limits activity area for children.
Where to Stay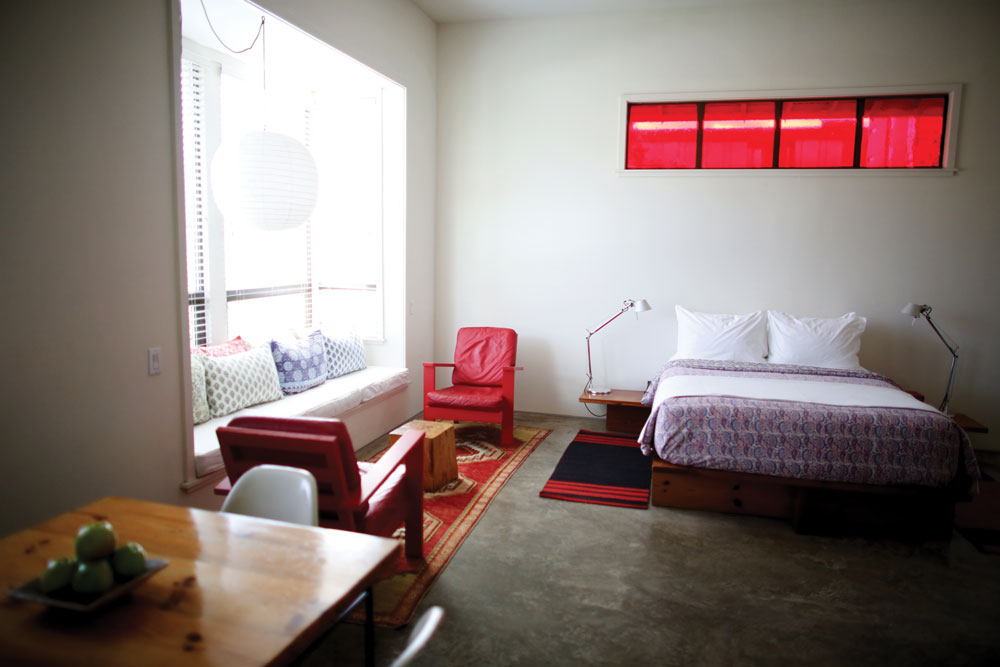 ACL isn't a camping festival, so you're going to have to find your own accommodation. The festival's website lists a number of partner hotels and preferred accommodations, including the reasonably priced Austin Marriott South and Holiday Inn Austin-Town Lake.
If you're looking for something a little more original than a chain hotel, the Austin Motel has a charming retro vibe with brightly coloured rooms and a 1950s-style outdoor pool. It recently celebrated 75 years in business and is popular with visitors on a budget.
Another quirky choice is the Hotel San Jos. It's a pet-friendly, bungalow-style lodging that features small but impeccably appointed rooms, as well as a courtyard surrounded by lush greenery. It also houses Bullock's fave, Jo's Coffee.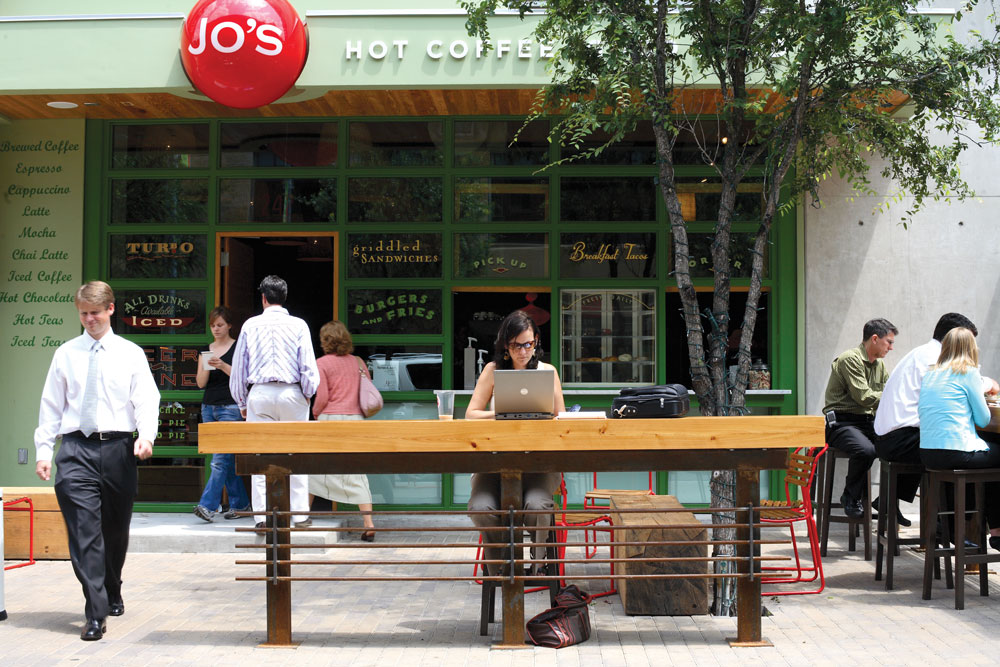 photograph by vanessa escobedo barba
Jo's Coffee.
What to Pack
A backpack is a necessity when attending Austin City Limits.

Two unopened bottles of water or recyclable water container. You'll need them if it's hot and there are water stations for refilling.

Hand sanitizer. One (hyphenated) word: Porta-potties.

Phone charger. Between taking photos and video, texting, jotting down notes and checking the schedule on the ACL Music Festival app, it won't be long before your phone's battery wears down.

Earplugs. Get close to the stage without going deaf.

Sunscreen and bug spray. Because

the sunburn/bug-bite combo is not

a good look.

It's also a good idea to bring along extra cash since lineups for ATM machines are often long and the

fees ridiculous.
Good Eats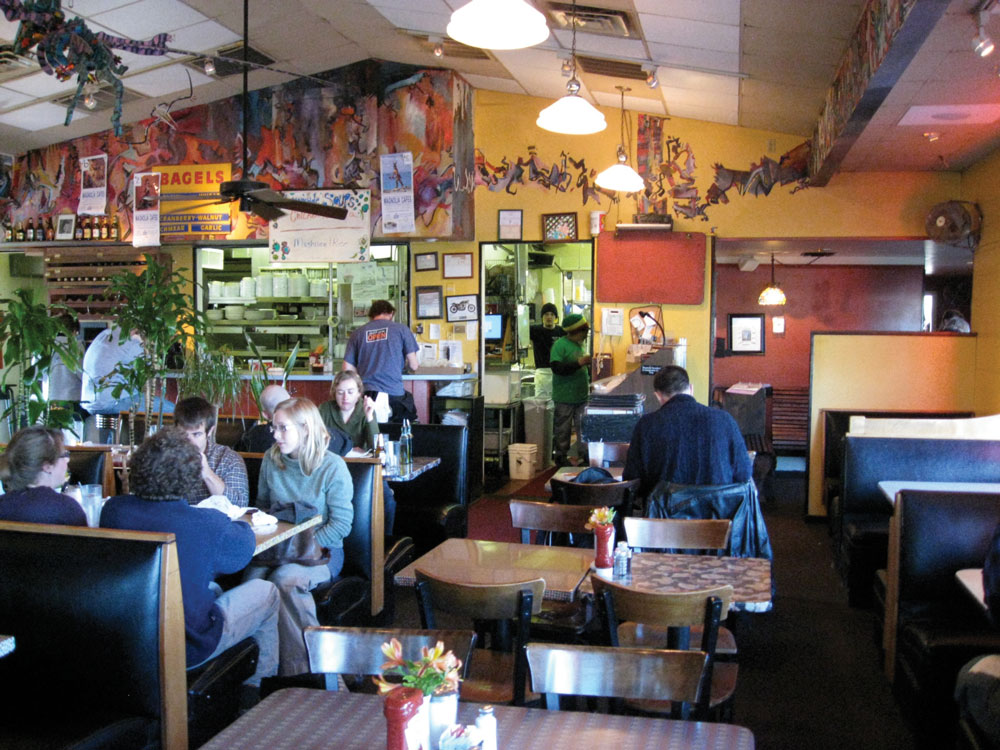 While there are plenty of great food vendors on the ACL Fest site, you don't want to ignore the amazing eateries that can be found on almost every street in central Austin.
Franklin Barbecue is popular with the locals, but you'll have to get in line early since it sells out of food each day by about 1 p.m. The upside is you'll probably make some cool new friends while waiting.
Sweet-toothed visitors must check out Gourdough's, which boasts more than 20 varieties of delicious doughnuts, including a bacon-topped creation called the Flying Pig.
If you're in desperate need of post-fest eats, the Magnolia Caf on South Congress is open 24 hours. Midnight tacos from Magnolia are the best.
What to Wear
Unless you're sipping Beergaritas with young Hollywood actresses in the backstage VIP area, don't worry about looking ber-fashionable at ACL.
You're going to be doing a lot of walking and dancing over the weekend and you'll thank yourself for choosing a pair of comfortable shoes or sandals as your 10th hour on site rolls around.
The average high temperature in Austin in October is a sticky 28C, so shorts and a tank top or loose-fitting shirt are your best bets. But be sure to bring a foldable poncho or hoodie, as sunny skies can quickly turn into rain showers this time of year.
Carry a bandana to keep your head cool and the dust out of your eyes and mouth, and pack a bathing suit to take a dip in Barton Springs, which runs through Zilker Park.