The 2014 Top 40 Under 40 Gala
On November 4th Avenue celebrated this year's list of the city's young high achievers
By Andrew Guilbert
CTV's Kathy Le and Virgin Radio's Marc Michaels emceed Avenue's Top 40 Under 40 Class of 2014 gala.
Photography by Mike Bailey
Avenue's Top 40 Under 40 gala wrapped up late Tuesday night after an entertaining evening celebrating the new honourees who have joined the ranks of Calgary's Top 40 Under 40.
The Jack Singer Concert Hall Lobby was buzzing with more than 550 guests, a new attendance record for the annual event, and with wine tasting and food trays freely circulating, it's no wonder the party-goers were in good spirits.
Surprise performer (and Top 40 alumnus, class of 2013) Michael Bernard Fitzgerald treated guests to a three-song solo acoustic set to kick off the evening's festivities, interrupted only by a very busy Mayor Naheed Nenshi – himself a Top 40 alumnus, class of 2005 – who congratulated the Class of 2014 before rushing back to a city council meeting that was already in progress.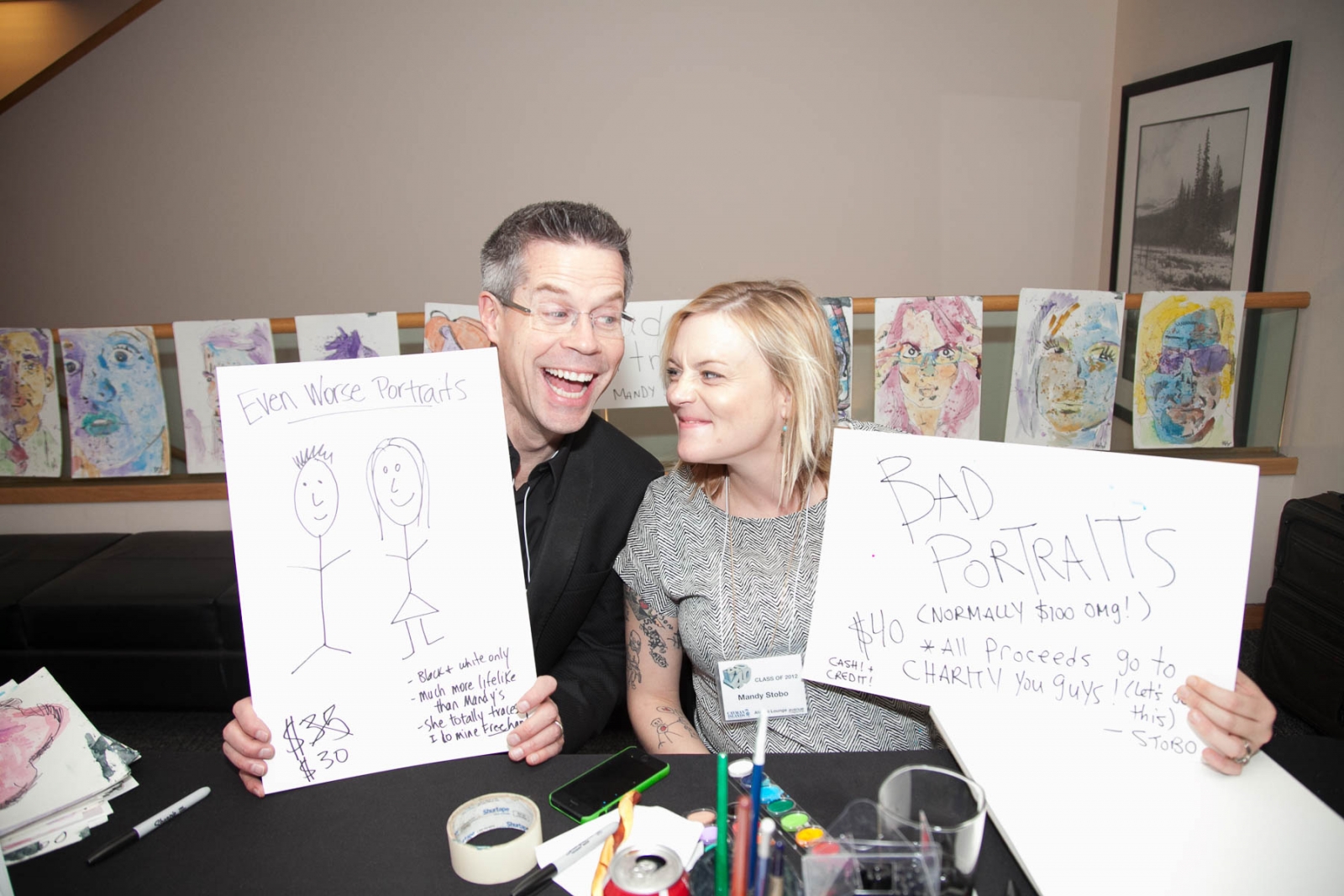 Dave Kelly and Mandy Stobo, both Top 40 alumni, in a bit of healthy competition at the Top 40 celebration.
Kathy Le of CTV Morning Live and Marc Michaels of the Virgin Morning Show on 98.5 took to the stage to emcee the event, including reading a message from the premier as well as introducing the Top 40 Under 40 Class of 2014 honourees and snapping a crowd photo to rival Ellen's Oscar selfie. This year's class met and mingled with their fellow honourees in the Jack Singer Founder's Lounge prior to the formal presentation, and previous Top 40s were able to enjoy an exclusive Alumni Lounge on the second floor sponsored by the Cayman Island Department of Tourism.
During the night, guests were invited to have their photo taken and printed to look like Avenue's cover thanks to a dedicated photo shoot area, courtesy of SoPhoto. They were also able to get a Bad Portrait done by local artist Mandy Stobo (Top 40 alumnus class of 2012). Donations from both went to support the Avenue Fund at the Calgary Foundation.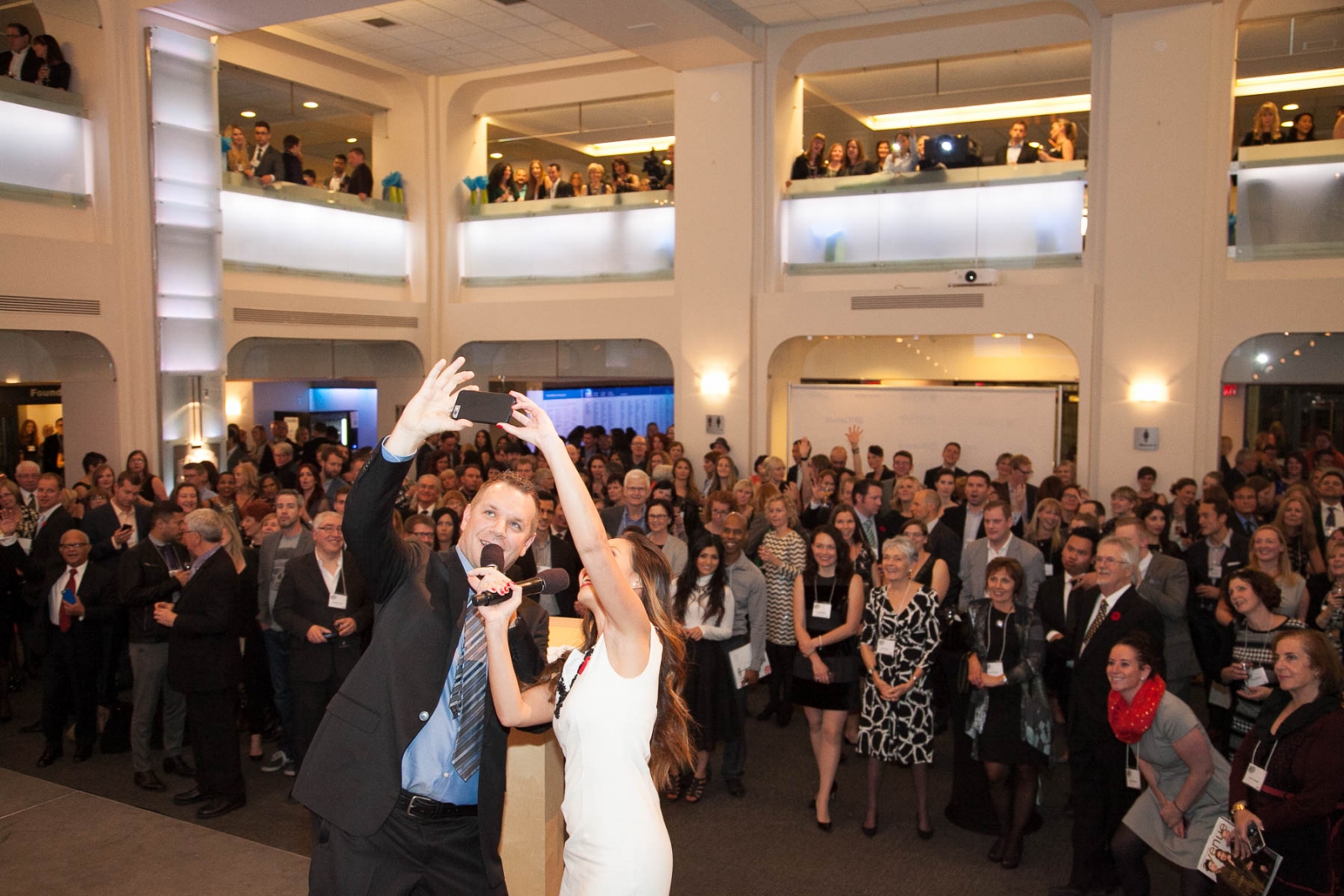 Emcees Marc Michaels and Kathy Le snap a selfie with the crowd.
The night was a resounding success, in no small part thanks to Supporting Sponsors the University of Calgary and Kiewit, as well as Contributing Sponsor Diva Salon & Spa and Media Partner CTV.
A big thank you to everyone who came out to celebrate this year's Top 40!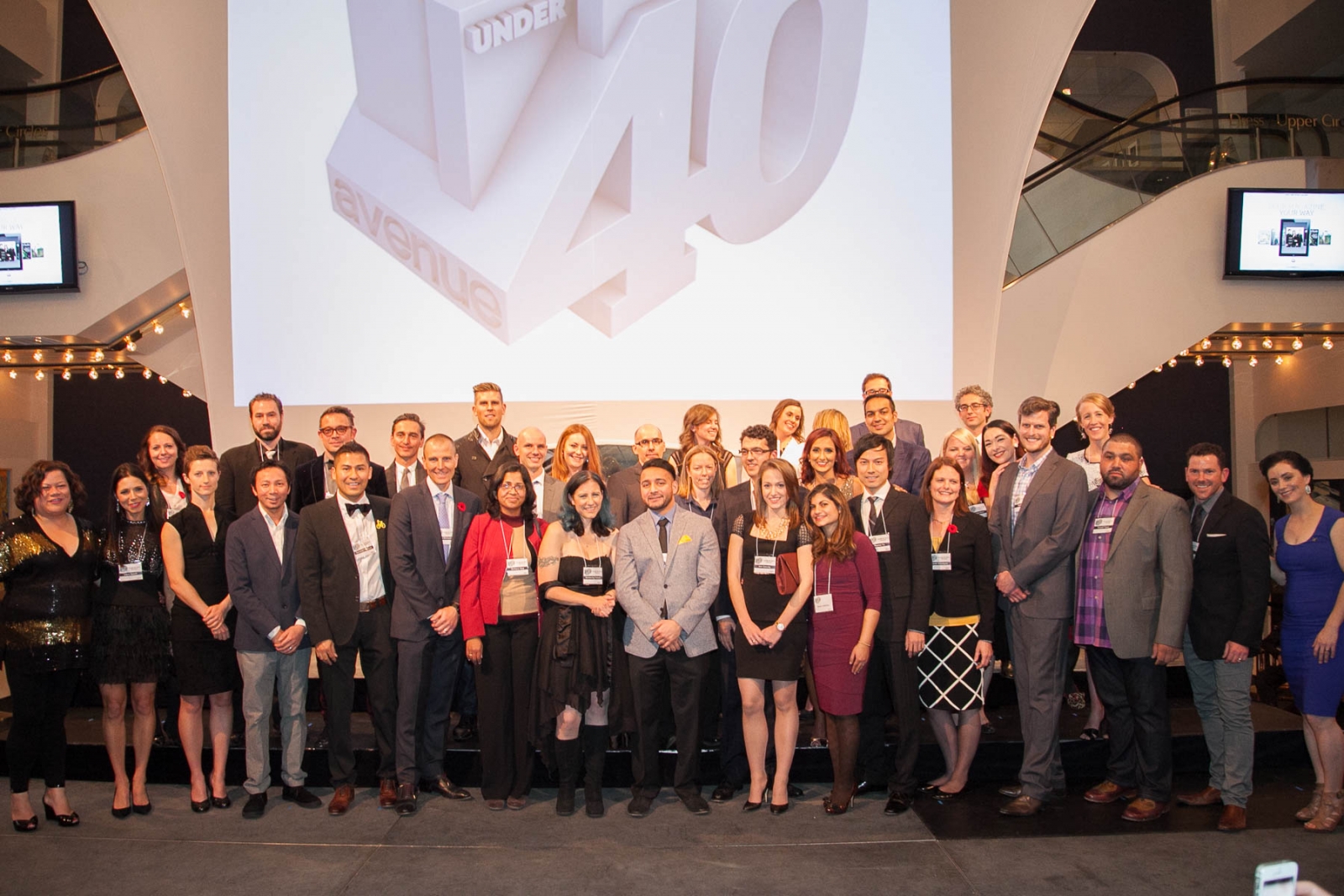 The Top 40 Under 40 Class of 2014 on stage at the Jack Singer Concert Hall Lobby.
This year's honourees brings the total number of Top 40s celebrated since the inception of the program to 594.
See the whole 2014 Top 40 under 40 class and check out the list of all Top 40 Under 40 alumni.
Nominations for 2015 are now open – nominate someone today here.