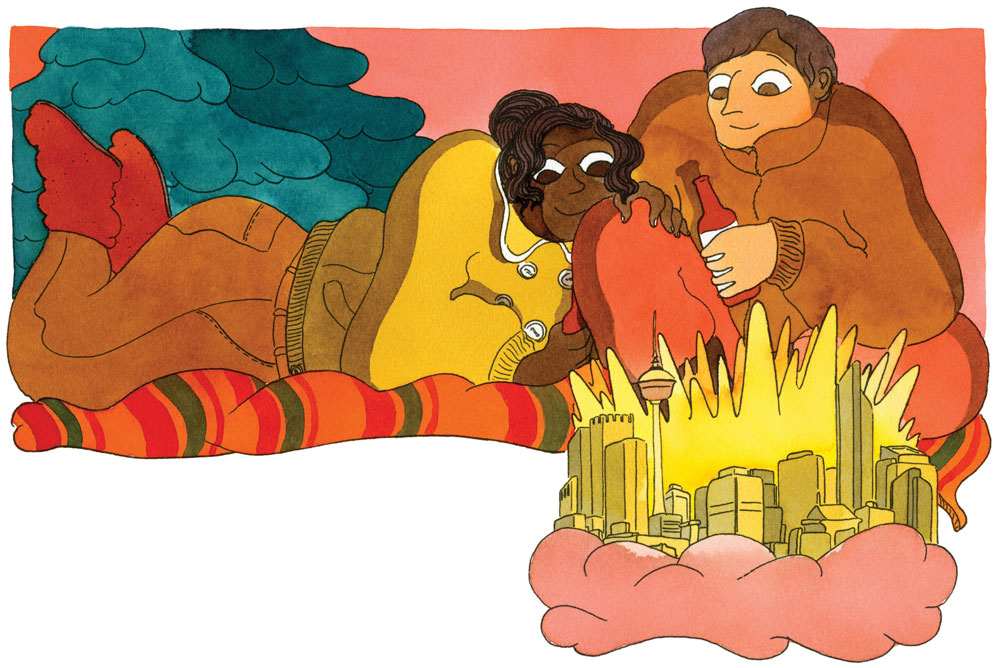 Illustration by ellen van Engelen
Calgary, Cowtown, Stampede City … it doesn't matter what you call this fantastic city, it will steal your heart and soothe your soul. It will win you over and may even wrangle its way to becoming a place you could call home.
My husband, Kenin, and I came to Calgary last December to experience a true Canadian winter. As a full-time travel blogger, I've visited most of the U.S. states and the Caribbean. I've travelled to India, Spain and many other magical places. This year, however, I wanted to be a reverse snowbird.
Kenin and I are originally from Miami, Fla., where the sun is always shining and it never quite gets cold. Canadian snowbirds flock to Florida to escape the frigid winters and soak in our warm ocean waters. I wanted to experience snow, I wanted to have a white Christmas, but, most of all, I wanted to see what horror Canadians were escaping en masse.
In order to get the full winter experience, we arranged to spend four months in Calgary from December 2013 to March 2014. We knew a bit about Banff, Jasper and Edmonton, but Calgary isn't very well known down south. It is spoken of only in terms of the 1988 Winter Olympics and, of course, the Stampede. Because of this, my expectations of Calgary were a bit dim.
I anticipated a quiet city filled with cowboys, buckets of snow and tons of downtime. After all, if all of the Canadians were coming to Florida, then Calgary should be nice, empty and shut down for the winter. We thought we'd use Calgary as a hub to get to the mountains for winter activities and spend very little time in the city itself. Four months seemed like more than enough time to see everything that Calgary might have to share.
Upon our arrival, one of the first places I visited was the Calgary Zoo. The zoo had, of course, suffered major damage in the infamous floods over the summer of 2013. We arrived just a week after its full reopen-ing, and I was completely impressed at the recovery of the grounds and the disposition of the animals.
As I spoke to zoo employees and volunteers, I found their sprit overwhelming and inspirational. And as I heard more about the flood and recovery, I found the attitude of people in the city to be truly unbelievable.
Race, social status, gender, age … none of that mattered when it came to saving the city and restoring it to normal. Calgarians from all walks of life pitched in to help. That's unheard of in a city of this size. That was the beginning of Calgary's hold on my heart.
As it turned out, the year we had picked to visit Calgary would be one of the coldest winters in many people's memory. I had wanted snow and ice, and that's exactly what I received. And it was glorious! I learned to snowboard, snowshoe and went hiking in the snow. I woke up every morning eager to shovel the sidewalk. I frolicked in the powder every chance I had. I back-burnered my writing and took to the great outdoors.
And on those few respites from the cold when the chinooks blew in, Kenin and I spent our evenings drinking on patios and chatting with the locals. Everyone was so friendly and warm.
We even braved waking up at 5 a.m. and joined the locals at The Canadian Brewhouse to watch the men's Olympic hockey game beamed in live from Sochi. We partook in victory vodka shots when Canada won gold. We stood up and sang the national anthem with absolute pride in our neighbours of the North. I felt like an honorary Canadian.
Here we were, two people who had decided we no longer wanted to own a house, and Calgary was beginning to feel like home.
While we were in the city, we took in a fashion show, visited museums, ate at gourmet restaurants, attended the opera and drank our share of tasty craft beer at several local breweries. I was astounded by the depth of culture portrayed by such a relatively young city.
illustration by ellen van engelen
One of the pivotal moments of my visit was taking part in a hump-day social at Village Brewery. People from businesses all over Calgary showed up to talk over a pint. One of the brewery founders told us they hold these socials so the community can get together, make plans and exchange ideas for the greater good of Calgary.
This was how business was done in the good ol' days – people getting together to chat while having a beer in a casual, non-threatening environment. Here were business owners from all walks of life, running a variety of businesses from farms to sports teams to travel blogs, getting together to make real solid business decisions over a beer. And what did they all have in common? The realization struck my heart like a lighting bolt – love for their community.
Calgary was having an unbelievable effect on my soul.
Kenin and I had spent the previous 18 months on the road full-time. We had made a vow to see the world, go the distance, never stop. When we set out to be The Constant Rambler that we had named our blog for, we wanted to travel to every country, every city and not quit until we saw every inch of the globe.
And we'd been all over the world, but it was this city that was casting its magic spell on me. I found myself completely smitten with this unexpected city. I wanted to return – part of me didn't ever want to leave. I wanted to spend more time here, even though the rest of the world was still calling.
Somehow, as the days passed, I found myself pondering a way to return next winter. I started mentioning seeing our new Canadian friends the "next time."
And then I did something truly shocking. I planted roots. I joined the Calgary Northmount Kiwanis Club. Kenin and I started volunteering at shelters and supporting fundraisers.
I was driven to give back to this unique city that embedded itself in my heart. Now all that's left is to visit again and again and see what grows here in this inspiring city.
As Calgary continues to grow, I want to grow with it. I want it to be a part of my rambling plan. Calgary has helped me find a sense of place like nowhere else.
Follow Bassart's travels and return visits to Calgary at theconstantrambler.com.