The History of the McDougall Centre Building
Now home to the province's politics, the McDougall Centre was once responsible for the education of Alberta's teachers and is scheduled for a face lift starting this month.
By Andrew Guilbert
Photos by Andrew Guilbert
One of the more impressive buildings in downtown Calgary, located at 6th Street and 5th Avenue S.W., the McDougall centre is one of less than 200 sandstone buildings left in Calgary. Currently it's the city's hub for provincial politics, but in its 107 year history, it has served a few other purposes.
The McDougall Centre was designed by Allan Merrick Jeffers, the same architect responsible for the Alberta Legislature in Edmonton. It was one of the first major public buildings built in the province and one of the first major sandstone buildings in Calgary.
It was also the largest educational building in Alberta. Premier Alexander Rutherford laid the cornerstone of the building in June of 1907 and by September of 1908 it was welcoming its first students. The school was built in part to make up for the awarding of the provincial university to Strathcona (which amalgamated with Edmonton in 1913).
The building's original purpose was to house Calgary's normal school. At the time, the normal school was one of three in the province training of teacher. That institution moved to the present day SAIT campus in 1922. The building was renamed McDougall Elementary School, in honour of John McDougall, a Methodist missionary and author and used as an elementary school and school board offices.
By 1981, low enrollment meant that the school was forced to close its doors. The provincial government purchased the building and declared it a provincial historic resource in 1982. It was renovated and reopened in 1987 as Government House South. Since then, it has served as both office and meeting space for provincial government officials.
On November 9, the Centre began a three-month, $175,000 renovation process that will see sandstone rehabilitation work at the north-east entrance. Repair, re-pointing and cleaning of exterior sandstone masonry is all happening. A new concrete curb will be added to repair poor waterproofing and correct deficiencies underneath the sandstone and which will either be replaced or re-used based on its condition.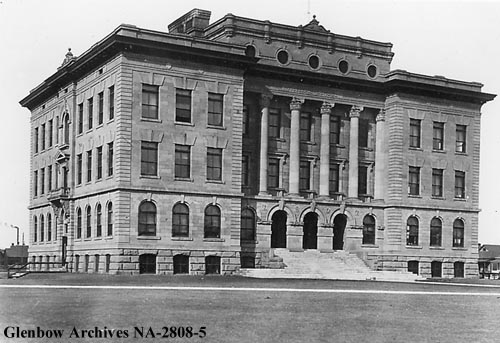 photo courtesy of the glenbow archives
A photo of the normal school circa 1910.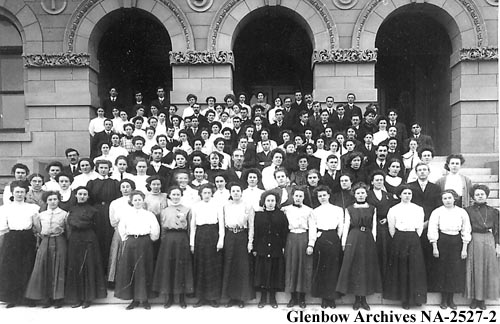 photo courtesy of the glenbow archives
A teachers' training class at he the Normal school circa 1909.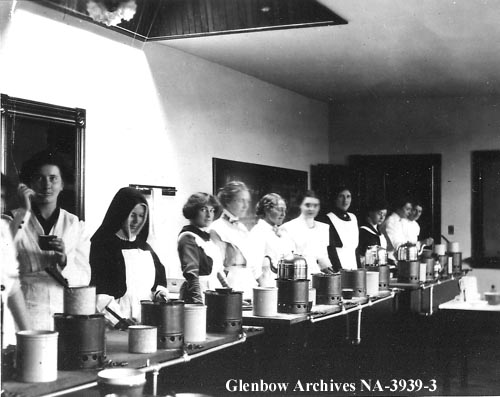 photo courtesy of the glenbow archives
Students in the home economics kitchen at the Normal School sometime between 1913 and 1919. This room, like many in the building, is now primarily used as a meeting space.