Producer and filmmaker Laura O'Grady never visited 9 Ave. S.E.'s King Edward Hotel in its heyday, but like many Calgarians, she knew someone who did. "My husband had very fond memories of going there for Saturday afternoon jam sessions and he's spoken about it for years and years," says O'Grady. "When the National Music Centre started construction and saved as much of the Eddy as they could, I thought it was a great story."
Though the story of a cherished building being reborn certainly does appeal to classic narrative sensibilities, it's one that encompasses hundreds of smaller stories that went into making the King Eddy something special. O'Grady's 17-minute documentary, Secret Calgary: Return of the King Eddy, chronicles the ups and downs of the blues bar that welcomed world class talent through the anecdotes and memories of those who knew it best.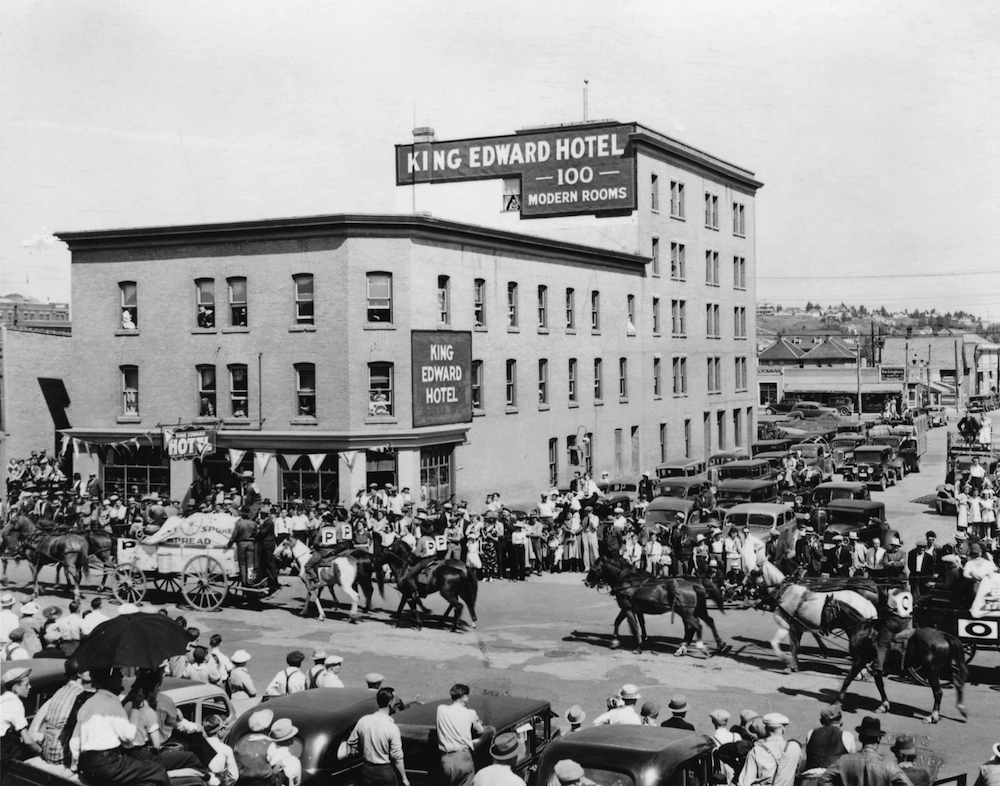 Image courtesy of the glenbow museum
The King Eddy had been in operation for 99 years before it was shutdown in 2004.
Naturally, the short runtime meant that a few of these stories got left on the cutting room floor, but O'Grady was kind enough to share a few of her favourites.
"There was a very funny story of how [former waitress] Joanne Cassell had met Jeff Healy. She was in the parking lot on break and a cab pulled up. A blind gentleman opened the door and asked if anyone out there could help him in.
Joanne didn't realize who he was, but she said of course and helped him in. He bought people a drink. They hung out at the bar. Soon enough, he's like, 'oh, I'm up!'. This young musician started walking to the stage and played his guitar and she realized who he was at that point."
"Joanne also had a great story about Burt Reynolds. He was shooting a movie locally and came in to the Eddy and the person at the front didn't recognize him and he had to pay cover at the front.
Joanne immediately recognized him and then debated with the bartender if it was indeed him. He ordered rum and Coke the whole evening and stayed until closing. She finally asked him: 'Burt, what would you like to drink?' and he said, 'Thank you Joanne, I'd like my rum and Coke,' and then she got a picture with him. He had to pay the $5 or whatever it was."
Secret Calgary: Return of the King Eddy
on Youtube.