The Beaudry Block has been a fixture on 8 street S.E. since 1911.
Anyone who's waited for a spot to open up at Red's Diner in Ramsay has inevitably had their eye drawn to the colourfully painted building just a few steps north of the eatery. With a facade adorned with moose, birds and a bespectacled carrot, it would be hard to miss. Though the peculiar paint job is a recent addition, the building has been a prominent Ramsay landmark for more than 100 years.
Grocer Leon N. Beaudry bought the lot where the building now stands in 1907 and built a small cottage at the back of the land. In August 1911, he got a permit to build this three story Edwardian commercial style block, at an estimated cost of $15,000.
The building began its life as a mixed use structure. Two commercial spaces on the ground floor have been home to a string of grocers, barbers and butchers, as well as Pop's Confectionary from 1937 to 1939, a precursor to Pop's Dairy Bar right down the street on Bellevue Avenue. The upper floors were all small apartment spaces with communal bathroom and shower facilities on each floor, mostly rented to the working class. At one point the building was also home to Dr. Carl Safran, the chief superintendent of the Calgary Board of Education. Safran helped develop the Christine Meikle School, the country's first learning centre for children with mental and physical disabilities.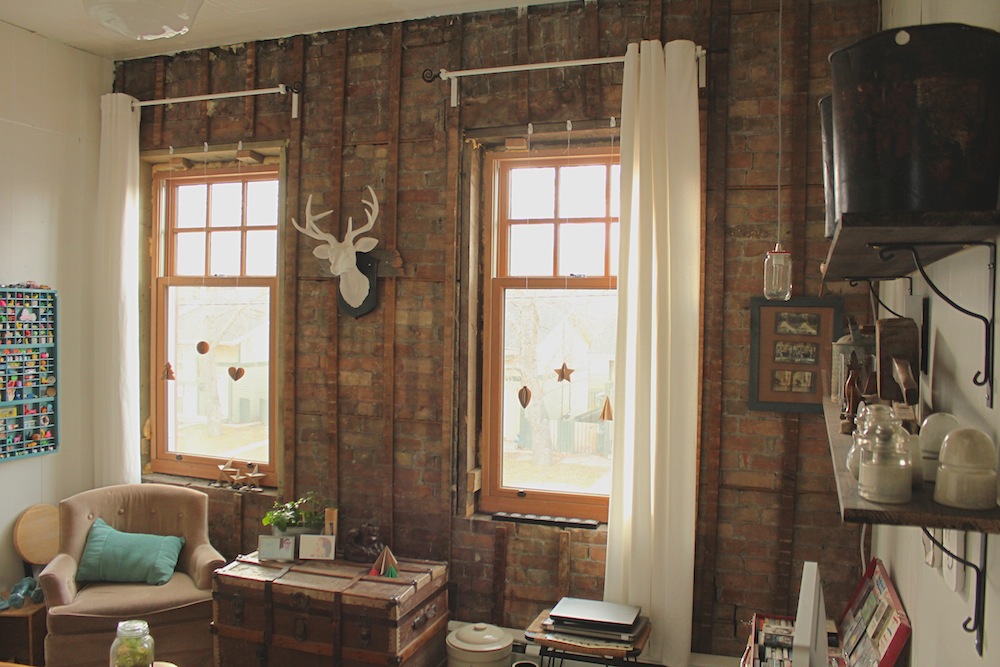 The original 1911 exposed brick wall is a feature the new owner hopes to emphasize in his remodeling efforts.
In the 1960s, the block lost its commercial space in favour of two ground floor loft-style apartments.To hear its newest owner tell the story, it led a decrepit existence until only recently. "When I bought [this building], it was extremely derelict," says David Winkler, who bought the Beaudry Block in 2013. "The building, in the last 40 years, has been in utter disrepair. It was known in the community as a drug house."
Winkler has made it his mission to return the Beaudry Block to something the community can be proud of. He commissioned local artists Kai Boettcher and Ricole Fedyna to paint the prominent, nature-inspired artwork, titled "You're home," on the front of the building. He provides owner-initiated subsidizing for his tenants in order to keep rents low and welcome a diversity of people into the community.
Winkler has also worked on fixing up all the rooms himself, reworking the original hardwood floors and exposing brick walls in order to show off the pedigree of the block. He installed apiaries on the roof in order to help the local flora and is currently in talks to use bricks from the soon-to-be-demolished Cecil Hotel in order to replace damaged bricks.
"I love old things. All my furniture, everything I have, are antiques," says Winkler. "So to have the opportunity to buy this place as well as give back to the community, make it beautiful, make people proud of living in Ramsay, for me it's a no brainer."