A view of the Westbourne Baptist Church from the south. The figures seen in the windows were supposedly placed there to represent the buildings future as an entertainment venue.
Photo courtesy of the Calgary Stampede
In today's secular society, it can be easy to forget how central religion was to daily life, and what an important role churches and congregations played to the development of cities like Calgary.
But if you've ever come out of the Saddledome by way of 13th Street S.E., odds are you've passed by the Westbourne Baptist Church. That building stands as a reminder of how intertwined religion and civic-mindedness once were. The abandoned church may not look like much today, but it was once the spiritual home of premier William Aberhart, co-founder of the Social Credit Party of Alberta, which dominated Alberta's legislature from 1935 to 1971.
The Westbourne mission was established sometime around 1903, when it was based out of Calgary's first Baptist church. The Westbourne Church came to be in 1905, as a simple wooden structure on 13th Avenue S.E., two blocks west of its current spot. In 1910, when it was moved to its current location, the congregation added brick cladding around the church, which cause many to refer to it simply as the "red-brick church." The building owes its official name to the Westbourne Church in London, England, which provided the funds for its construction.
In 1915, William Aberhart was its lay pastor. Aberhart preached and taught bible studies classes and grew the congregation to the point where it had to move to the 2,000 seat Palace Theatre in 1925. That same year CFCN radio began broadcasting services. Aberhart went on to become Premier of Alberta. He held that position until he died in office in 1943 and was succeeded by another Westbourne Church alum and protege, Ernest Manning
The original Westbourne community eventually migrated from the small structure to a new building in the northwest in 1967. Through the years, the church on the Stampede Grounds alternated between vacancy and use by other institutions, the last of which was the Victory Outreach Centre. It moved out after 15 years in 2007.
Now vacant and boarded up, Shannon Murray, a historical specialist with the Calgary Stampede, says the church, along with other assets found around the Stampede Grounds, like the Kinsmen Centre and the Rundle Ruins, are set to be "reactivated" in the years to come as part of the Stampede's Youth Campus development. The church will be moved a few blocks form it current location and become small performance space. Whether its basement and back annex (added in the 1930s) will move as well is still unknown.
Image courtesy of Larry Heather
A look inside the sanctuary of the Westbourne Baptist Church.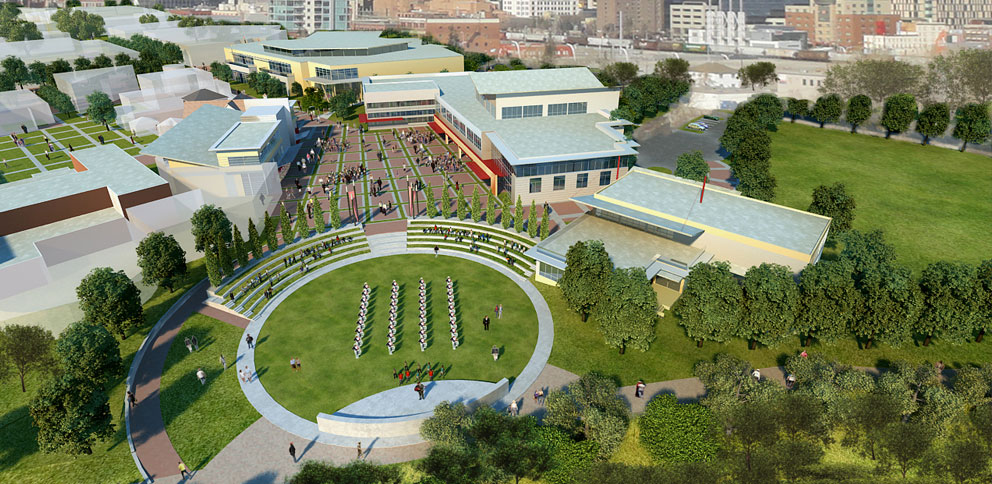 Image courtesy of Calgary Stampede
A rendering of the Calgary Stampede's Youth Campus, which will incorporate the church.
For more information about William Aberhart and the church, visit aberhartfoundation.ca. For more information about the Calgary Stampede's Youth Campus, visit calgarystampede.com