We often think of a mask as something that conceals identity. But a project by WP Puppet Theatre Society and supported by This Is My City Art Society is using masks to get people to reveal truths about themselves and speak out about mental wellness.
View From The Inside leads participants through a series of workshops to create a two-sided mask – the outside depicting how they present themselves to the public (or how the public might perceive them) and the inside of the mask depicting the private and the personal. They then embellish the mask with appendages, such as a length of cord, to represent ties to their communities. The final stage involves creating a performance or artist's statement with the mask as a focal point.
The idea for View From The Inside originated with Wendy Passmore-Godfrey, artistic and founding director of WP Puppet Theatre, who wanted to create a community engagement project around the subject of mental wellness.
"No matter where they're from, everybody has mental-wellness challenges," she says. "It's the common thread that binds us together."
Passmore-Godfrey brought the idea to This Is My City, a volunteer-run, non-profit society that facilitates creative opportunities for marginalized groups under the guidance of professional artist-mentors. The project was "a perfect fit," says executive director Sally Truss.
The society is known for its work in "speaking about homelessness," says Truss. The homeless demographic is represented in View From The Inside through a partnership with the Alex's Pathways to Housing program. But the project also cast its net further, working with Aboriginal youth from the Circles of Support program, residents of the Garrison Green Seniors Community and developmentally disabled persons through the art organization Studio C.
Results of the View From The Inside workshops will be part of the This Is My City Festival, an annual event to engage the public with the society's people and programming. The theme for this year's festival, which runs April 7 to 17, is "Roots in a Restless World," inspired, in part, says Truss, by the tumbleweed. "For tumbleweed to actually propagate, it has to let go of its roots and let the wind take it where it may," she says. "Our world is full of people on the move, so you can see where mental health fits into that … What are 'roots,' exactly? What do we hold dear and what keeps us together?"
With its roots in self-examination and mental health issues, the View From The Inside exhibition promises to be emotionally charged.
"Sometimes, the things people are dealing with are quite sad or quite dark, but what they're able to do with [this project] is to look at those things in a different way, and to get it out of their heart and their mind and put it in the mask, and then it lives in the mask and it doesn't live in them anymore," says Shannon Jones, an artist-mentor and long-time This Is My City volunteer. "Art is this wonderful catalyst that can start the process of healing."
The masks will be on display and videos screened at This Is My City Festival 2016, running April 7 to 17. Participants will also present at WP Puppet Theatre's Puppet Power 2016: Connecting Generations conference, May 28 and 29. For more information, visit thisismycitycalgary.ca.
---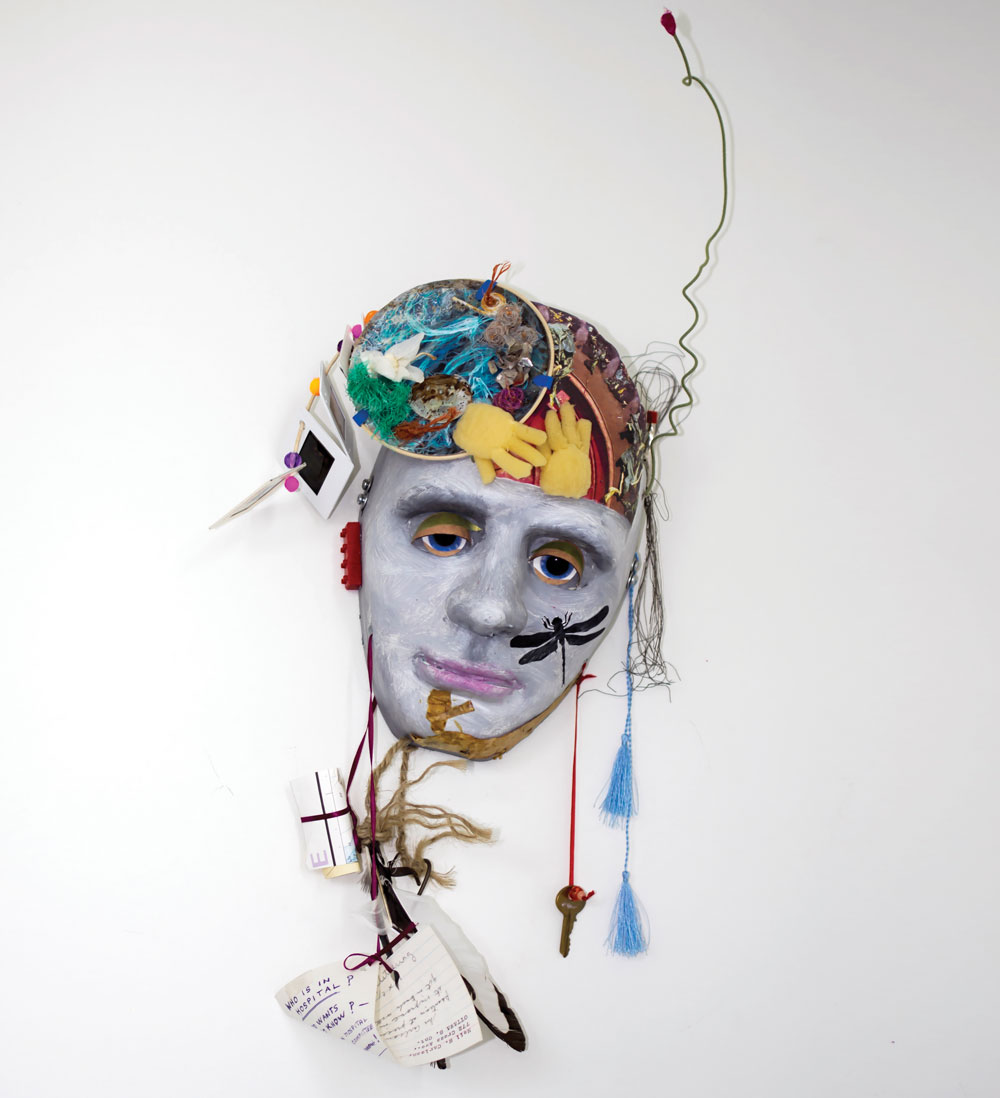 photograph courtesy of WP puppet theatre
A mask representing the View From The Inside project created by Wendy Passmore-Godfrey of WP Puppet Theatre.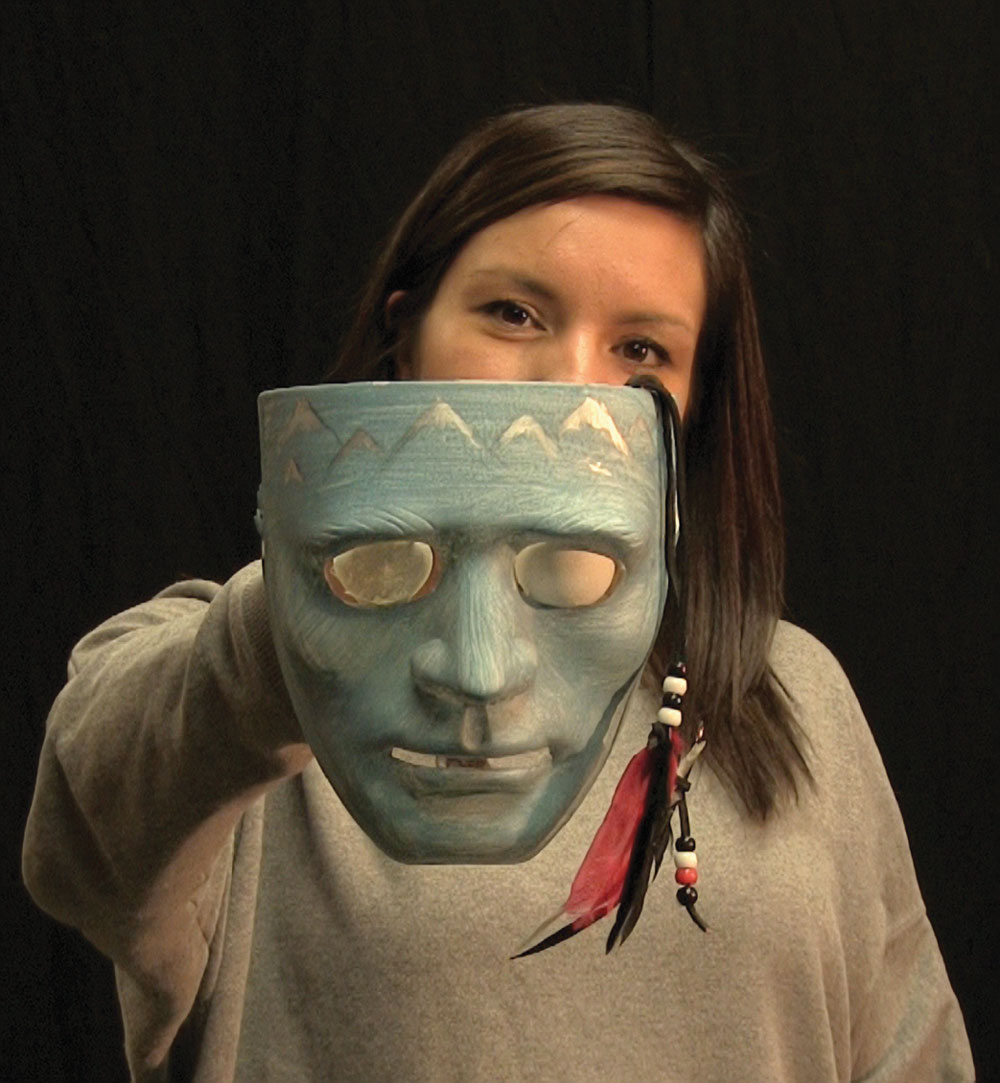 PHOTOGRAPH COURTESY OF WP PUPPET THEATRE
Kim Kakakaway, a "connector" with Circles of Support, holds up a mask.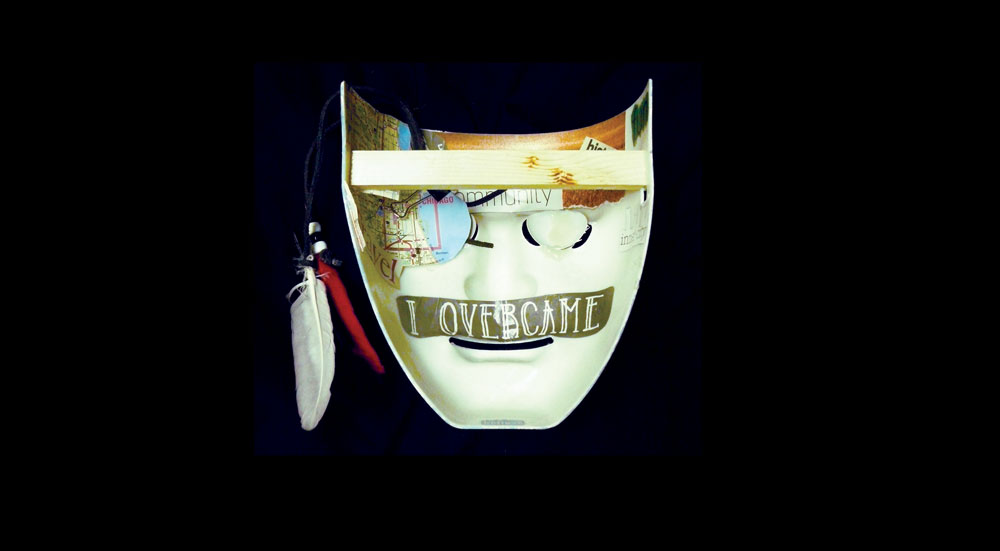 PHOTOGRAPH COURTESY OF WP PUPPET THEATRE
The interior of Kakakaway's mask.