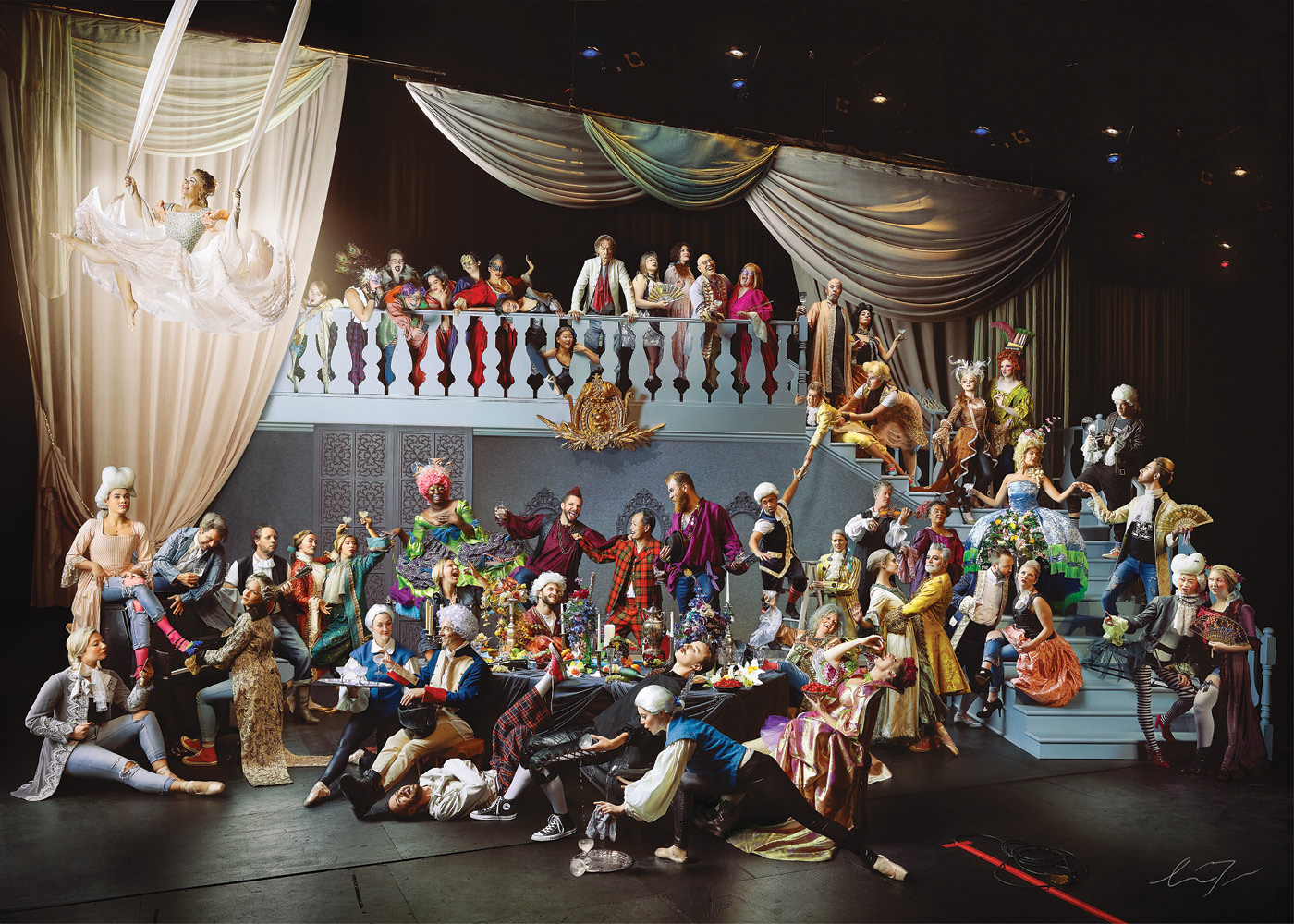 Photographer Tim Nguyen wanted to create his own Renaissance-inspired painting. He had photographed a performing arts master's thesis production of Molière's The Learned Ladies at the University of Calgary, and was enamoured by the Rococo style of the costumes.
Nguyen, whose company Citrus Photo is contracted by UCalgary's School of Creative and Performing Arts to photograph performances, approached April Viczko, associate professor and chair of the drama department, with the idea.
Viczko then approached various departments and eventually decided to incorporate alumni, photographing them over UCalgary's Alumni Weekend in 2018. Nguyen photographed current and past students as well as faculty in small groups, then constructed the entire photo in post-production. The resulting image was unveiled at the 2019 Alumni Weekend this past September, and a 59″ by 42″ stretched canvas print is now on display at the Reeve Theatre lobby.
The photo incorporates the costumes from The Learned Ladies (the play originally debuted in 1672) juxtaposed with contemporary things such as Converse sneakers, ripped skinny jeans and iPhones.
"The idea of the whole picture was imagining a baroque salon party, where you have artists and the socially conscious attending parties," says Viczko. "I described it as Marie Antoinette meets Vivienne Westwood."
The concept of the photo was inspired by the Jean-Honoré Fragonard painting The Swing. Leda Davies, an alumnus who is a circus artist, appears in the photo suspended over the crowd on a trapeze wearing a billowing dress. Nguyen, an alumnus himself, can also be spotted in the photo holding a camera.
Both Nguyen and Viczko describe the image as a representation and demonstration of the talent of the university's creative and performing arts graduates and the work they've done to build Calgary's arts scene.
"This has been my love letter back to the community," says Nguyen.