Age: 36
Job title: Theatre Designer (set, light, and sound)
Why he's a 2017 Top 40 Under 40:
An award-winning theatre designer who brings worlds to life for local and international audiences, deGroot also creates off stage magic with art installations and podcasts.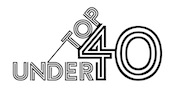 Anton deGroot remembers when his grade 10 guidance counsellor asked him what he wanted to do when he grew up, and deGroot jokingly told him he wanted to be the guy that makes things explode in movies. "I was immediately signed up for the theatre class and the introduction to electronics class," says deGroot. "I think that was my first introduction to the stage and, now that I think about that, it's huge to where I am now."
While he has yet to make anything blow up, deGroot's work has blown away theatregoers and critics alike, netting him dozens of awards for his sound, lighting and set design.
He has a knack for finding creative solutions to technical and logistical challenges. His award-winning set for Vertigo Theatre's Travels with my Aunt needed to transform into dozens of locations quickly. His solution? Luggage. "We set the rules of the play at the beginning, so the set was this gigantic pile of suitcases that transformed from a gravestone to a chair or from a table to a car," says deGroot.
While his work has graced every major theatre in the city, from Stage West to Theatre Calgary, deGroot's creativity isn't contained to the stage. In 2012, he co-created a podcast, The Deep Field, with Inside Out Theatre's Col Cseke. Since then, they've added Alberta Theatre Project's Laurel Green to the team, and the podcast has been downloaded thousands of times. The show, named for the Hubble Deep Field photos, aims to find stories in places people wouldn't normally look, such as the life of a mall Santa or the work of a death midwife.
Other deGroot projects include interactive artwork created for the first GLOW Festival last winter. "A Light Shower" was a free-standing shower stall that at the push of a button bathed the participant in two minutes of light and the sounds of Calgary's summer, including the Stampede parade, Folk Fest, lawn mowing and birdsong.
The work deGroot does also takes him to other cities. This year, he worked for four months at the Avon Theatre at the Stratford Festival as the assistant lighting designer for a pair of productions.
"While Calgary is my home, I want to be able to take my work abroad, play different stages and show the world what Calgary's got," he says. "The best damn theatre community in the whole country." -Andrew Guilbert