Ages: 34 (Crosby), 25 (Torode)
Job titles: CEO, Rosso Coffee Roasters (Crosby), Director of Coffee, Rosso Coffee Roasters (Torode)
Why they're 2017 Top 40 Under 40s:
In 10 years, Crosby and Torode have built their coffee business into a local empire with seven craft coffee shops and a successful wholesale roasting operation.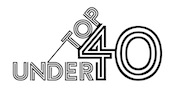 Back in 2007, when David Crosby opened his first coffee shop in Ramsay, he was, admittedly, "bootstrapping it." For six months, Crosby was the only employee of what was then called Caffe Rosso, waking up every day at 4 a.m. to bake muffins and scones and serve as baker, barista, dishwasher, cashier, plumber, accountant and so on. He got to know people's drinks, their kids' names, and day-by-day built a space where people came not only for a daily cup of coffee but also to experience community.
"I did lots of studying in coffee shops in university and I thought I knew coffee. I was like, 'oh, I can open a coffee shop.' I was 24 and just did whatever needed to be done," says Crosby.
In 2009 he opened his second location in the Telus Convention Centre, followed by a third on the main floor of the Arriva Tower in 2012.
In 2010, Crosby's half-brother, Cole Torode, joined the company to work as a barista while he contemplated his future after graduating high school. It didn't take him long to decide his future was at Rosso.
Torode became a partner in 2012 and together the brothers began to develop a larger business plan.
"It's a ton of fun working behind the bar," says Torode, "but it distracts from business development. It wasn't until we started to take ourselves out of the shop and say 'how can we make this better and not do it ourselves?' that we started to see positive growth."
Five years ago Crosby and Torode took the first big step by starting to roast their own beans in their original Ramsay location. A year later they started to travel to the coffee-growing regions the beans came from, and have since been to Costa Rica, Guatemala, Colombia, Rwanda and Brazil. Their next step is to build a dedicated stand-alone retail roasterie where customers can see the roasting process, learn about it and develop a connection to the product.
While the brothers were busy reducing their wholesale costs and improving the quality of their coffee by roasting it themselves, they were also increasing the number of coffee shops, opening four last year alone. Rosso Coffee Roasters has seven locations, 65 staff, 107 wholesale accounts and serves more than 2,000 cups of coffee a day.
"The climate is very difficult but there also are huge opportunities to grow right now," says Crosby. -Jennifer Hamilton