Age: 38
Job title: Assistant Professor, Philosophy; Fellow, Canadian Centre for Advanced Leadership, University of Calgary
Why he's a 2017 Top 40 Under 40:
Dick is pioneering the study of the philosophy of money. His course "Philosophy of Money," which is offered both to undergraduates and as a one-day continuing education program, was named a "cool course" in Macleans' 2015 universities issue.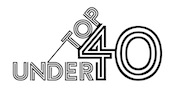 It's not every day that someone starts a new branch of philosophy, which makes David Dick's creation of the philosophy of money all the more impressive.
"Philosophers reach for money as an obvious example to talk about different things, so there's lots of stuff written about it along the way to a different point, but not a lot of people are looking at it directly," says Dick. But he's aiming to change that.
Dick started teaching a course on the philosophy of money at the University of Calgary shortly after he was hired as the chair in business ethics in 2009. At the time, the chair position had only three years of funding remaining and Dick was hired with the understanding that his employment at U of C would most likely end at the same time.
So he didn't have long to try to prove himself indispensible. The first time he offered the course, he was nominated for a teaching award. He has now received a total of five teaching awards, four at U of C and one at the University of Michigan. It's easy to see why – he has an infectious enthusiasm for his topic and, notwithstanding the fact that philosophy jokes may have a fairly limited audience, Dick is a funny guy.
"Some people show up and think that it might be a course about how to make more money, and it definitely is not that. Don't go to philosophers for that kind of advice," says Dick, noting that many students have told him the course has changed the way they approach money and how much of their time they want to dedicate to making money.
"Philosophy of Money" has since become part of the U of C's standard course offerings, and in 2015, Macleans identified it as a "cool course" in its annual universities issue. The U of C has created a permanent tenure-track position for Dick with appointments in the department of philosophy and the Haskayne School of Business.
He has also grown the Integrity Network a local organization for business ethics and compliance professionals. When Dick took on the organization of the group, it had only 10 members and infrequent meetings. Now it counts more than 100 business ethics professionals representing more than 40 organizations who meet four times a year to discuss business ethics topics.
Dick is also organizing a mini-conference at the U of C this fall and a panel at a conference of the American Philosophical Association next spring on the philosophy of money. Right now, most of the people in academia who are interested in money and how it works study economics, but Dick is adamant that while that field is important and interesting, it leaves questions unanswered. "Part of my project is to bring the philosophy of money back to the philosophers," he says. -Kathe Lemon