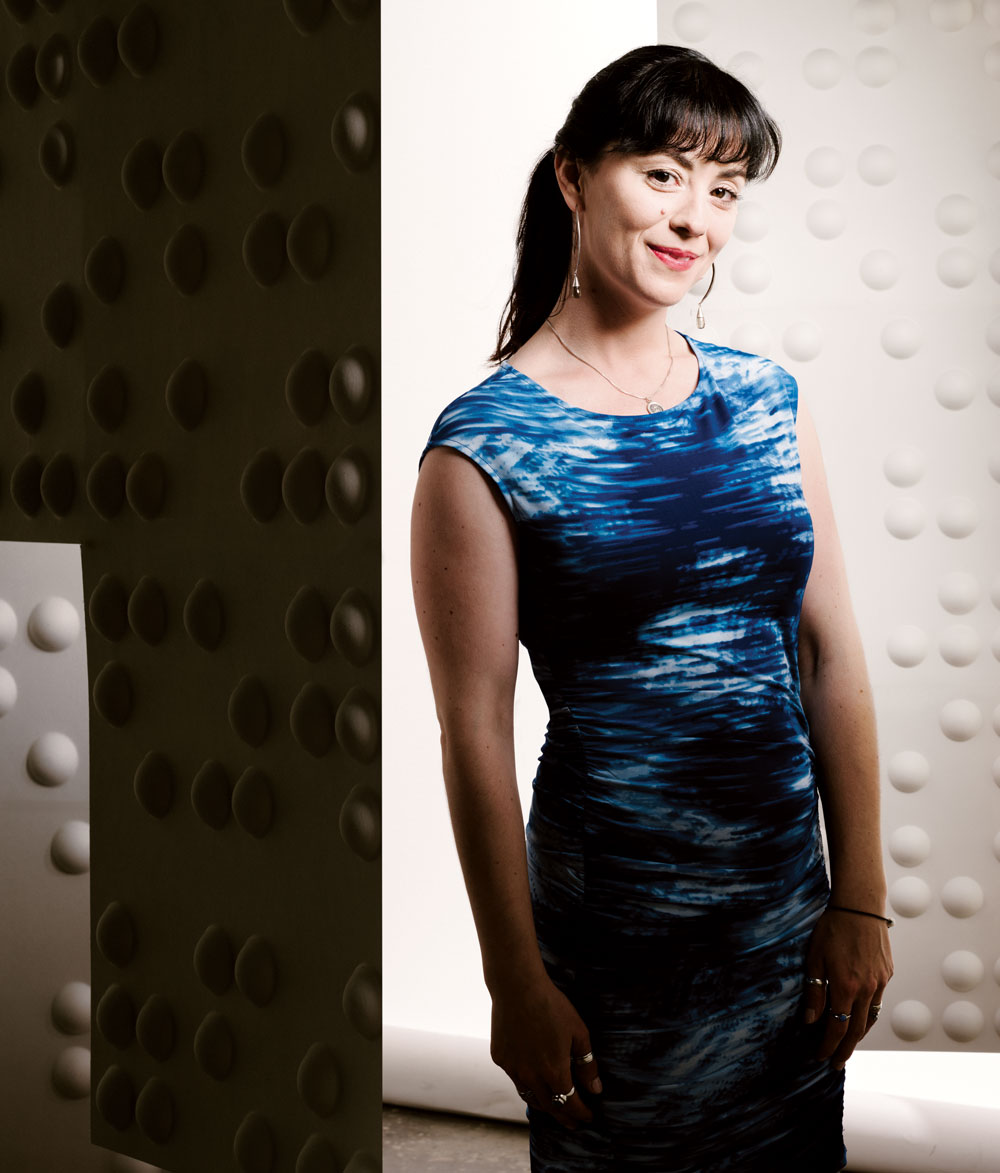 Age: 35
Job title: Artist, Fragments of Soul
Why she's a 2014 Top 40:
Amy Dryer lives her talent, gives her talent and changes the lives of the people she touches with her art, her personality and her generosity. She is a local painter whose work is represented in galleries in five cities, nationwide.
Amy Dryer paints in a ventilation mask and overalls. She throws paint at a canvas until it talks back and moves with her. And, if you tell her it must be hard to make a living as an artist in Calgary, she'll answer, "Big skies, big opportunity." 
"I had initially bought into the myth that, to succeed as a Calgary artist, you really had to leave Calgary," Dryer says. 
And she did leave for a time. Dryer started her degree at Calgary's Alberta College of Art + Design, and then did a stint at the Glasgow School of Art in Scotland before finishing her BFA at Mount Allison University in New Brunswick. She has lived in Toronto, Saint John, N.B., and on Gabriola Island, B.C. But she's always come back, and it is in Calgary that she has flourished.
"Throughout my travels, I always intended to start my artistic career back home in Calgary," Dryer says, adding that, in the places she's lived and studied outside of Calgary, "there is such an established culture, style. As a newcomer, you have to find a way to fit into what already exists."
For Dryer, that's the advantage of Calgary's comparatively ahistorical art scene. "You are free to be who you need to be – free to create the style, scene. And to lead, even at an early stage of your career," she says.
Dryer's work is shown and is sold through galleries in five cities – locally at the Masters Gallery, in Canmore at the Elevation Gallery, at The Front Gallery in Edmonton, at Regina's Assiniboia Gallery and at Canvas Gallery in Toronto – and her canvasses sell internationally, fetching prices from $600 to $6,000, and climbing. 
If you watch the filmed-around-Calgary miniseries Fargo, you might spot several Dryer paintings in the apartment of Billy Bob Thornton's character, Lorne Malvo. 
Her art gives, metaphorically – one of her recent paintings was purchased by a woman fighting cancer and undergoing therapy, Dryer says, "to give her hope throughout the process," – and literally. Dryer donates works of art to organizations such as the Calgary Philharmonic Orchestra, the Calgary Opera, the Doorway, The Banff Centre, Mount Royal University, the Glenbow Museum, Medical Ministry International (USA) and others. Over the past 12 years, these art donations have raised more than $50,000 for their recipients. 
When she's not creating, she's teaching. She teaches art to adults who need to remember how to play and be bold on canvas, and literacy to children who are struggling with words on a page as she did when she was a child. 
"I love listening to my little reading 'buddy' at the Calgary Public Library's Read With Me program express himself and his voice," Dryer says.
"In the span of a year and a half, my young buddy went from barely being able to read to [reading] novels. His expressive voice, reading about dinosaurs and heroic mice, made me feel that my work had made a difference." –Marzena Czarnecka