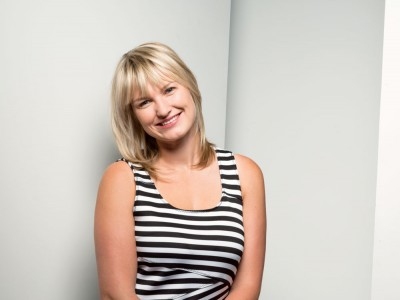 Job Title: Co-owner, Composer, Voice Director, Six Degrees Music & Sound
Age: 28
The videos for Travel Alberta's "Remember to Breathe" advertising campaign include moments of sublime beauty – skiers churning up fresh powder in the Canadian Rockies, father and son fly-fishing near Jasper, horses galloping across windswept plains – shown in stunning slow motion. Andrea Wettstein, a composer, voice director and co-owner of Six Degrees Music & Sound, contributed to the music, along with her colleagues at Six Degrees.
If you own a television, a radio or a computer, you've likely heard Wettstein's work. Her voice directing credits include ads for Volkswagen, General Motors, Energizer, Shaw, Toyota and WestJet.
Wettstein has also tackled large-scale projects for film and television. In May, she was nominated for three Alberta Film and Television Awards (a.k.a. Rosies) for music composition. She and fellow Six Degrees composer Alec Harrison took home the 2013 Rosie for Best Original Score (Non-Fiction Over 30 Minutes) for their work on the National Film Board documentary Legend of a Warrior.
And, in June, the Vancouver Film Orchestra recorded the symphony she and Harrison wrote for FlyOver Canada, a new attraction at Vancouver's Canada Place. The interactive ride takes audiences on an aerial tour of the country on a 20-metre-high spherical movie screen and includes immersive special effects like wind, mist and scents.
Wettstein says scoring FlyOver was a dream project. "To actually hear a professional orchestra perform [my] music was the most thrilling experience I've ever had," she says.
Born and raised in Calgary, Wettstein earned a master's degree in music composition from the University of Western Ontario before returning home in April 2008 to take a job at Six Degrees, where 10 employees handle approximately 500 different projects per year.
She started out as a voiceover director at Six Degrees before expanding into composition. Last year, she bought into the company as a co-owner. Wettstein credits Six Degrees' culture of collaboration and mentorship as one of the secrets behind her (and her company's) success. "It's easy to have an ego in this industry and to be selfish. At Six Degrees, people share their skills, their insights and their opportunities – if there's a project on the go, everyone here will touch it in some way," she says.
3 Things About Andrea Wettstein
A lifelong musician, Andrea Wettstein plays keyboard and sings backup for Calgary roots artist Wil Mimnaugh.
Wettstein is an alum of the Calgary Girls Choir and is an instructor with its Junior Music Program.
Wettstein's favourite sound effect? "The Wilhelm Scream." (Heard at some point in every Star Wars movie.) Her least favourite? "Chewing."
Follow Andrea Wettstein on Twitter: @andreawettstein