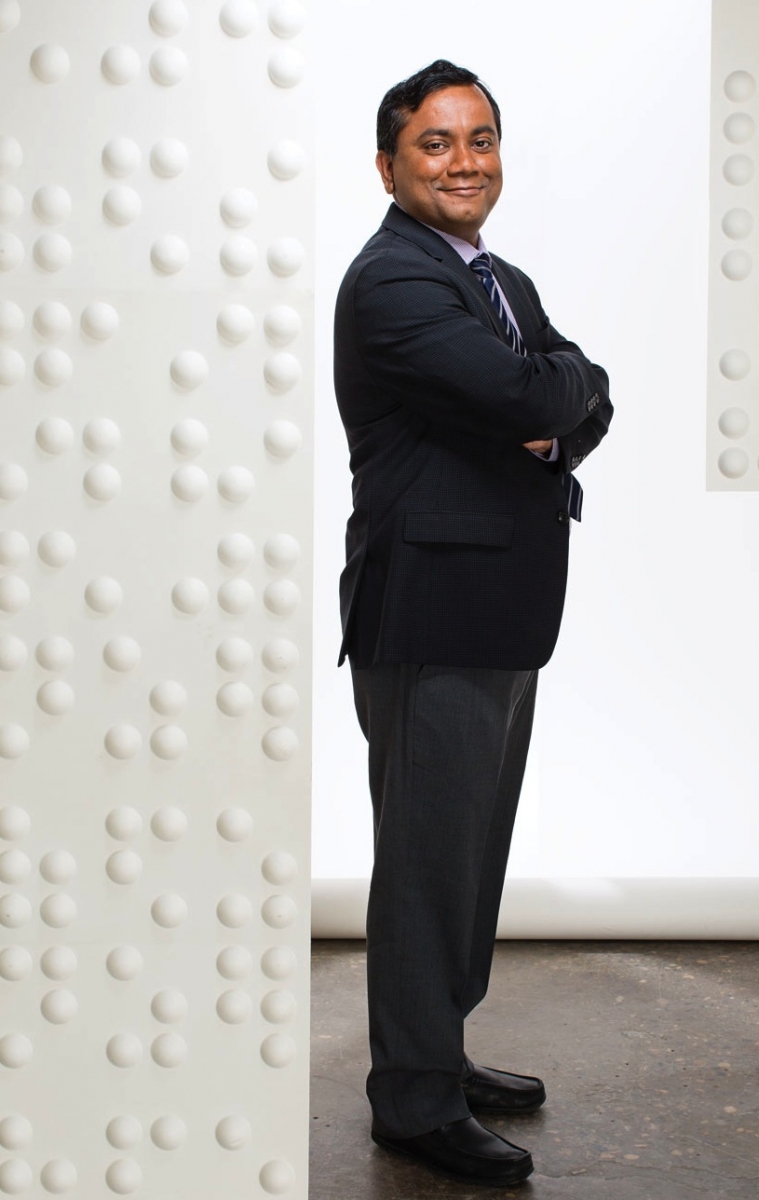 Age: 39
Job title: Assistant Professor, Departments of Clinical Neurosciences and Radiology, University of Calgary
Why he's a 2014 Top 40:
Bijoy Menon is transforming our understanding of strokes, with hopes that his work will lead to tailored treatments that can reverse the effects of stroke or even prevent them. His work garnered him the Heart & Stroke Foundation professorship in stroke imaging earlier this year.
Ask neurologist Bijoy Menon about mentors and he'll tell you about a tiny spitfire of a woman in a southern Indian village who never had the opportunity to attend university. 
"My mom," Menon says. "She's one of those tiger moms.
"But," he adds quickly, "she's a very pleasant one."
Menon, an internationally respected researcher at the University of Calgary, says his mother taught him two things: to work hard and to always do the right thing. 
Doing the right thing hasn't always been painless. After starting medical school in India at age 16, Menon butted heads with a respected professor over an ethical issue. The young future doctor was suspended for two days. 
"I feel strongly about injustice and I spoke up," Menon says. "My mom was shocked – [I was] suspended from medical school!"
As a student, he was transfixed by the plight of stroke patients for whom there were no treatment options. 
"When you see a patient and you are not able to do something, that really hurts," Menon says. "I really wanted to do something."
So Menon set about trying to find better treatments for stroke patients, though it meant leaving India. It was a difficult choice for a man extremely close to his family, especially his wife, Archana, who was finishing her own medical training, and their young son. Menon moved to Switzerland and then to Calgary, where his wife and son joined him. 
Today, he runs major multicentre research trials and a busy neurology practice, and, when he's on rotation, he sees an average of 50 new stroke patients in the emergency department every week. 
Menon's research has led to two crucial discoveries about strokes. He found a method to detect the collateral system of blood flow in the brain, which can provide a backup route around the blockage in a major artery for some people, and he identified the patients most likely to benefit from catheter-based treatments early after stroke.
Menon is now building on his earlier findings, developing brain scans that will help physicians quickly select the right treatment for each patient.
He's never forgotten how his father played with him in the evenings after a long day. So he spends his free hours going to movies with his wife and coaching his son's soccer team. 
"I like to tell my son that people may tell you that you would not achieve something but, in the end, it's up to you and what you dream about." –Christina Frangou