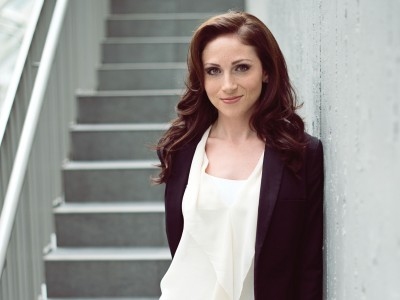 Job Title: President and CEO, Orpyx Medical Technologies Inc.; Resident, Department of Surgery, Division of Plastic Surgery, University of Calgary
Age: 28
Dr. Breanne Everett credits her upbringing for her ability to think above and beyond the norm.
Encouraged from a young age by her parents to pursue her creative and entrepreneurial impulses, she started selling her own handmade jewellery at eight years old. By 10, her designs were appearing on the locally shot TV drama "North of 60."
In high school, Everett's interests turned to science and to medicine as a career path, though she maintained her interest in art. The two worlds converged when she began a plastic surgery residency at the University of Calgary.
"Plastics is a very creative specialty," Everett says. "Everything you're faced with is a little bit different, especially in craniofacial reconstruction. It's not a set procedure."
Nor is Everett's career trajectory a set procedure. For her program's research component, she envisioned a sensor-based shoe insole to act as a self-monitoring device for sufferers of peripheral neuropathy (PN), a loss of sensation that affects up to 60 per cent of diabetics. Left unmonitored, PN can lead to foot ulcers, infection and even amputation.
Encouraged to bring the idea to life, Everett requested a leave from her residency and co-founded Orpyx Medical Technologies.
"It's hard to have that vision and expect somebody else will carry it through," she says. "You have to take the wheel yourself."
To gain the knowledge to best run Orpyx, Everett enrolled in the Executive MBA program at the U of C's Haskayne School of Business and is set to complete the two-year, part-time program next spring. In the meantime, Orpyx's first device, the SurroSense Rx, is slated to be on the market by the end of 2012.
Everett still intends to complete her surgical residency. With three years to go, she currently does hospital shifts and sits in on teaching seminars.
Her achievements and unconventional approach earned her a spot on the speaker slate at a TedX event, where she presented on why medicine has traditionally been slow to embrace innovation.
"It's difficult to see patients that you really care about suffering, while you feel like you have a solution to fixing that," Everett says.
"A lot of people complain or come up with ideas for change but then don't actually do it. What I ended up doing is just carving out that time to do it. And it's working so far."