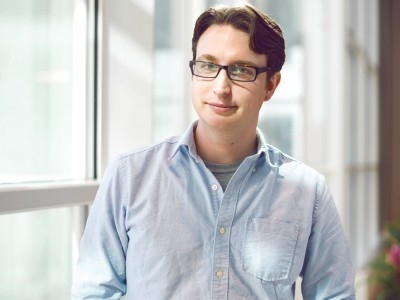 Job Title: Filmmaker
Age: 29
When Cameron Macgowan was 13 years old, he watched one movie a day. Martin Scorcese and Quentin Tarantino were his early educators.
"They showed that, if you had the spirit, you could make your own films independently," says Macgowan.
Today, he is applying those early lessons to Alberta's film and TV industry.
After graduating from the film program at SAIT Polytechnic in 2005, Macgowan went to Toronto to work in customer relations for the Toronto International Film Festival. The big-city experience turned out to be a bit of a bummer when he didn't meet filmmakers who were "open to collaborating and making movies for fun," says Macgowan.
He moved back to Calgary and used his experience in Toronto as inspiration for his dark comedy, "Bad Dad", which won Best Short Screenplay at the 2011 Alberta Media Production Industries Association Awards. Macgowan also joined North Country Cinema, a Calgary-based film collective that sees each member take turns producing, writing and directing.
Macgowan produced North Country Cinema's short film, "Not Far from the Abattoir", about small-town Alberta. Written and directed by fellow collective member Kyle Thomas, the film won Best Alberta Short at both the Edmonton and Calgary international film fests and was one of five Canadian films at 2012's South by Southwest in Austin, Texas, the fifth-biggest film festival in the world. Programmers from the Cannes Film Festival solicited the flick, and it was the only film from Alberta to screen at the French festival in 2012.
Macgowan's latest project, "Black Hills", a gritty western shot in Alberta's badlands, is already receiving interest from festivals, including a screening at the Calgary International Film Festival this past September.
Outside of making movies, Macgowan works on the business side of film and television as well. His full-time gig is as manager of development and business affairs at Seven24 Films, which produces CBC's family drama, "Heartland", with whom he helps develop and fund new TV projects. He also volunteers on the programming committee at the Calgary Underground Film Festival, helping to select the films that are screened. It's all in an effort to bolster this growing industry.
"Alberta has a really unique cultural identity, but it's still not properly represented in the international market," Macgowan says. He's working to change that. "You have to have foolish determination to make movies, ignore the naysayers and just do it. That's the spirit of the west."