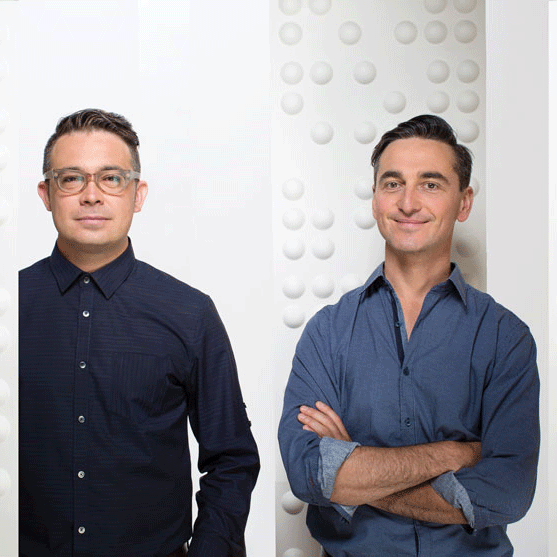 Age: Blanc (right) 39, Surtees (left) 36
Job title: Lead Artists, Watershed+, City of Calgary Utilities and Environmental Protection
Why they're 2014 Top 40s:
This duo's public art has made the international art community take notice of the city and encouraged Calgarians to think about our connection to the environment and our water.
While studying at Glasgow's School of Art in 2000, Tristan Surtees was troubled to learn architect Charles Blanc would be moving in to his partner's apartment. 
"I was like: there is no way a handsome Frenchman is moving into my girlfriend's flat!" he jokes. 
Initial reticence aside, the proximity meant the two often discussed their work over breakfast, with Surtees doing much of the talking and Blanc "listening and grunting and saying no." 
Eventually, morning chats morphed into friendship, which in turn became art collective Sans Façon, the name under which both men have built their 14-year careers. 
Their curriculum vitae includes shrink-wrapping Saskatoon's public artworks, a giant, floating "You are here" arrow in Wales and "accidental" spotlights appearing on streets across the globe, all to great and often surprising effect. 
"We had a guy ask a girl to marry him [in a spotlight] in Newcastle and she said yes," says Surtees. "He looked like he regretted asking her straight away."
Their latest project, Watershed+, has seen them tackle the City of Calgary's waterworks, with the hope of engaging citizens on an emotional level with the watershed and the invisible infrastructure that keeps the city's water flowing. Surtees and Blanc first created Watershed+ in 2009 as a proposal for Calgary's Utilities and Environment Protection department's Public Art Plan funding. Since then, Watershed+ has grown to encompass more than 20 projects, plus three 18-month mentorships as well as
rotating artist residencies, the latest of which had Calgary glass-blowers Bee Kingdom work with lab technicians in water-treatment facilities to create glass sculptures of water-based micro-organisms. 
Watershed+ has also made Calgary a little weirder: fire hydrants sprouting copper drinking fountains, and proposals for melting blue ice trucks and glowing lift stations are just a few of the Watershed+ projects. There are never signs explaining what the projects are, and the installations often appear seemingly overnight. 
Blanc says these creations allow Calgarians to experience the watershed in a different way. "[It's] experienced not in an explanatory or didactic way, but more by creating intrigue for people to want to know more about what's happening around them," he says.
Blanc and Surtees are often asked to speak or take part in conferences relating to art in the public sphere, allowing them to show the world the new, modern Calgary. 
"Often, when we present some of the work we're doing, they're like, 'And they're doing that in Calgary?'" says Blanc. -Andrew Guilbert