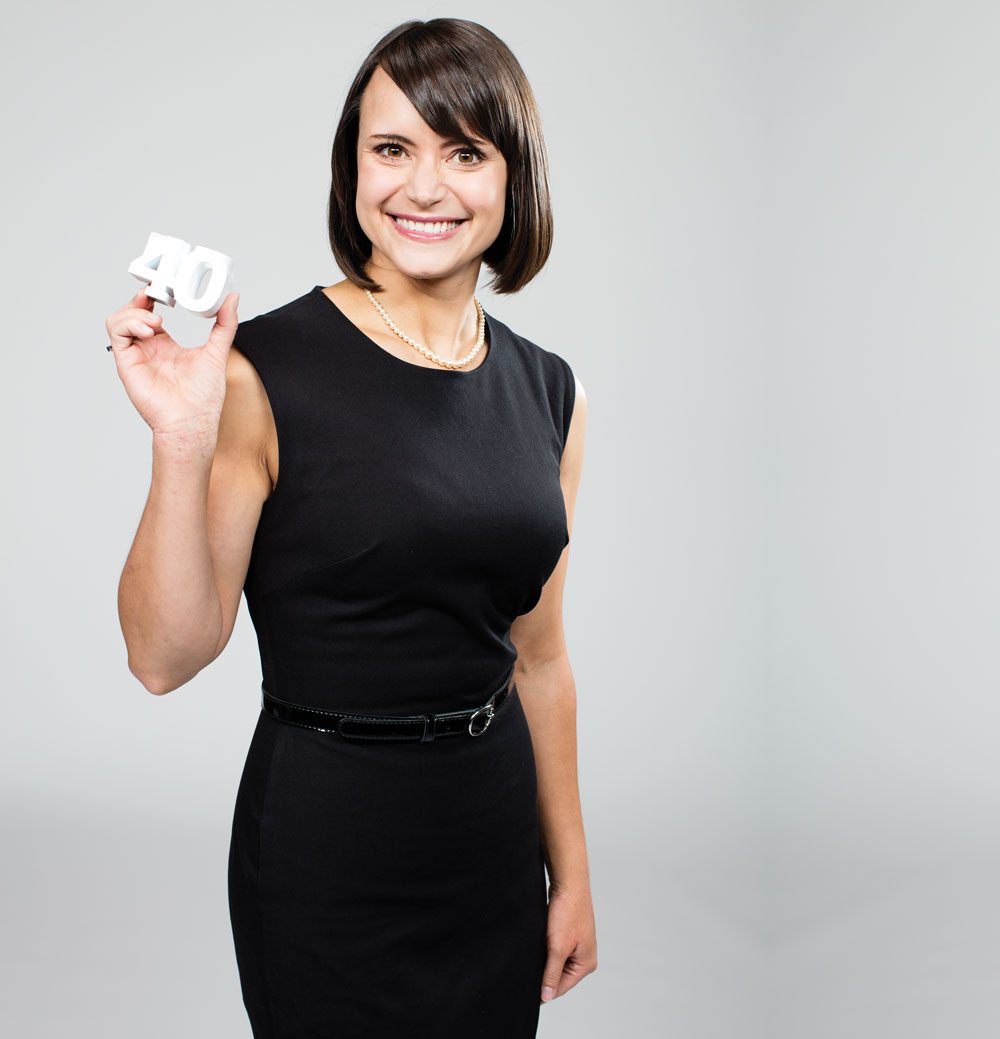 Job title: Senior Director, Academic and International Strategies, Office of the Provost, University of Calgary
Why she's a 2015 Top 40:
Christine Johns is helping the University of Calgary achieve its goal of becoming one of the top five research institutions in the country, while building up community engagement in her local neighbourhood of Winston Heights-Mountview.
Four years ago, the University of Calgary launched a new strategic vision with an ambitious goal: to become one of the top five research universities in the country by its 50th birthday in 2016.
Today, it's on the cusp of doing just that – the institution has gone from eighth to sixth in the rankings since 2011 – thanks in part to the work of Christine Johns, and her role in the U of C's Provost's Office.
As the senior director of academic and international strategies, Johns provides leadership and direction on a variety of academic matters. In the last two years, the 36-year-old has facilitated the development, approval and implementation of 21 new credit and non-credit programs and specializations – at least four of which were firsts within Alberta – as well as 13 program revisions and 28 suspensions or closures, many of which have been replaced with new, innovative programs. She also created a dual-credit pilot project that allows high school students to earn both high school and university credits from a single class.
Since March, Johns has also been coordinating the university's international undergraduate student programming and recruitment strategy, furthering the institution's strategic goal by working to make it the school of choice for international students.
"The impact of our students extends beyond the university to Calgary, to Canada and to the world," says Johns. "Ensuring that they have programs, they have degrees that are relevant and that are setting them up for success is a very rewarding part of the job."
Johns has been passionate about community-building since she was a student and became a voice for her classmates as an active leader throughout her post-secondary degrees. Her accomplishments earned her admittance to the Order of the University of Calgary, which honours those who have made exceptional contributions to the university community, at the age of 28.
Johns also sits as the chair of the University Child Care Centre Society and recently became president of the Winston Heights-Mountview Community Association after seven years on the board of directors. During that time, she oversaw more than $300,000 in renovations to the association's facilities and helped lead the construction of a new playground.
Johns strongly believes even the smallest contributions can have far-reaching implications. "When you have engaged community members, I think you have a better city as a whole and it contributes to a greater Calgary," she says. – Alana Willerton