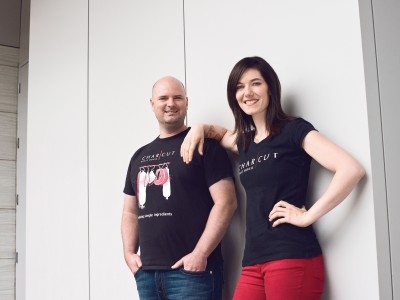 Job Title: Co-owners and Co-executive Chefs, Charcut Roast House
Age: 31 and 37
Like many couples who have been together for a long time, Connie DeSousa and John Jackson disagree about the exact date their paths first crossed. They know the place – Calgary's Owl's Nest restaurant in the Westin Hotel. They know the reason – DeSousa was placed as a SAIT apprentice under Jackson when he was the Owl's Nest's chef de cuisine. But they remember the date differently. One says it was in 1999, the other says 2000.
Regardless, Jackson says it wasn't long before he was learning as much from DeSousa as she learned from him. Over the past 12 (or 13) years, they've worked together in restaurants in San Francisco, Los Angeles and Bora Bora, bouncing ideas off each other constantly. They now share chef's duties equally at Calgary's Charcut.
Also like many couples, the co-chefs finish each other's thoughts and sentences and nod in agreement while the other talks. "We agree 99.9 per cent of the time," says Jackson. "We've only had three arguments in our whole relationship." That, they agree on.
The arguments have all arisen from the stress of the kitchen – the third disagreement was preceded by non-stop customers during the Centennial Stampede and then having two guest chefs in their kitchen the following night. All of the disputes have lasted mere minutes and then the couple made up.
Jackson and DeSousa are married. But not to each other. DeSousa is married to Mauritian native Jean Francois Beeroo, while Jackson is married to Carrie and is father to their baby girl, Frances. The spouses are also partners in Charcut, with Beeroo handling the service and Carrie, a lawyer, taking care of bookkeeping and legal matters.
The four partners are into their third year with Charcut and have garnered an impressive list of awards over that time, including a number six position on "enRoute Magazine's" top new restaurants in Canada in 2010 and DeSousa's finishing in the top three on "Top Chef Canada" in 2011. DeSousa and Jackson both also sit on the board of SAIT's Culinary Advisory Program, do various charitable events with their Alley Burger food truck and act as culinary ambassadors for Tourism Calgary.
All their efforts are aimed at supporting and developing Calgary's chef community and culinary scene and promoting local producers. This, they agree on, too.